Hey Stargate Fans!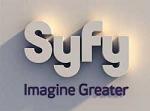 The long tortuous hiatus is finally over! This evening, Friday April 02, 2010 is an historic day.
What day of history you may ask? Why of course April 02 marks the return of our new Stargate new series
that is destined to become a runway hit in 2010!  My grade for SGU? A straight "A"!
What series? Stargate Universe! While many have commented on Stargate Universe, a few distant detractors often forget the early days of Stargate SG-1 and Atlantis when MGM Studios, Showtime, and ultimately SyFy an NBC Universal division (then known as SciFi in the United States).
All were lead by the creative genius at Bridge Studios of Vancouver Canada (The Bridge as it is called). These creators have worked tirelessly to bring the new hit series to the viewing public as far back as 1996 before Stargate SG-1 set the television franchise in motion.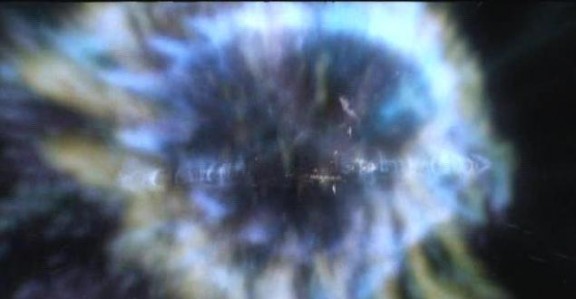 As we all now know, both Stargate SG-1 and Stargate Atlantis went on to 15 award winning episodic years much to the delight of the fans of MGM Studios Stargate franchise as shown in the United States on SyFy cable distribution. Stargate Universe is more than adequately poised to follow in these giant footsteps and make the history of success I have always known it would become.
How and why is this so?
Some tend forget the early years of such and other long lived science fiction series whom struggled to win the hearts and minds of the fans of the genre. They also forget that it takes time to develop the story line, baseline character interactions, back story linkage (to the franchise) and ultimately "cement the foundation" before building 'the house' so to speak.
The Star Trek and BattleStar franchise come to mind in this regard and they suffered for years at the hand of the "drive by" critics whom were dead wrong each time. They are also wrong about Stargate Universe. It is a brilliant work of art so advanced the critics have yet to catch up, but they will.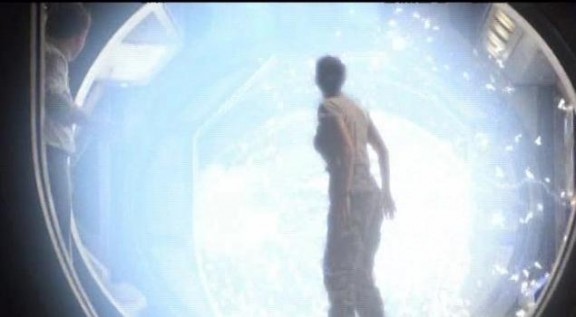 Well the wait is over people and in record time too! Stargate Universe is set to 'turn the corner' as a series with the eleventh episode 'Space'. After a painfully long hiatus over the course of many months Stargate Universe is back with a phenomenal thrust.
While it has taken other series often over a year or longer to get to this point, Stargate Universe WILL become a runaway hit in 2010. This reviewer re-iterates I have given the show a STRAIGHT A for being here at this point in its development history. No mean feat either since Stargate Universe was introduced to the world with a blockbuster season opener that has faced undue criticism from some quarters for not being like Stargate SG-1 or Atlantis.
What amazes this reporter is that for 15 years the fans begged the creators at MGM and Bridge Studios for deeper character development and more real-life interactions and they have done so but not forgotten the other elements of Stargate. You will see this clearly demonstrated in "Space" and well beyond.
The creators from MGM and Bridge went to great effort to obtain one of the finest ensemble casts ever assembled. Among the strongest teams of creative talent gathered in Vancouver and elsewhere, The Bridge people with likes of Brad Wright, Robert Cooper, Andy Mikita, Joseph Mallozzi, N. John Smith, Carl Binder, John G. Lenic, Paul Mullie, Martin Gero, Jennifer L. Johnson,  John Scalzi, Valerie Halverson, Mark Savela, Joel Goldsmith, and many others whom have once again produced a smashing runaway hit series that returns beginning April 02, 2010.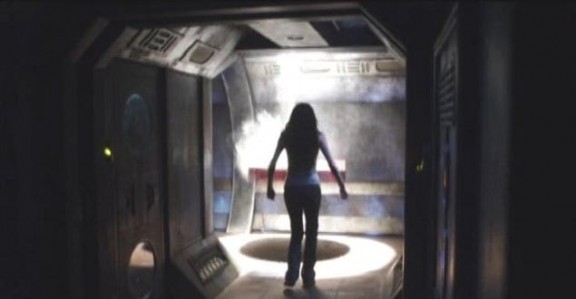 With the support of NBC Universal distribution in the form of SyFy, Stargate Universe  will certainly "runaway" with both the hearts and minds of the fans as the music featured herein attests to. This will include most of the detractors. All such people need to do is simply allow Bridge to complete their mission in season one of Stargate Universe. What mission is that you might ask? Well here you go;
You wanted action in SGU?  You will get it. You want internal conflict between the civilians and the military like in real life? It is here too. You demanded outstanding specials effects? Set design? Exciting location shooting? Outstanding makeup? Award winning costumers lead by Valerie Halverson? Sweeping cinematography? Music in the form of songs in many episodes if not all and music by Joel Goldsmith in many episodes? Special guest appearances? Top notch main and supporting actors and actresses? New aliens? Skin tight suits that will knock you out? An exclamation that the continuation of the mythology of Stargate with exciting new back stories of "The Ancients" was mandatory? All while is a distant galaxy while the cast is being tethered by the Ancient Communication Stones to good ole' planet Earth? All of which that serves as the launching pad to bring back many of your favorite characters and heroes of the previous Stargate series?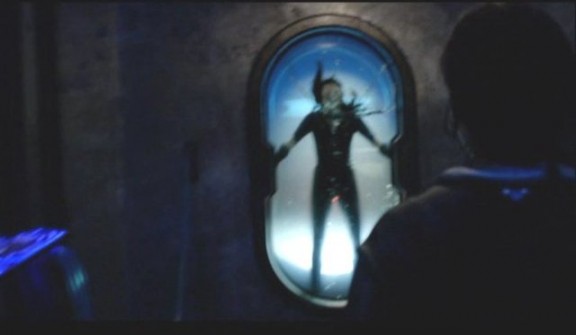 Well folks you are going to get it all including superb performances not only from the main, but the supporting cast as well. Starting the runaway hit status of which is embedded in Stargate Universe, we resume with episode 11, aptly named "Space". When you actually watch what the creators and fantastic ensemble cast have produced, this reviewer is convinced that all but a very few malcontents will be unable to do anything but look up, applaud and cheer.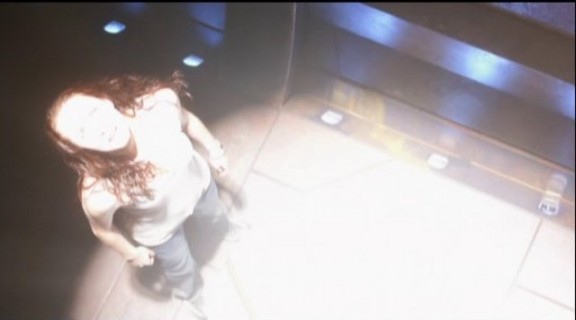 As you can tell this pre review will be virtually spoiler free. After watching "Space" and episode 12 "Divided" over and over again to look for major blunders, I am happy to report that I can find none. And believe me when I say that I looked long and hard to see if the creators made mistakes that would detract from the absolute fun of watching Stargate Universe. You are simply not going to find any blunders in "Space". What you will find is Stargate alive and well in 2010!
Whom do we have to thank for this delightful story bursting upon the world once again starting April 02, 2010? It is the creators whom have assembled this team. They are consummate professionals at what they do and they know precisely what they are doing. So let's start with whom they have assembled before going into the "what" of what they are doing as a focus of this pre air date review.
Before I do, let me say that one of my favorite aspect of the series is the special visual effects and cinematic characteristics that make the show what it is, a runaway  hit for 2010 and for hopefully many years beyond. Of whom do I speak? None other than a person whose career I have followed for many years with glee, Mark Savela, Special Effect Supervisor at Bridge Studios.
When you see the intensity of the first few minutes for yourself, and later battle scenes, when the new aliens make their appearance after the opening credits roll, you will understand precisely what I am describing. It is no spoiler to state that the alien sequences are dovetailed excellently on a brief series of back story of where the action left off in episode 10, "Justice".
An entirely humorous but effective use of artistry is the launching point of "Space" when we prepare for MingNa as Camile Wray and Colonel Young (Louis Ferreira) to use the Ancient Communications Stones to make their regularly scheduled report back to Earth over the abandonment of Dr. Rush (Robert Carlyle) on the planet with the alien ship crashed in the wilderness hillside in "Justice".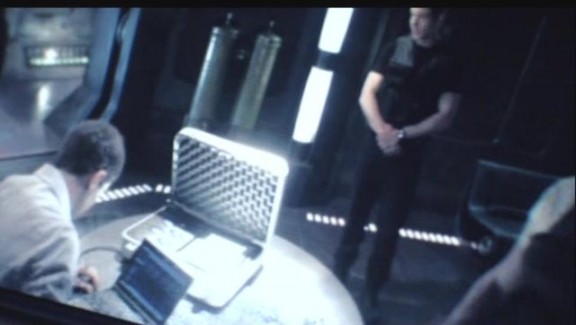 It is here in "Space" that the creators leverage the special skills of Mark Savela with visual effects so stunning that one is immediately drawn into the story. We all know of the progressive development of the Asgard. In "Space" you will see the next generation of VFX under the guidance of Special Effects Guru Mark Savela and his special team of genius talent.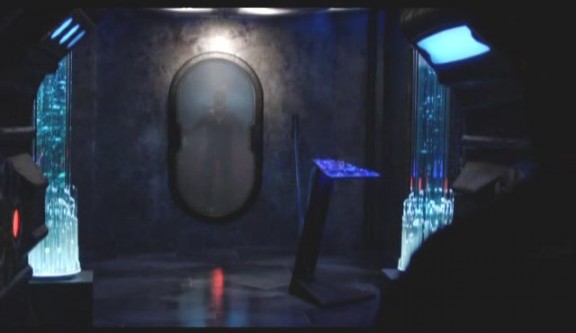 Never in my 45 years of watching science fiction have I ever witnessed a smoothness such as seen in "Space". The straight "A" grade I give for Stargate Universe episode 11 begins right there in those initial moments created by Mark Savela, his team and the entire creative cooperative that is "The Bridge". Bravo to Mark and all the creators for their brilliant maneuver in launching the second half of Stargate Universe in this manner!
Simply outstanding work Stargate Universe Creators!
Main Cast:
Each of the actors and actresses discussed next are listed in order of their credits in the opening titles. Each are more than SIMPLY OUTSTANDING! All are my favorites in "Space" in general and within Stargate Universe in specific.
Robert Carlyle as Doctor Nicholas Rush: Few of us believed this superb Scottish actor would die on the planet. As I have openly stated well before this pre review, that I for one believed that he would figure out a way into the alien ship on the planet finding a way to survive within the series. Would Rush become an enemy of the Destiny and her crew as a result? Could he use his considerable but obsessive talent to fix the alien ship and find a way to return to Destiny to get even with Colonel Young? When you witness the elegant juxtaposition of series to date facts you will understand why this acclaimed actor was chosen for his role. The work as portrayed by the shifty (evil?) Dr. Rush characterization by Robert Carlyle is not to be discounted under any circumstances. He is fantastic.
Louis Ferreira as Colonel Young: The superb leading actor Louis Ferreira has much to atone for when he elected to deliberately abandon Dr. Rush on the planet for his role with Eli in discovering the truth about the suicide of Josh Blacker (Sergeant Spencer) in episode 10 "Justice".  Suffice it to say that the realism and human failings portrayed by Louis are exquisite. Moreover Louis' talent really comes to the forefront in "Space". Colonel Young has his hands full with the civilians lead by his nemesis MingNa. Louis's initial moments are highlighted by use of the "Stones" where we first see the great VFX work by Mark Savela and his team.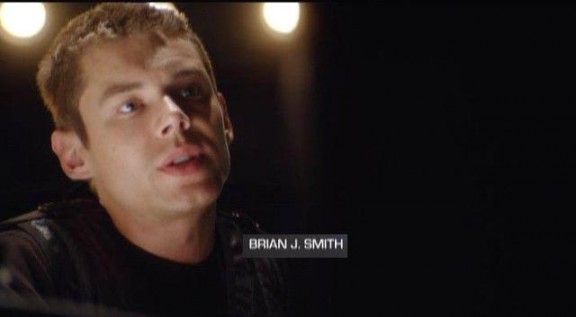 Brian J. Smith as Lt. Matthew Scott: As WHR has previously reported this Julliard trained actor is a comer. One of the favorite actors soon to appear at the Creation Entertainment Stargate Convention in Vancouver, Brian J. Smith takes his character to new heights in "Space" where we see him forced to deal with the situation thrust on the crew of the Destiny and his ongoing relationship with Chloe Armstrong.  After a very humorous sequence with a major grin on his face, Brian proves his place as a leading actor in the season 1, episode 11 sequences. I simply cannot say enough good things about Brian's considerable skill as an actor. In "Space" we witness Scott coming nto his own in situations packed with action and humor surrounded by special effects. Simply an inspiring performance Brian and I am completely sure that Lt. Scott will take a commanding role in Stargate Universe!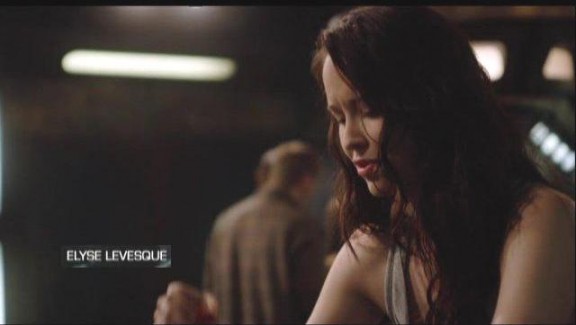 Elyse Levesque as Ms. Chloe Armstrong: Here is a beautiful actress who was unfairly criticized for her heart wrenching and wonderful performance in the first half of Stargate Universe. In "Space" we see a continuing evolution of her character aptly illustrated in Chloe Armstrong. Also stand by for Elyse Levesque to be observed in a costume designed by Valerie Halverson that will knock your socks off. A special nightmarish sequence also is where we observe Elyse do what she does best, act! Elyse makes us all believe because of her qualitative talents as an actress which continues in the next episode. Here again we witness the genius in selecting her for her role. Fine job Elyse! We look forward to her spirited performances is the future. Well done Elyse!
David Blue as Eli Wallace: Here is a great young actor who until now has carried virtually the entire comic relief aspect of Stargate Universe. In "Space" we examine the future of Eli after his learning of and the dirty secret he keeps from "Justice" about Sergeant Spencer's death (Josh Blacker). The most popular individual of the acting team on Twitter, David's wonderful work as Eli literally keeps Destiny functioning in "Space" during Dr. Rush's absence. His performance  is phenomenal. Obviously torn between members of the crew with a longing for more than friendship with Chloe, Math Boy Eli / David Blue grows into a man before our very eyes. A pivotal character actor for the show David really shines in "Space". Kudos David! We are sure you will continue to inspire fans and young would-be actors all over the world by your delightful performance in Stargate Universe's "Space"!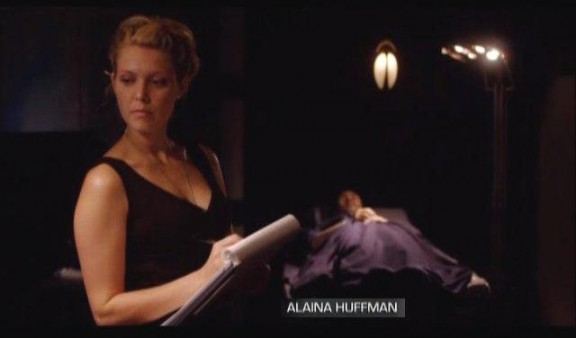 Alaina Huffman as Lt. Tamara Johansen (TJ): This gorgeous actress and mother is fantastic in her portrayal of TJ. Already a strong leader proven in "Water" in the first half of Stargate Universe season one, Alaina Huffman plays an important role in her performance. The opening scenes with Colonel attest to her fine acting skills in a transparent manner in which we understand her compassion for what she thinks Colonel Young is going through. Her vivid performance is testimony to the greatness of her abilities on screen. Excellent work Alaina that warms my heart to observe!
Jamil Walker Smith as Sergeant Greer: Unfairly vilified by Camile Wray in earlier episodes, this great actor also comes to life as we learn more about why he is the way that he is. Throughout "Space" Jamil Walker Smith demonstrates his ongoing loyalty to Colonel Young as the action unfolds. From the very first moments of the episode his strength of character make him one of the most favorite Stargate Universe  personalities. We can only say this, do not mess with Sergeant Greer or he may turn a fist, gun or flamethrower your way. Great stuff Jamil. You are wonderful in your role which really takes on new meaning in "Space" and beyond!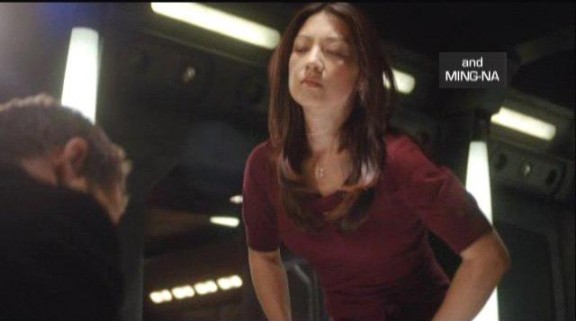 MingNa as Camile Wray: As I previously reported in my first pre review and subsequent reviews about MingNa, her subtle excellence of what she knows has been hiding as if a with an agenda only Camile knows about. In Space this outstanding actress begins to reveal what that agenda actually is. Soon you will know as well and stand by for a shocking revelation of what Camile has been up to all these months aboard Destiny.  Listed last in the opening title credit with an "and MingNa", she is a superstar of unparalleled proportions who carries much of the entire series with her utterly fantastic and seasoned skills as an actress. When you find out the truth of her agenda you will simply blow your mind as she has 'pealed' the onion of her character in small layers to a very nasty detail! I personally always knew she would be able to carry of such a difficult and challenging role. In "Space" MingNa proves beyond any shadow of a doubt that she is indeed a great actress who is critical to the developments that take off into "Space"!
Guest Stars:
As mentioned in WHR "Space" pre reviews to date, the creators have been building us up to the point where these fine actors and actresses will carry many of the scenes in Stargate Universe. This reality becomes more apparent in "Space" to the credit of such talent and the wonderment of the viewing audience. We very much enjoy that the guest stars play a more important role rather than just being in the crowd as was true in the beginning of Stargate Universe.
Peter Kelamis as Dr. Adam Brody: First up in the guest starring title credits, Peter Kelamis plays a significant role in "Space" in the resentment with the other civilians that also do not like the military after they were forced through the Stargate on the Icarus planet. Peter does a fine job in his growing role as you will clearly see for yourself.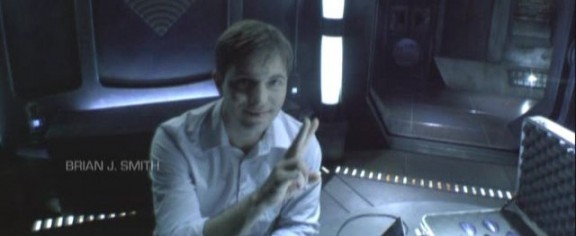 Tygh Runyan as Dr. Cain: Another new face from the crowd aboard Destiny, Tygh Runyan is a talented actor who comes into the light in more ways than one from the very opening sequences aboard Destiny in "Space". We think his performance is spirited and eloquent as his character also grows nicely . Well done Tygh!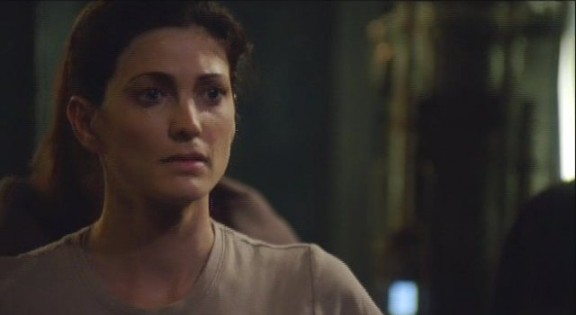 Julia Benson as Lt. James: Beautiful and talented, Julia's character, known to be a bit randy with Lt. Scott for the closet sequence, this actress as a military officer displays a tough minded individual  you do not want to mess with either. Julia Benson has a very funny scene in the very opening moments of "Space" that I quite enjoyed when she is talking about another crew member. So will you! Excellent work Julia! Thank you.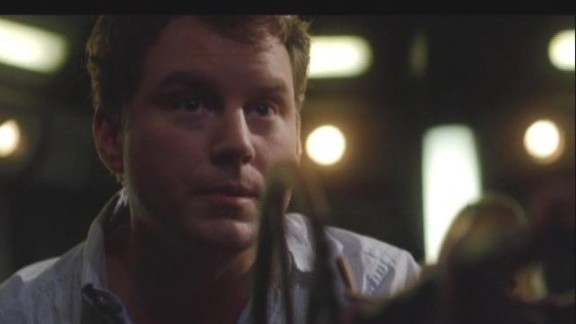 Patrick Gilmore as Dale Volker: Yet another fine member of the ensemble cast, Patrick Gilmore is a seasoned actor whom you will see much more of in the upcoming episodes of Stargate Universe. In "Space". Another disgruntled civilian his part in the turmoil is very well played and you will be quite pleasantly surprised when you find out what is happening. Well done Patrick!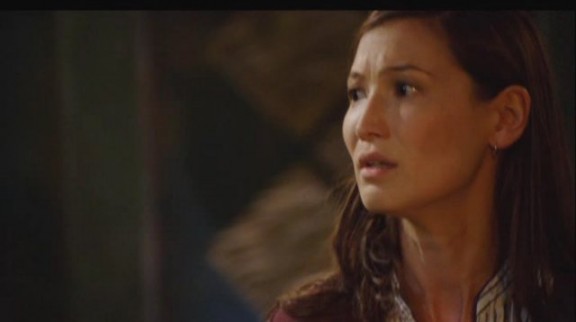 Jennifer Spence as Dr. Lisa Park: Another talented and beautiful actress, Jennifer Spence rounds out the guest starring line-up of Stargate Universe. We also see more of her than previously as she is caught in the middle of the conflict and action aboard Destiny. Jennifer delivers a super performance in "Space" and her portrayal of Lisa Park is a delight to behold.
Supporting Talent:
As time progresses aboard Destiny, we are hopeful that the faces in the crowd that is the civilian and military will come to the forefront. Of notable mention are the following  supporting talent in "Space".
Jeffrey Bowyer-Chapman as Private Darren Becker: No longer simply relegated to the mess hall, Jeffery Bowyer-Chapman is featured in 12 episodes of Stargate Universe season one and will be seen more of as time progresses.
Ruyika Bernard as Airman Richmond and Darcy Laurie as Airman Dunning: We have seen these actors in the background crowd scenes previously, but both are featured more prominently in "Space". We are hopeful they will never wear a red shirt in the future as they deliver good solid performances.
Missing or Hidden Talent:
Lou Diamond Phillips as Colonel Telford: Not featured in "Space", Lou Diamond Phillips is one of the super stars in Stargate Universe from his conflict with Colonel Young and his wife. Fear not, Lou will be back in the near future to reprise his role.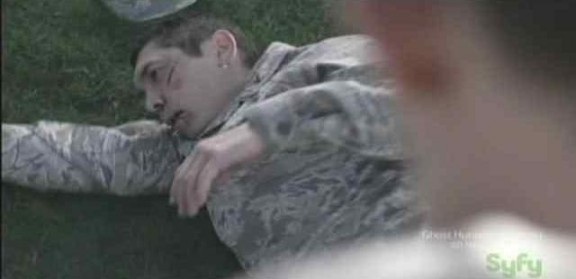 Josh Blacker as Sergeant Spencer: Perhaps one of my greatest disappointments was the suicide death of Josh in the series in episode 10 "Justice". A wonderful actor, Josh Blacker may be back. After all no one stays dead long in science fiction!
Herb Sommerfeld: We know you are in there somewhere Herb Sommerfeld! You always have been in the Stargate franchise as a supporting actor. Are you really one of the aliens now or a V? Just kidding. We hope to see you again soon!
Creators:
It is the creative geniuses listed below whom have brought the Stargate franchise back to television with Stargate Universe for their runaway hit show.
In speaking with one of the Bridge Studio creators, I asked who they might like to mention. In modest professionalism, the answer I received was exactly what I would expect. "It is a team effort". The stalwart individuals listed are that team and everyone thank them for the now 17 episodic years of Stargate including the second season renewal of Stargate Universe. Well done Stargate Universe Team!
Executive Producer: Brad Wright
Executive Producer: Robert C. Cooper
Executive Producer: Carl Binder
Executive Producer: N. John Smith
Consulting Producer: Joseph Mallozzi
Consulting Producer: Paul Mullie
Consulting Producer: Martin Gero
Associate Producer: Jennifer Johnson
Produced by: John G. Lenic
Co-Producer and Director: Andy Mikita
Creative Consultant: John Scalzi
Special Effects Supervisor: Mark Savela
Music: Joel Goldsmith
Director of Photography: Jim Menard
Stunt Coordinator: James Bamford
Editor: Rick Martin
Production Designer: James C.D. Robbins
Art Director: Chris Beach
Costumes: Valerie Halverson

Line Producer: George F. Horie
Casting:
Canadian Casting:
In closing for now, WHR will be back with more on Stargate Universe in the future and for that matter so will the creators of Stargate. Thank you creators of SGU!
Make sure to tune into to SyFy 9 PM EDT / PDT tonight and every Friday for the ongoing saga in Stargate Universe. Canadian tune to Space Channel and United Kingdom viewers get ready for launch on April 09, 2010! Check local listing for air times.
Thank you for reading and visiting WormholeRiders News Agency.
Please feel free to leave a comment here or by visiting me on Twitter.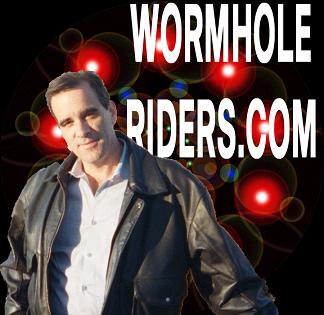 Best Regards,
Kenn
WR_Systems (Kenn)