Fellow fans,
About a week and a half ago now, I attended a party hosted by Patricia

Bertand  of Auroris Entertainment also known ArcticGoddess1 on Twitter as as a prelude to the
convention known as GateCon.
You may recall that back in April I attended a similar function for WormholeRiders before VanCon, and, just like then, I had a great time.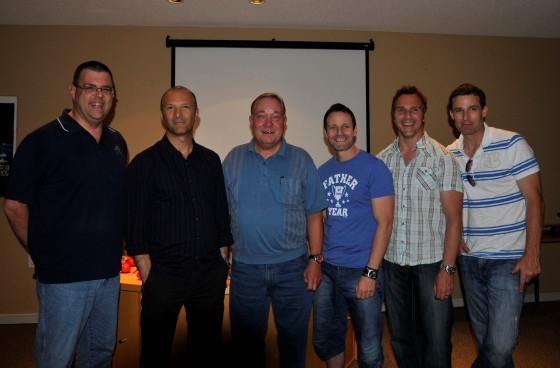 Left to right: Bruce Woloshyn, Frank Cassini, Barry Campbell, Ryan Robbins, Mike Dopud, Peter Flemming
Given that I've only been to one convention so far I obviously cannot offer a complete comparison, but one of the things I love most about Patricia's parties are that they afford the opportunity to simply hang out and chat with fellow fans and the stars who attend. The atmosphere at the party is casual and relaxed, and Patricia also organizes some fun games and activities which always have people laughing and generally having a great time. In attendance at this particular party were: Frank Cassini, Peter Flemming, Bruce Woloshyn, Barry Campbell, Mike Dopud, Ryan Robbins, and Gary Chalk.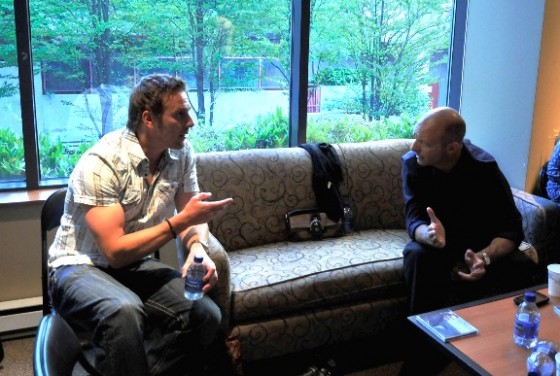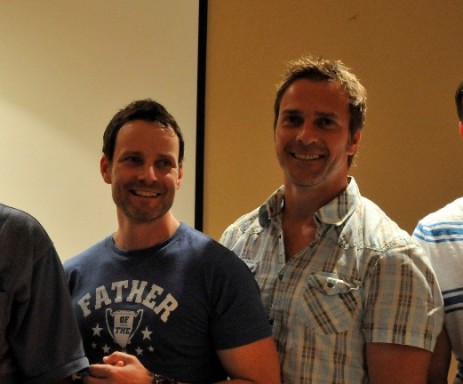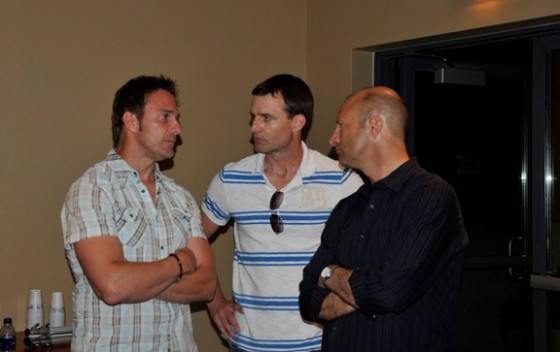 I spent some time at the beginning of the party catching up with Frank (who I interviewed last month) and chatting with Peter. Once everyone was settled, Patricia started off the activities with a game of "Pin the Ribbons on the General". What is that, you ask? Well, there was a laminated poster of Richard Dean Anderson as General Jack O'Neill and the blind-folded participants had to pin a set of ribbons on said poster. Each person who was blind-folded had someone else who helped guide them towards the poster, so there were quite a few ribbons extremely close to the mark – including Mike's, who went with Frank giving him a hand.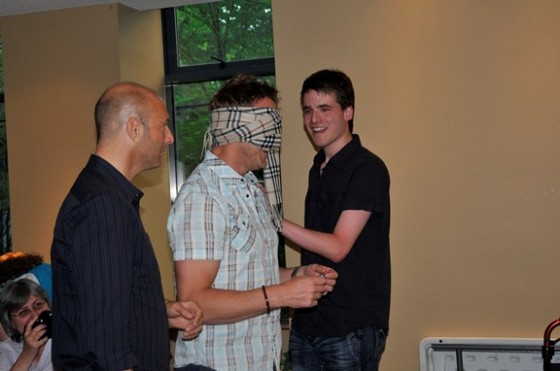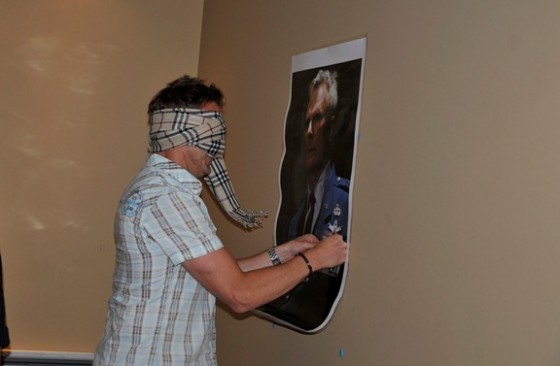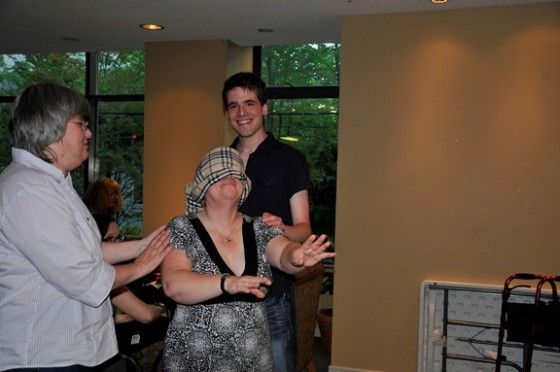 After we played pin the ribbon, Patricia had organized a game of Stargate Bingo. This one proved particularly lively as everyone was competing to try and complete their sheets, and Peter was the one presiding over the game. Everyone got into the spirit of the game while joking and laughing. At one point, Peter asked everyone to let him know when they had just one left until they completed a row, and almost everyone shouted out. What really made things fun was when a big group of people got bingo all at the same time and jumped up waving their hands and yelling "Bingo!"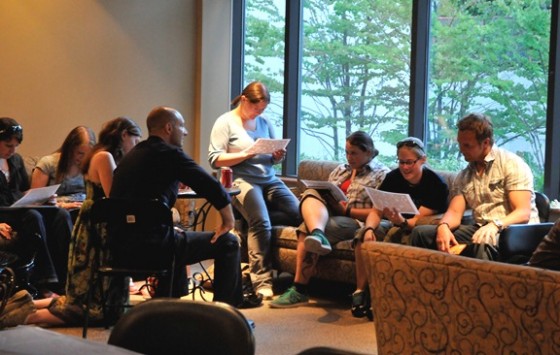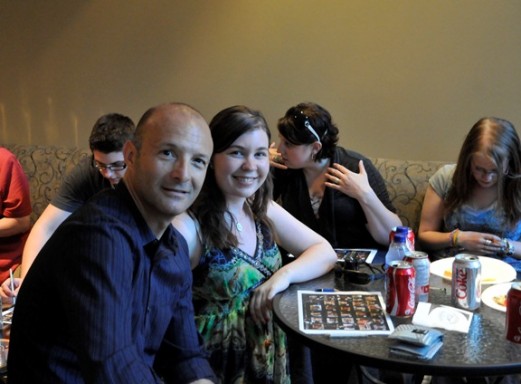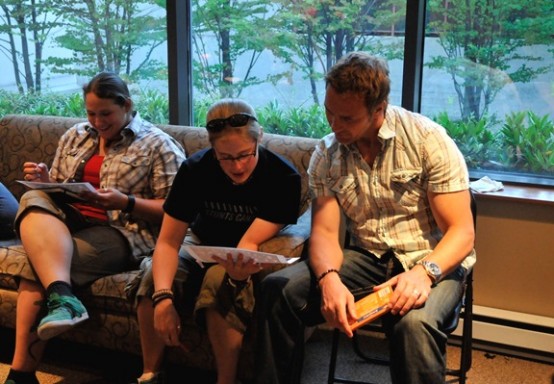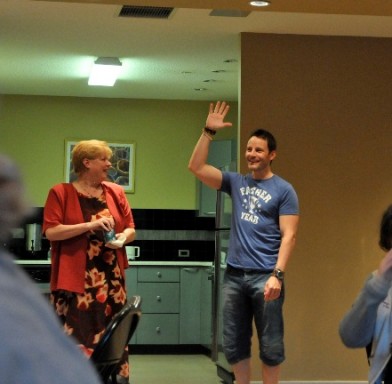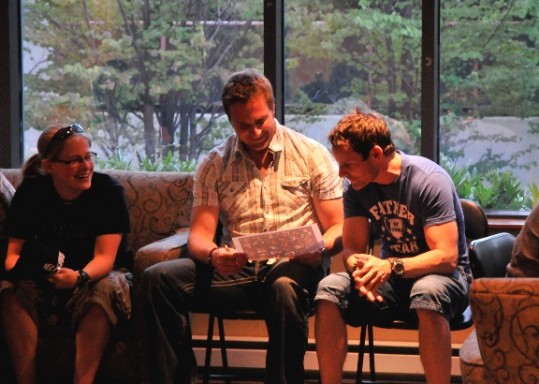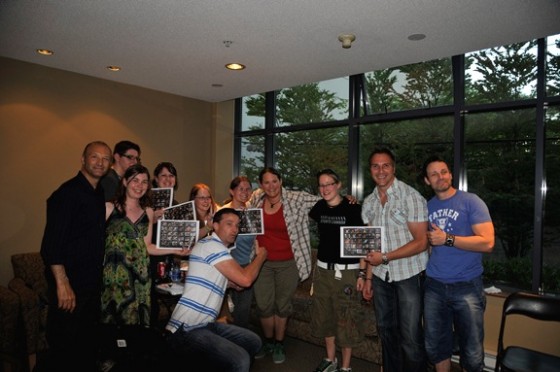 The Bingo Winners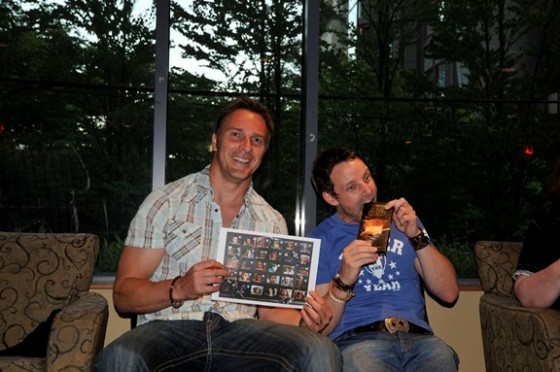 Mike and Ryan, victorious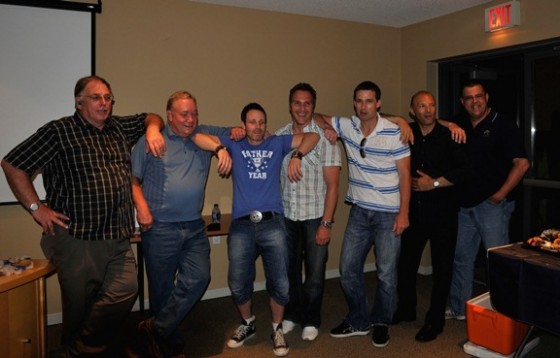 Here the guys were posing for a group photo and, starting with Bruce, decided to put their arms on each others' shoulders. Only problem was that Gary and Barry decided to do the same thing. Ryan was left trying to figure out where he was supposed to put his arms, as you can see.
People continued socializing as the evening wore down, and culminated with a fair few people taking photographs at the end, including some great group shots of the guys who came.
I'v
e said this before, and I'll likely say it again: if you're in town for a convention I would highly recommend coming a little early and attending one of Patricia's pre-convention parties.
Once again, I want to express my thanks to Patricia for hosting these parties! You can click on the link in her picture to visit Patricia on Twitter.

If you have any questions, or just want to chat, feel free to drop me an email at the
link below or click on the picture to visit my Twitter page.
NaddyCat

As always, thanks for reading!

Nadine Ramsden