Greetings, SciFi Fans!
WARNING: This pre review is as spoiler free as possible, However images are from Stargate Universe season two episode eight "Malice." One image should be considered a spoiler. If you do not like spoilers, stop reading now. Thank you.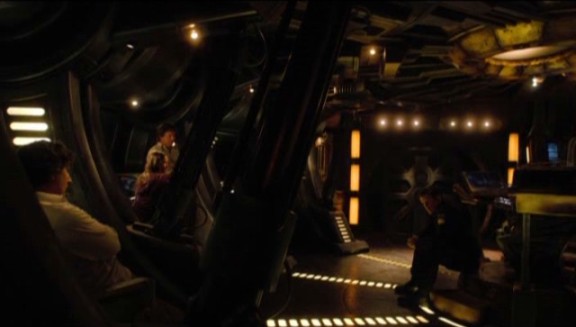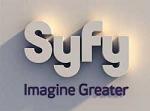 If you made other plans for Tuesday night, we suggest you cancel them because you are definitely going to want to be home watching Stargate Universe.
This week's episode, Malice (Episode 208), is one of the most heart-pounding Stargate Universe episodes yet.
With outdoor cinematic scenes staged and filmed in the rocky, high desert landscape of northwest New Mexico, fantastic 3D creature effects by special effects guru Mark Savela and his team of VFX experts, and top notch performances by the Stargate Universe cast, Malice will take your breath away!
This is not SGU's first trip to New Mexico.  Part 3 of Air (Episode 103) was shot near Alamogordo in southern New Mexico.  For Malice, a location was chosen near Farmington in the Four Corners area of the state.  The stark beauty of this area formed the perfect backdrop for Malice.
Malice the emotion is an ugly thing.  It is "the desire to cause pain, injury, or distress to another."  Depending on your dictionary, the definition may include the idea that malice is the desire to harm someone else without provocation.  But does any emotion just pop into being without some catalyst?  Who aboard Destiny might have a reason to feel malice right now?  Enough to want to take action, maybe take revenge for some perceived wrong?
Revenge is very like malice, in that it is the act of inflicting injury on someone in return for something they have done.  In the official Syfy trailer for Malice, Col. Young (Louis Ferreira aka Justin Louis) says, "Revenge can be a very dangerous game."  Everyone on board Destiny has a reason to be angry after everything that has happened up to this point, and especially after the dramatic events of last week's episode (Episode 207, The Greater Good).  Tension is building, emotions are running high, some people have a short fuse anyway, but even the unlikeliest characters may be ready to explode.
At the end of The Greater Good, much had been revealed but we were left on the edge of our seats wondering what had just happened and what would happen next.

First, we finally found out why Dr. Rush (Robert Carlyle) had been so secretive about having discovered  Destiny's command center and his ability to control the ship.  Destiny is on a mission, set on its course by the Ancients toward the source of a mysterious signal.  With so many people involuntarily stranded on Destiny, Rush was probably right to think he might be forced to turn the ship around in an effort to get those people back to Earth.  Col. Young said it before, "That ship is the best chance we have for getting home."
But what if they tried to take the ship back to Earth, effectively ending Destiny's mission?  Would the ship allow it?  Destiny has already made adjustments to accommodate the humans now on board while keeping to its primary purpose.
And there is another possibility: the ship was built and sent on its way by the Ancients. There is a chance that the Ancients, even after they Ascended, have continued to monitor Destiny's progress.  Despite their policy of non-interference, would the Ancients prevent Destiny's human component from destroying hundreds of thousands of years of progress when the goal is now so close?
Also revealed last week were the deep feelings and blossoming relationships of Eli (David Blue) and Ginn (Julie McNiven), and Rush and Amanda Perry.  Eli and Ginn had already taken things to the next level. Rush and Amanda had not yet had the opportunity, but they had definitely made the emotional connection.
At the end of The Greater Good, both of these relationships were in terrible danger.  If you recall, Ginn and Amanda (Kathleen Munroe) had changed places using the communication stones.  Ginn's body, inhabited by Amanda's consciousness, remained on Destiny.  Ginn's consciousness was in Amanda's body on Earth to answer questions about Lucien Alliance plans to attack the home planet.  Eli was not happy about his new girlfriend's body being used by Rush's love interest, and someone else on board Destiny–Simeon–was not happy about the possibility that Ginn was spilling Lucian Alliance secrets.
Simeon of the Lucien Alliance (Robert Knepper) was among those kept on board Destiny when most of the Alliance personnel were put off the ship.  Despite the agreement that had kept him on board, Simeon had apparently never let go of his ill will towards Earth or the people aboard Destiny.  Seeing Ginn cozying up to Eli and getting so cooperative with the crew was making Simeon very nervous.
Simeon failed to get to Ginn before the switch, but he was able get to Amanda in Ginn's body and we saw what appeared to be the aftermath of Simeon's violent attack on her. So what happened last week? Is Ginn's body dead?  And if so, what does that mean for Ginn and Amanda?  Is Ginn's consciousness alive in Amanda's body?  Is the connection severed at death?  Are they both dead?  She certainly looked dead lying on the floor, her eyes open but vacant.  But in TV and movies nothing is certain.
What we do know from Syfy's trailers for Malice is that both Eli and Rush are very, very angry.  Eli asks for a gun and Rush is screaming in rage.  But again, they could be angry for many reasons.  For example, you might expect them to be angry whether the women they loved were injured or killed, or even if they were unhurt but had been threatened with harm.
What if Amanda's consciousness and Ginn's body were dead, but Ginn's consciousness remained alive in Amanda's body?  How might they respond to that?  Or they could be angry about something else entirely, like sabotage of some kind.  What if Destiny was irreparably disabled and everyone stranded on a (mostly) lifeless rock?
Thanks to the folks at Syfy I had the great privilege of viewing a rough cut of Malice and I can tell you, this is one you will want to watch live, then you will want to watch it again–so fire up those DVR's!
As mentioned, the WHR Team of reporters will have more special Stargate Universe news reports over the next 24 hours about S2x08 "Malice."
As always, thank you for reading and visiting Wormhole Riders News Agency. Please feel free to leave a comment or question here or click one of the social media icons below to share this article.
if you prefer (as so many of our visitors do),you may also visit and follow WHR

on Twitter or Facebook with your comments or questions.
See you on the other side on Twitter,