Welcome to our alien analysis about the best comedy on TV, The Neighbors!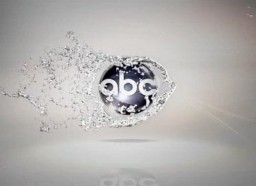 Just when I was beginning to wonder if Debbie (Jami Gertz) and Marty Weaver (Lenny Venito) had any other friends besides the aliens next door, my mind is set at ease knowing that the answer is yes…sort of.
From the way Debbie describes this new menace, the term, "frienemies" might fit very well. Why do the Weavers hate these people so much?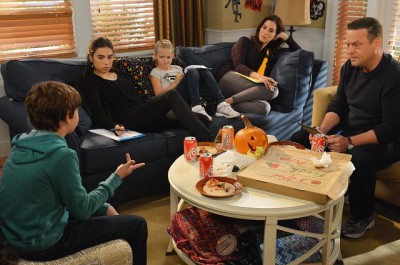 Because, while the Weaver kids get overheated pop tarts for breakfast, the Hollander kids get smoked salmon on home-made croissants.
The Hollander family is the perfect family everyone loves to hate. A family meeting is held to discuss the pending visit as they think about the "Boogeyman" or Boogey neighbors, hence our selection of the classic Henry Hall song "Hush, Hush, Hush, Here Comes the Bogeyman" from 1932 for your enjoyment!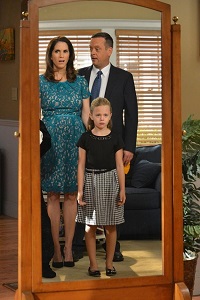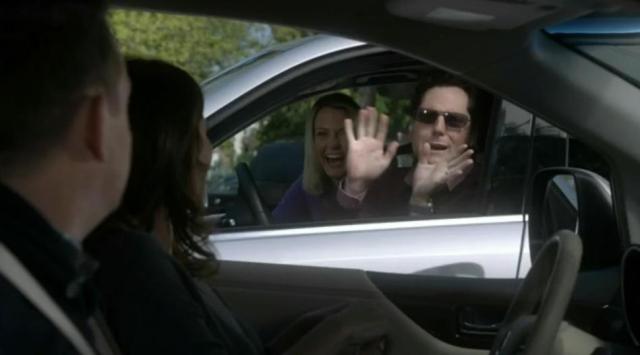 Challoweenukah:
Naturally, these friends (played by Lilli Birdsell and Alexander Chaplin) continue to pour on the horrible experiences by inviting the Weavers to a Halloween bash. Debbie and Marty initially decline the invitation. After all, you really do not want to hang around people you consider to be your enemies, but upon hearing that there will be a costume contest; well, who can pass that up?
At the alien household, where Larry Bird (Simon Templeman), Jackie Joyner-Kersee (Toks Olagundoye), Reggie Jackson (Tim Jo) and Dick Butkuss (Ian Patrick) seem to finally have gotten the grasp of Halloween (or Halloween-ween, as they learned to call it last season), Larry enters and tells the family he has just discovered the Jewish holiday of Chanukah. In fact, would it not be all kinds of fun to combine this new holiday with Larry's favorite all time holiday – Halloween? Larry asks for a drum roll from Dick to make his announcement.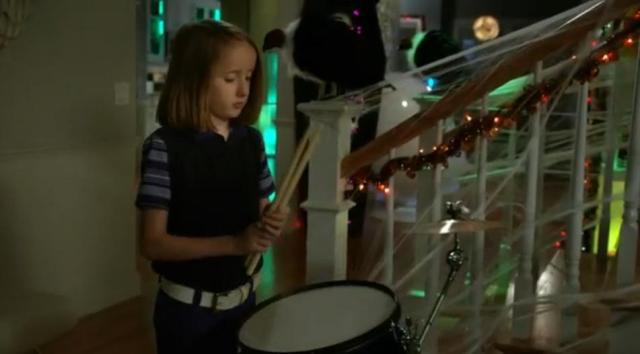 In fact, let's not just leave it at a drum roll, let's announce to every other denizen of the gated community, except the humans next door, that there will now be eight days of candy, scarey things and miracles.
I suspect that this was the episode that Doug Jones may have meant during our interview with him on You Decide, when he told us that he had been asked to appear on The Neighbors, but was unavailable due to his contract with Falling Skies.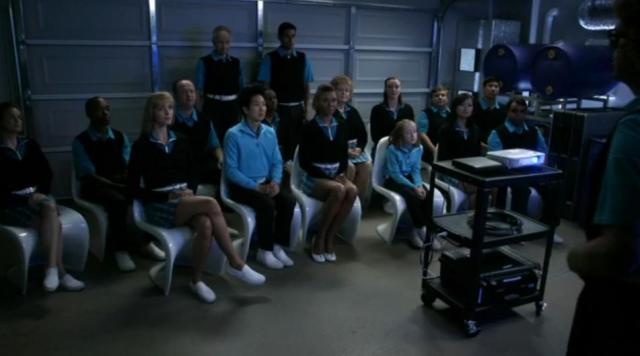 The Weavers have gathered to not only "Dis" the Hollanders, but to come up with ways to "demolish" them. It seems everyone but Amber hates this family. Amber seems to not mind them only because she has had no prior contact.
Could this evening get any weirder? The answer, of course, is yes, when a knock at their door yields Larry and Jackie items from both Halloween and Chanukah, while Larry plays the ukulele. It is not a good time, apparently. Debbie shuts the door in their face. So not polite.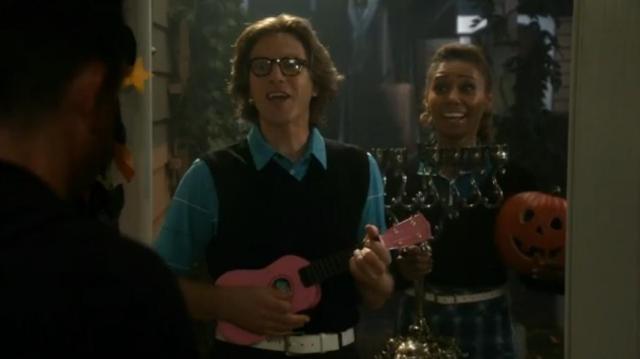 While Larry announces "Challoweenulah" by tacking flyers to doors and people, the Weavers attempt their first costume…going as the Obamas. There are many things wrong with this choice, but, as a family, they do look nice.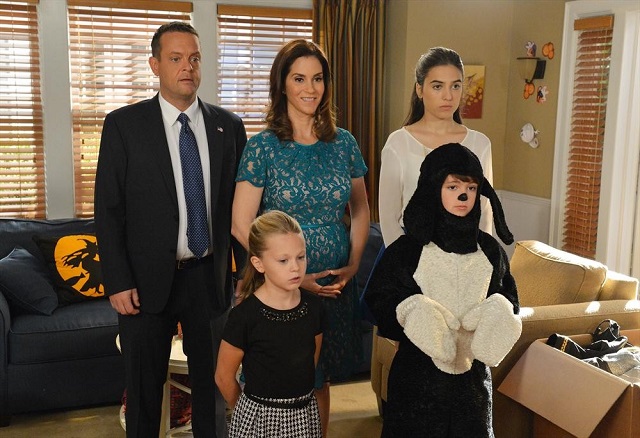 Next up, as the aliens continue to decorate for the double holiday, the Weavers are checking out their look as the cast for "Sex In The City". Uh…nope. Although, Marty actually makes a pretty sexy woman.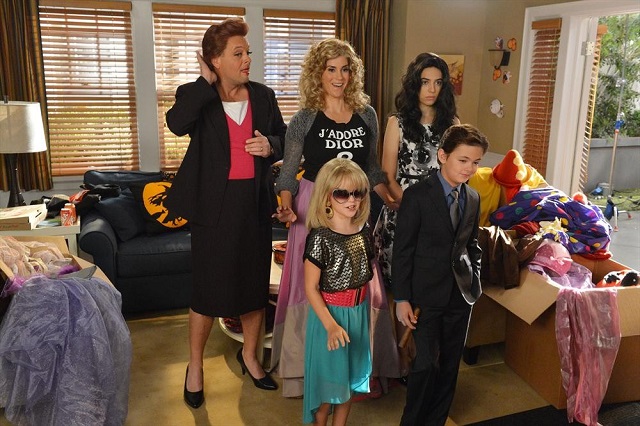 Next up, "Basket Weavers". Now, that is just getting ridiculous. Even Amber (Clara Mamet) thinks so with her comment that they had a better chance of winning in Black Face. Although, if they had tried that, they might get tarred and feathered and run out of town.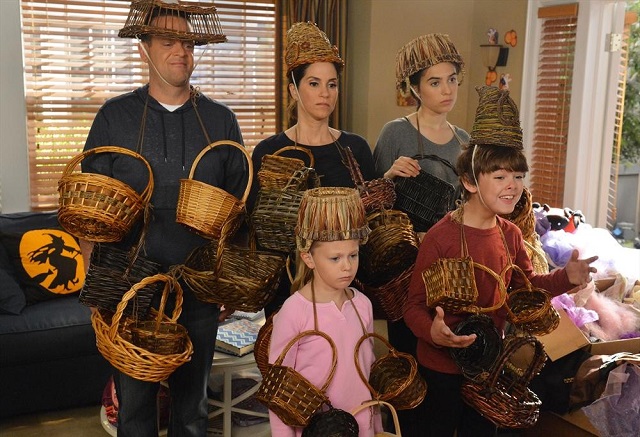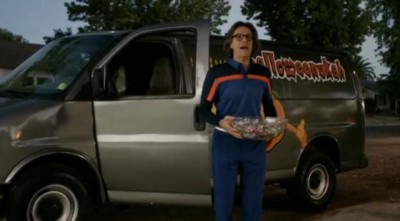 Poor Larry. Since it is still several days before Halloween, no one has shown up to take candy from his Menorah. Larry does not seem to have grasped that just because he makes up a holiday does not mean that everyone will celebrate it.
Now that Larry has tried to bring his holiday to others in the neighborhood, things do not go so well. In fact, Larry finds himself in a jail cell.
Now, this is what I am talking about. I have been asking for several weeks to see the aliens face the natural and logical consequences of their actions, and here it is. This is what would more than likely have happened if real aliens came to earth.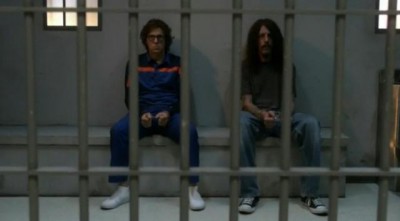 While all of the above was going on, Reggie told Amber that he could not spend Halloween with her because he was spending it with family. This made Amber annoyed at him. Thus, she stopped texting him. Reggie, confused, looked to his mother for the answer, but Jackie, wanting to spend more time with her son, pretended that nothing was wrong.
Oddly, Dick Butkus, the younger son, knows more about what is going on than Reggie does. Again, the character of Dick Butkus, played very well by Ian Patrick, does not seem to be given an opportunity to mess up as an alien child. Even if he is wise beyond the years of a human child, surely there are lots of opportunities for him to mess up as an alien.
Anyway, Jackie rushes into the Weavers home to announce an emergency, just as the Weavers have the perfect costume, a Bacon, lettuce and tomato sandwich. Larry is in jail. Naturally, the Weavers cannot get back out of their costumes, so they are forced to spring Larry as is. We all must make sacrifices for our friends.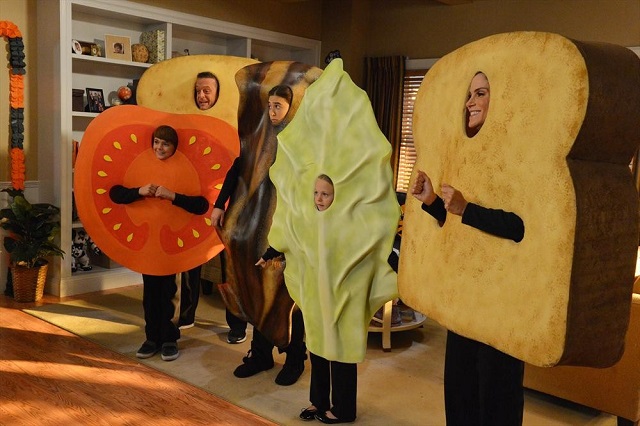 Reggie makes good and creates his own costume so that he and amber can go dressed as bacon and eggs. This leaves the rest of the Weavers without the bacon. Everyone knows that things go better with bacon. What can they do to make this right?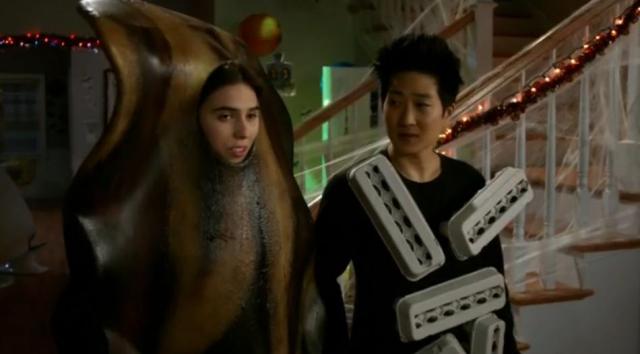 The Weavers decide that being with their real friends, the alien family, is more important than going to a party they did not really want to attend in the first place. As they resign themselves to losing the bet with the Hollanders, a sudden heavy storm begins and the power goes out. It is the perfect time for the Menorah.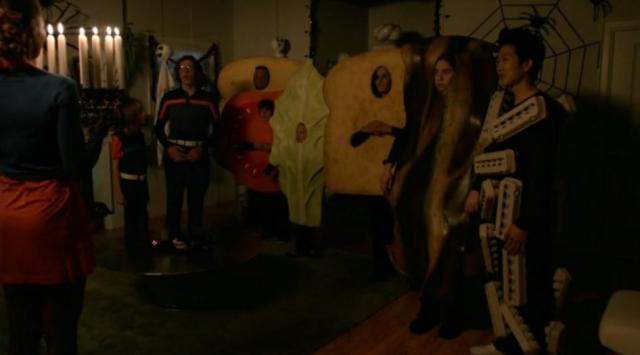 This episode was another opportunity for Larry to prove himself. He makes several mistakes, including offering candy to a bunch of kids on the street and getting arrested for looking like a child predator. His real interest, we find out later, is to share a holiday with his human friends so he can see the look of wonder on the human faces of their neighbors ; the same look they see on the alien's faces for the human holidays.
It was great to see Toks Olagundoye do her impressions again; this time of a Valley girl. This was a funny episode. It was very cleverly written and acted by the entire cast.
Great lines in this episode are:
Debbie (to Max and Abby): "Mouths heal really quickly".
Debbie (to Marty): "I'll feed her some Neosporin later".
Amber: "For Halloween, I was thinking I could go as young Yoko Ono and you could go as old Yoko Ono because we already have the hair".
Larry: "We don't need the Weavers, anymore than the Maccabees needed the uh…uh…"
Larry: "Give up? No way, Monet. We just need one miracle".
Larry: "If the children won't come to me, then I shall bring my holiday to them".
Larry: "Children, gather round. I've created a magical new holiday. Come closer. Come closer to my van. Now, who wants candy?"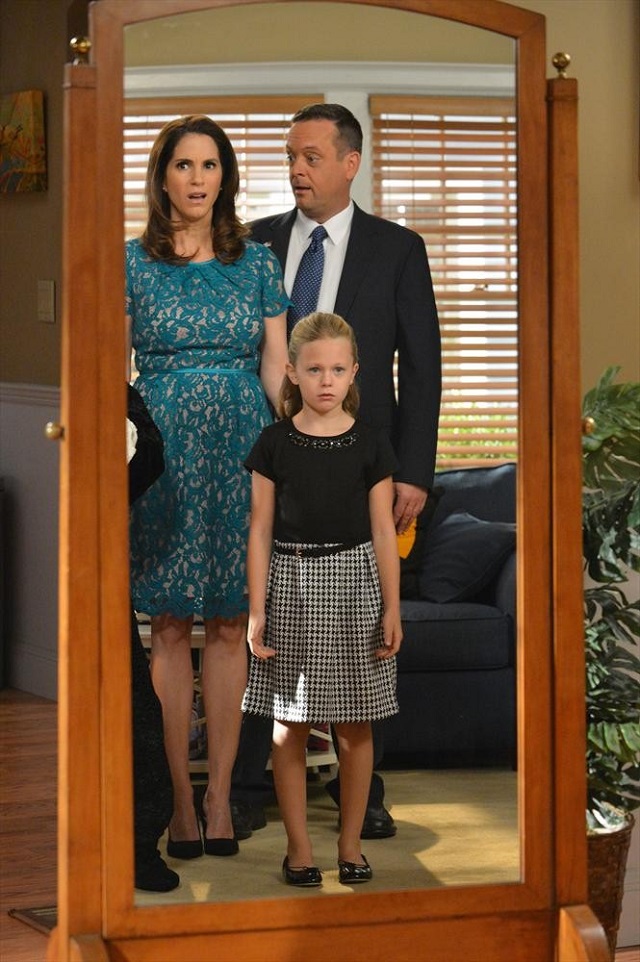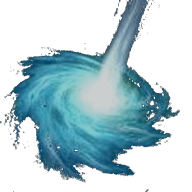 Thanks to Kenn for final staging of the audio embeds and providing additional images in this news article and many thanks to you for stopping by WormholeRiders News Agency!!
We look forward to seeing more of you here at our review site dedicated to our wonderful aliens friends known as The Neighbors!
Please feel free to leave a comment here, click an icon below to share this interview with your friends, or you can visit and follow me on Twitter by clicking on my avatar to the right.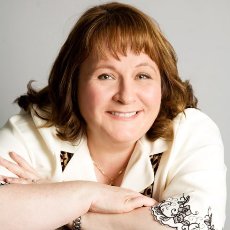 Regards,
Thank you.
ArcticGoddess1 (Patricia)