Welcome to our alien analysis about The Neighbors!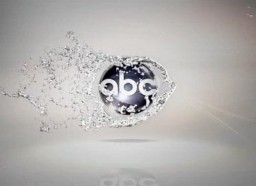 It was so well received the last time, it makes sense to do it again – The Neighbors goes Bollywood with another musical presentation. Larry Bird is the lead vocalist with the rest of the alien crew assigned to back-up singing. As usual, they do a wonderful job of being musical, funny and very colourful in this clever episode.
Balle Balle:
Written by Scott Weinger and directed by John Fortenberry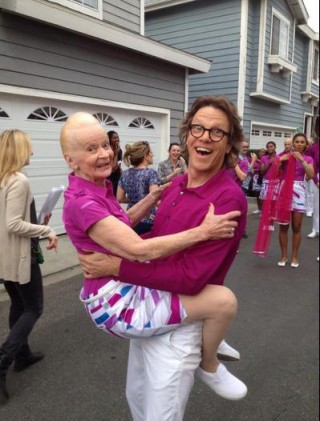 , this 17th  episode of Season Two had to be one of the best so far. The alien family we have come to know and love were even more over the top than usual.
This time, the entire Zabvronian clan was at the parade/party, which begs the question, why did Marty and Debbie take so long to get involved?
As usual, our episode opens with breakfast at the Weavers. Debbie (Jami Gertz) is continuing to attempt a healthy lifestyle by feeding the kids glutten-free pancakes. They are not very appetizing so the kids do not eat them.
I guess a stop at the closest fast food restaurant is in order. However, this does not happen. Instead, it appears that it must be a weekend or a school holiday, because no one is in a hurry to get to school.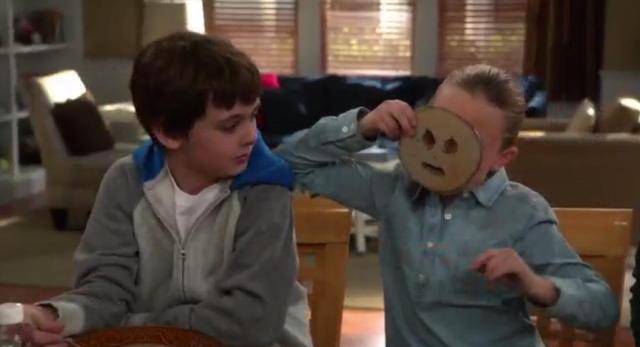 Enter the Bird-Kersee's just as the kids decide their parents are too lame to be around. In fact, they have some exciting news. Larry (Simon Templeman) has an envelope. How exciting. While Larry waves it in the air, Jackie (Toks Olagundoye) does everything she can to play Vanna White by nodding and pointing at it. What a delightful surprise. It is an invitation to a traditional Indian wedding.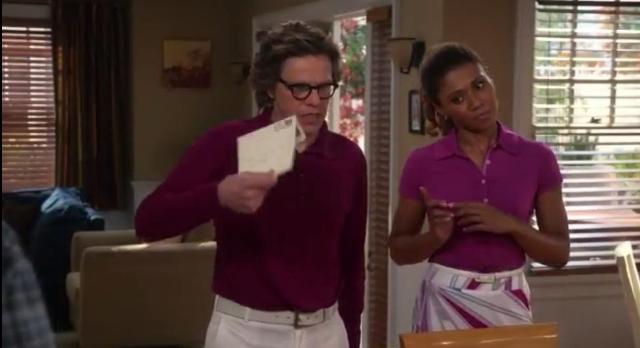 Since they are now talking weddings, an event that neither Jackie nor Larry have ever been to, they get all the subtle customs wrong. Jackie wants to wear a beautiful white gown. Debbie and Marty (Lenny Venito), being the good neighbors that they are, offer to school Jackie and Larry in the custom of what to do and what not to do at a wedding. This does not go over so well.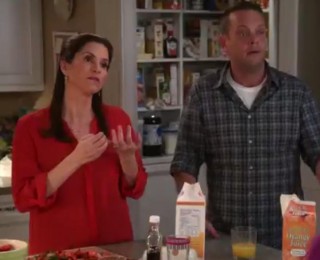 Larry, in his rant about being able to do it on his own, informs Marty, "Don't you remember what happened last year when we couldn't go to that Broadway Musical on our own?" Marty replies, "Yeah, you tired putting on your own Broadway Musical. Dick Butkuss (Ian Patrick) fell in a well, and you almost ended up exposed as aliens". Larry, of course has the perfect answer, "Yes, Marty, but this isn't season one any more". There goes that fourth wall, dropping out of sight once again. The Neighbors does this very well. They tease and joke with the audience so that we all know we are watching a television show.
The naysayers next door do not think that the Bird-Kersees are capable of attending the wedding without making a spectacle of themselves, says Larry. Heaven knows, there are enough situations in the show so far to prove that this family is completely incapable of doing anything small. They should embrace the knowledge offered to them by the Weavers. However, if they did that, there would be no complete disaster waiting in the wings and what would be the fun in that? So… as Jackie and Reggie (Tim Jo) are gung-ho with the idea of going it on their own, Dick, wise beyond his years, calmly pronounces, "never works out for us".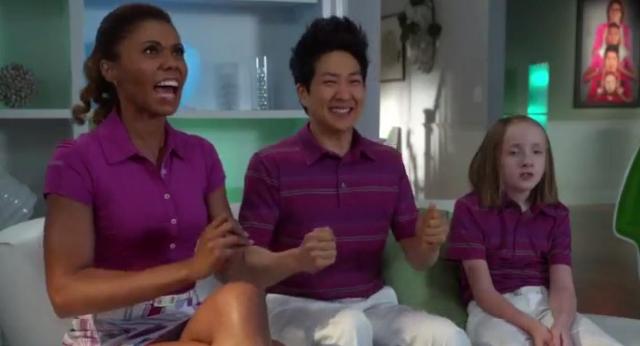 At the Weavers, Marty and Debbie are enjoying their alien free morning. What shall they do with all their free time? Debbie suggests a picnic. How exciting!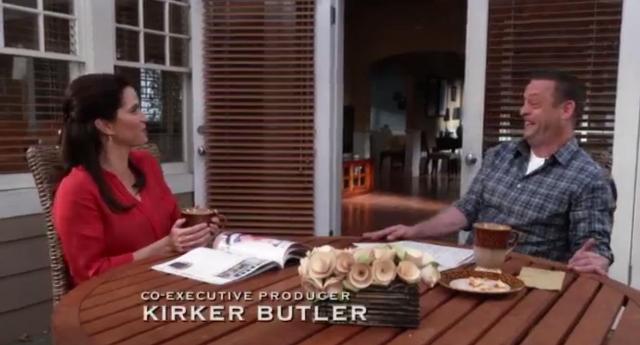 We learn what Balle Balle means according to Larry Bird. After watching four hours of Bollywood, he explains that it is similar to the expression, Hakuna Matata, or Go Big or Go Home. I should also point out that the Bird-Kersees are wearing the same outfits that they wore in the musical episode from season one, Sing Like A Larry Bird.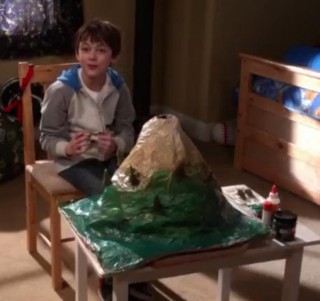 As the neighbors begin to burst into song, Marty and Jackie enter Max's (Max Charles) room to invite him to the picnic. He is in the process of creating his school project, but takes a moment to get excited that one of his grandparents may have kicked the bucket. Bad news, Max. It is only an invitation to a picnic.
The Neighbors are in full dance and sing mode as Larry acts as cheer leader and coach. He has even provided rose petals to toss into the air. Two of the alien neighbors get involved from the kitchen window. Time to turn the light bulb and pet the dog.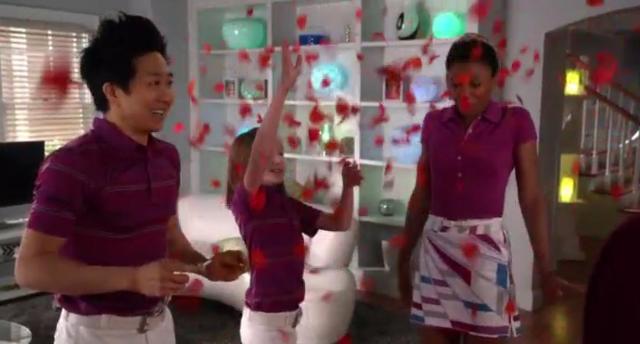 Back at the Weavers, it is strike three with the picnic. Not even Abby (Isabella Cramp) is interested. She would rather have a tea party with her dolls.
Meanwhile, outside on the street, everyone has joined in to Go Big or Go Home. Larry announces that this will be the wedding gift to the bride and groom – the musical number from Larry Bird plus 50. Later, Larry asked his alien crew if they have any questions. Mary-Lou Retton (Katherine Tokarz) asks, "What's a wedding?" Then, the best line of the episode, an unnamed Indian looking alien (Mobin Khan) asks, "What's an Indian?"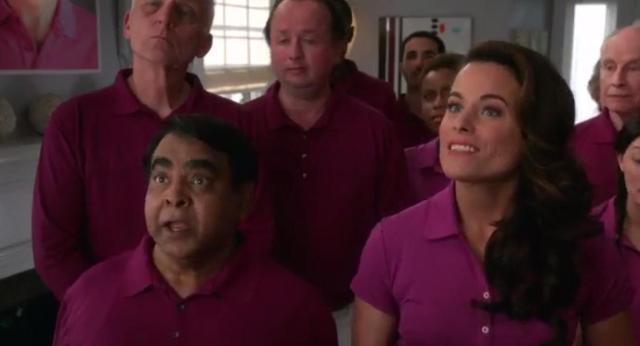 Marty and Debbie try to convince each other that their picnic is going to be the best fun ever. While they are busy lying to themselves, they are preparing raw carrots and celery. Just as they are really letting go with the rice cakes, the neighbors remind them that they just might be wrong. Larry's voice booms over everyone else that they are more fun.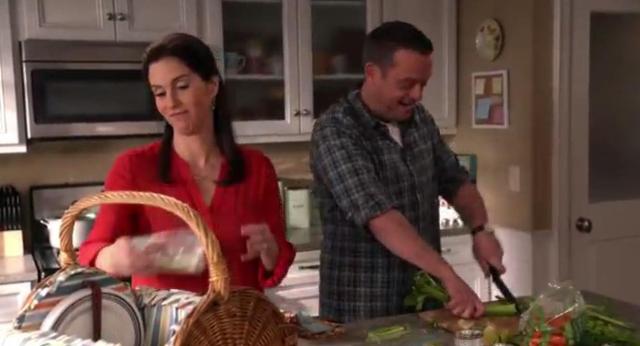 To add insult to injury, the kids sound like they are having lots of fun upstairs. When Marty and Debbie check on them, they discover that the kids are indeed having a great time. Further, they cannot see how they would be able to have any fun with their parents, "It's a good thing, and if you were fun, we'd be dead".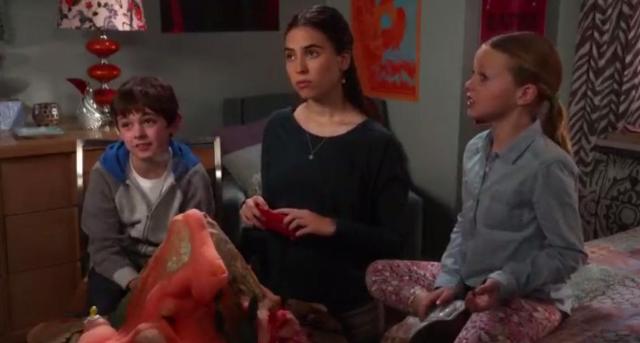 Problems are arising at the Neighbors as well. The requests by the individual members of the group are beginning to clash, suggests Jackie. "Time for the nay saying neighbors to say nay". So, Jackie and Larry check to see what Marty and Debbie are up to next door.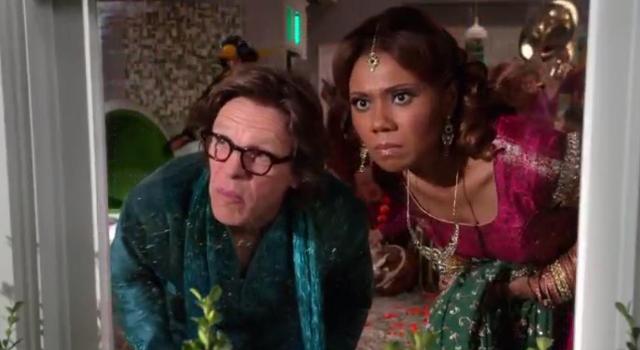 Once they are together, Jackie and Larry try to convince Marty and Debbie that they need some help saying no to all the craziness happening at home. Debbie and Marty, for a change, want to have the fun that the Neighbors are having. They want to get more involved, and as Debbie so aptly puts it, "as much as we try to fight it, you two are the music in our lives".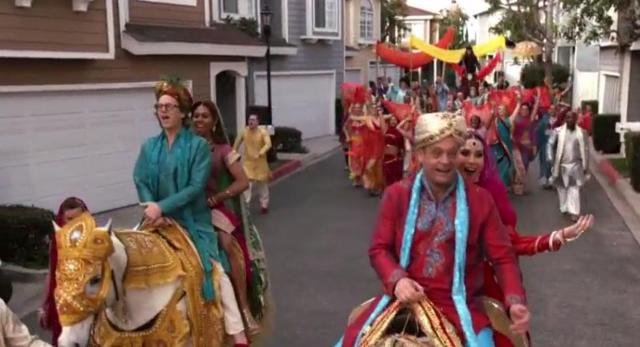 What follows next is an even bigger production number than the one last year. This time, costumes and horses are involved. Everyone is having a great time, even the Weaver kids, until they reach the wedding party and discover…oops, wrong Indians.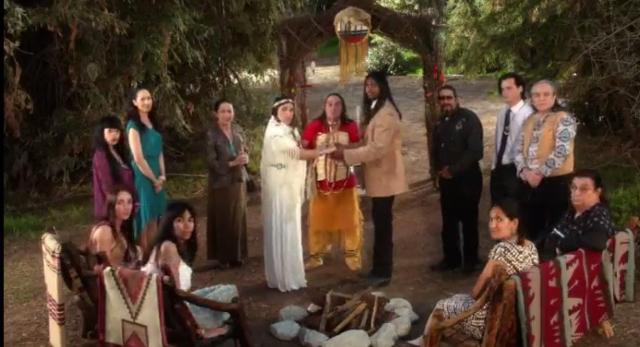 Great Lines:
Amber (Clara Mamet): "I'm sure there is an embarrassing selfie of you on a cave somewhere".
Marty: "Breakfast is a lot meaner than it used to be".
Larry to Jackie: "Come, wife. Let's go work on our memorable surprise toast. We'll open with Jay's previous girlfriends, then we'll discuss his brother's closeted homosexuality, and then I'll close with how much he hates his in-laws".
Jackie to Larry: "And don't forget to mention religion and politics".
Marty to Larry: "You know, you add six gin and tonics and a racist remark about the buss boy, that's your mother's toast at our wedding".
Larry: "Since you all will be joining us at the traditional Indian wedding, are there any questions?"
Mary-Lou Retton: "What's a wedding?"
Indian looking alien (Mobin Khan): "What's an Indian?"
Marty: "This isn't a picnic, it's rations."
Larry to Marty and Debbie: "Our job is to be fun. It's you guys job to stop us from being too much fun".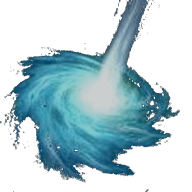 Thanks to Kenn for final staging of the audio video embeds and images in this news article and thanks to you for stopping by WormholeRiders News Agency!!
We look forward to seeing more of you here at our review site dedicated to our wonderful aliens friends known as The Neighbors!
Please feel free to leave a comment here, click an icon below to share this interview with your friends, or you can visit and follow me on Twitter by clicking on my avatar to the right.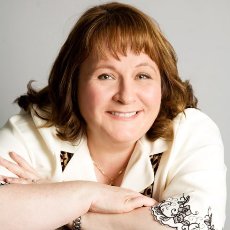 Please feel free to leave a comment here, click an icon below to share this interview with your friends, or you can visit and follow me on Twitter by clicking on my avatar to the right.
Regards,
Thank you.
ArcticGoddess1 (Patricia)