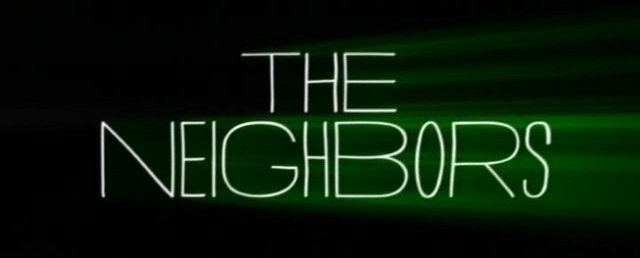 Welcome to Halloween with The Ne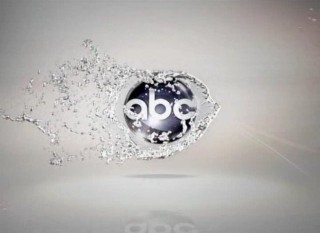 ighbors!
We love this new comedy featuring a large ensemble cast starring Jami Gertz as Debbie Weaver, Max Charles as Max Weaver, Isabella Cramp as Abby Weaver, Tracy Weisert as one of the alien women, Mobin Khan as one of the Zabrvonians, Malcolm Bowen as one of the aliens, Tim Jo as Reggie Jackson, Americus Abesamis as one of the aliens, Robert T. Barrett as Jeff Gordon the alien, Trisity Cameron as an alien Zabrvonian, Ningning Deng as one of the alien women, Laura LaMonaco as one of the Zabrvonian aliens, Katherine Tokarz as Mary Lou Retton, Lenny Venito as Marty Weaver, Simon Templeman as Larry Bird, Toks Olagundoye as Jackie Joyner-Kersee, Clara Mamet as Amber Weaver, Ian Patrick as Dick Butkus, Aliya Astaphan as one of the Zabrvonian girls, and legendary actor and video game celebrity Doug Jones guest starring as Dominique Wilkins!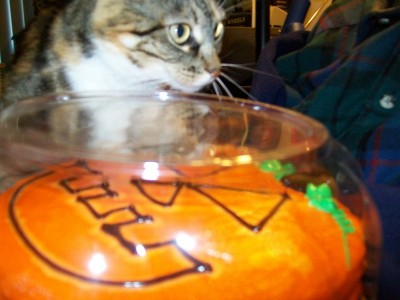 Of all the American holidays that the aliens on The Neighbors should understand, Halloween would be the most likely. After all, we do know that they read a great deal.
Personally, I think they would learn more, both correctly and incorrectly, from watching television as well as eating some Halloween cake like the very precious Adria the Cat! 
Perhaps Marty Weaver should introduce Larry bird to American football? We know that he would not be interested in basketball. But that is a review for another time.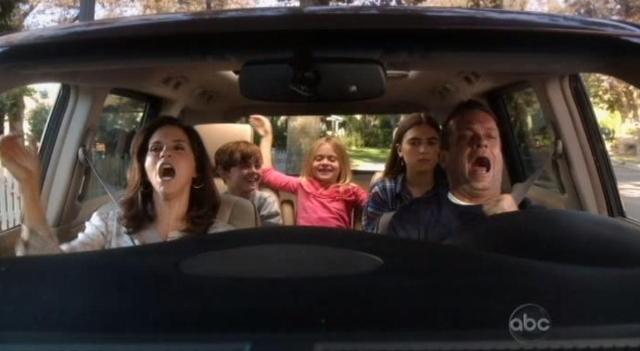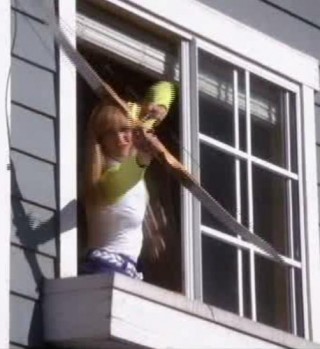 The Weavers favorite holiday, according to the kids is…Christmas…Easter, then after some coaching, Halloween. Yay!
The whole family is out casing the neighborhood, looking for the best places to hit for the best loot. I cannot disagree there, remembering my childhood, stripping my hapless pillow of its case so I could get lots and lots of candy.
Upon arrival home, the Weavers discover that Larry Bird and friends have been busy preparing…for… as Larry describes it, "every year since we have arrived, on the last day of your October, tiny devils gather en-mass at our main gate ready to invade.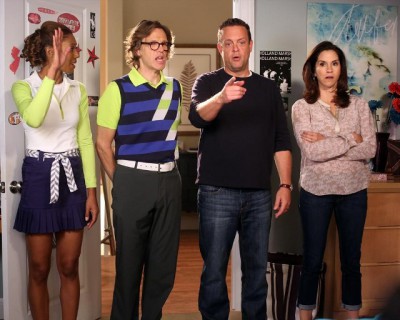 In the past, our main gate has kept them at bay. Should they breach it…" Then Jackie Joyner-Kersee finishes, "…we will rain hell fire and fury upon them". She smiles sweetly.
Naturally, after watching the practiced chaos planned, Debbie Weaver does her best, supported by Marty, to explain the concept of Halloween, "you are not being invaded. It's a holiday. It's called Halloween. Kids get dressed up in scary costumes and go door to door asking strangers for candy."
This, of course, is where Larry gets the name wrong. As Debbie attempts to correct him by emphasizing the last part of the word, it quickly becomes, "Halloween-ween". To clarify the concept, Marty invites Larry and Jackie into their highly decorated home to see costume making at its finest.
"You see guys, you can stop preparing for war and start buying candy. Its fun," Debbie announces hopefully. Larry is not so sure. Again, he feels his leadership is being questioned, a recurring theme with this story.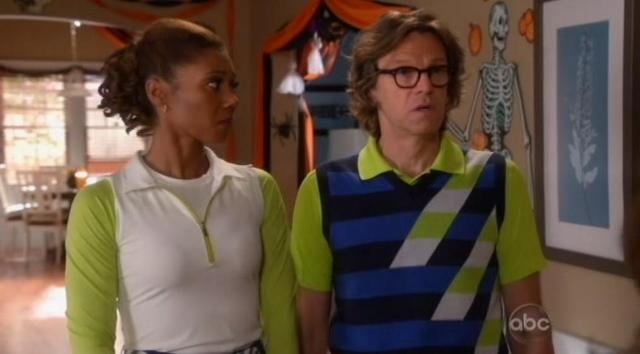 Larry complains, "Every great leader in history is defined by the enemy he protects his people from. My father lead the invasion of Uranus". Of course, Debbie and Marty find this last comment funny. Five year old humour, here we come. Larry, serious as always, insists that his role is to protect his people from October 31st, "it's my war, and I want to keep it."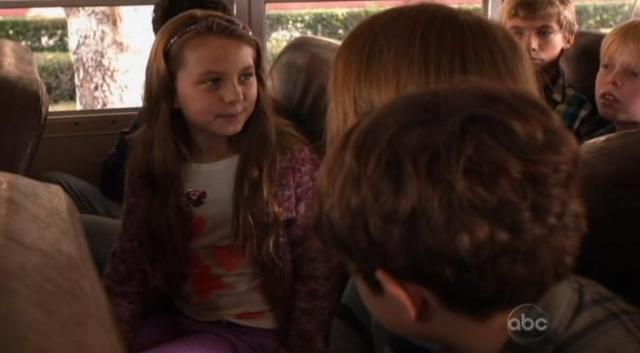 Max Weaver and Dick Butkus are on their way to school. Dick seems to understand Halloween much better than his parents, since his major concern is that he does not have a costume. Maybe Dick should be explaining Halloween to the elders.
The little girl across the aisle on the bus invites the Weaver kids to go trick or treating with her and her friends. Apparently, the moms get together and drink margaritas while the kids get candy. Everyone gets a treat on this street.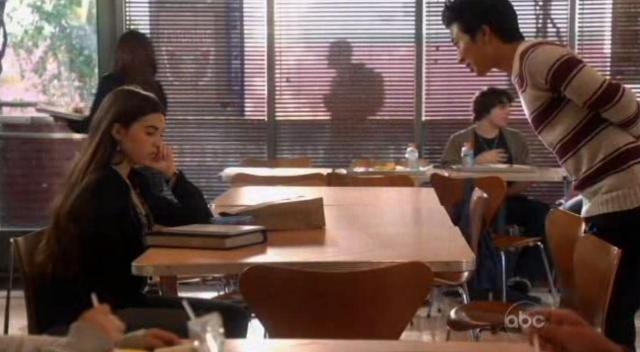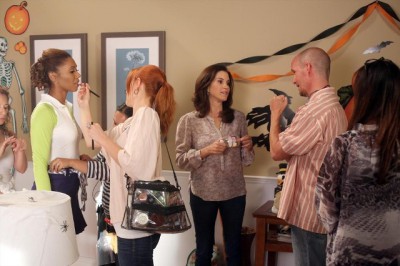 At the high school, Reggie Jackson and Amber Weaver discuss costumes as well. Amber, however, has no intention of going with her mom. She has plans to go to a party that will help kick start her popularity campaign; which, of course, means "sexy nurse".
Personally, I think this is a sad commentary on American culture, that young women feel their primary purpose in life should be attracting the most socially acceptable guy by showing off their physical attributes. Whatever happened to women attempting to get ahead on their own merits?
Amber redeems herself somewhat when she comments, "despite my better judgement, I've decided to sex-up my costume this year." Of course, Reggie has the perfect accidentally intentioned response, "Canadian health care."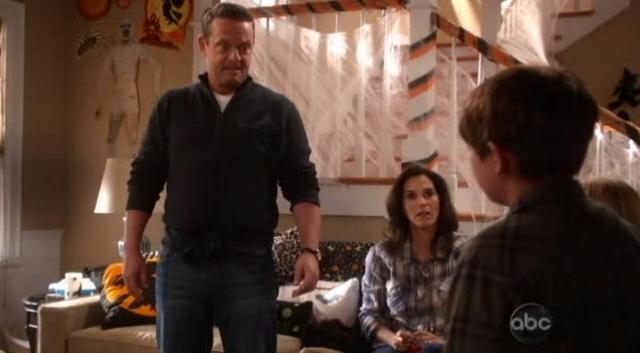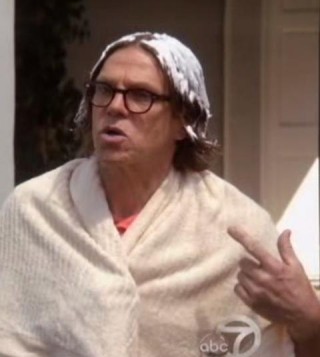 At the Weaver's house, Amber informs her parents that she is altering her nurse costume to a higher hem line and more cleavage, every parent's nightmare. More bad news as Max and Abby arrive home. Max is going as a Zombie this year. And, even worse, Abby wants to go up to the doors alone, like a big girl. The Weavers Halloween expectations are falling apart. How terrible.
However, now they have time to explain to the neighbors, the concept of Halloween. Until, that is, Larry Bird discovers what is going on and comes rushing out of the house in the middle of his conditioning…not just any conditioning, this is the special conditioning to keep his hair lustrous and silky soft. The look every leader needs.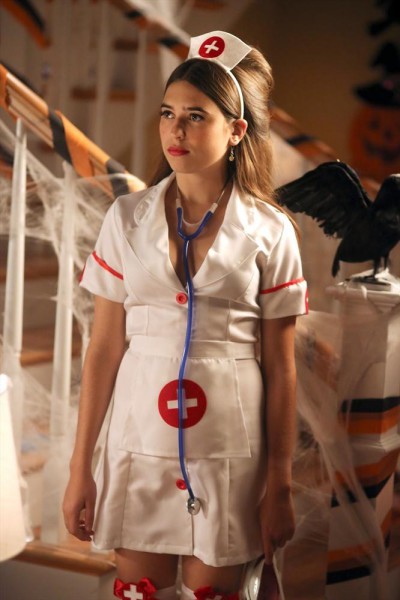 Look for a few notes from Debbie Weaver for Mary-Lou Retton who sees Halloween-ween as a way to meet men.
Larry voices his concerns about the tiny terrors who will surely descend on them very soon. What if they come armed, "what if they come concealing weapons…for murder?"
Dick Butkus, a small in stature but large personality in this series, states, "seems like a stretch". To which Supreme Leader Larry, responds, "who's side are you on?" You tell him, Larry.
The night of Halloween-ween arrives. Marty is horrified with Amber's costume. She is not overly thrilled with her costume either. How we women suffer for our goals… Amber heads over to the Bird/Joyner home to be met at the door by Jackie.
Jackie is getting the hang of Halloween-ween and dresses up in a costume. I am not exactly sure what she is supposed to be, but it looks good on her.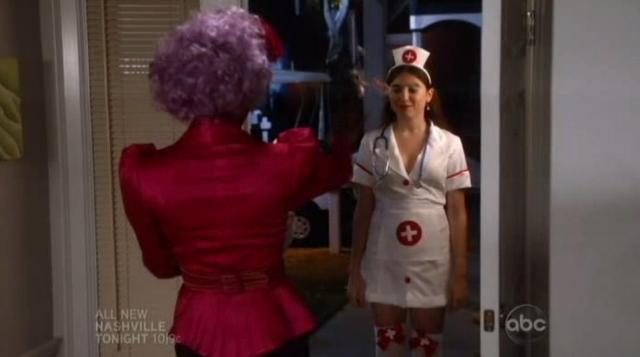 Amber must have been her very first trick-or-treater. When she answers the door, Jackie tosses some candy at Amber then realizes that she got it wrong.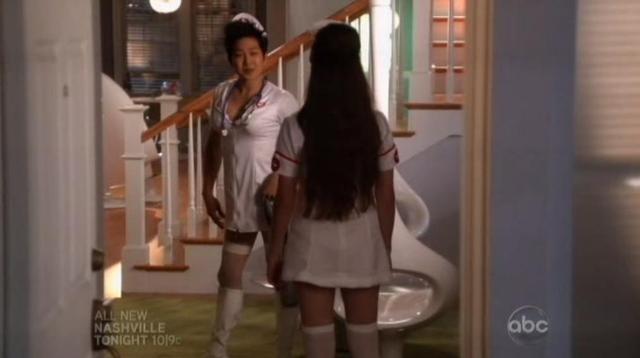 Not to worry, Amber is here for Reggie who's costume is simply amazing. Looks like Ambers decision is Reggie will now go as Asian transgender.  As they leave for their party, Larry approaches, "the betrayal continues". Jackie's response is awesome, "dial it down, drama queen, like it or not, I am participating in this fun human ritual".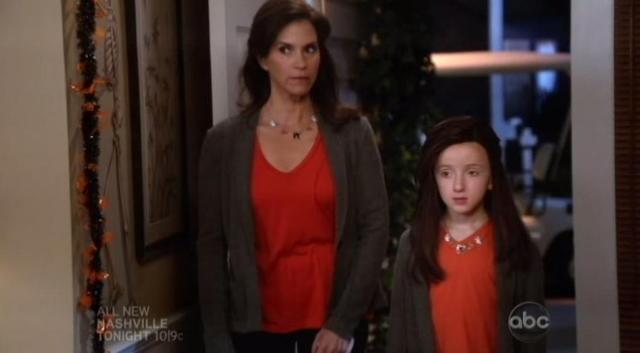 Dick Butkus has to have the best costume ever. He was told to dress as someone he admires, so he appears at the Weaver's door dressed as Debbie Weaver. He also has a Marty Weaver hand puppet.
I am certain that having someone shadow her, who not only has dressed like her, but is also mimicking her and Marty would be extremely annoying. Debbie remains tolerant of young Dick. As this series progresses, it would be more than likely that patience may get stretched to the limit.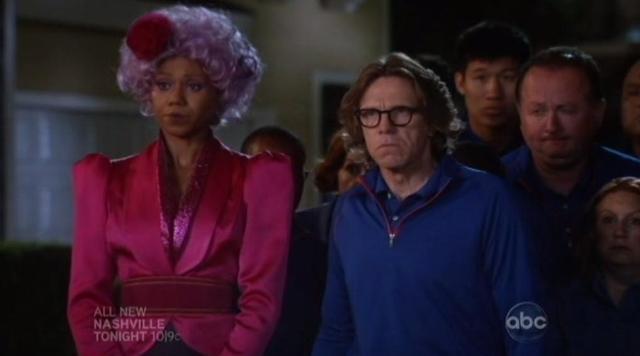 Savages at the gates! They have arrived. For ten years, Larry Bird states, he has protected his group from the outsiders. Now, that is about to end, "who am I to get in the way of candy? So, allow these marauders to storm our gates. What do I know? I'm only the supreme leader". The group naturally begins to lose confidence in themselves.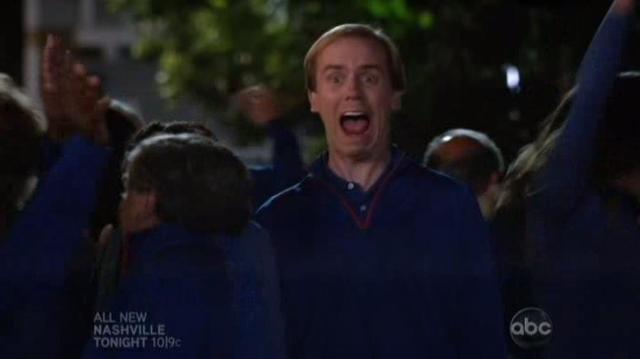 "They should all be frightened to have an opinion that does not align with mine", argues Larry. He is one major party pooper. Larry opens the gate. There is a moment when the two groups stare at each other. Then the kids rush forward. Larry yells, "flee" and everyone runs…straight to Larry and Jackie's house.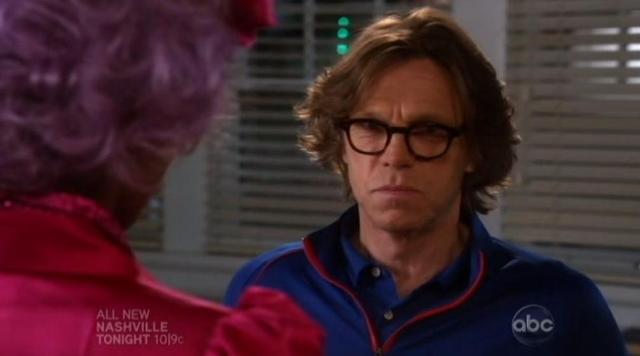 From Larry's point of view, Jackie is not letting him do his job as supreme leader. To Jackie, Larry is being a wet blanket. In his frustration, he explains his point of view to her away from the group. "They need to rely on me, wife, they need to need me. If I lose that, I'm…"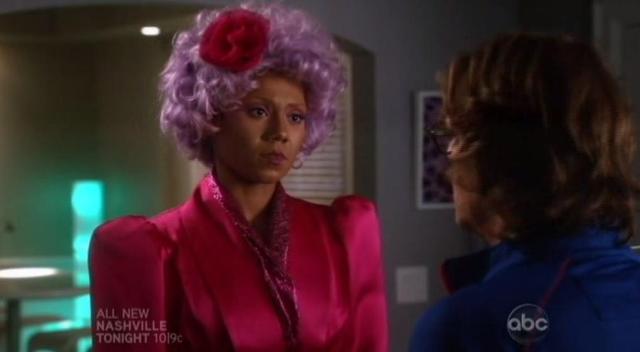 Jackie reassures Larry that he is very impressive as a leader. He does not need to worry; this is only one day a year. Larry leads them every day. Larry, of course, agrees, "I work so hard. I even work weekends". Jackie adds that if he leads, the rest of the group will follow.
Larry must explain that the terrifying mob are just children who want candy. He even goes so far as to demonstrate what everyone must do now that the kids have arrived, "To your homes. Give the tiny humans the crap they desire".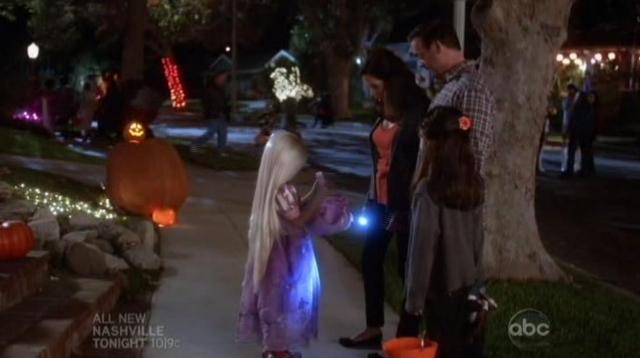 Outside, the Weavers are proud of Abby. She has managed to approach a house and receive candy all by herself. Abby also discovered that she can get more candy if people think she does not have much, so she enlists her parents in her little scam by getting them to pocket her loot while she runs off to get more. Clever girl. Her parents realize that she still needs them…to scam the other adults.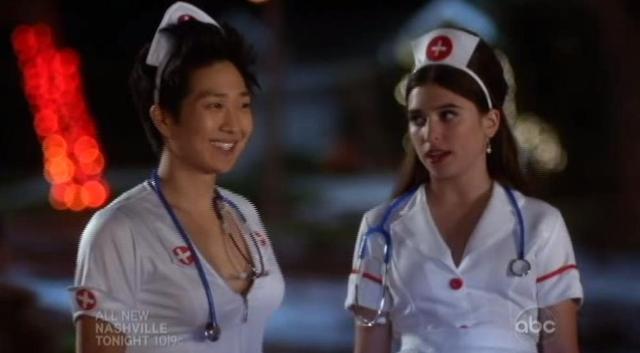 Max returns as well wanting to stay with his folks to go trick or treating, pleasing Marty. Max obviously still needs them as well. Amber and Reggie also arrive. There were far too many people at their party dressed as slutty nurses… but only one exotic lady-boy, Reggie brags. "That was not a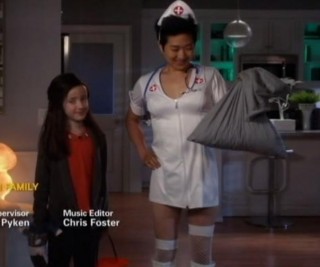 compliment," Amber finishes. The party was a bust. Amber discovers she has more self respect than the average sixteen year old.
The show ends with a rather amusing moment. Larry and Jackie relax after the event. Larry now wants to spend time enjoying the company of his sons. Reggie and Dick arrive looking anything like boys, prompting Larry to comment, "I'm sorry, this holiday is just not for me."
Again, this was a very funny show. I was pleased that Amber did not become a boy crazy teen who's main goal was to catch a boyfriend at the expense of her self esteem. What was a bit iffy was Reggie's costume.
Do we still laugh at cross dressers the way we used to laugh at homosexuals and alcoholics? I would also like to see Larry correct Jackie from time to time. Hollywood seems to feel that the guy is always wrong. Sometimes, father does know best.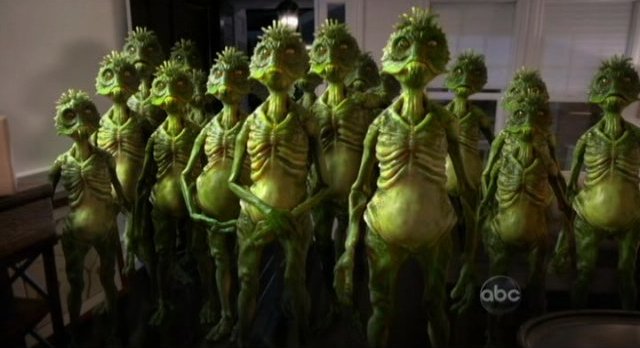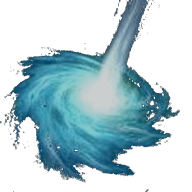 Thanks to Kenn for final staging of the audio video embeds and images in this news article and thanks to you for stopping by WormholeRiders News Agency!!
We look forward to seeing more of you here at our review site dedicated to our wonderful aliens friends known as The Neighbors!
Please feel free to leave a comment here, click an icon below to share this interview with your friends, or you can visit and follow me on Twitter by clicking on my avatar to the right.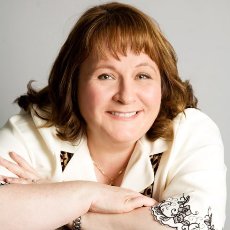 Regards,
Thank you.
ArcticGoddess1 (Patricia)