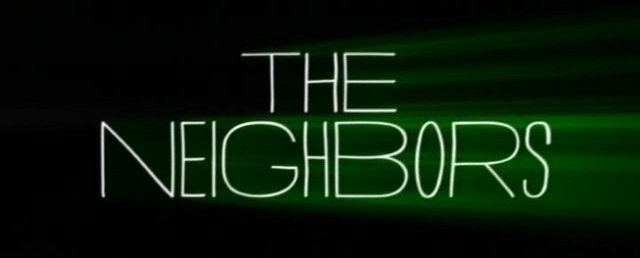 Welcome to our dedicated site for The Neighbors!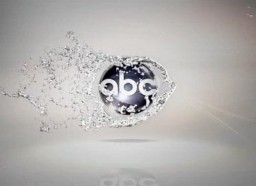 The fun with our Zabrvonian friends we all know as The Neighbors gleefully continues unabated!
Coming in just two weeks is a special Thanksgiving episode with the next fun episode a take off on the much anticipated "50 Shades of Gray" with another hilarious science fiction comedic episode entitled "50 Shades of Green"!
We include below a fun clip about The Neighbors and love being in the air courtesy of the fine folks over at the ABC Network for your enjoyment!

Larry Bird and the Iron Throne:
The title this week is Larry Bird and the Iron Throne. And, no, we are not talking toilets here. It is Abby Weaver's (Isabella Cramp) birthday. Debbie Weaver (Jami Gertz), full of parental guilt for pulling the poor child out of her tiny little apartment to live in a bright and spacious home with a back yard, has chosen to, "go all out", with a huge party.
This is not the first time that Debbie has attempted an awesome party for her youngest daughter, and, apparently, she goes a little psycho every time. Marty (Lenny Venito) explains Debbie's crazy period to Larry Bird (Simon Templeman).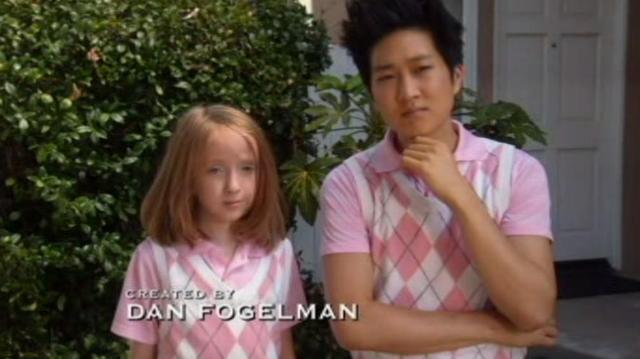 Attempting to understand all of the nuances of the Birthday Party, Larry and Jackie (Toks Olagundoye), and Dick Butkus (Ian Patrick) and Reggie Jackson (Tim Jo) observe the preparations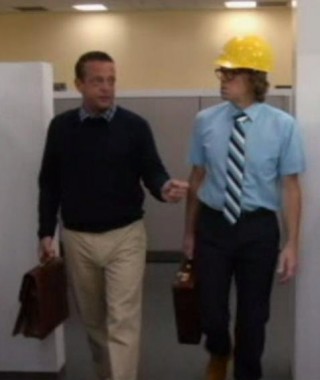 with great interest. Fascinating. As usual, the aliens get things wrong as they try to understand human behavior. The first such occurrence involves the birthday cake. Debbie wants a unicorn cake. To you and I, the cake is in the shape of a cartoon unicorn. To Larry Bird, it means that it is made from unicorn, which, Larry assures, does not taste very good.
As well, Jackie decides that they are not learning quickly enough. So Larry will have to accompany Marty to work. Larry does not seem pleased. As Marty backs out of his garage, Larry is waiting for him, right behind his vehicle. Marty hitting aliens with his van is getting to be part of the series. Despite Marty's reticence at having Larry join him at work, Larry assures him that he has researched the custom and will blend right in. We know immediately that blending in will not happen.
At work, Larry wants to know where Marty keeps his slaves. Obviously, Marty keeps them in the cubicles. Marty, somewhat worried now, about Larry's behaviour, he asks Larry to behave, "I like my job. I don't want to lose it." Marty has a real office with real walls. He tells Larry that it is not much, but he is proud of it. Hey, it is not a cubicle. That is a step up, and usually means management.
Marty's boss, Rebecca, arrives in a motorized wheel chair to say hello. Larry acts almost afraid of her. He virtually hides behind Marty. As Marty closes the door behind his boss, who has just left, Larry has a plan, "Marty Weaver, if you listen to me and do everything I say, we can remove her from power and seize her throne". As Marty walks away, disgusted, Larry adds, "…no imagination".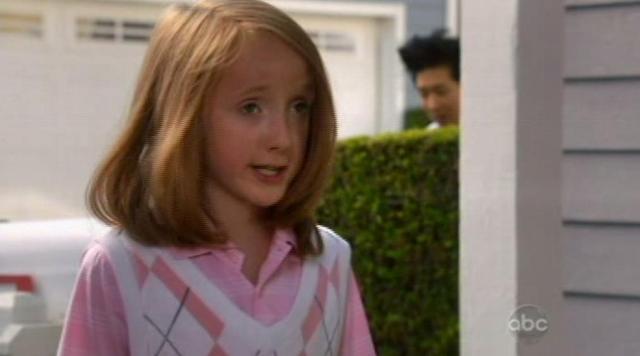 Back home, Amber( Clara Mamet)is busy moving chairs. Dick Butkus, at the behest of Reggie Jackson, attempts to find out what Amber would want for her birthday, even though it is not her birthday. Amber has figured him out, and as a result, does not provide any useful information. We do learn, however, that Reggie seems to have a crush on Amber.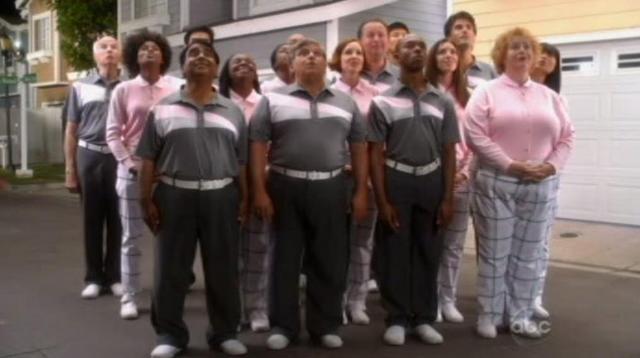 Things continue to go wrong for Debbie's party planning. Instead of a princess bouncy castle, she gets a dinosaur bouncy castle. Debbie is not amused. But the alien neighbors are impressed.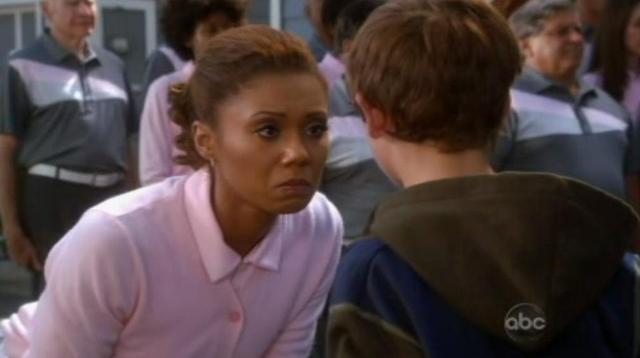 A very smart Max Weaver provides Jackie with some useful advice, "I make some kind of fort and I stay in it until the party is over. I suggest you do the same. That person over there is not my mom."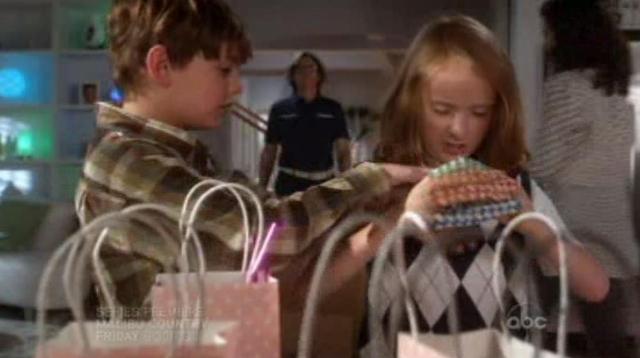 Debbie appears to be in Jackie's house as she orders everyone around. Jackie is supposed to be curling ribbons, Max and Dick Butkus are working on…something, and Abby is happy just to dance around the house crowing about her birthday. Enter Larry Bird, who is just disgusted with Marty's work environment.
While Larry is looking for a reprieve from what he sees as the crazy aspects of human work, he has inadvertently entered the Twilight Zone of Debbie Weaver's preparations. Since he is here, he will have to work.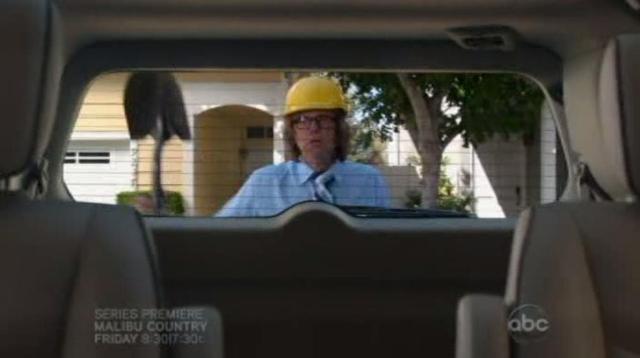 After getting hit by Marty's car for the second time, Larry gets up from the pavement and tells Marty, "I must come back to work …your wife…party…must avoid". Who could say no to that?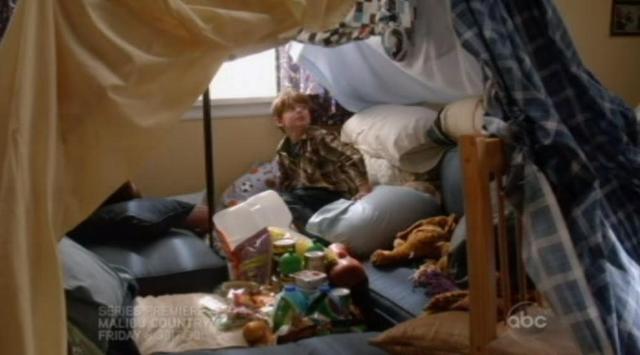 Max also escapes in his own way, with his very well stocked fort. He even remembered to bring a large container of water in with him. He looks like he will be there for the long haul. He is very shortly thereafter joined by Abby and Dick Butkuss.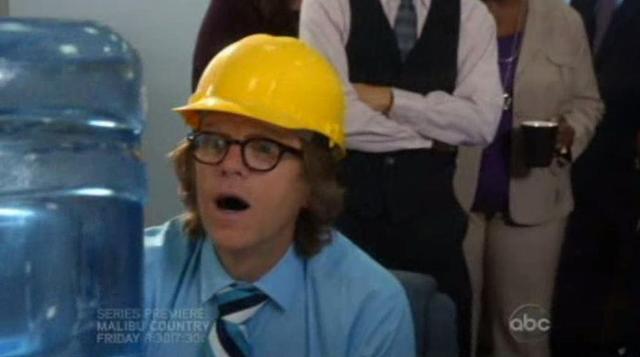 At work, Marty concentrates on the information he has to finish before the big boss shows up. As he does so, obviously, Larry is going to get bored and curious. I imagine that water coolers can be quite interesting to someone who has never seen one before.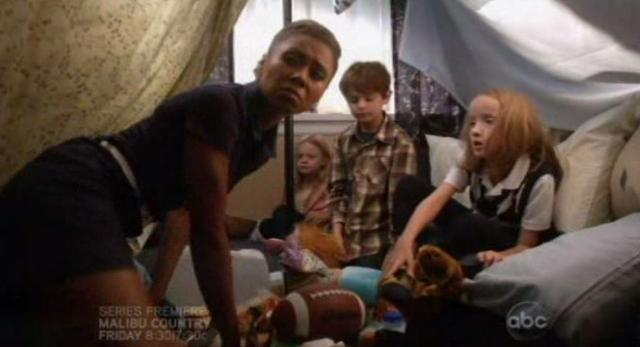 Now that Debbie Weaver has alienated (no pun intended) her family and the alien neighbors; Jackie being the last person to retreat to Max's fort, things do not look good for this historic Weaver party. While they are together, hiding, Dick Butkus tells his mom that he would like a birthday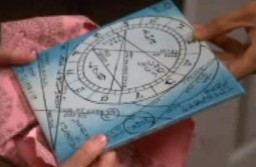 party for his birthday. After what she has seen at the hands of Debbie Weaver, that is not going to happen. Poor Dick.
Meanwhile, Amber Weaver has been fairly absent from the preparations. Who can blame her. Reggie has been considering some way to please her. So, for her not-her-birthday present, he has come up with a tile filled with all of the things that have happened in the universe since her birth. Very cool. I would love a gift like that. Of course, Amber would prefer living in her old home where she could spend time with her friends and not be bored with nothing to do after school.
Back at work, Marty has just discovered that he has made a major mistake with his work, using last year's figures. Larry tells him that he had noticed the mistake yesterday. Oops. This now means that Marty will have to work during Abby's party.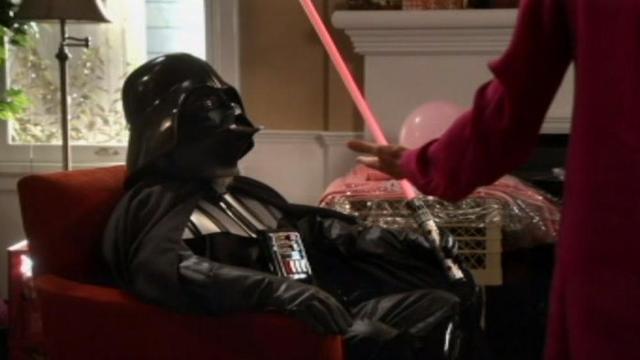 More bad news for Debbie. She has picked up the wrong birthday cake and Rapunzel is Darth Vader. Debbie has a meltdown. Frustrated, Jackie responds in kind, "Okay, that's it. Larry Bird was right! Humans are ridiculously stupid and your birthday parties are the stupidest things of all! They turn human beings into lunatics and I am out!"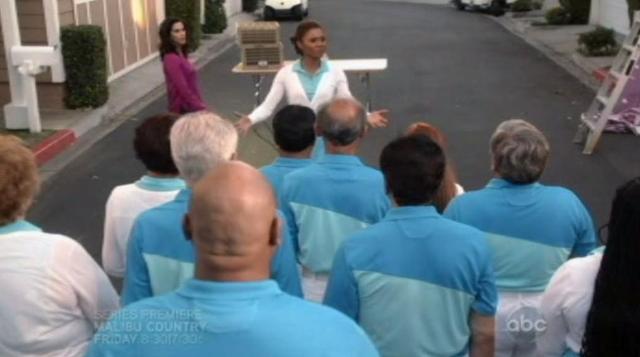 As Jackie prepares to leave, Debbie stops her and explains why she has gone way over the top with her behaviour. It all started when she was a kid and had nothing except a shared cupcake with one birthday candle on it. She is trying to ensure that her kids have a birthday party to remember in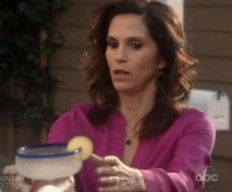 a positive way.
This seems to be a recurring theme in this series. Larry needs to prove he is a good leader, Marty needs to prove he is a good provider, Debbie needs to show she is a good mother…they are a group of fallible people who do not feel very sure of themselves. Although I understand the adult angst, I hope they explore some real world problems later in the series. What about racism? Do the aliens have issues like homophobia, poverty, homelessness? Yes, this is a comedy, yet, serious topics can be sources of humor.
Anyway, once the real issue is determined and Debbie is not crazy, Jackie gets the gang together to help out. To ensure that Debbie takes it easy while the aliens take over the running of the birthday, Jackie provide a very enticing drink to keep Debbie feeling very happy. Now that's a party.
Amber returns to her room to discover that Reggie has been busy recreating her old street. Now this is a great not-her-birthday present.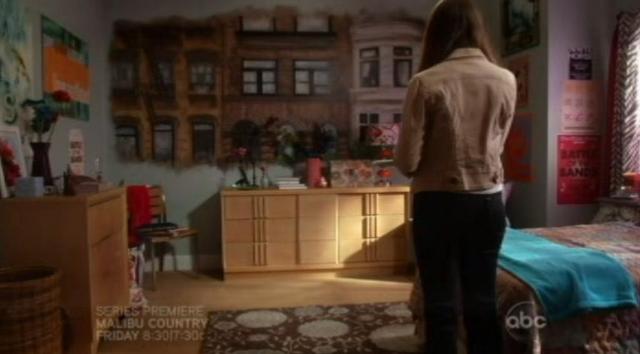 Somehow, as Marty explains that he works an entire year for 15 perfect minutes, one of them happening at his daughter's birthday party, Dick Butkus has the opportunity to share in the birthday party as well.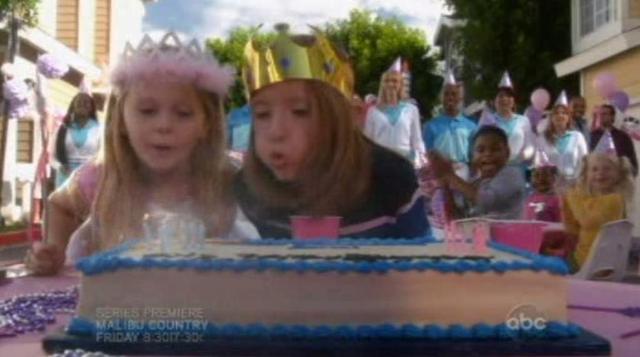 Marty is willing to sacrifice his time with his family so that they can have the memorable party that his daughter deserves. He is willing to accept that as part of his responsibility as a dad. As he states this, he shows up at the party. Larry Bird has provided his own kind sacrifice for his friend. He has taken over Marty's work, so Marty can attend the party. Now, this is friendship, and definitely, a worthy lesson to teach the aliens.
My favorite part of this show is the child-like innocence shown by Larry Bird and his family as they discover new aspects of American culture and human life. I also love the group of aliens performing as one person together, in their reactions to commands from Larry and Jackie. I do wish, however, that there was more substantial discoveries in the series. Perhaps Larry would have the cure for cancer, but for some reason, it gets lost and he can not share it with humanity. Or, perhaps they finally get a message from their people and find that they have been forced to leave their home world leaving no forwarding address, or they are destroyed in some way, leaving these aliens as the last of their kind. The possibilities are endless.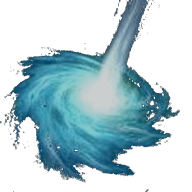 Thanks to Kenn for final staging of the audio video embeds and images in this news article and thanks to you for stopping by WormholeRiders News Agency!!
We look forward to seeing more of you here at our review site dedicated to our wonderful aliens friends known as The Neighbors!
Please feel free to leave a comment here, click an icon below to share this interview with your friends, or you can visit and follow me on Twitter by clicking on my avatar to the right.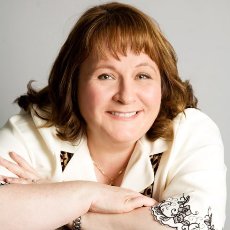 Regards,
Thank you.
ArcticGoddess1 (Patricia)