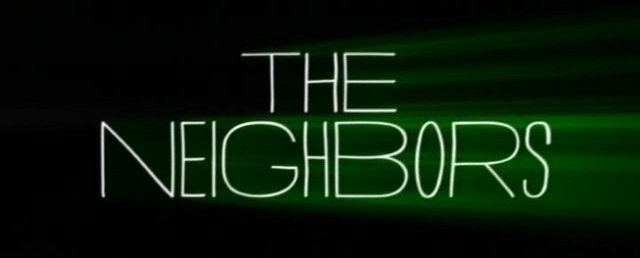 Welcome to our dedicated site for The Neighbors!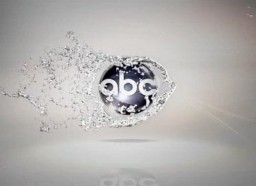 This week The Neighbors experience an American thanksgiving with all the attached family dynamics, including long held grudges and various deep-seated emotional injuries of family life. We are also introduced to two new over the top aliens, Venus Williams (Leslie Jordan) and Serena Williams (Carla Renata) who are Jackie Joyner-Kersee's (Toks Olagundoye) sisters in exile. We also meet Marty's parents, Dominick (Stacy Keach) and Theresa (Debra Mooney).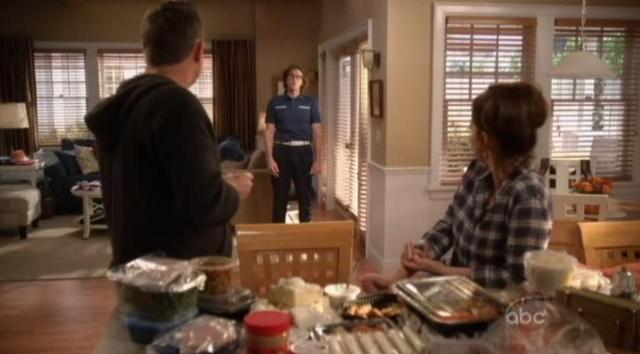 Jackie Joyner-Kersee is depressed. As Marty(Lenny Venito)and Debbie Weaver (Jami Gertz) make room in their refrigerator for the Thanksgiving Turkey, Larry Bird (Simon Templeman)enters, door, right. Jackie has left the community to wander about in a field. Apparently, it is the anniversary of being separated from her family, "blah, blah, blah, lady feelings", Larry adds, "it's kind of our therapy".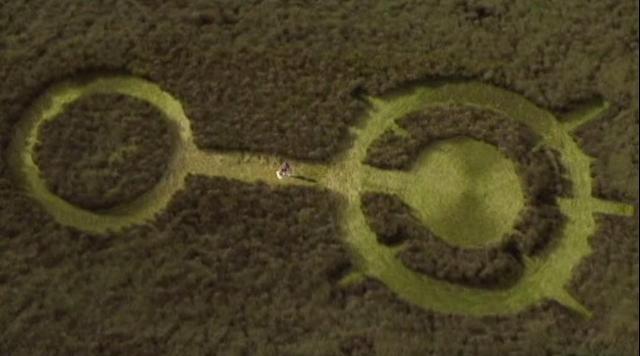 Naturally, Debbie and Marty have to see what this is all about. Yes, indeed, Jackie is definitely wandering around in a field. It is never explained, exactly what the symbol means, but I think it is a signal, I mean, a cry for help.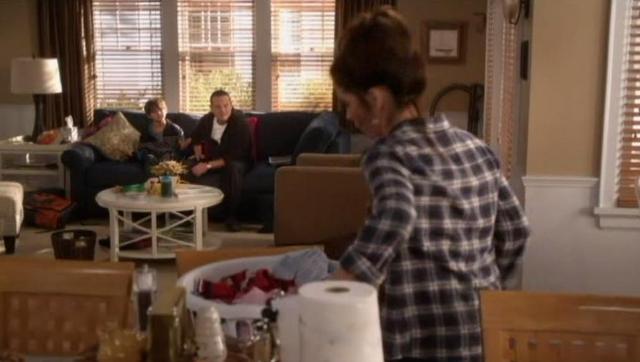 Back at home, and back to normal, everyone is hanging around nearby. Marty asks an innocent question, "have you figured out what you are cooking for tomorrow?" It will not matter because mother-in-law will hate it. It is interesting that Amber (Clara Mamet) also hates Debbie's cooking. It seems we have a mother-in-law in training.
The kids have something to complain about as well. Mom-in-law also knits tacky sweaters. So, this Thanksgiving is going to be just as horrible as every other Thanksgiving. It is obviously the Weavers turn to teach the alien neighbors about American traditions. In this case, it means the opportunity to get together and fight. Fearing the dreaded family battle, Debbie and Marty decide that they just will not invite the in-laws for Thanksgiving this year. And, on top of that, to be bold, they will deep fry the turkey.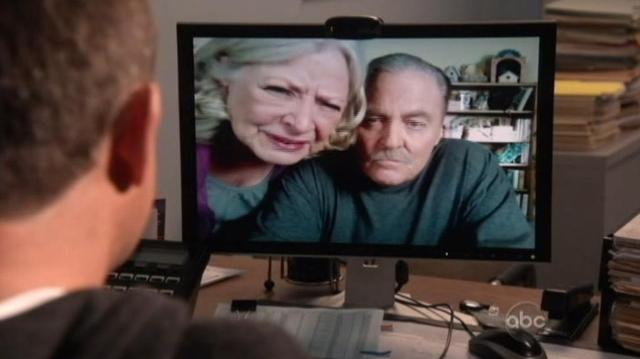 At the office, Marty video messages his parents. He has bad news, the oven in broken. Not quite getting the technology, as we all know that older people are wont to do, mom covers the video camera with her thumb to comment negatively about Debbie's cooking. Dad has negative comments of his own. Marty must be embarrassed about his new home. That gets Marty's back up and in a fit of pique, the parents get re-invited. Oh, dear.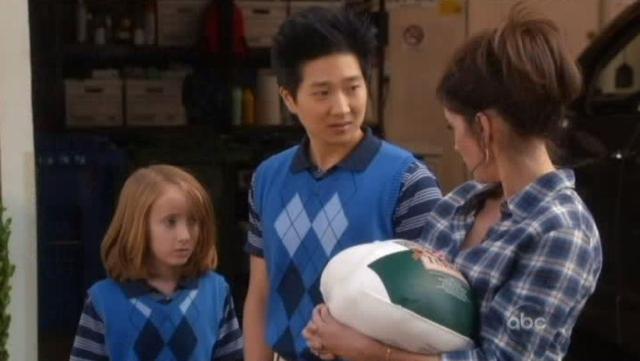 Debbie arrives home with the Thanksgiving grocery shopping, and Jackie is still depressed. We find out that the people Jackie misses are her sisters who are actually not off planet, but exiled. They, apparently tried to overthrow Larry. As we know, he is the Supreme Commander, as he regularly likes to remind everyone.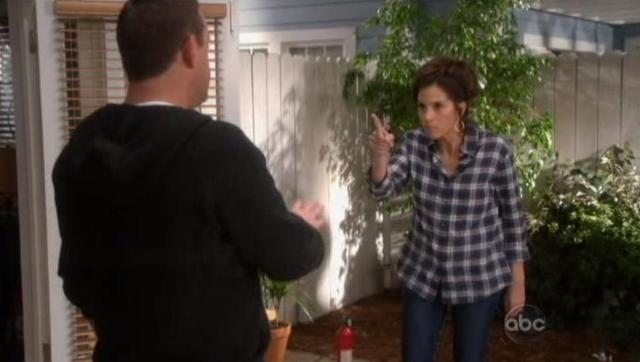 Later, as Debbie prepares the necessary equipment to deep fry the turkey on the patio, Marty approaches her. It seems they both have something to get off their chest. Marty admits he invited his parents, and Debbie has invited the Bird-Kersees. My first thought was, how are they going to explain the aliens to the in-laws? Fortunately, the writers thought of that too. With a racially mixed family like the Bird-Kersees, it seems that explaining odd behaviour will not be a problem. Debbie also insists that she will not give up her deep fried turkey, even with the potential disaster looming over the Weavers. As an aside, for those people living in New Jersey, does the image above look like what is normal weather-wise for New Jersey, or should we assume this Jersey Thanksgiving is unseasonably warm?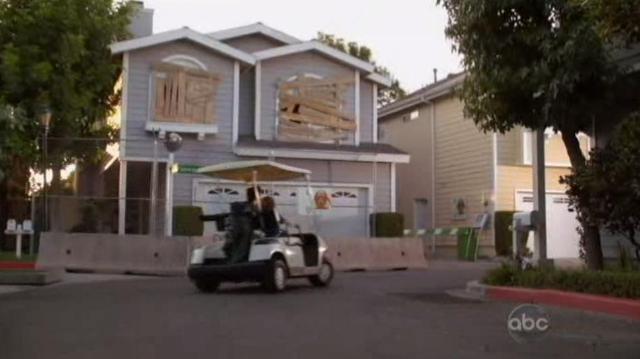 Now it gets weird. Reggie Jackson (Tim Jo) and Dick Butkus (Ian Patrick) take matters into their own hands and head into the sisters lair. The house they occupy is boarded up, as if the sisters might be harboring a deadly plague virus. Instead of entering the house, they are seen driving the family golf cart along a dark narrow underground tunnel. It seems that the sisters are not even afforded the comfort of a regular dwelling. They must indeed be dangerous. And, of note, Brian Boitano and Greg Louganis are guarding the prisoners. We do not see the faces of the sisters at this point. Reggie and Dick ask them to come to Thanksgiving. As they both reflexively squeeze the arm rests of their chairs, we are left to guess at their appearance, hideous or pleasant.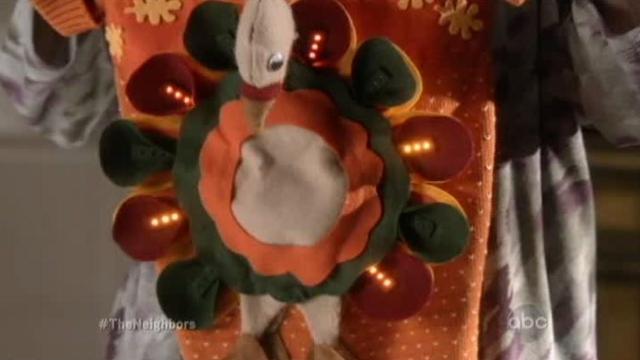 Thanksgiving has arrived and so have the in-laws. Mom and Dad Weaver begin by making comments that put Debbie and Marty on edge. Of course, there are the necessary sweaters that Mom-in-law has produced. For "the prettiest girl ever", Abby gets the ugliest sweater.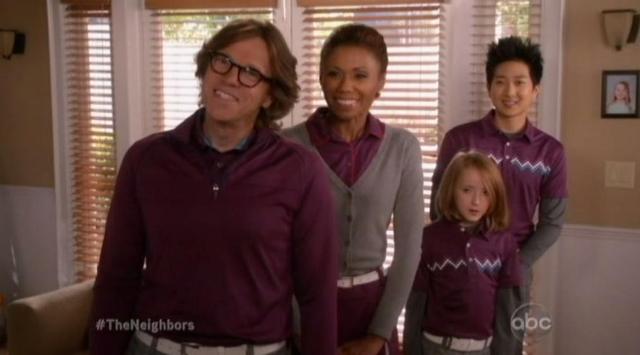 Enter the Bird-Kersee family, whom it appears that Marty did not inform mom and dad, were coming. Dad, Dominick, calls them the "Jehovahs at the door". After a good look at the neighbors, his first words are, "where are you folks from"? Larry replies, "Florida", but Jackie replies, "downtown"…and so it goes with a different answer from each. This repeats with different answers yet again, as they are introduced to Marty's mother. Hey, it is New Jersey, after all.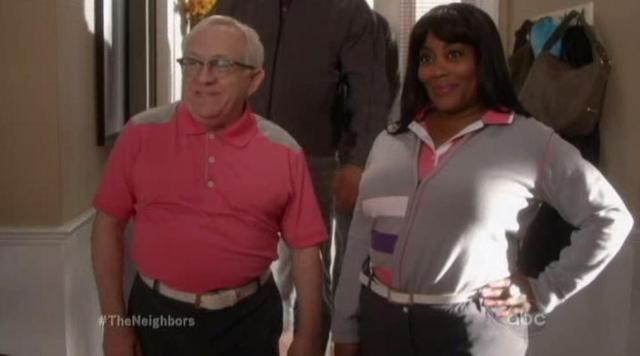 Meet the sisters. Not hideous, but definitely odd. They state that they chose their bodies because they wanted to have the most unique relationships which are between women of colour and," men of prance".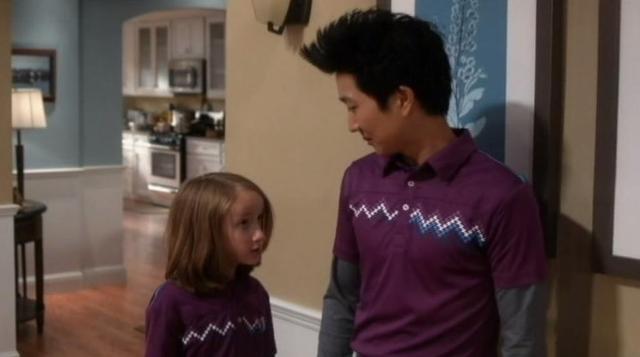 The creators of The Neighbors do something really clever next. They take us on a tour of the fighting families using Reggie and Dick as they wander around the house witnessing the various arguments. Well done, you guys. The final comment by Dick Butkus sums it up – "Thanksgiving sucks!"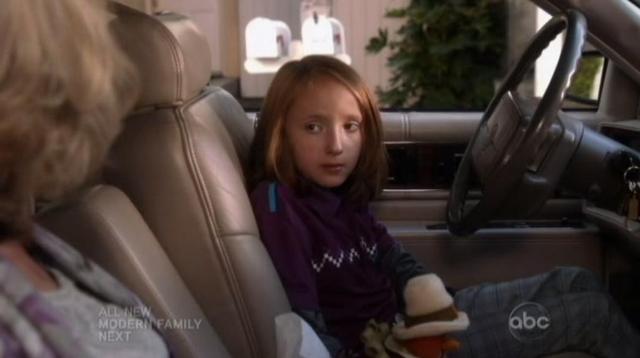 As the official day continues, Debbie Weaver is handling her emotional turmoil by eating marshmallows out of a bag. She explains that this is normal human behaviour to Reggie and Dick. With mom-in-law pouting in the car, Dick chooses to step in. He climbs into the drivers seat of the big luxury car that Parent Weavers drive to have a heart to heart.
Dick wants to know why Marty Weaver's mother is so hard on Debbie. Is it jealousy that another woman has her son's love and attention, or some other reason? Mom states that it is because she wants the best for her son, "my mother-in-law kept me on my toes, and her mother-in-law kept her on hers. That's the game." Dick, in this case, is "the little child who shall lead them". He tells her, "she (Debbie) takes great care of him (her son) and you make her feel terrible. Change the game". I wonder if there are other troubled families out there who have watched this episode and taken the message to heart. I hope so.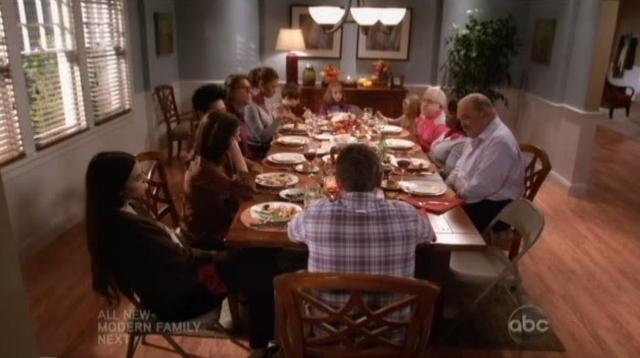 At the dinner table, no one is talking to each other. Mom-in-law enters, sits down at the table and asks for a wing. She tastes, then surprises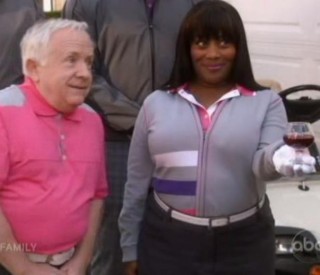 everyone, especially Marty, when she says, "actually, Debbie, it's quite good." Jackie's sisters also admit that they may have gone too far in attempting to overthrow Larry.  Then, finally, Marty asks since everyone is mending fences, does Dad-in-law have anything to say. The old man brings up a rather unpleasant experience that Marty had in T-ball. Now it is Marty's turn to storm off.
As Jackie says goodbye to her sisters, Larry appears. He says he has learned that family is important. So he is releasing the sisters from exile. Jackie is thrilled. The sisters agree that maybe Larry is good enough for their little sister. Does that mean they will stop trying to kill him? "Absolutely, would you like a sip of wine? Just touch the glass…" Yeah, it sounds like he will be safe from now on – not.
Marty's parents are getting ready to leave as well. His dad finishes the story of the T-ball incident. Even though he missed the ball the first time, then nicked it the second swing and his pants even fell down, he did not quit. "The sweet, sobby part of the story that you didn't let me finish is that my son never quits. You did good, kid." Awww.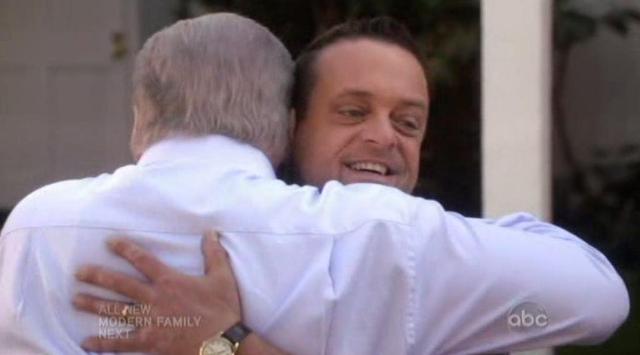 This was not one of the better episodes, but it did have its moments. We learned where crop circles actually come from. We also learned that there are more aliens around than just the ones we see in the vicinity of the Weaver's house. More aliens means that there are more interesting story directions that can be explored. It also appears as if the aliens have constructed a vast network of underground tunnels. What other wonders await us as the story line progresses? We, at WormholeRiders, look forward to the next episode.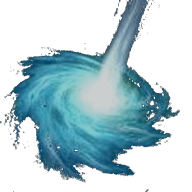 Thanks to Kenn for final staging of the audio video embeds and images in this news article and thanks to you for stopping by WormholeRiders News Agency!!
We look forward to seeing more of you here at our review site dedicated to our wonderful aliens friends known as The Neighbors!
Please feel free to leave a comment here, click an icon below to share this interview with your friends, or you can visit and follow me on Twitter by clicking on my avatar to the right.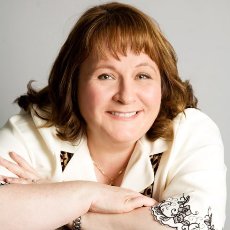 Regards,
Thank you.
ArcticGoddess1 (Patricia)