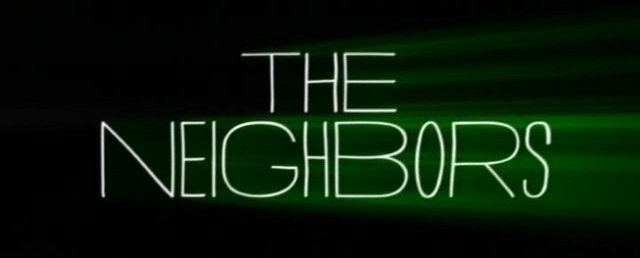 Welcome to our alien analysis about The Neighbors!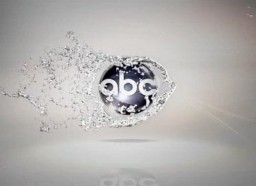 This episode was produced by the fine team of producers Jeffrey Morton, Chris Koch, Aaron Kaplan, Dan Fogelman and Marshall Boone.
The Neighbors television series is co-produced by Elizabeth Berger and Isaac Aptaker with superb costumes by Karla Stevens, great makeup by Michele Tyminski, cool special effects supervised by Craig Weiss.
Music editing is performed by Christopher M. Foster, who selected the fun song by Standard Fare (included below) in a live performance! The episode was written by the talented Tracy Olivier.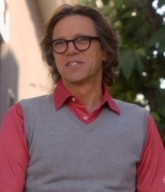 Sing Like A Larry Bird:
Rebellion and music, what a combination. Larry Bird (Simon Templeman) and Jackie Joyner-Kersey (Toks Olagundoye) discover the delights of Broadway musicals and how they can brighten the day, but, as usual, they take it too far.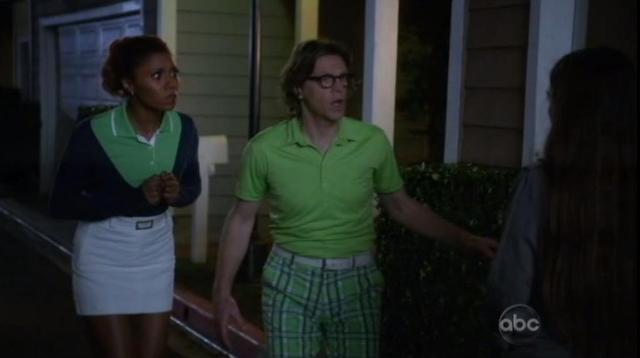 It all begins with a simple, "no, you can't go!" Marty (Lenny Venito) and Debbie Weaver (Jami Gertz) want to protect their neighbors to the East. They have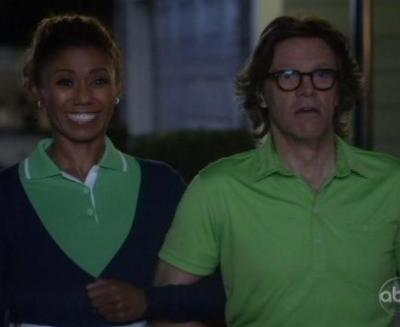 become rather fond of them. So the thought of them wandering the mean streets on their own, despite the fact that Jackie got her drivers license in the last episode (I Believe I Can Drive) must bring terror to their hearts.
Without the permission of the Weavers, Jackie and Larry decide to sneak out to a Broadway play. They have chosen a classic, Annie. As they sneak by, they discover that, "the dark one", Amber Weaver (Clara Mamet), is also being sneaky. She is going to her own musical…music event…noise-fest…a Jay-Z concert. She is sneaking out to pick up tickets. This clandestine meeting ends with an agreement not to rat each other out.
The Bird-Kerseys agree that they are really going through with it. Time to, "walk over to New York City".
Next morning dawns bright for our favorite aliens as they virtually dance into the Weavers house. Of course, we know that they cannot keep a secret. Jackie is the first to blow it, "we went to a musical",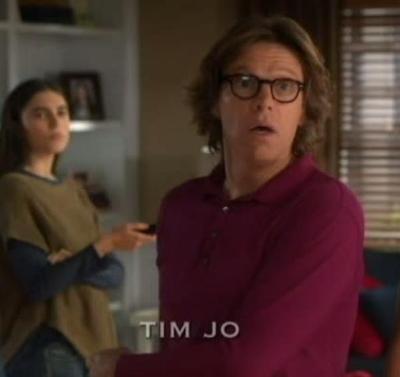 followed by, "she snuck out too," as Larry points at Amber. Larry sings like a canary…a pigeon…a stool pigeon. Not nice, Larry.
After Amber is grounded by Debbie, Marty begins his tirade about the possibilities of discovery, "do you want the scientists in the white coats to come and take over the community? I showed you ET, didn't I?" Debbie adds her own, "we are just trying to keep you safe".
Naturally, Larry takes exception to the Weavers desire to protect their neighbors from the big bad scientists. He intends to leave in a huff, but ends up escorting Jackie into the pantry.
Discovering his mistake, Larry grabs the first thing at hand and says he is borrowing orange juice as he comes back out of the pantry. Since Larry is carrying mayonnaise, Marty points out sarcastically, "yeah, they don't need us."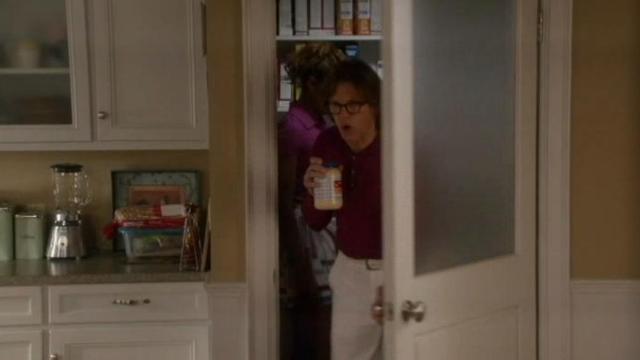 Later, Debbie discovers that the grounded Amber is enjoying all of her electronic devices. They quickly get taken away. Amber disagrees. What teenager would not? Teens live for their contact with each other. So, to Amber, Debbie is being far too totalitarian for her taste. We know that this will become a problem.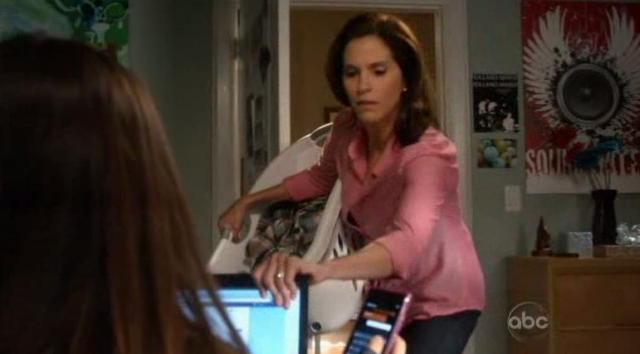 Next door, Larry and Jackie are having their own pity party for two. If only there was a way to express themselves in a way that would catch the Weavers attention. This is where Larry and Jackie burst into song, just like in a real musical. It is always so cool how there is always an orchestra at the ready when this happens. Odd, I have tried bursting into song several times and all I get are weird looks from my family.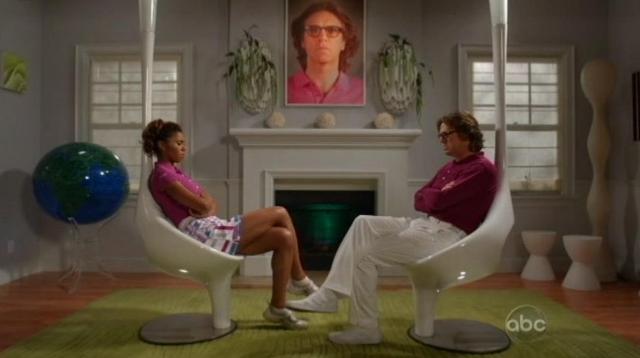 As Larry and Jackie have their sing-along, Amber is staging a coup d'état. She tells her parents that their threats are toothless and encourages the two younger children to join in. Monsters are created this way, Amber.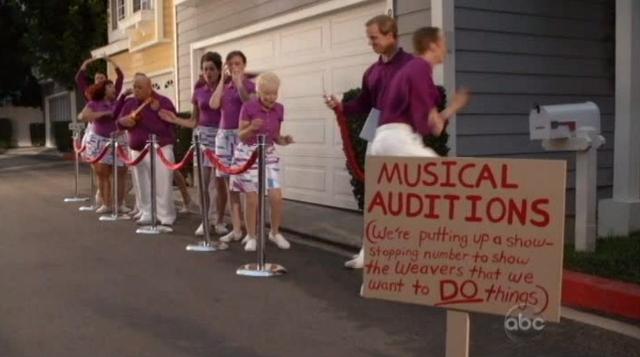 It looks like someone is taking auditions for the musical. All the neighbors are trying out and several seem to be bombing spectacularly. Even poor Reggie Jackson (Tim Jo) does not do well with his love song to Giselle who is, "a sixteenth the size of Adele". Really, writers? Fat jokes? Seriously? Needless to say, Reggie gets unanimously eliminated from any further voting.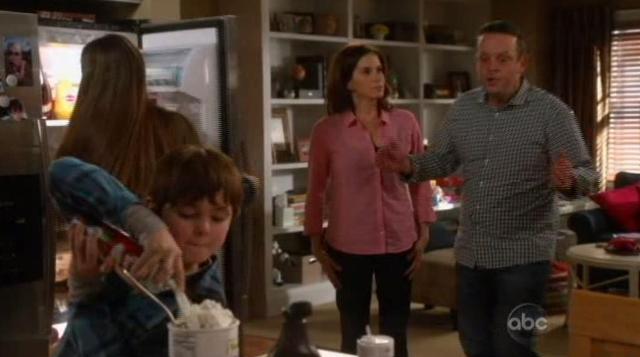 The rebellion at the Weavers continues with Max (Max Charles) helping himself to a tub of ice cream and whipped topping. Debbie has some bad advice that would work if she was consistent earlier on, she tells Marty that they will ignore their kids behaviour. This only works if you consistently use the "catch them doing good" method. Since this is a comedy, lets move on.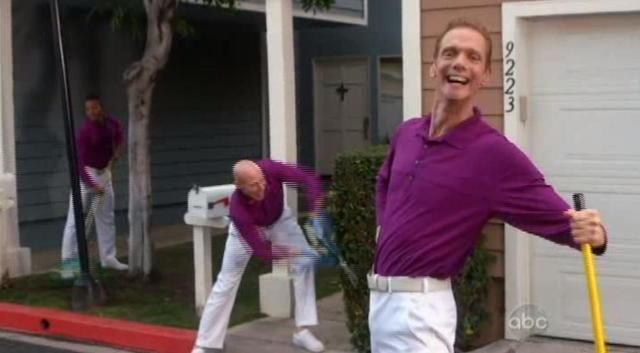 I love the musical number that begins on the street in front of the houses and ends up in the field. I also love seeing Doug Jones guest star on this show. He is another great talent. I had to laugh when he sang that he wanted to get a circumcision and the guy in the background cut shrubs in such a way as to make it look like that was a clear possibility, sooner rather than later.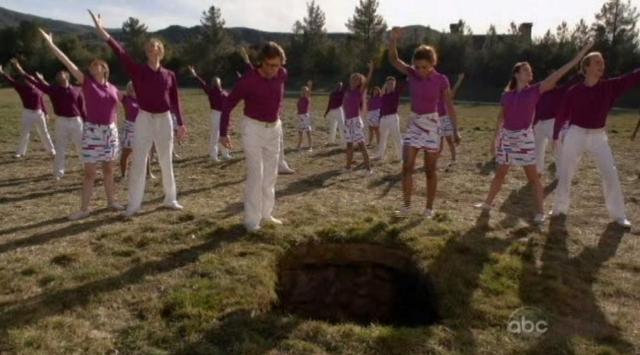 The song is very catchy. As it reaches the climax and everyone freezes, Dick's(Ian Patrick) finale is better than everyone else. He falls in a well. That leaves Larry and group to figure out how to get him out of there. Larry decides to call the police. They do not want to call Marty and Debbie because that just continues to prove that they need the Weavers help. We cannot have that, now, can we.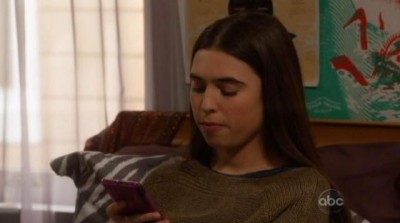 At the Weavers, things are still falling apart. It is obvious that ignoring the kids is not working. Time for a new plan. Debbie and Marty seek out the eldest instigator in her room. She has just arranged to meet Reggie at a park to go to the Jay-Z concert.
The sound of sirens distracts Debbie so that she does not get a chance to confront Amber. Instead, she and Marty rush out the door to see what is going on as Max is in the process of making a martini. Two olives, Max.
Now that Debbie and Marty have arrived, everyone checks out the well. Yep, Dick is still down there. Larry is pleased that he called the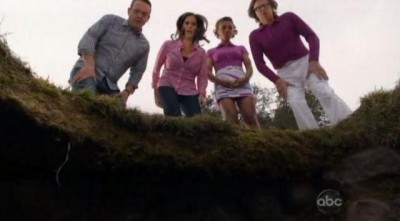 cops all by himself. Marty and Debbie, not so much, "do you want this to end like ET? You have no documentation, silly names, you're all dressed the same. You have a space ship in your garage…"
Then the media arrives. Not good. Larry panics and jumps in the well with his son. Jackie attempts to take over, but shares that Dick has a tail and Marty and Debbie do their best to convince the news person that everything is normal. Meanwhile, the other neighbors are holding a candle vigil in the background. Yes, Larry, everything looks perfectly normal.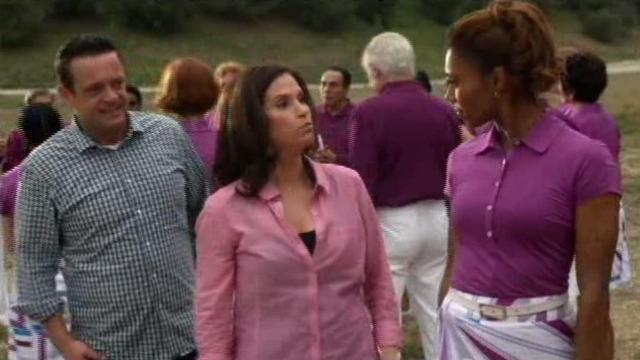 Reggie does a pretty good job of singing a song about Giselle. Unfortunately, when he reaches the end, it becomes apparent to him that Amber is still very close to his heart.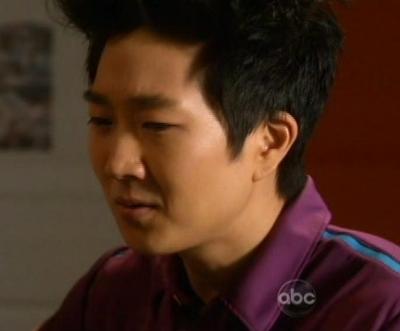 Back in the well, Larry explains to Dick how musicals are put together; how, just at the darkest moment, "everything turns around". He is right, of course. As he and Dick sing the same song as earlier, they are lifted out of the well together.
The news lady has been told by her boss that there is no story (this would not happen in reality) so she leaves and all is right with the world.  Actually, all that would have needed to be told was that the people all dressed the same were practicing for a musical.
The media would have bought that as a reason and the big story would have been kid falls in well, and the cops and Fire department save the day!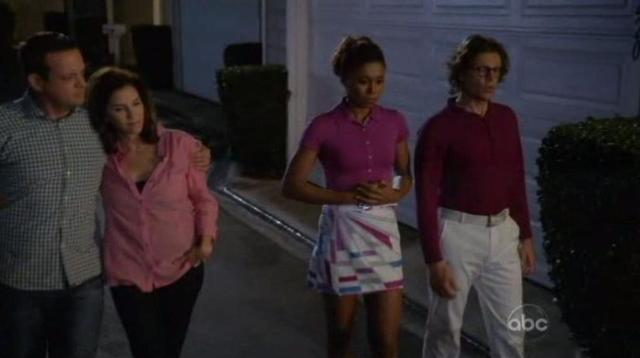 Back, safely inside the gated community, Jackie and Larry admit that they still do need help, "We got a little over our heads". Marty and Debbie admit that all they want for their friends is for them to be safe, making the Weavers Elliot to the Bird/Kersey's ET.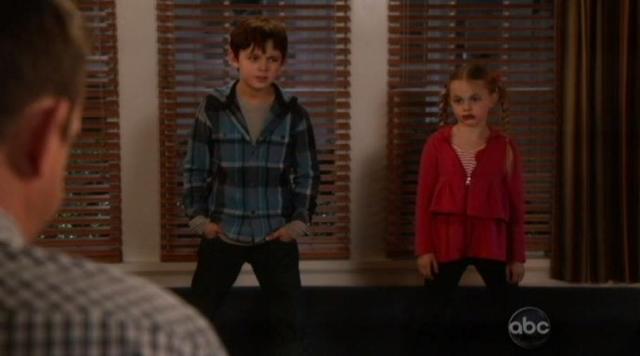 Now that the neighbors have gotten their weekly dose of learning taken care of, Debbie and Marty face Max and Abby(Isabella Cramp) with some good parenting. If the kids do not have to uphold their end of the parent/child bargain, then neither do the parents, which includes losing Christmas, birthdays, food, etc. I would also include the after school activities they were enjoying so much last episode. The kids accept their parents expectations and are herded off to bed.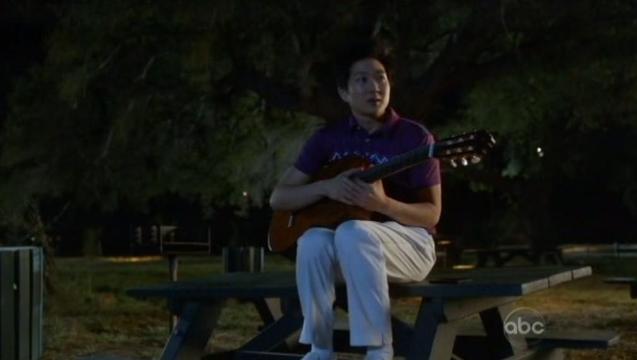 Amber grounds herself for making some bad choices earlier in the day, thus leaving poor Reggie waiting for her in the park where they were both supposed to go to the concert together. I really have to wonder about Amber. She seems to want Reggie for herself by the way she behaves, and then abandons him as soon as something new happens in her life. This girl either has ADHD or only wants Reggie when someone else has him.
Poor Reggie, abandoned again. He leaves a message for Amber, then immediately falls down the well and finds his father all ready down there. Here we go again.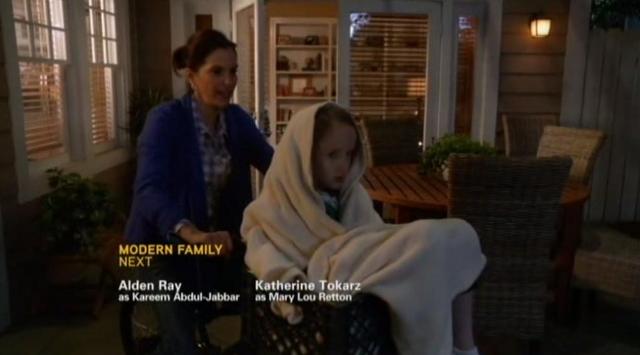 To complete the ET theme for this evening, the writers decided to have Dick, as ET and Max, then Debbie, as Elliot, fly with a bicycle across the moon. Piece of cake, right? Not quite. Apparently, Dick is not quite the ET we had hoped for. Another lesson learned. If my count is correct, that are four new lessons in this one show. Lots of learning this time, but since this is supposed to be pure entertainment, who's counting anyway?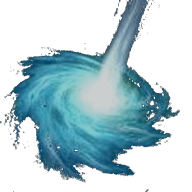 Thanks to Kenn for final staging of the audio video embeds and images in this news article and thanks to you for stopping by WormholeRiders News Agency!!
We look forward to seeing more of you here at our review site dedicated to our wonderful aliens friends known as The Neighbors!
Please feel free to leave a comment here, click an icon below to share this interview with your friends, or you can visit and follow me on Twitter by clicking on my avatar to the right.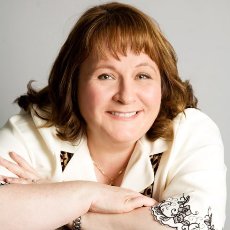 Regards,
Thank you.
ArcticGoddess1 (Patricia)