Hello The Vampire Diaries fans,

We return covering The Vampire Diaries season four premiere with a short recap from last seasons activity.
What I find interesting got my attention was Elena's (Nina Dobrev) sentence when she said "the ones we love", continued with words from Stefan Salvatore's (Paul Wesley) "and the ones we have lost". Is this not what life is really all about it?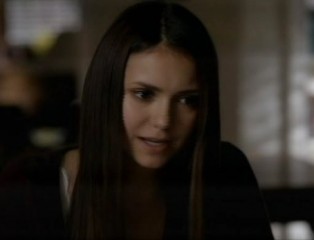 Love, and worst of all, the losing of loved ones, as well as the fight to keep them alive or as in most of the times, saving them from some deadly serious danger will affect us all one day.
Now it all comes down to this one fact; The human being everybody wants to protect, loved and desired by all, ends up being dead! The whole thing is absolutely, completely heartbreaking!
Before continuing my review, here is the promo trailer for the next great episode of The Vampire Diaries, "Memorial" airing Thursday October 18 on The CW.
Growing Pains:
Elena Gilbert (Nina Dobrev) became a vampire because she asked Stefan to save Matt Donovan (Zach Roerig) before it was her time. This is what caused Elena's death. Why in Holy Vervein would Stefan not take both of them out of the sunken car is something I cannot understand. Another thing I cannot understand is why everyone wants Matt to be ok so badly? I am sorry, but his time to go came and is long gone, time to fix that, no? LOL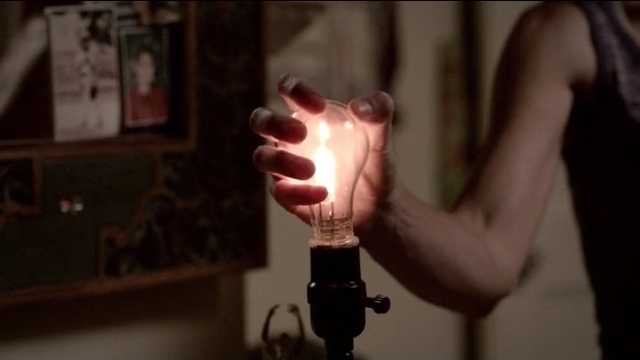 Let us go back to Elena being dead, more interesting. In the car, she asked Stefan to save Matt and when there is true love between them, you do what the other asks you to, even if you know for certain that it will tore your heart apart. I am not saying I do not agree with Damon (Ian Somerhalder), I know I would have saved her instead of Matt in a blink of eyes.
The thing here is that both guys seem to have rightful reasons to act the way each of them would have reacted; what makes the difference in this dynamic is Elena. To get her on your side, you have got to respect her decisions, but them it seems she loves Damon despite the fact that he does not respect her.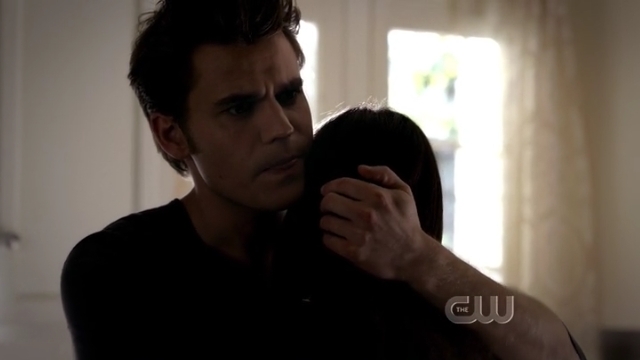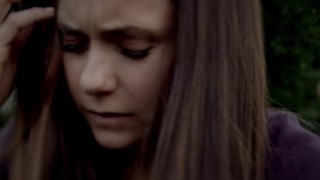 As I said before, Elena is dead or going to be dead soon if she does not feed on human blood, but they have a plan. I mean, Bonnie Bennet (Kat Graham) has a plan to solve the problem which I will explore later.
In the midst of the transition, Elena started to have her emotions heightened as well and the thirst for blood and here was I wishing for her to feed sooner than later, almost screaming at the TV "FEED FEED FEED" but no, miss golden precious heart wants to become human again with some sort of new magic.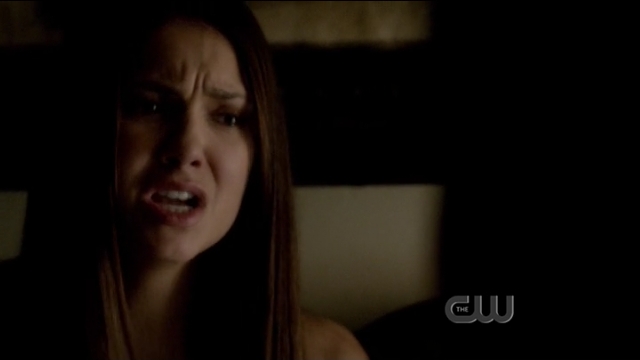 I have to say, I honestly think it is kind of cool and creepy to see Klaus (Joseph Morgan) inside Tyler Lockwood's (Mike Trevino) body, cooler than creepy I think. Ty is an interesting character, I used to hate him, then I grew to love him then hate again and there it goes, I like him again and it kills me to see Klaus taking advantage of his body to get to Caroline Forbes (Candice Accola).
Klaus has a twisted mind, almost psychotic, no, he is extremely psychotic, my mistake! When Klaus learned the founding families and the new council, which is freaking annoying to be honest, got Caroline and Rebekah (Claire Holt) captives, had to do something, he would never let any harm come to Caroline's way.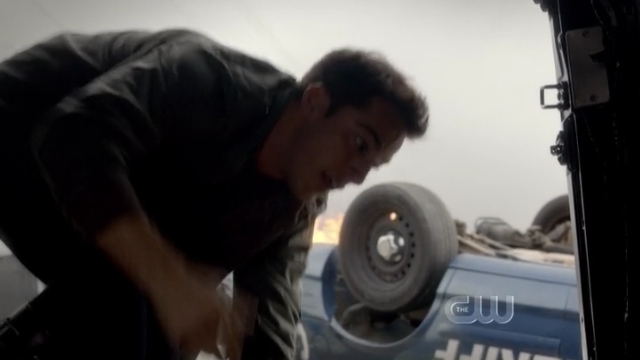 This is exactly what he did, he went to rescue her and to my shock he left Rebekah behind intentionally, thinking he would somehow rescue her later. It got me so angry! What is wrong with them choosing to save just one? He is a goddamned Original Vampire, the strongest! I do not care what explanation he might have had, he should have saved both! He would have prevented so much bad things from happening if he had taken both girls…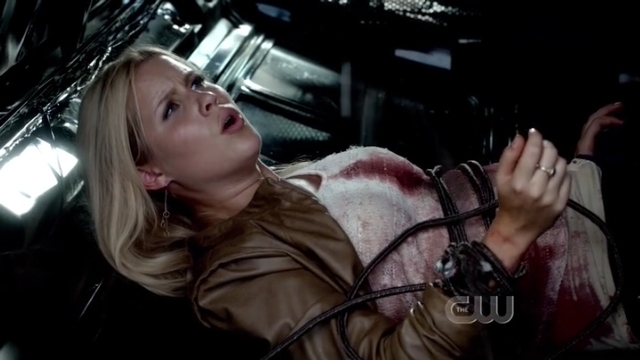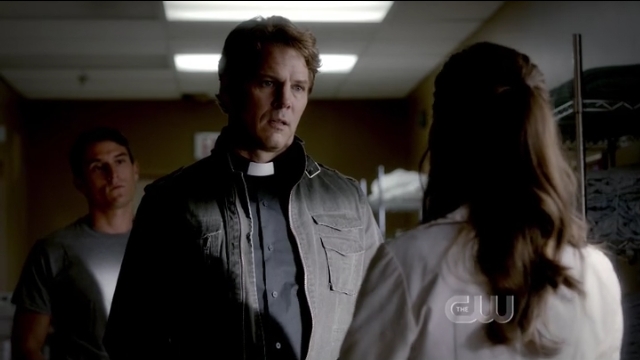 In the meantime, Pastor "annoying" Young (Michael Reilly Burke) pays a visit to Carol Lockwood (Susan Walters), Sheriff Liz Forbes (Marguerite MacIntyre) and little Meredith Fell (Torrey DeVitto) to take each of them down. He and his crew of annoying people have seized control of the city through the Council and are up against any supernatural being in town.
They have captured Caroline, Rebekah and were searching for others. Every time I see someone after Caroline I get into this weird mood, fearing she might die at any moment. Honestly, I do not know I would handle that well.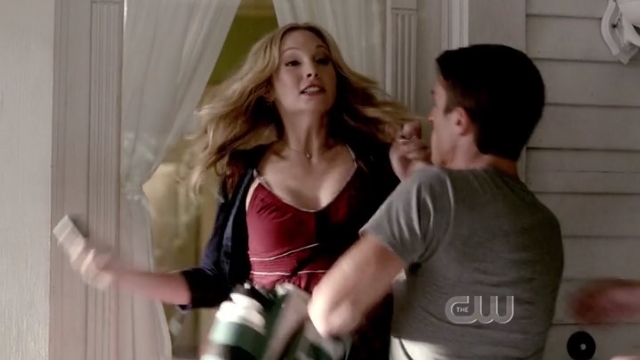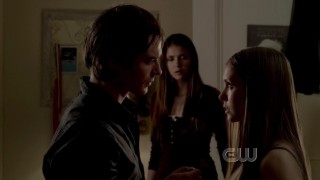 One thing that I have watched at least 5 times was the scene between Elena and Damon in her bedroom as she remembered something he made her forget. Very touching to see how much Damon loves her and sad too; It was the scene he returned her necklace to her. Why would they make us suffer like that?
It got worse! Those annoying people from the new restored Council got Stefan too. The scene followed by the car accident caused by Tyler/Klaus just to rescue Caroline to then have a crazy sexy hot make out in the woods. However, to Klaus doom he cannot hide himself and she found out in which I consider to be the best scene from the episode, the moment he said she is a glorious kisser.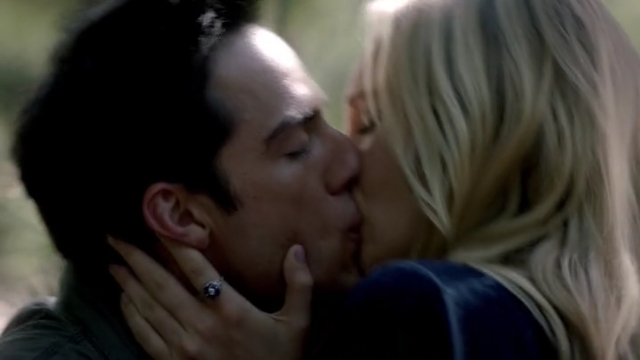 Here is the plan; those bastards from the Council want to get hold of Elena to bring Damon in as well as the other Original Vampires by using Rebekah, so he thinks. The poor guy thinks he can defeat the entire vamps from the whole world, but not with all vervein in the planet it would happen. Silly Pastor Young. If not even the woman who created the race was able to destroy them, would a silly pastor do the job? HAHA Hell No!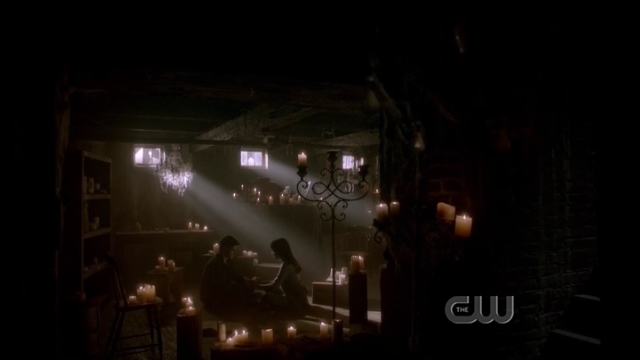 I had said before that Bonnie had a plan to solve Elena's problem, right? So, she intended to use another source f power to bring her back as a human being. She wants to use this other magic, darker than anything we have seen to bring her best friend back from the dead so she killed herself to go to the other side and rescue Elena, she stopped her heart.
Once over there, she just had to find Elena and come back but it did not work. Bonnie met her grandmother Sheila Bennet (Jasmine Guy) over there who warned her that something horrible would happen to her.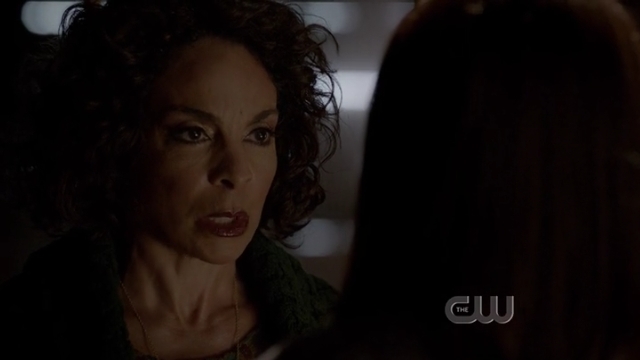 It had to be Klaus to bring doom over Bonnie, again. Despite enjoying him, I cannot help hating him the same way. He always gets in the way causing suffering, a break please. He forced Bonnie to use that new source of power to put him back inside his body. As her grandmother had warned, punishment came altogether inflicted on Sheila in a really disturbing horrid way that I believe will affect Bonnie at some way throughout the season.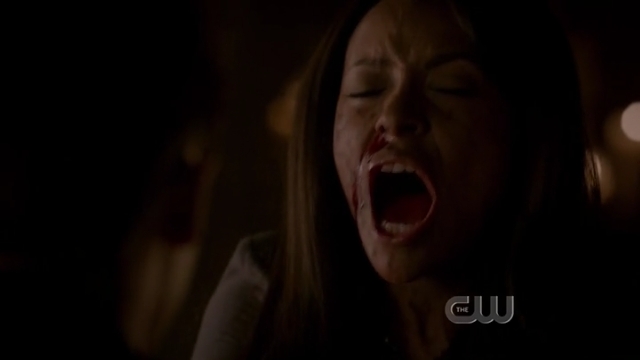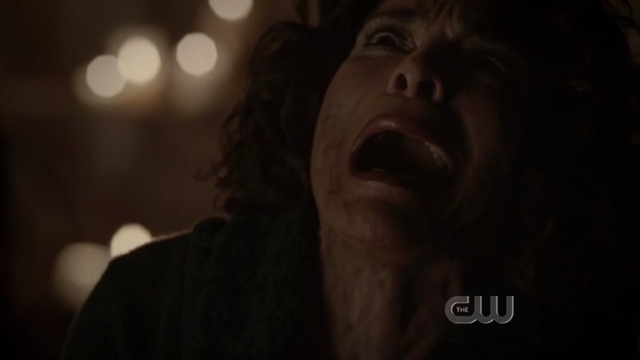 It looked like the annoying Pastor's plan was working out, he got Damon's attention. Inside the annoying house, Elena was nearly dead to Stefan's desperation. I again, do not know how he managed to kill off one of the guards, but he did it to save her. She did it to my satisfaction; she made a huge effort to to reach out for the guard's blood. She drank it and finished with the transition.
Now, let me have my fun watching Elena ripping half town apart enjoying her new lifestyle. Ops, I guess this is Katherine I am talking about… Just a question, when the heck will she be back in town? I miss her so much. Seeing Elena becoming a vampire could not help me but think of Katherine Pierce, her doppelganger.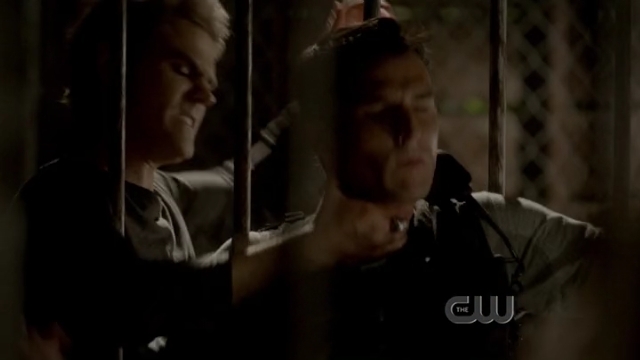 My happiness was soon destroyed. I remembered that when they become vampires, they always have their emotion heightened. With Stefan, he became too emotional and Damon, well, choleric is to put it in a really nice way. So, what would happen to Elena? Mather Theresa! She ran towards Matt to save the guy, to save him again! Seriously? LOL I have to control myself here.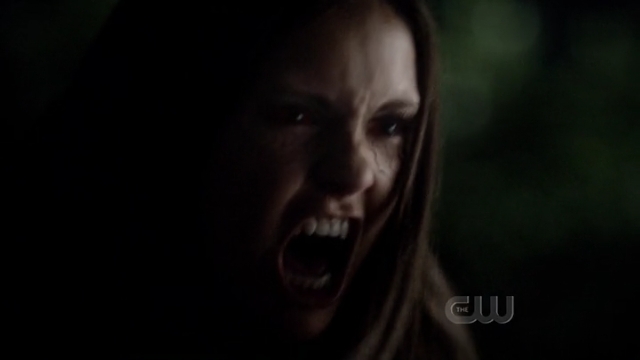 There goes another sign to Elena's new life. It was that thing Stefan told Matt that he gets to live with that because Elena chose to save him; she had put his life before her own. He better earn it life Stefan said.
Despite having said that she wanted to save Matt, we know for sure that Damon would have ignored that and saved her in a heart beat, because he knew what life she wanted to have and he would make sure she would have that life, growing up, having kids and everything. He was not entitled to decide it, but he would have done it. It was the life that was taken from him.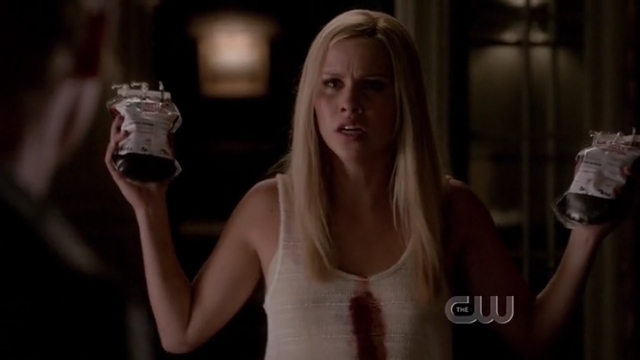 In one of the last scenes, we say the conclusion to Rebekah and Klaus arc as she got into the house madly about the fact that he chose to rescue Caroline instead of his own sister, despite anything he would say, I repeat, he should have saved both no matter what! It had a very interesting outcome to their relationship. As she wasted the rest of the doppelganger's blood, screaming at him how terrible he is, it was finally there, the true Klaus that gives no crap about family but his interests.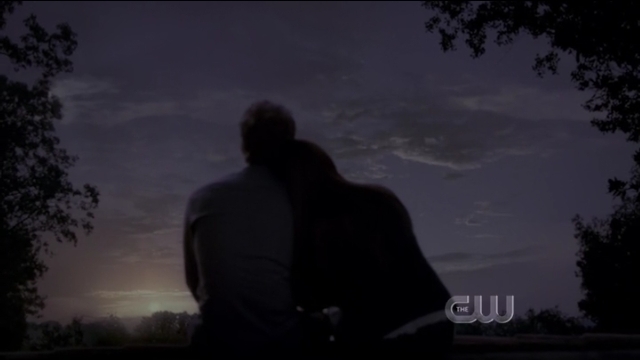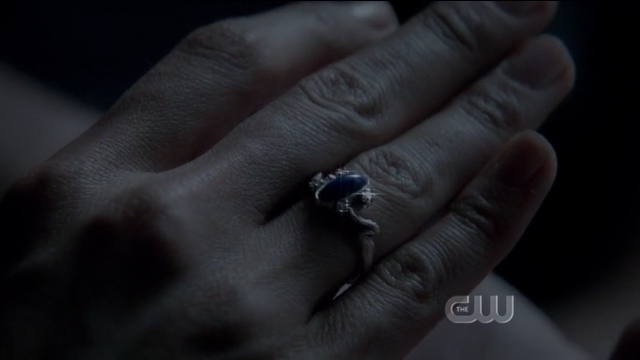 It was lovely to see Stefan and Elena together talking things over, now that she is a vampire and will live forever and so on and so forth. He gave the lapis lazuli ring to her, so she will be able to walk in sunlight in such a beautiful moment. The episode ended with Pastor "Annoying" Yound talking to his annoying friends about the vampire scape as he opened the gas into the air without every one realizing what was to happen when he light the fire to explode the place leading then into a new beginning which mad eme think what the heck is gonna happen now.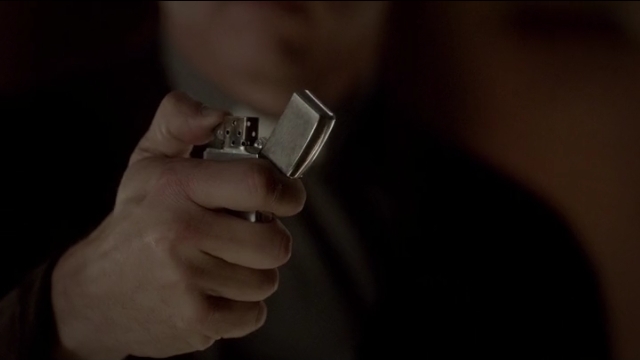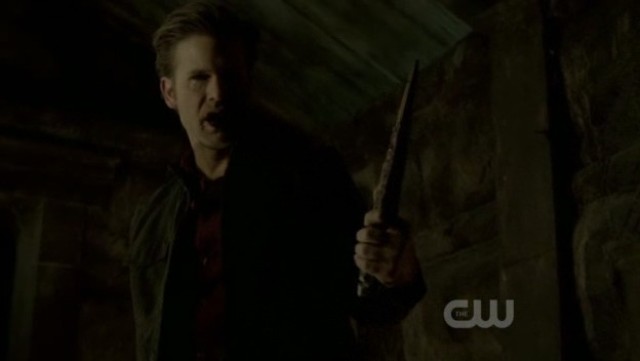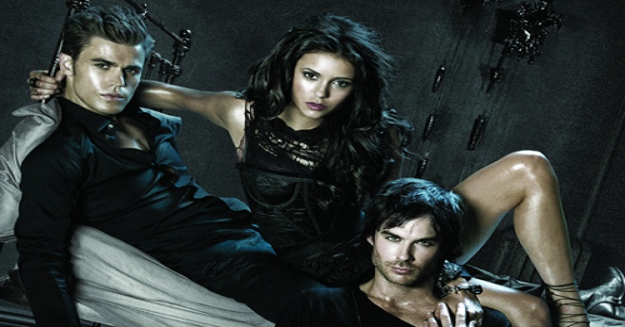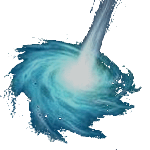 As always, we appreciate you visiting the WormholeRiders News Agency!
Feel free to share this article by clicking the social media icons below. You can visit the WHR on Facebook or me on Twitter by clicking the text links or images avatars here. In any event, the Wormhole Riders will look forward to Seeing You on The Other Side on Twitter to tweet about The Vampire Diaries!
Thanks for reading!