Hello The Vampire Diaries fans,

Welcome again to the wonderful town of Mystic Falls for the Christmas episode of The Vampire Diaries. In the previous episodes, we have witnessed Elena Gilbert (Nina Dobrev) still dealing with the hallucinations in her mind, torturing her soul at the end of last several week's episodes.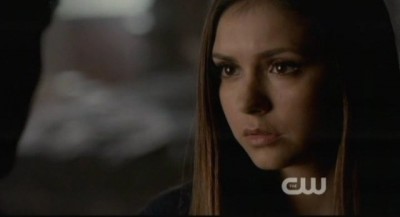 So a small recap of what has been going on. Damon (Ian Somerhalder) has accidentally sired Elena to him. By Stefan's (Paul Wesley) orders, Damon is to send her packing and to tell her to stop loving him.
Because Elaina is sired to him, anything she feels or does for him, is most likely not what she wants to do or feel. Somewhat sadly, poor Elena is now heavily influenced.
Before continuing my review we include the promotional trailer for your enjoyment for the tenth episode of season four, "After School Special" courtesy of the great Mystic Falls folks over at The CW Network.
O Come All Ye Faithful: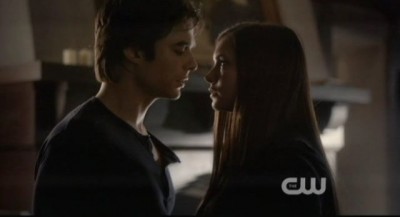 Damon cannot bring himself to do it. He and Nina wake up together. If you were in his shoes, you probably could not give up Elena either. Doing the right thing is always hard when you are in love.
It is obvious Damon cannot set Elena free. Damon told Stephan he would but did not tell him that the two had slept together.
Just before they are about to have fun again, her phone goes off and Bonnie calls her away from their frolicking. I know, we all wanted to see them go at it again, but duty calls I guess.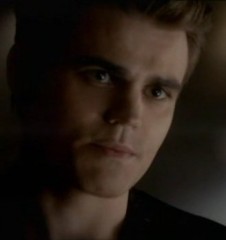 Stefan goes to Klaus (Joseph Morgan) to talk to him about Elena being sired. He tells him that while Jeremy Gilbert (Steven McQueen) can keep killing vampires, it is hard to keep him from killing them.
He notices that Stefan does not trust him, for good reason, so he takes him to see the sword that will be helping them solve all of their problems.
They discuss Stefan having moved out and he calls him out about trying to bond. The rivalry between these two is a bit annoying, but is totally warranted under the circumstances. It is later revealed that the sword will be the decoder for the map on Jeremy's body.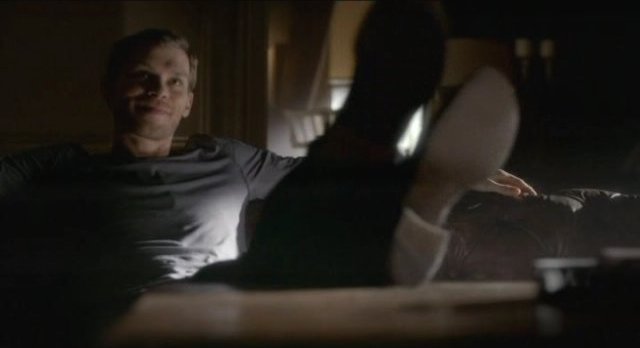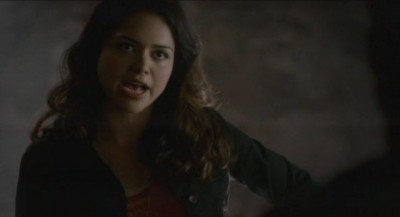 Haley (Phoebe Tonkin) has found a witch to help the wolves get rid of Klaus. Tyler (Michael Trevino) says that he will take Klaus into his body with him and the girlfriend tries to get him to not do so.
Obviously there is no sense in turning back now and her efforts are futile.
In trying to help her brother, Elena is putting herself and Damon in danger to pull off the work. Jeremy has to invite her in and almost kills her as she walks through the front door! Fortunately, Elena is too quick for him and turns the tables!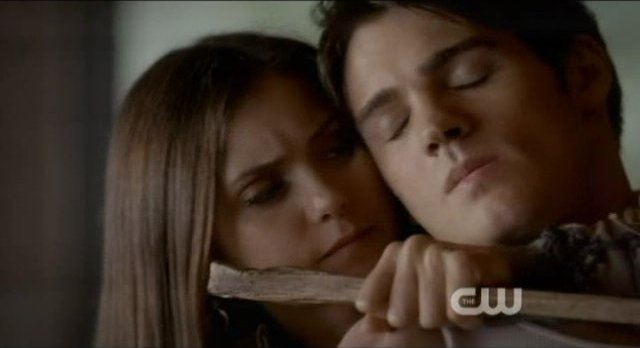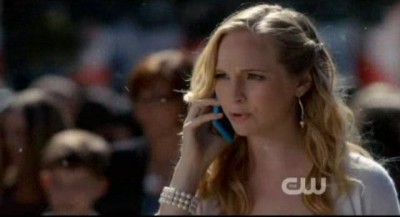 Klaus and Caroline (Candice Accola) are still spitting daggers at each other.
I enjoy the rivalry. I completely ship them and cannot wait until something special happens that ensure they actually get together, instead of the canon pairing currently featured in Mystic Falls.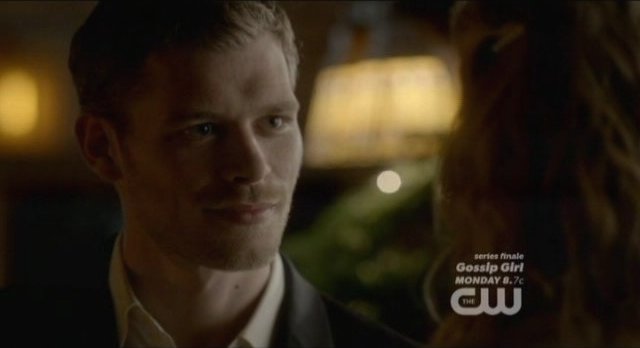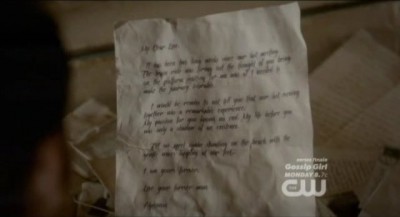 Stefan breaks into Klaus' house to look for the sword but finds something else instead, a letter with critical information. There is still a lot of tension between he and Damon but at least they are being civil.
Honestly, Stefan is too much of a goody for Elena and I do not really like the two of them. While Stefan is certainly a gentleman, I think he he is sort of a pansy…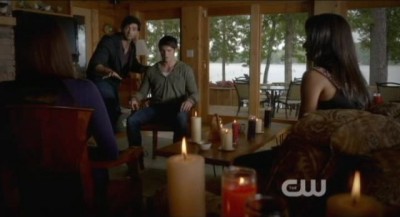 Elena, Jeremy, Bonnie (Kat Graham), and Shane (David Alpay) are in a therapy session of sorts. He is trying to use "Natural" magic, which is not the good sort for anyone to use but no one knows yet, to help Jeremy out. All it does is open up his subconscious to openly say that he cannot wait to stake his sister. In a nutshell, the "Natural" magic therapy session does not work at all.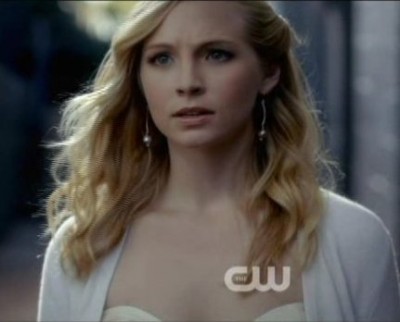 Caroline and Stefan meet up to discuss Tyler and the hybrids wanting to kill Klaus. Tyler and the other hybrids catch them and they have to admit defeat that day.
They have already made the decision to kill him and they are not going to stop their plans to trap and kill the man.
Elena and Damon have a heart to heart about what she is feeling and the issue with her brother.
She tries to be affectionate but Damon stops her, leaving her alone. This is sort of a low blow to her but he is just as confused. What if what she is feeling is the bond and not what she really feels?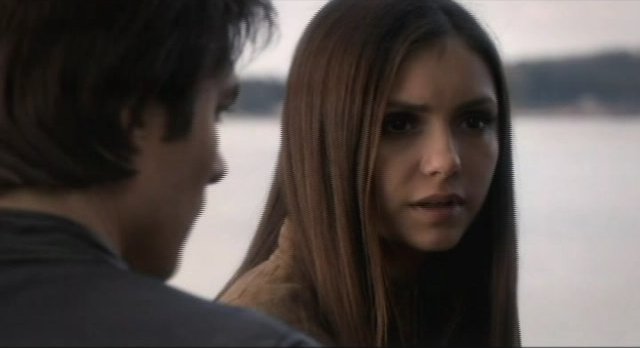 He breaks it to Jeremy that they are screwed because the magic will not work. Shane explains to Elena that he tried to make himself forget about his dead wife and child. Then Shane shares that he knows where the cure is.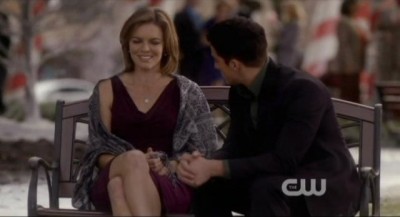 Tyler and his mom, Carol Lockwood (Susan Walters) are at a park bench talking about the issue at hand. Tyler tells her that there is not any other way to fix the problem. That he is the alpha and has to lead them properly. She compliments him by saying he is like his father, a good leader.
Shane tells them that they have to dig up Silas to get the cure. Honestly, it sounds like a load of bull with what we have seen of Shane previously behind closed doors. I think he is just playing with them.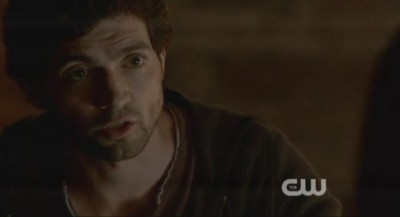 Shane already has another plan with one of the hybrids. By pulling them away from the chase for the sword, it gives them the ability to go after Klaus for their own plans.
That is just my thought process so far. Shane says that he is only in it to get to Silas. We shall all see what happens soon!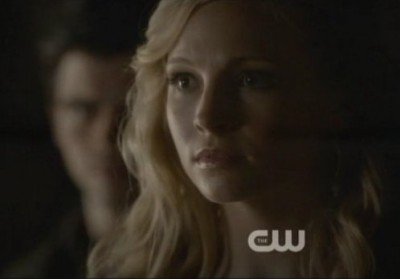 Caroline blesses Tyler out. Caroline wants to put Klaus into Rebecca (Claire Holt) instead so that Tyler will not be gone.
Haley is still in the bathroom with her and snaps her neck to stop her from telling Tyler that the spell would work for Rebecca too.
Haley shoots a text to Shane, breaks Caroline's neck, and runs off to complete her part of the mission.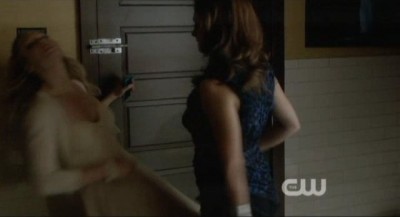 As the plot continues on with us at the edge of our seat, another commercial comes along at the critical point in the story!
Jeremy comes back in and decides to try again, not wanting to kill his sister. Bonnie seems confident about it and they all watch as he gives a stake to Damon and hugs his sister. They decide to get together and have a friend/family Christmas decorating party. Damon sends her off to nullify the sire bond, wanting to free her.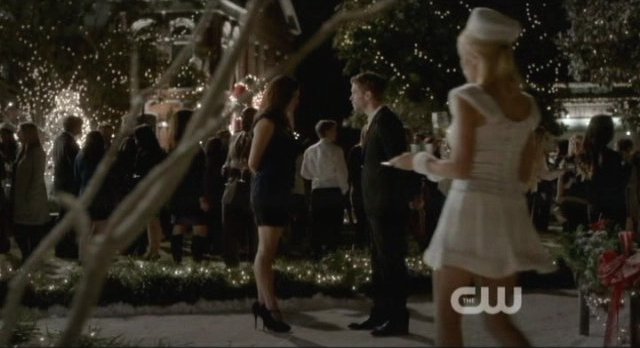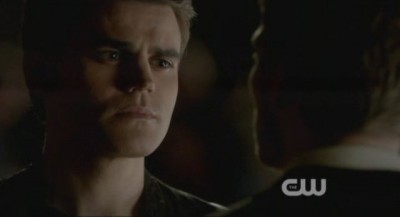 Klaus and Stefan have a nasty fight about the letters, the sword, and which one of the two of them is worse. It is like a peeing contest for who is the best bad boy.
The two adversaries argue again about trust before Klaus lectures him and leaves Stefan in the middle of the Christmas party to think about it all. Stefan is not a happy camper by any means!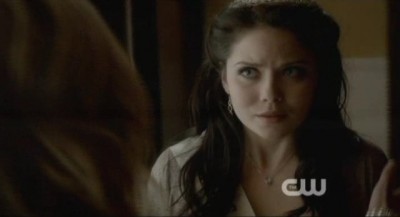 Caroline wakes to April (Grace Phipps) freaking out because she thought Caroline was dead. She tries to compel April into forgetting about all of what she saw, not remembering that there is vervain in her bracelet. Oops…
Tyler goes looking for his mom, calling her but cannot seem to find her at all. The hybrids meet up in the woods only for Klaus to be there and kill them all.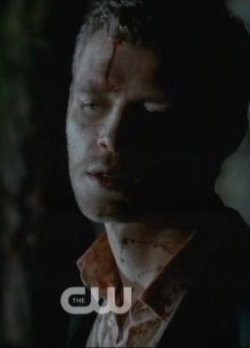 Haley breaks the astonishing news to Tyler telling him that he should be grateful because it means that he is still alive.
Klaus quickly kills all twelve hybrids and takes a step back, knowing that the twelve have been sacrificed. Finally. It is completely infuriating! You just want to kick the jerk for being such a butt hole to everyone and killing each of them! Ugh!
Caroline breaks it to Stefan that they are together but she does not even have to say much for him to come to the conclusion that they have slept together. He is heartbroken and furious. The woman he loved, left him for his brother and within such a short time, has made love to her! Recall that it took Stefan and Elena a while to get to that point and Damon has pulled off the seduction in no time flat!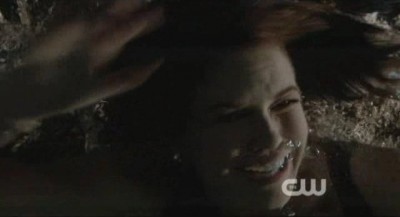 The show ends with a bang as Klaus comes and talks to Tyler's mom. She begs him to spare Tyler and to please not hurt him. Klaus decides to drown Carol in order to take away the only thing poor Tyler has left.
I did not see this one coming and nearly threw my remote at the television in anger. Klaus is so freaking hot and holy cow I want him to be a better guy, but he just has to be the bad guy! I just want to kick him!
Over all the episode did not have to many twists and turns until the end. Not quite the edge of your seat like I had hoped, but "O Come All Ye Faithful" did not disappoint!
To help out, here is a fun "rehash" of "Come All Ye Faithful" by accomplished actress Arielle Kebbel, better known as Lexi Branson of The Vampire Diaries. Enjoy!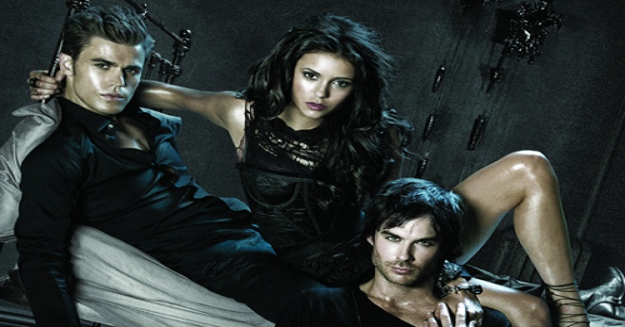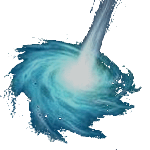 Thanks to Kenn for helping with image and video embedding since this is my first published review. As always, we appreciate you visiting WormholeRiders News Agency!
Feel free to share this article by clicking the social media icons below. You can visit WHR on Facebook or me on Twitter by clicking the text links or images avatars here.
In any event, we at WormholeRiders will look forward to Seeing You on The Other Side on Twitter to tweet about The Vampire Diaries!
Thanks for reading!