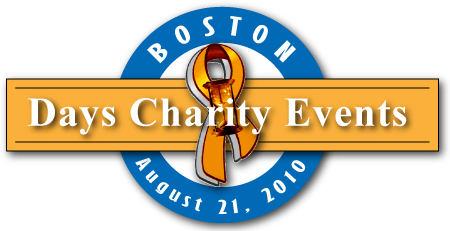 So, like many other fans, I'd been counting down the days to the Days Charity Event in Boston, which took place this past Saturday at the Sheraton Colonial Boston North Hotel, for a long time. I had been tweeting with people and making plans to meet one another. I had only met one of them, Carrie, from the event in Los Angeles, but I felt like I knew the others because of our constant chattering online. Needless to say, I was excited to meet all of them, along with the stars who attended.
Finally, the time was upon us!
On Friday night, I met a bunch of other fans in the hotel bar. We moved between there and the lounge. It became pretty wild, but was so much fun! It was great to meet so many other fans – especially when you spend most of your days explaining to everyone why you spend so much time focusing on a soap opera. The madness had officially begun.
Saturday morning kicked off with the Q&A session where fans are able to ask the actor(s) of their choice any questions they like. In attendance were Molly Burnett, Casey Deidrick, James Scott, Mark Hapka, Louise Sorel, Wally Kurth and Crystal Chappell. Unfortunately, Joe Mascolo was unable to make the event.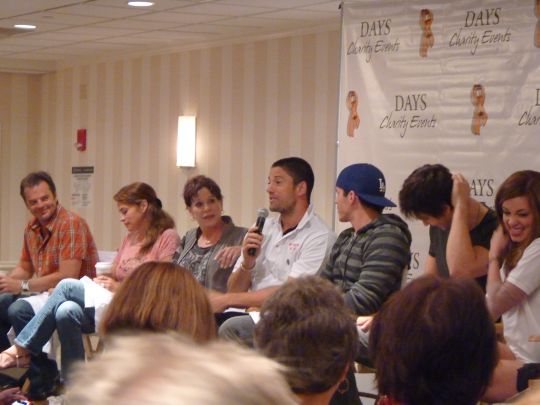 One of my favorite of the questions was when they were asked what their favorite screw-up was. Molly said she's always walking into things on set – something which I feel we have in common as less than two hours later I smashed my head into a doorframe. Okay, that's outside of the story. Crystal said that she gets confused whenever she has props, so Carly needs to have a simple setup with only one prop so it didn't mess her up. Casey told us that he once parked in Joe Mascolo's parking spot on a day when he wasn't working. He was on set to drop something off for Molly and he found himself blocked in to the spot by Joe's car. He said there was a big throw down – which was featured at the end of the Dance-Off video they created.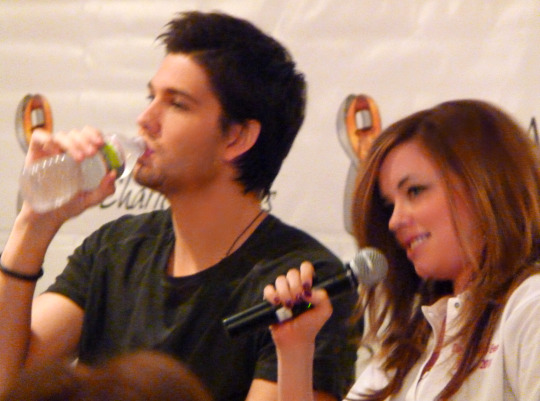 Another fun question was when they were asked which storyline they'd like to see for their character. Wally said it'd be nice just to see his character have a storyline, which Casey seconded for Chad. James said he'd like for EJ to have a real job again because he enjoyed the working scenes. Crystal said she'd like for Vivian to be her mother – which Louise laughed at and asked if they could be sisters instead. When it got around to Molly, she said she'd like those scenes with 'Grandma Vivian', then corrected herself by referring to her as 'Hot Aunty Vivian'. Mark said he'd like for Nathan to stop being the good boy all of the time and have a bit of an edge, like being drunk under the knife or popping pills.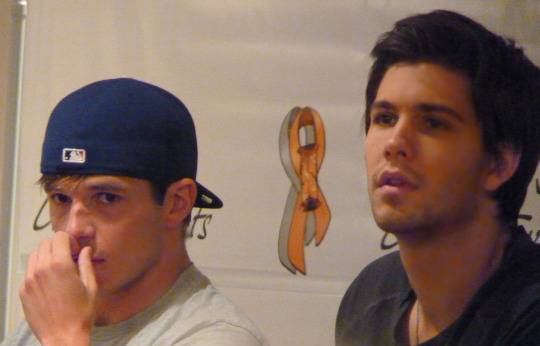 The day was so chaotic that I barely remember the rest of the Q&A until we got to the auctions. Each actor auctioned off their DCE t-shirt. James, Mark and Casey all went out in the audience to sit next to the highest bidder and increase bids. The average bid ended up being about $500 for each shirt, give or take. I actually decided to bid on Casey's shirt – okay, I also bid a little on Molly's shirt, but my competitive streak hadn't kicked in yet, which is kind of sad. I kind of wish it had. Anyway, basically it was a war between me and this one other lady across the room. I kept almost winning and at the last second she'd cut me off. The people behind me were even offering to help cover the cost, but I felt bad taking their money! Incredibly nice of them, though! Actually it got to the point where they'd ask if anyone would bid higher and I'd just cringe and say 'Okay…' which they found funny. Sadly it got too rich for my blood. I'm a university student – I couldn't afford to bid $1000, so I dropped out. Still, I feel better knowing I made someone else spend that much – is that evil? I'm sorry, my competitive side is still upset by losing. Casey was great about it though. I told him I wished I could've bid higher and he just said he was sorry I didn't get the shirt.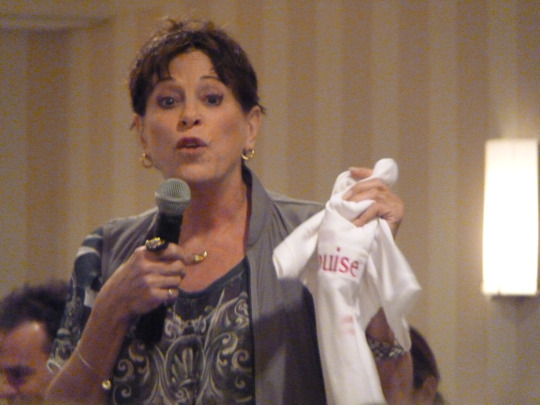 Crystal's shirt was the highest seller, though. She also added that she would write the winner into an episode of Venice and later added a kiss into the mix. I don't remember exactly what it went for, but the bids went very high, very fast! Hers sold for over $3000 (which honestly didn't shock me).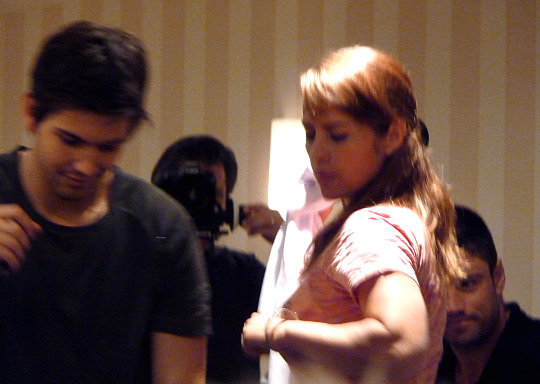 We had a break in between events, where I hung out a bit with my friends and met a couple more who had just arrived. We all went upstairs and had lunch in two of their rooms (adjoining rooms). I can't explain how fun it is to hang out and chat with the CarBos.
We were in line for a long time at the Meet and Greet, but I'd say it was most definitely worth the wait. The first one I met there was James Scott. I didn't get to talk much with him, but let me just say, he looked really good. He's always so nice. EJ isn't always my favorite character, but James is a great guy and I loved meeting him.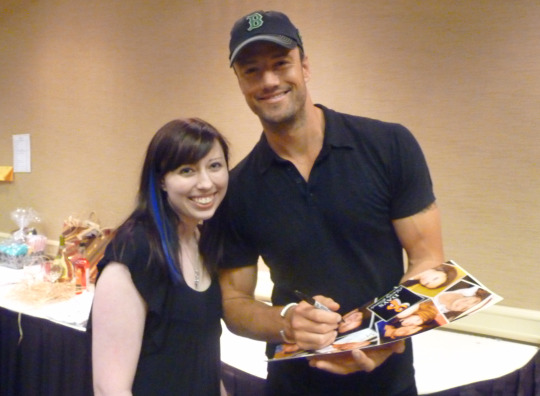 Next up was Louise Sorel. It was confusing because her line seemed to be separate from the line for everyone else. I broke off and had my friend save my place in line while I saw Louise. Can I just say – I have never met an actress more different from her character! She was so incredibly kind and really funny! I told her that my father and I are big fans of Vivian. We used the news of her impending return to cheer him up while my grandmother was dying. It didn't do the whole trip, obviously, but I think it helped a bit, at least. She also asked about the blue in my hair and pointed out that Lauren Koslow has the same thing – which I knew because I stole the idea from her. She asked what it stood for and I told her I'd read online that it was a tribute to Adam Lambert. She said she'd always thought it had to do with David Bowie because Lauren is a fan of his. I'm not sure exactly which is true now, but I'm pretty sure she said in an interview it was because of Adam – I'll have to look into that. Anyway, I got a hug from her and a picture, which made me incredibly happy. How can anyone not love Louise Sorel? Even with how evil her character is, she's such a lovely woman that you can't help but want to be around her. Actually, the same goes for pretty much the whole cast.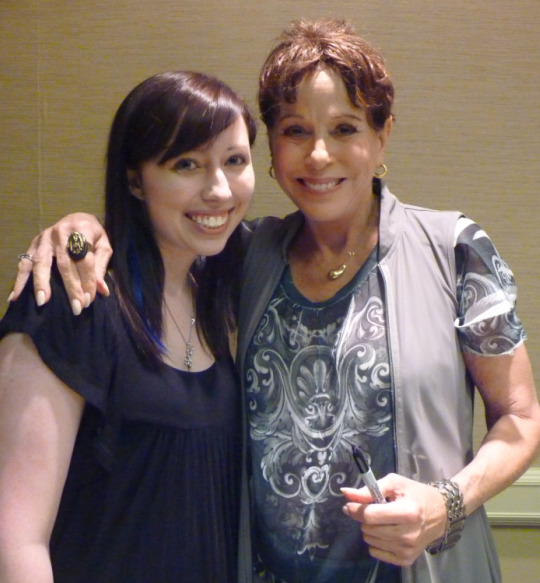 While I was waiting to talk to Crystal Chappell, one of my friends tapped me on the shoulder and said, 'Molly is calling you!' I was so confused, but I looked up and Molly Burnett was calling 'Vala!' and waving. I guess she remembered me from LA and the twitter world! I smiled and waved back. Totally cool!
Crystal was so amazing in person – which I'm sure any good CC fan could tell you. Basically the first thing she said to me is that I have gorgeous eyes. If that isn't the pot calling the kettle black, I don't know what is. I'm so flattered by that comment! I told her about WHR and then added that I wanted her to know, even though she'd probably heard it a thousand times, Otalia changed my life. She gave me a big hug then we posed for the picture. I can't tell you how kind and genuine she is! Seriously, this cast blows me away.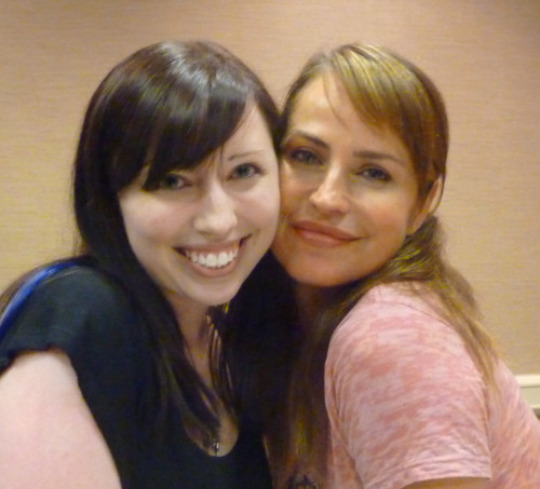 After a confusing line-up mess that had developed around Crystal, I finally made my way over to Mark Hapka. Shockingly, not only did he remember who I am, he remembered what we talked about in Los Angeles. He asked where my parents were this time and I said they finally agreed to let me travel on my own (okay, I've travelled on my own before, but never to a city where I'm not staying with family or been allowed out of the hotel!). Then he asked if they ever admitted that I am named after Stephanie Johnson, to which I replied that my dad said I was actually named after Stefano DiMera. That made him laugh.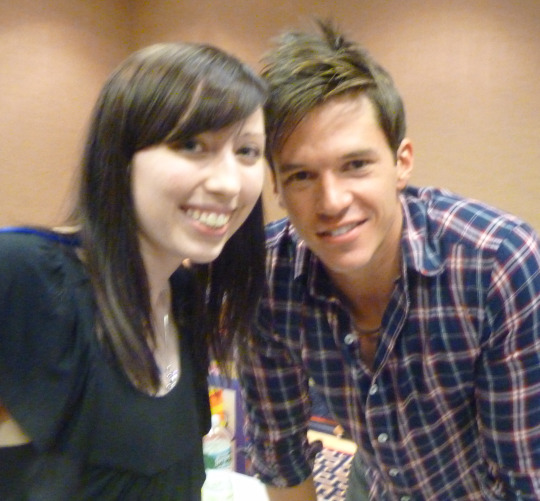 Then came Molly. All I can say about her is she's so happy and kind that you can't help but smile. She also only ever calls me Vala – which I don't mind. I'm used to everyone calling me variations of my twitter name in person. I actually like it better than my real name, so it works. Casey finished up with the person in front of me, so I was talking with both of them. I gave them both a 4-pack of Canadian Smarties. I found out recently that Smarties are different in the USA than they are in most of the rest of the world. I told them that and added that these ones have chocolate inside. They seemed pretty excited about that, so I hope they like them! Casey said he was sorry I didn't get the t-shirt I was bidding for and I said it was okay because I brought my own. I showed them my Team Chelanie t-shirt, which they loved. Casey attempted to try it on, but it didn't work very well. It's very small and not very stretchy! He couldn't get it past his biceps! It was funny though. They told me to hop up on the table and we took a picture with it. They signed the front later.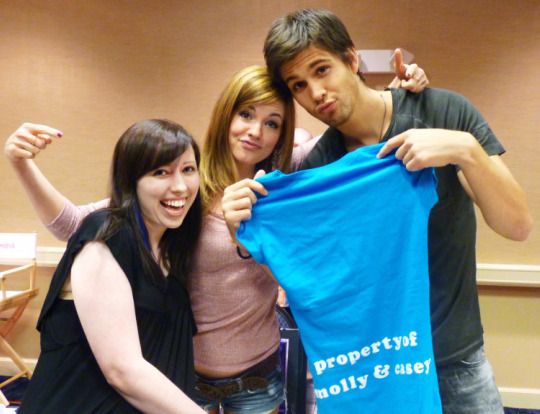 Finally, I got up to see Wally Kurth. We were a tad rushed, so I didn't get to talk to him much, until I was taking someone's photo with him later. He was trying to take the Smarties I'd given Casey and was asking what they were, so I told him. Casey also scolded him a little about touching his candy.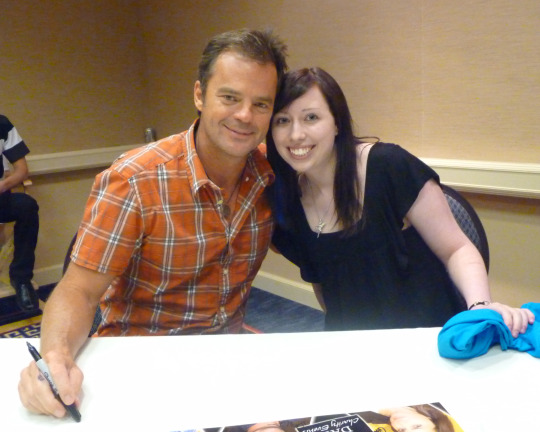 Between the Meet and Greet and the Cocktail Party, I ran out to Target with a few of my friends. I picked up a hair straightener, since apparently I'd forgotten to pack mine. I had straightened my hair that morning with a curling iron, which was difficult and only barely worked. Thankfully I got one, so I felt better about the party that night!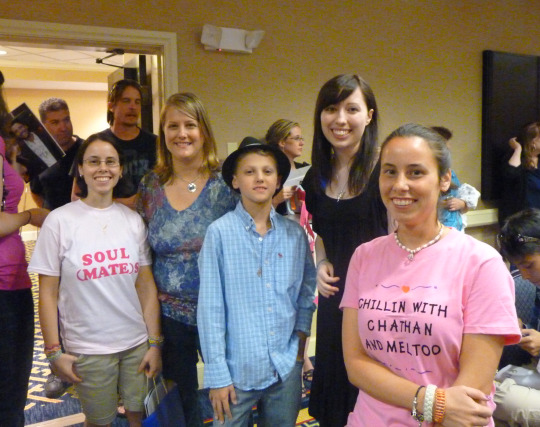 At the party, I hung out with a ton of my friends. Megan, Sara and I took off and went to see Molly and Casey when they came in. We all wanted more pictures with them. I decided that every actor I spoke to, I'd ask for a silly-faced photo. Casey was the first and I promised him I'd use the picture as my avi on twitter – which I did once I got home. I love how it turned out, actually. I was also Meg and Sara's photographer for most of the evening.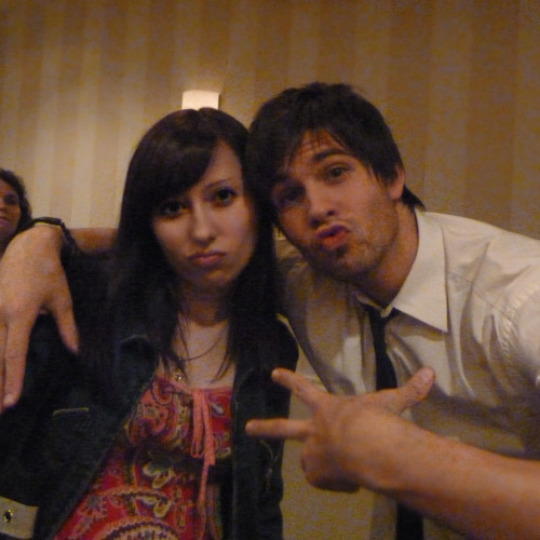 We then took pictures and talked with Molly for awhile. She told me she loves the blue in my hair and asked if it was real. She seemed surprised when I told her it wasn't, but they hooked it in so tight that it would last at least four weeks. Next time I plan on dying it though, because it's easier and more comfortable. She said she always wanted to get blue in her own hair, but the producers wouldn't allow it. We also told her how much we love her mom because she's always been so nice to Molly's fans. I said it was nice because without me even saying anything to her, Molly's mom tweeted me to say she hoped my dad's surgery went well and that her thoughts were with him. Molly then asked about my dad, so I told her but added he has good odds, which is good at least.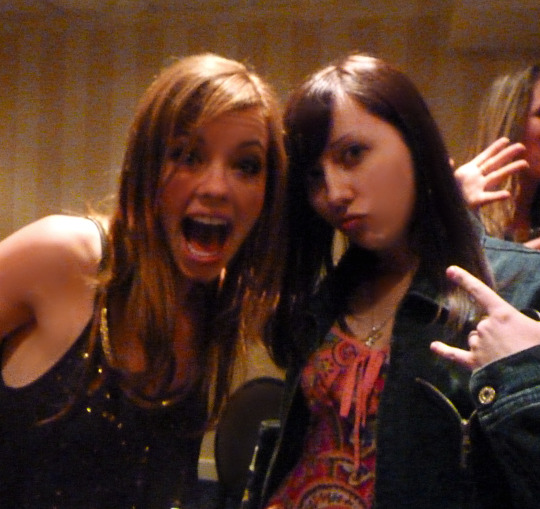 Next off, we went to see Crystal. As we expected, she had pretty much been swarmed since entering the room. We waited a long time before finally talking to her. Just before we got our pictures, though, she was pulled away to do an auction. During that time I exchanged a couple words with Louise Sorel – whom sadly I didn't get a picture with before she had to leave the event. We went back to wait for CC again and finally got our pictures. I guess some people must not do weird faces when they ask the actor for pics like that because she's not the first to ask if I'd be doing it with her (which I was). Anyway, I got the pic and I think it turned out quite well!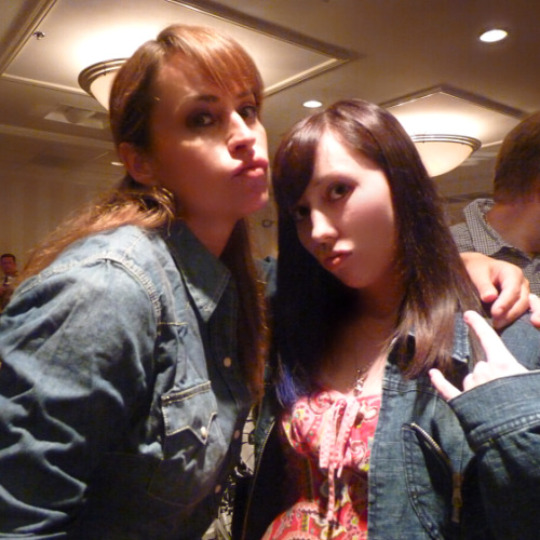 It was then that we went to see Mark Hapka. He told me I should bid on the auction they were doing – which I could barely hear – and I agreed since the bids weren't too high and it was for a brunch with them tomorrow. Sadly, by the time I found the auctioneer, he'd just said 'Sold' and I missed out. Still, I got a wicked photo with Mark.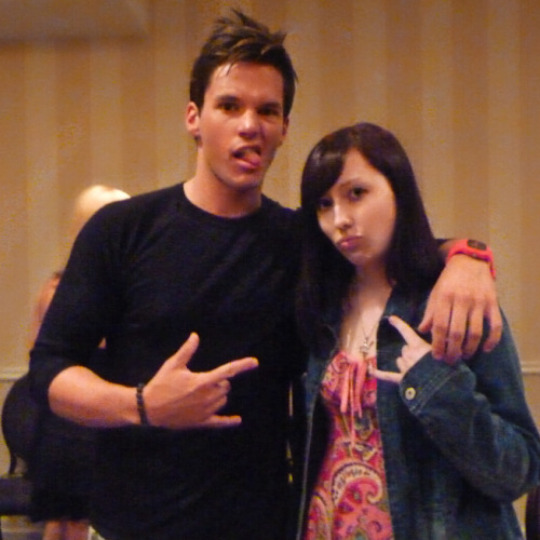 We hopped off to talk to Molly and Casey again. Meg and Sara had something to tell them and I wanted them to sign a photo for my best friend for her birthday. We also ran into Carrie and Matthew there, so the group of us were just chatting for awhile while we waited. Molly was on her phone, trying to get a video connection with her dad, so she could show him what was going on. Meanwhile, Casey signed the picture. Mark came over and saw the pic of Molly and Casey and joked, 'Do you want me to sign that?' I told him Tina's a big fan of Nathan, so if he wanted to, that'd be great. He asked me if he could write on Casey, then changed his mind and asked if he could draw himself in. I told him to go for it. Instead, he posed while Casey drew his profile, which seemed to look angrily at Molly and Casey. Actually, the drawing was quite good! Mark signed beneath it.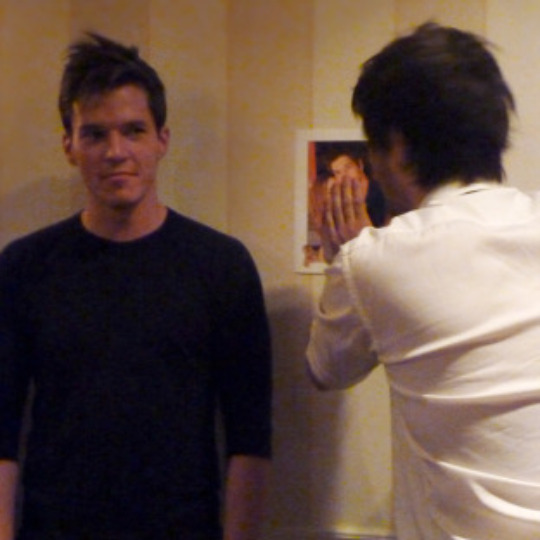 Molly established a video connection and had us all wave to her dad. When her mom came over to see her, she had us all wave again, then introduced her to Meg and Sara, then to me. She hung up, but before we could talk to her, she and Casey were pulled off to do interviews.
I waited outside with McKenzieLyn to ask Molly and Casey for an interview, as I'd obtained permission to do so. They were pretty much swarmed again as soon as they came out of the restricted area. I stood back and waited, but Molly saw me and called out, 'Vala, what are you doing hovering over there! Get over here!' So while she posed for a photo with Casey and another fan, I hopped over. I stood beside the beam they were next to and she poked her head around and pulled me over. I realized that they thought I wanted a picture so I joked I should give someone my camera. They laughed and said, 'Oh, she didn't want a photo!' I told them that I would obviously never turn down a picture with them. They asked what it was I did want and I told them I was wondering if they'd be up for doing an interview. They agreed and said they would love to. We then took a couple of pictures and right after, they were ushered back into the ballroom.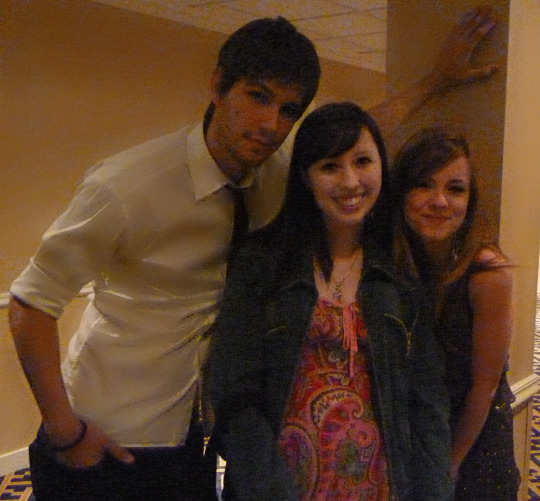 I realized I also still needed Molly to sign the photo for Tina. When I got to the front, I joked that she must be getting sick of me. She signed the picture and when I mentioned that Tina's dad wasn't happy about her soap addiction, Molly asked why not. I told her he thinks they're a waste of time – which is obviously untrue – and didn't like her watching them. She asked his name and added at the bottom a little note for him, saying, 'Dear Amir, Soaps are not a waste of time. xo Molly'. She laughed that she was going to get in trouble for that and I remarked that if anything, I'd be the one to get in trouble.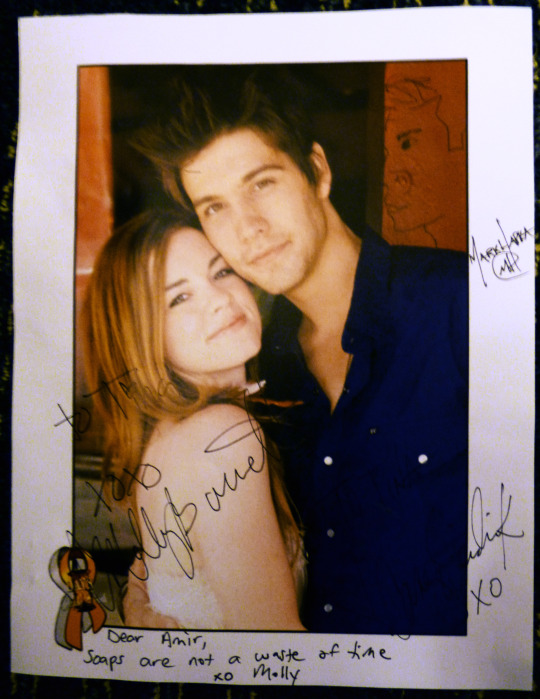 By that time, the party was winding down a bit. I found a few seats and chatted with Meg and Sara, as well as some of our other friends who came and went. It never ceases to amaze me how people you've never seen in person can seem like such old friends when you finally do meet!
Just before the event ended, Molly, Casey and Mark were posing for pictures. Molly and Mark were posing while Casey left to take photos with James Scott. When Casey got back, he and Mark posed for some Chathan (Chad and Nathan). They were in an embrace, but Mark went to kiss Casey, whose hand flew straight to his mouth. He exclaimed he was sure he saw tongue. It was pretty hilarious!
Once the party was over, I met the adorable couple – even cuter in person than you'd expect – outside for the interview. I'll be posting the interview with Molly Burnett and Casey Deidrick in an upcoming report!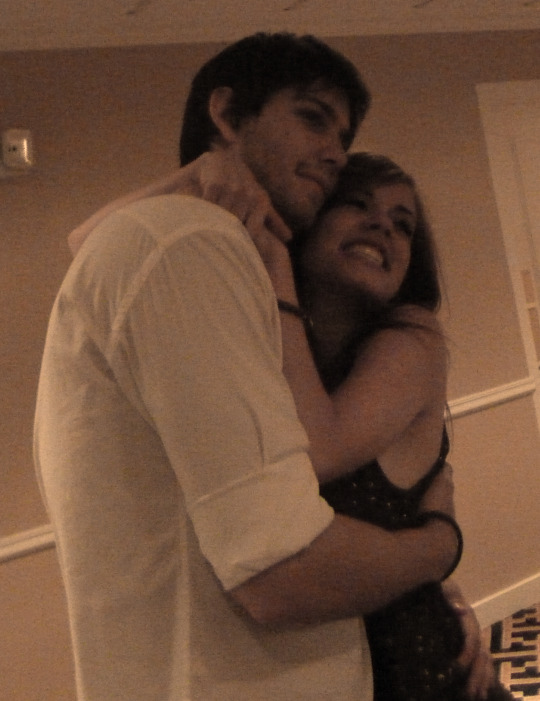 At this point, I headed back to my room to relax. I was just on a brief call when I got a DM from Carrie telling me there was a CarBo gathering going on two floors up and to get up there. Well, obviously I did just that! I don't think I can exactly explain just how wild CarBos are to be around. It's such a fun group. I loved laughing and chatting with everyone. When that was done, and everyone had filtered out, five of us met up in another friend's room. We all stayed there laughing and chatting until one had left for the airport and two were practically passed out. Left awake among us was just me and my fellow CarBo, Liz. Her and I headed outside for a bit and sat in the bench across from the lobby doors. Here we stayed until the sun was shining and we'd seen a ton of people leave for the airport in the wee hours. At one point, Molly walked by, talking on her phone. Liz said (a little more loudly than intended) that we should yell 'We love you Molly!' She totally heard us and waved at us. It was slightly embarrassing, but more hilarious. It was almost seven in the morning and we were still talking loudly, sitting outside in our cocktail dresses. Maybe it's just me that finds that to be an amusing image, though.
Well, alas, the day came to an end and I had to say goodbye to Liz. I crawled into bed for a refreshing one and a half hours of sleep before getting up and going the next morning. The shocking part was that I was more awake than I'd ever been. I think there's something to this Twinkie and chocolate diet I obtained while here in Boston. Okay, that was totally off-topic, but I thought I'd add it in as an FYI for anyone travelling! Also, check out what I found the next day!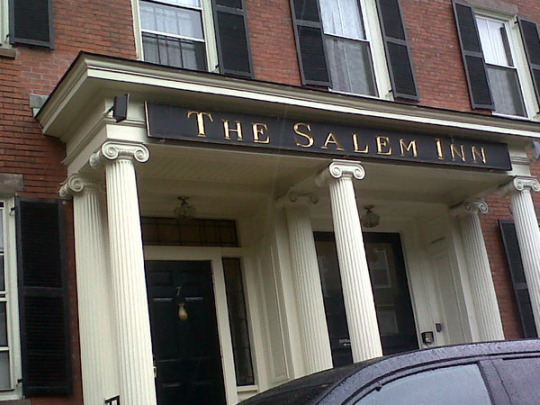 Anyway, this weekend was fully made of amazing and I still don't think I've recovered yet! I hope everyone out there gets the chance to meet these stars some day because believe me, they're some of the kindest you'll ever meet. To all my twitter friends, new and old, whom I met in Boston – Team D and the CarBos, my Chelanie buds, and everyone else – thanks for being so awesome and making this experience even that much more awesome! I miss you all already and can't wait to see you at future events!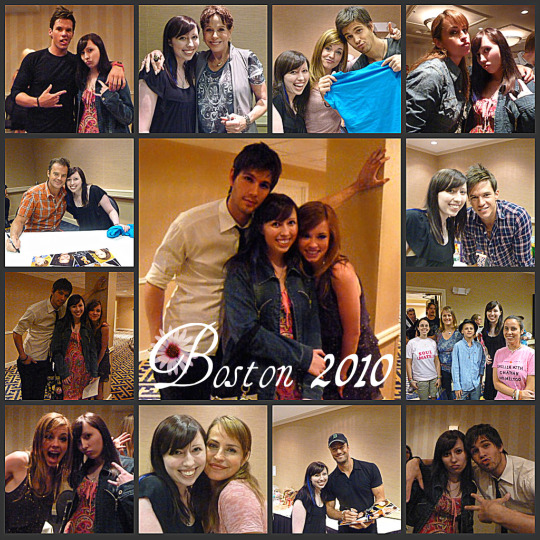 Thanks to all of the actors who showed up to the Days Charity Event – Crystal Chappell, Louise Sorel, Mark Hapka, Wally Kurth, James Scott, Molly Burnett and Casey Deidrick! We all appreciated your giving your time in support of the charity. We hope you enjoyed it as much as we did! Thanks as well to all the volunteers and the people in charge of Days Charity Events! It was a great one and personally, I can't wait to go back again!
ValaBlack