Welcome back Continuum time travelers!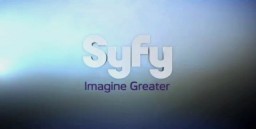 The fourth episode of Continuum completes the establishment of the foundation of what is to follow in the series story arc.
Revealing back story about Kiera Cameron (Rachel Nichols) from the eighth decade of the twenty-first century, "Matter of Time" heralds the arrival of Edouard Kagame (Tony Amendola) in 2012 traveling in time from 2077 via wormhole! Like Capitol 6 of Vancouver says, it is "Just a Puzzle!"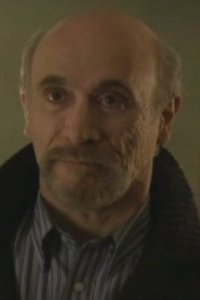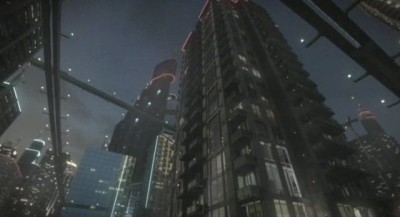 In the first three episodes, we learned how Kiera came to 2012 from the wonderful year 2077, how she met her future police partner Carlos Fonnegra in the past (Victor Webster), and how she began working with Inspector Dillon (Brian Markinson) and computer guru Detective Betty Robertson (Jennifer Spence) to fight the scourge of terrorism sweeping the planet Earth!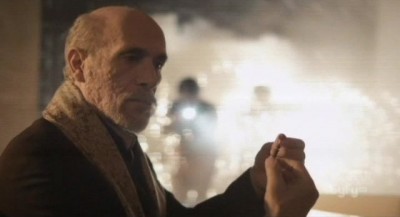 Early twenty-first century ally young Alec Sadler (Erik Knudsen) joined Kiera and her fight for freedom against the ruthless Liber8 terrorists whom have arrived from the year 2077 during a daring escape from execution after the arrest of Kagame.
The mission of Kagame and Liber8? An attempt to enslave humanity in the present and change the future forever!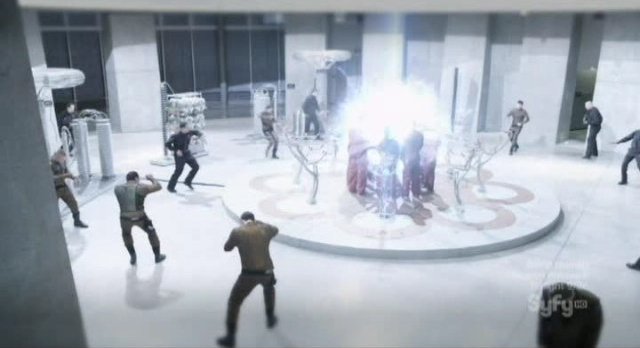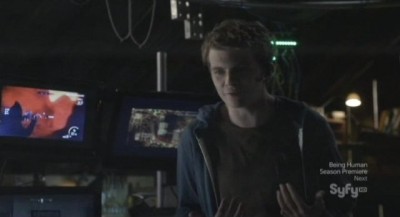 Subsequent to obtaining a permanent cover story for Kiera as a deep undercover special anti-terrorist operative, thanks to a bit of Federal government computer hacking by Alec, Kiera settles in to life in 2012.
With Alec's assistance, Kiera has successfully thwarted Liber8 several times resulting in the death of two of the evil malcontent terrorists, Stefan Jaworski (Mike Dopud) and Curtis Chen (Terry Chen).
Matter of Time: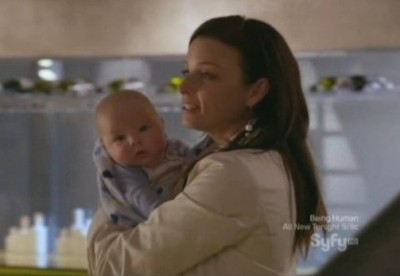 The episode opens quickly with a flashback to approximately the year 2070 when her son Sam is a swaddling young baby, before Kiera has become a Vancouver City Protective Services (CPS) officer.
After coming down the stairs, Kiera kisses her husband Greg (John Reardon) who has been meeting with a guest at their new lavish home in a high-rise condominium, thanks to the fact that Greg has become a project leader at work, a company we find out is named LaRoche Energy. This will become an important detail at the end of the episode.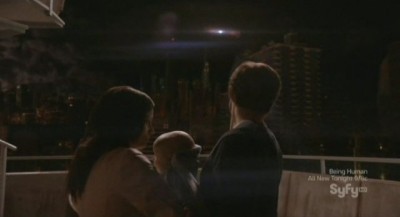 As Kiera say she loves their new home while hugging her young son Sam, suddenly, the power goes out. Kiera recalls the last time this happened when the Liber8 terrorists knocked out the power reactor that it took hours for power to be restored. Greg assures Kiera that power will be restored in ten seconds, and so it becomes.
While some viewers do not, this reviewer enjoys the flashback method of storytelling. Flashback storytelling provides for a richer tapestry in revealing details that fit into the overall story arc.
What some whom I have spoken with at entertainment conventions say is that they enjoy a linear method of entertainment where each scene follows the next in neat order, one after the other that such is much easier to follow.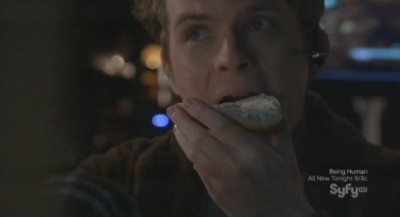 While I agree that a linear arc is easier to follow, for Continuum, in my opinion, the linear type of storytelling would have taken at least one, if not several episodes to build the story arc before the action could actually commence.
In the next short sequences 2012 Alec is monitoring Kiera via Cellular Memory Recall (CMR) as she is applying her morning makeup. Alec is eating a bagel with cream cheese. The good natured banter between Alec and Kiera is a setup for a power outage that affects 2012.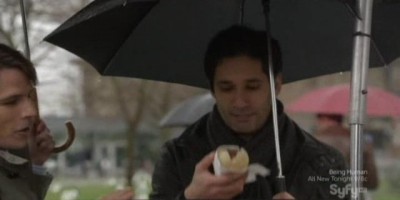 Matthew Kellog (Stephen Lobo) is observed ordering a hot dog from a local street vendor while chatting with his investment banker (Scott Vickaryous) who calls his timing on stock purchases "spectacular".
Matthew Kellog is getting wealthy very quickly in 2012, instructing his broker to make new investments in synthetic food and disaster something that will come in quite handy a bit later when he meets with Kagame, but I get ahead of myself!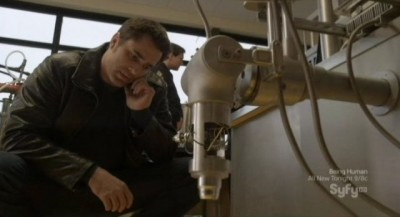 Carlos calls Kiera during the power outage explaining to her that there is something unusual happening he has been investigating looks like the work of Liber8.
We segue to Carlos and Kiera at the laboratory crime scene investigating the enigmatic death of a high technology Professor named Martin Ames.
We will learn later that the death occurred at an energy research facility tied to the future of energy utilized in the year 2077.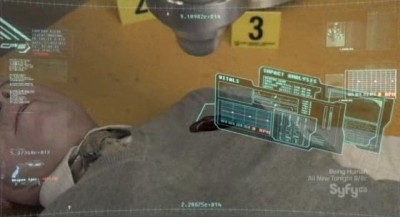 Professor Ames has been shot and killed in a highly unusual manner. Professor Ames death has apparently been the result of a laser blast wound that has somehow penetrated though through five stories of the high technology research building.
Kiera and Carlos are stumped by the circumstances. A cool VFX sequence ensues as Carlos and Kiera head to the basement five stories below looking up at a neatly burned hole from there up to the scene of the Professor Ames death by an unknown weapon her scanning cannot identify!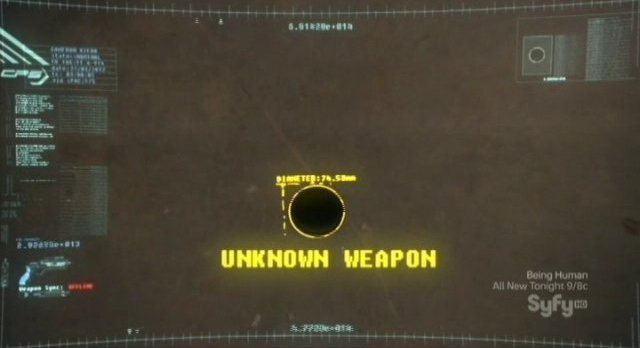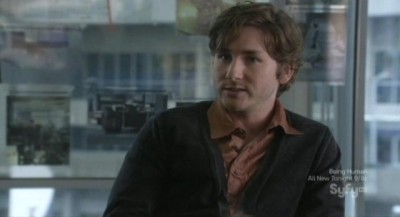 Once in the basement, seeking answers from one of the Professor's graduate students named Shane Mathers (Jesse Moss), Shane, who appears rather nervous, explains to Kiera and Carlos that their experimental anti-matter energy device had discharged accidentally, killing Professor Ames in the process.
The opening sequence comes into focus as Kiera discovers that Professor Ames research was centered on developing a new clean energy technology. Shane Mathers reluctantly reveals that the research facility has received threats for their work, particularly from a radical group named "Stop Mad Scientists".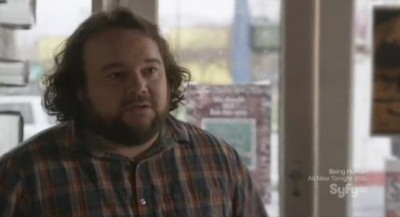 In an ironic, but great character name selection, the leader of the Stop Mad Scientists radicals is named Vincent portrayed by Chris Gauthier, whom everyone recalls from his many years in Eureka, where he was also known as Vincent!
It was nice to see Chris Gauthier on screen again! "Vincent" says he is innocent, but that a Doctor Melissa Dobeck (Mayko Nguyen), ex partner of Ames is involved with the use of his technology. Kiera scans him with her CMR technology implants. Vincent is telling the truth. Alec feeds Kiera Doctor Dobeck's location.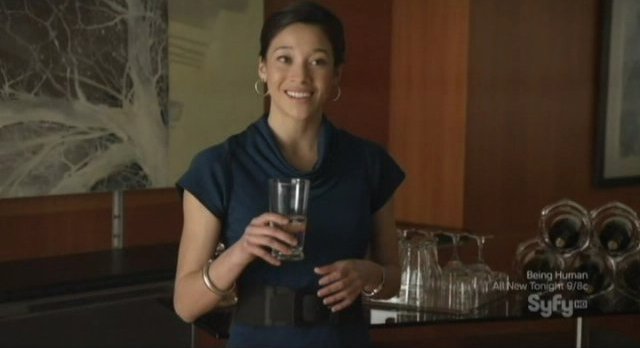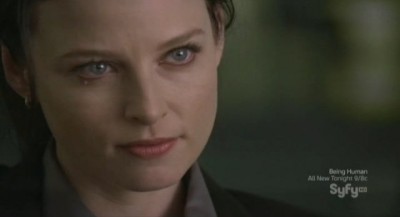 Shane Mathers subsequently reveals that Professor Ames had refused military funding, despite their ongoing interest in his energy technology. When Kiera and Carlos interrogate Mathers at headquarters to obtain Professor Ames energy research data files, Mathers divulges that professor's original and the backup research files have been erased (hacked) from Mathers secure backup server, but that he does not know how it was accomplished. Kiera suspects Doctor Dobeck.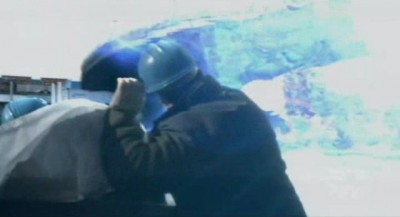 The scene shifts back to where Kiera had first appeared in 2012. Liber8 leader and Manifesto author, Eduoard Kagame, arrives in 2012 with VFX a burst of blue light from 2077. Kagame is hurled to the pavement slammed into the ground by the time travel wormhole.
Kagame is not conscious and is rushed to a local hospital. Upon awakening, Kagame makes a hasty escape from the hospital to find his malcontent Liber8 comrades.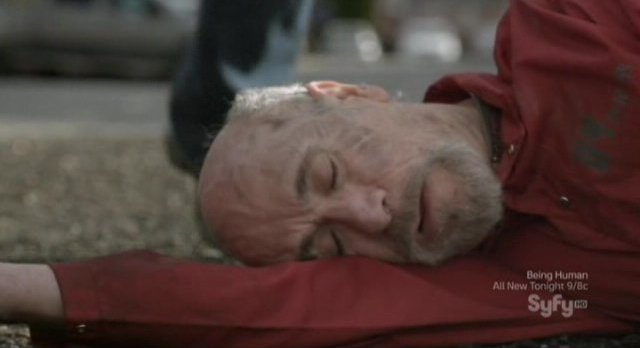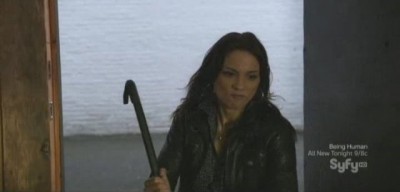 Next in my analysis is a great fight sequence with Sonya Valentine (Lexa Doig) and Jasmine Garza (Luvia Petersen). Liber8 needs a new safe house and have come upon a gang of tough looking motorcycle enthusiasts who operate a marijuana production facility. Sonya and Jasmine use some crowbars in the process! This reviewer can only tell you this, do not mess with these "ladies", crowbars notwithstanding!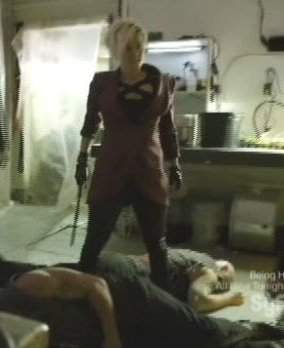 Garza and Valentine kick ass in a well choreographed fight scene. Liber8 now has a new hideout.
We are left to wonder if Liber8 smokes a few joints to celebrate, and what happened to the poor motorcycle bikers (Darryl Scheelar and Fraser Aitcheson)? One can only assume they have been sent to a "higher" authority without so much as a marijuana "roach" to smoke as company!
Back to Kiera and Carlos as Shane Mathers departs Vancouver Police Headquarters. Carlos is suspicious and has a theory that Mathers set up the anti-matter energy device to kill Professor Ames appropriate the research. Mathers is obviously hiding something and protecting someone else.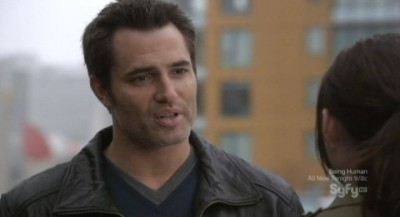 Carlos lectures Kiera that she should trust her instincts more often when investigating the circumstances of a crime. A
lthough it appears that Kiera only observes in a calculating manner, Carlos is not aware that Kiera has been scanning the premises using her CMR technology to check peoples heart rates and emotional responses in order to ascertain if they are telling the truth or not.
This is another reveal about the technological capabilities Kiera possesses. Even though her battle suit was damaged in the previous episode, Kiera still has potent weapons at her disposal using her CMR technology and her mind with Alec assisting.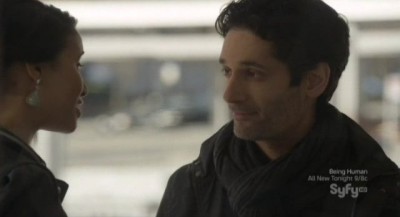 The episode story arc moves back to Matthew Kellog. His knowledge of the future, similar to Biff Tannen in Back to the Future part two, has allowed him to become a millionaire in a very short period of time.
Kellog has taken steps to protect his future when he purchases a home and seeks out his family, in specific a young woman named Maddie (Olivia Ryan Stern) and her widowed mother who are about to be evicted. Kellog places a check (or the deed to the house) in the mailbox and knocks on the door. Maddie comes out and find the documents, and that the Kellog's money paid off the mortgage!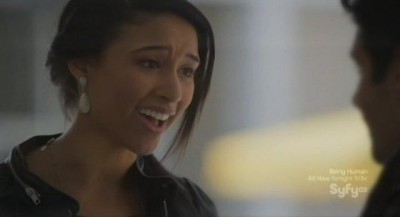 We find out later why Kellog is so interested in Maddie. The young lady is his grandmother whom he takes on a shopping spree in downtown Vancouver. Maddie thinks Kellog is making a pass at her. However, Kellog informs Maddie that he is simply "paying it forward" because her deceased father had helped him in the past.
Maddie trusts Kellog and giggles when he says she will have a grandson (him) one day, to let her grandson "jump on the bed and feed him lots of candy". Kellog is making good on his plan to protect his own future by planting the seeds of future certainty in Maddie's thought processes.
Outside the anti-matter research facility a near riot is in progress by the radical Stop Mad Scientists group. When Kiera and Carlos ask questions about who and why they are protesting, the new suspect character enters the mix in the form of the good Doctor Melissa Dobeck.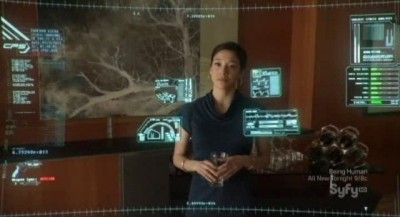 We learn that Doctor Melissa Dobeck is a former partner of slain Professor Ames who coincidently had left the company in a bitter dispute.
When they confront Doctor Dobeck, she appears cool as a cucumber, but Kiera's scan reveals she is lying.  Kiera knows this, but Dobeck provides no answers, yet!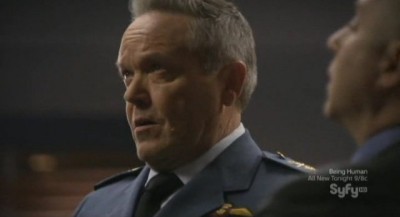 When they return to Vancouver Police Headquarters, a Lt. General Rogers (Tom McBeath) informs Carlos that the Department of Defense (DOD) has taken over his investigation. Stargate SG-1 fans will certainly remember Tom McBeath as the irascible Colonel Harry Mayborne, while Sanctuary fans remember McBeath as the abnormal hating, General Villanova. This reviewer enjoyed seeing Tom McBeath back in uniform in "Matter of Time!"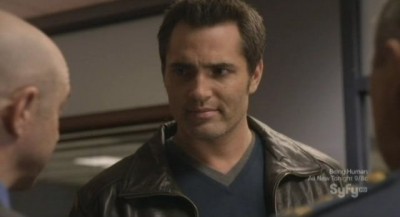 Carlos is not happy with this development and suspects that Kiera's real employers at the top secret "Section Six" status are at the center of this development with the DOD becoming involved and taking over his investigation.
Kiera assures her partner this is not the case, that she is just as disappointed in seeing General Rogers in charge. As Alec monitors via CMR, Kiera suggests Liber8 must be involved in this foul up.
She persuades Carlos to create a diversion while she "uses her instincts" as Carlos had suggested to follow her gut feelings about Shane Mathers and Doctor Dobeck. Meanwhile Kagame is roaming Vancouver of 2012 seeking landmarks to get his bearings in what is to him an ancient city.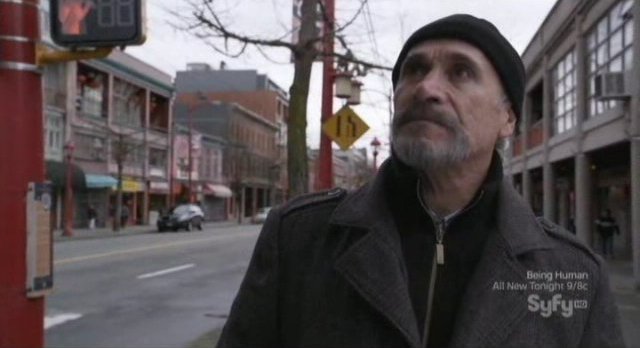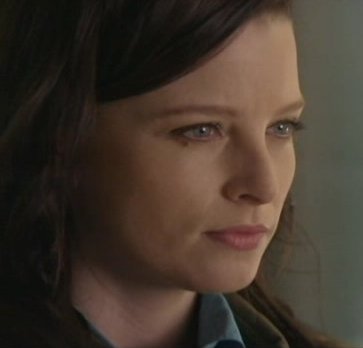 Kiera confronts Shane Mathers on the street who departs suddenly after receiving a mysterious text message that he tries to hide.
Naturally, Alec'stracks it down to, wait for it… Yep none other than Doctor Melissa Dobeck who Keira had questioned earlier!
Alec does more research and learns that Dobeck was involved in a lawsuit regarding Professor Ames' energy research and patents. Kiera informs Carlos about Doctor Dobeck's involvement,
In the meantime, faithful Vancouver Police detective and computer guru Betty Robertson (Jennifer Spence) alerts Kiera and Carlos about a news broadcast. On screen is none other than Edouard Kagame!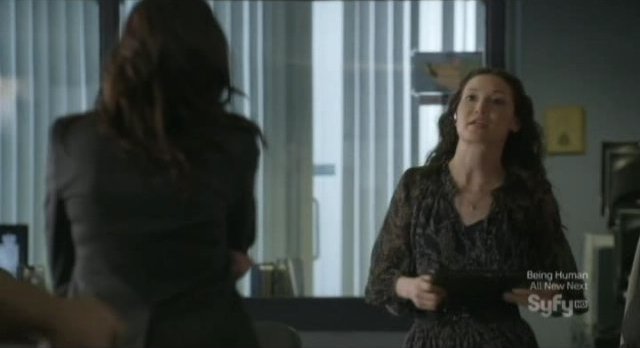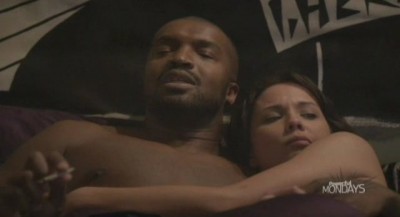 A quick segue to the dope growing Liber8 terrorists at their new safe house, Travis Berta (Roger Cross) and Sonya Valentine are in bed.
While Travis is apparently smoking a joint after making love to his terrorist lover Sonya, both suddenly observe Kagame on the same television news report!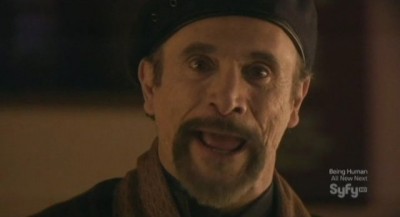 Per previously agreed plans, Kagame heads to an arranged meeting place, a Buddhist temple.
In his mind, as Kagame recalls flashbacks from the future superimposed on the present reality of 2012, he makes his way to the location where he used to lecture recruits for Liber8 knowing that Travis and Sonya will eventually seek him out there.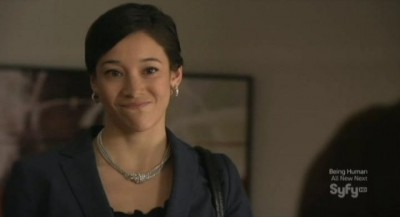 As the episode begins to climax, Carlos and Kiera track down Doctor Dobeck and accuse her over her involvement in Professor Ames murder. They know she has Ames research, and more importantly, had an affair with his graduate student, Shane Mathers based on Kiera getting Alec to track text messages between the two. Carlos chides Kiera, thinking it is her federal government connections who did the illegal wiretapping.
Doctor Dobeck admits to the affair with Shane Mathers. She also confesses to the fact she is to another man, demanding that unless the Kiera and Carlos have a search warrant they are to leave her alone.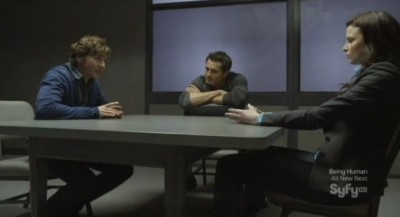 Kiera and Carlos are forced to comply at that time and leave her office. They call the nervous Shane Mathers back in for interrogation. Kiera tells Shane Mathers that Melissa is engaged to another man.
Shane cracks and realizes he has been used by his lover Doctor Dobeck, but refuses to implicate her.
Shane falsely confesses to being the only murderer of Professor Ames and as Carlos had suspected, that he deleted the backup research files which are now in Doctor Dobeck's possession! How like real life when a lover will lie, cheat and steal to cover the acts of the "better half!"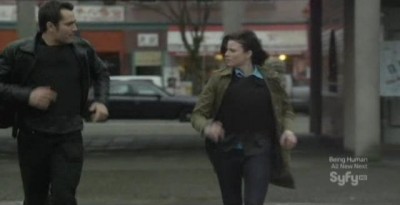 Video cameras locate Kagame at the Buddhist temple with the Liber8 gang of terrorists. Vancouver authorities scramble but not before Kiera and Liber8 arrives at the virtually the exact same time!
In the old split up to cover more ground plot mechanism, Kiera finds Kagame holding a hostage at gunpoint. As a bargaining chip, Travis and Sonya take a woman and her baby hostage.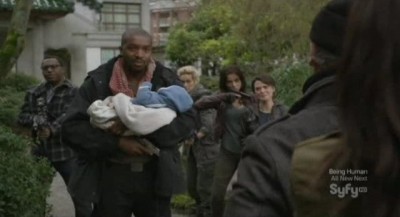 Kiera trades the two innocent hostages for Kagame and Liber8 flees the scene with no loss of life. Carlos arrives asking where Kagame is? Kiera fibs to her partner, indicating that they just missed them.
This is a bit of a weak point in the story arc. Would not the mother and her baby held hostage have been questioned by the police to reveal Kiera as not telling the truth to Carlos?
Moreover, would not the same video cameras that spotted Kagame had not caught some or all of the incident? This did not detract from this reviewers enjoyment, being a minor point in the entire episode one can overlook using the "willing suspension of disbelief" I have utilized both as an actor and member of an audience.
The episode comes to a conclusion with Alec alerting Kiera that Doctor Dobeck is skipping town on a hastily arranged flight to Costa Rica. No doubt Dobeck has the energy research data backup she stole. Carlos and Kiera obtain a search warrant and head to the airport.
Kiera finds Doctor Dobeck at the airport, and serves her with the warrant. Dobeck surrenders the energy research pleading with Kiera to never turn it over to the military who will use it for nefarious purposes.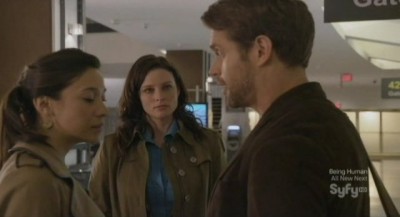 The story arc comes full arc when Doctor Dobeck's fiancé, a man named Drew LaRoche, introduces himself. 
Kiera is quite shocked and suddenly the opening sequence enters the equation of time travel. Doctor Melissa Dobeck is none other than Melissa LaRoche, who will found the company that her husband Greg will eventually work for.
Kiera has no choice but to give the energy data research back to Doctor Dobeck to ensure continuity of the future timeline. Handing the data backup research back to Doctor Dobeck, Kiera is thanked as the future Melissa LaRoche boards the plane and departs.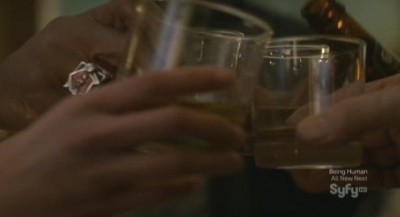 Two more scenes before the episode concludes. First Kagame rejoins his terrorist Liber8 comrades at their dope growing and pot smoking hang out.
Kagame pledges to bring the future war to the present as we have seen in several promotional trailers.
One can assume they also rolled huge Bob Marley marijuana joint or smoked pot in a "Hooka Bong" pipedream celebrating their planned conquest of Earth as they toasted to their success in changing all history while drinking to success!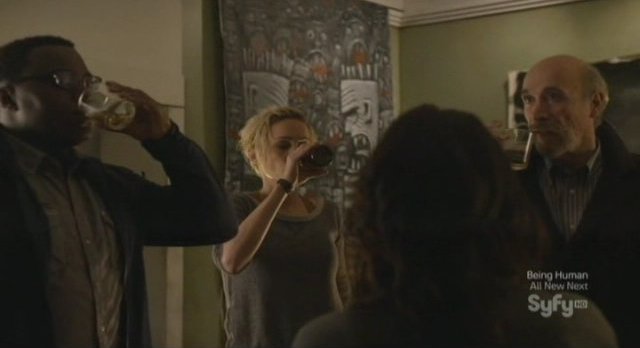 Kiera returns home only to find Alec has broken in to fix her damaged battle suit. Alec wants to know why Kiera let murderer Doctor Dobeck escape to Costa Rica?
Kiera reveals that the soon to be Mrs. Melissa LaRoche solves the global energy problem by creating LaRoche Energy with Ames clean energy technology in the near future. Kiera decided Melissa LaRoche work would benefit millions in the future at the cost of one life in the present.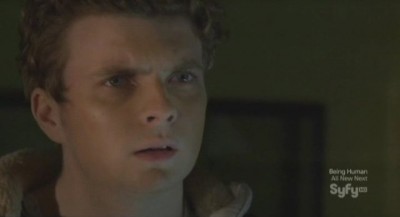 Alec is clearly not happy with Kiera's decision, accusing her of acting like God because of Kiera's knowledge of certain future events which she utilized to shape future history.
An important consideration is this where older Alec in the future of 2077 learned to manipulate history, from Kiera herself?
The question is what would you the viewer do faced with the same conundrums? This reviewer suspects that each of us might very well make the same choice as Kiera.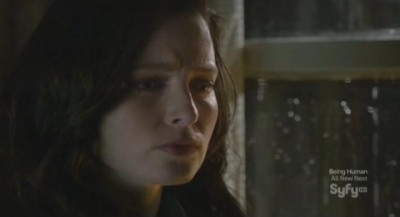 My grade for this episode and the series remains a straight "A" despite the minor error of Kiera getting away with fibbing to Carlos, which certainly would have been exposed when police questioned the mother of the baby held at gunpoint or viewed the same camera footage that spotted Kagame.
In closing, this reviewer reiterates, the willing suspension of disbelief made the one scene virtually unnoticeable. It was only after watching multiple times did the missed detail even become apparent.
Lastly, this reviewer expresses great satisfaction with the music selection, especially "Just a Puzzle" by Capitol 6, which clearly reverberates the message of the episode. They are an outstanding musical group that I hope will be featured again in season two of Continuum!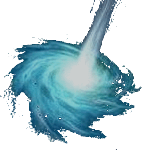 Thank you for reading and visiting WormholeRiders News Agency.
Please feel free to leave a comment here or if you prefer, click the social media icons below to share this news article.
Or as many of our readers and visitors often do, visit WHR on Twitter, WHR on Facebook or visit me on Twitter by clicking the text links or images avatars in this news story. I and Team WHR look forward to Seeing You on The Other Side"!
Thank you.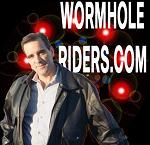 Best Regards,
Kenn