Calling all Falling Skies viewers!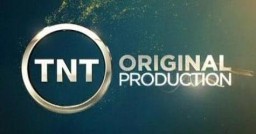 Family was again this week's focus on TNT's exciting series Falling Skies!
Given the powerful connections of Tom Mason (Noah Wyle) to his sons and all they have been through, running into a group of children with no adults at all was bound to set off some alarms.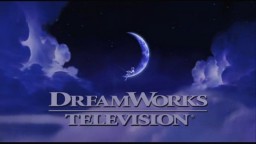 Naturally, of course, the situation the Resistance finds itself in further drums up the age-old troubles of teenagers trying to be adults before their time.
In this invaded, darkened world created by Robert Rodat for Dreamworks Studios and the TNT Network however, it is unfortunately not always clear who is running the show. Survival creates some of the biggest divisions in people. However, survival also grows the biggest heroes.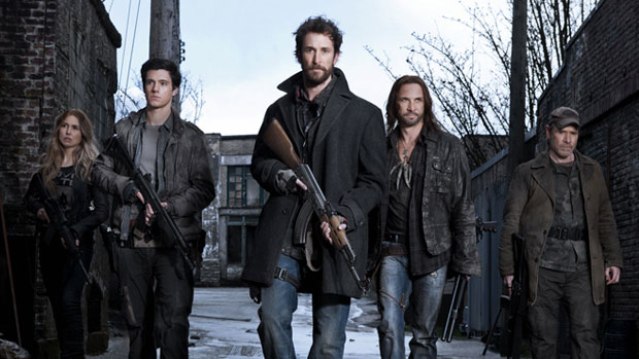 Young Bloods:
First off, let us take a look at who I refer to as "The Three Musketeers" of the episode: Matt Mason, (Maxim Knight), Tector, (Ryan Robbins), and Boon, (Billy Wickman).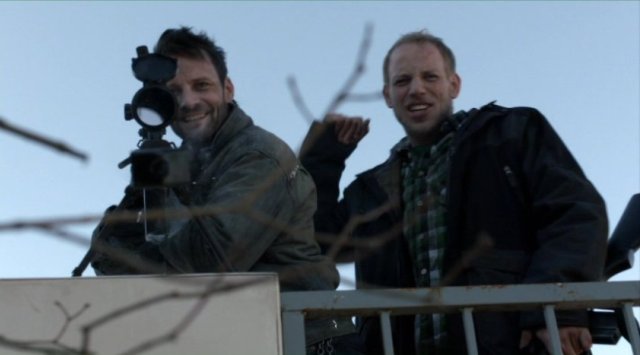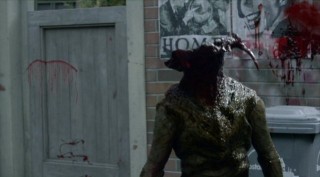 Matt is unable to resist the intense desire to play bait for the fun of Tector and Boon. Together "The Three Musketeers" kill two Skitters. The repercussions for their act however are not so pleasant when they arrive back at the temporary Resistance camp.
Tom Mason is predictably pretty darn ticked off that his son's life has been used and played with so cavalierly, and he banishes the two men to sanitation duty. Matt, however, is confined to the camp, and he is furious at his father for denying him the chance to fight.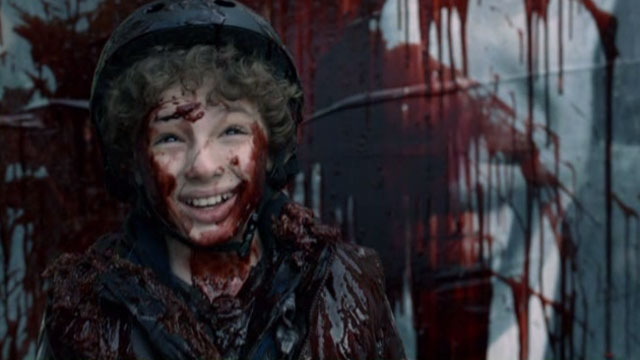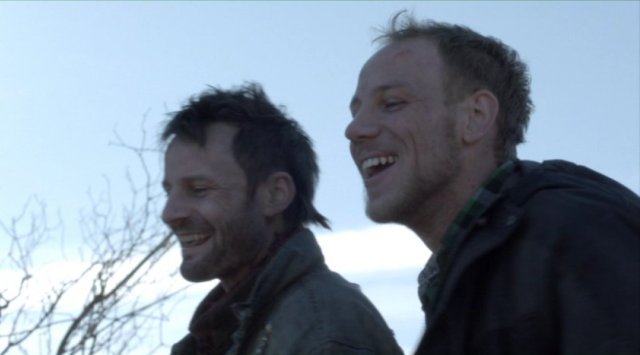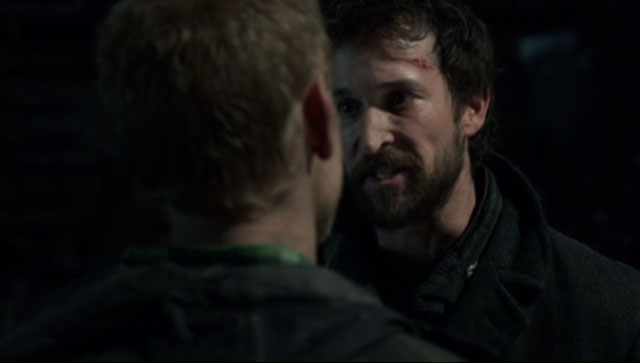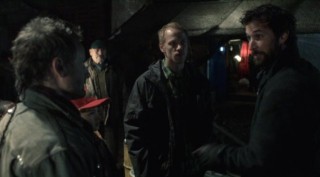 Tom's choice is generally considered to be the right thing by more social, civilized, (uninvaded), standards, but in this world the question must be asked: at what age do kids become adults?
Tom can hardly protect his son from everything that is going on for long, which is clearly what he is trying to do by denying him the ability to participate in attacks. The "Young Bloods" episode continues to effectively answer these questions as we move deeper on in the story arc.
Ben Mason, (Connor Jessup), and Hal Mason, (Drew Roy), are on recon, checking out a factory where the Skitters seem to have holed up. The steam indicates it has power, which raises eyebrows, but Hal seems to think it is unimportant, choosing instead to focus on the map for the road to Charleston.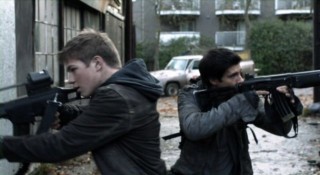 Ben, however, is quiet, still silently tormented by the death of Jimmy, (Dylan Authors). The brothers are still a little tense around each other, trying to move past the events of the last few months, and a good old-fashioned kidnapping is just the thing to snap them out of it.
Their bikes, (a precious method of getting around safely), are stolen from behind by a pair of kids. Ben tracks them, and the boys head out to find the stolen goods.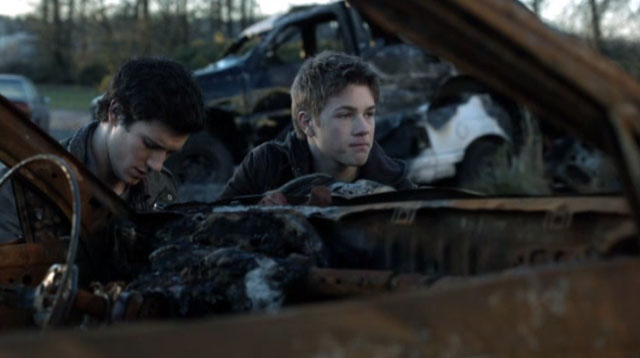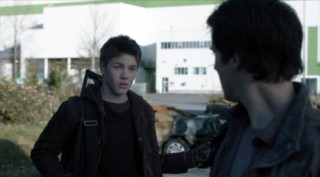 It is important to Hal that Ben accept Jimmy's death was not his fault, but that will be almost impossible for Ben to move past as he was paralyzed at the critical moment.
As a formerly-harnessed young man, Ben clearly suffers greatly from as much from the effects of Post Traumatic Stress Disorder (PTSD) and horrors of the experience as he does from the side effects, (which continue to appear when Skitters are nearby and flourish, affecting Ben in the process).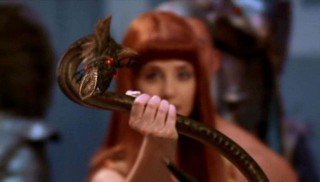 Much like a former host to a Goa'uld symbiote in MGM Studios long running hit series Stargate SG-1, Ben knows he will always be viewed as both a military gold mine and a social outcast, (save for others like him).
It can be hoped that society in Falling Skies will be kinder than that, but we will have to wait for the writers to reveal that on their own accord.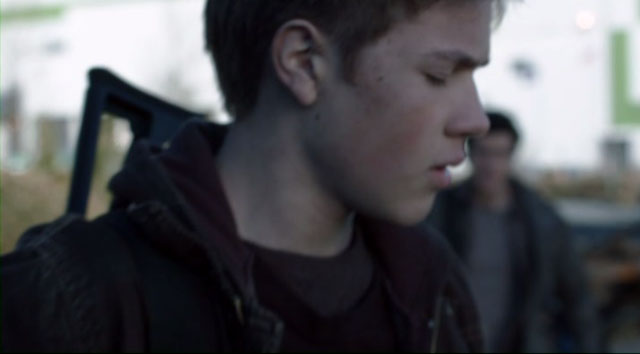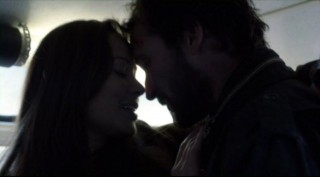 At the camp, the relationship between Anne Glass, (Moon Bloodgood), and Tom Mason continues to flourish.
Although they are still pretty affected by outside activities and influences, it is obvious they are falling in love.
Their tender moment together is inadvertently interrupted  by Lourdes, (Seychelle Gabriel), who tries to make a hasty exit. It is a no-go, and Tom reluctantly leaves Anne to tend to medical matters.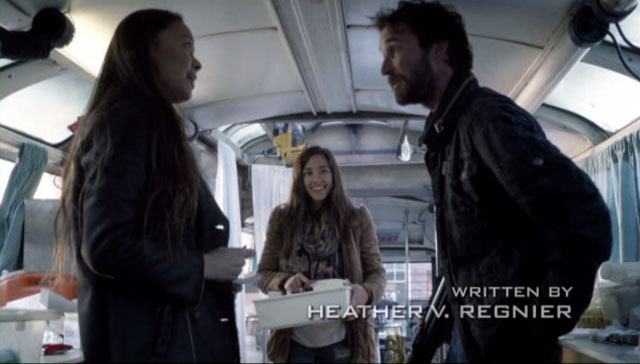 Ben and Hal track their bikes to a nearby shelter and are stunned to learn that there are only children there, led by a tough and hotheaded Spaniard named Diego, (Hector Bucio, Jr), and his second in command, a young woman named Jeanne (Laci J. Mailey). We will learn Jeanne is related to a central character, in fact is someone's daughter.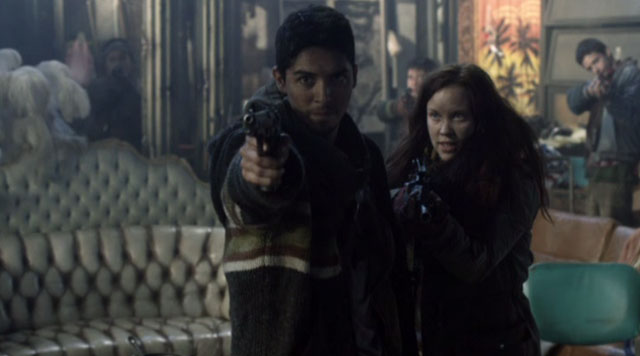 Diego is of the opinion that adults will get all of them killed, hinting that he has both a painful past and a protective drive to lead those around him who trust his judgement.
No doubt a dangerous combination for a teenager but perhaps exactly the kind of focus needed to survive the world. Hal offers assistance, being the good man he is, and Diego accepts, bringing Jean and a number of others to investigate.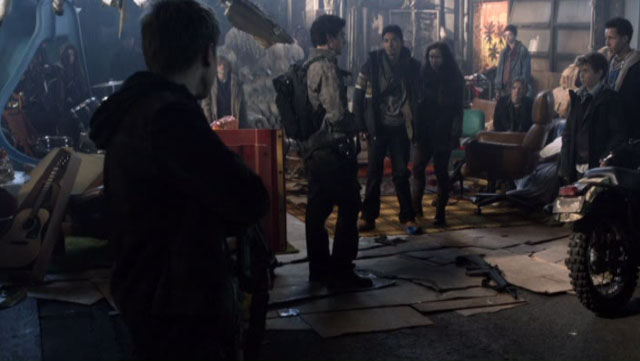 Once they arrive, however, Jeanne discovers, (as do we), that her father is living with the 2nd Mass. Her father, by the way, is none other than gruff ol' bear Captain Dan Weaver, (Will Patton).
Weaver hardly looks gruff as he embraces his daughter and bursts into tears. I got choked up myself. Will Patton is really quite expressive bringing a lot of well played emotion to the table when he acts.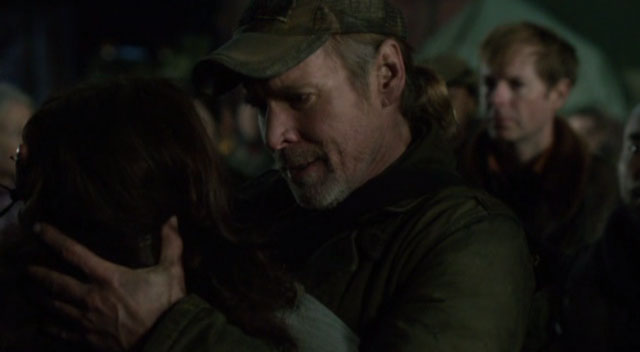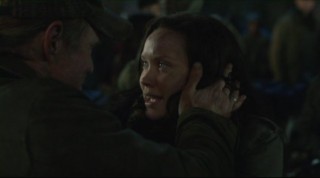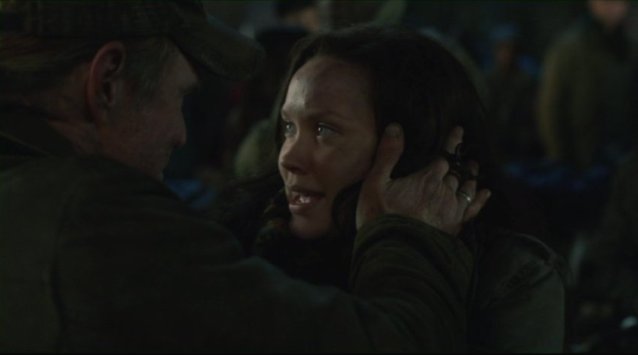 Weaver finally gets to put some of his demons to rest as he learns of the death of his wife and confesses that he came looking for Jeanne and the family. Jean forgives him. The horrible weight of guilt is thankfully lifted from Captain Weaver's shoulders.
Tom Mason has the truck ready and offers for Diego and his group to come along to Charleston, South Carolina. Diego is hesitant, (again blaming the adults who failed to stop the invasion and those previously responsible for getting members of their group killed).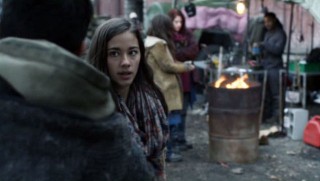 He is more than happy to get the heck out of the camp. At first only Diego stopped by Lourdes, who is overjoyed to see another Spanish speaker, She eagerly questions about family she had lost in Parras, Mexico and is horrified when Diego coolly informs her that Parras was wiped out by the evil alien "Overlords".
Lourdes flees in tears as her new love interest Jamil (Brandon Jay McLaren) watches the puzzling change in her behavior.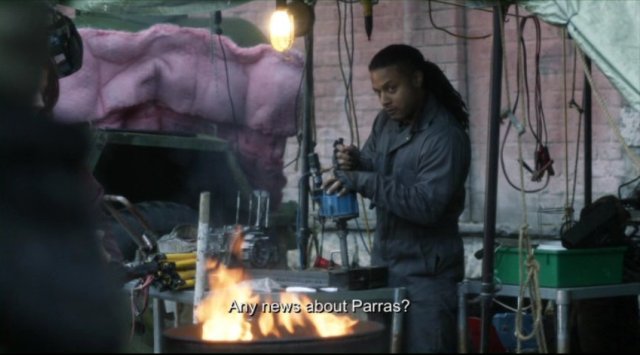 Like many protective fathers, Captain Weaver's "Papa Bear" attitude returns full force when he learns Diego is Jeanne's boyfriend.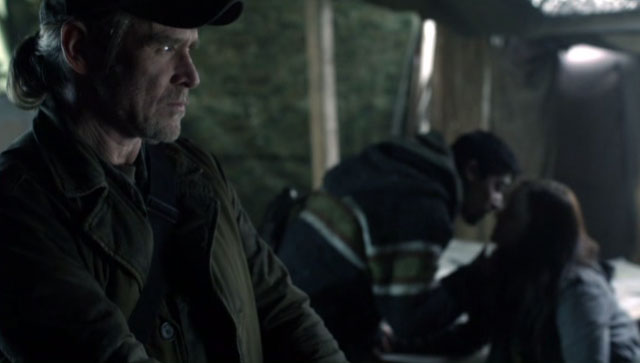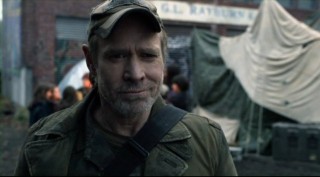 The alpha male attitude between both men is instant and powerful, with Diego the leader of one camp and Weaver the other. Their different methodologies of attacking the aliens immediately clash between the two leaders.
Though it is not made obvious in "Young Bloods", it is clear that once Jeanne gets into the picture, it becomes about more what Diego is doing to protect her and not completely about the current situation at hand which is becoming worse by the moment.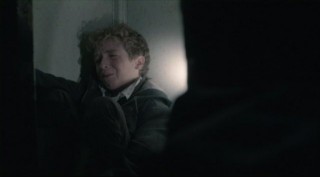 The Skitters have found and raided the camp of the kids, kidnapping all those left behind and ransacking the place with the exception of young Julian (Connor Levins). Ben realizes the kids are going to be harnessed, and teams are mobilized to track and find where they are being held.
Remembering the factory that had power, Hal suggests they start there. Diego is set to rush in, against the wishes of the more methodical Weaver and Dai (Peter Shinkoda). After a planning session it is not long before the kids split off and go on their own mission to save their friends.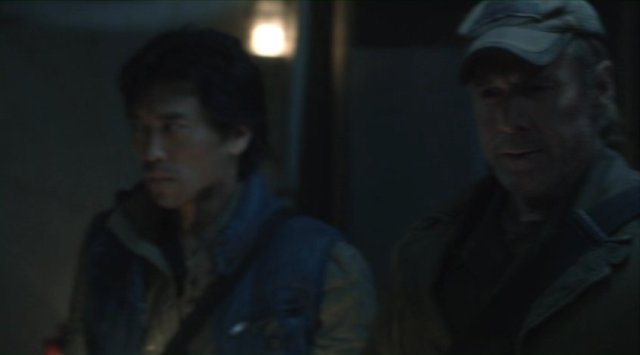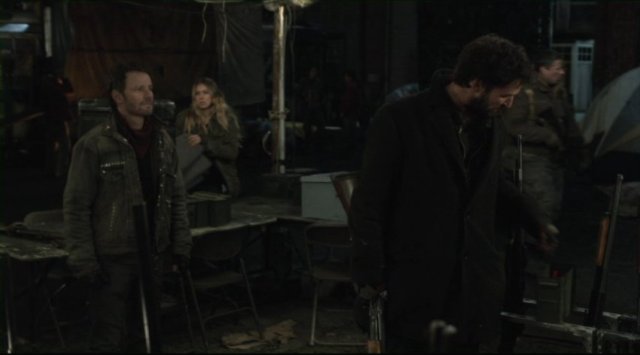 In this particular episode, the teenagers and children are hinted to have done the 'wrong' thing, as they are pretty much all captured while trying to save their friends. We are treated to the horrifying spectacle of watching one of the youngest children be harnessed while another young girl off screen screams and pleads in agony.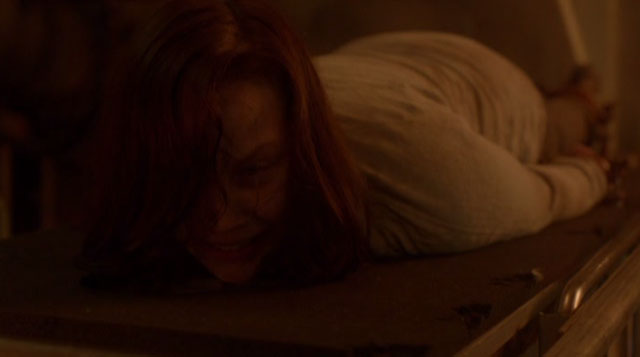 The adults locate and save the children trapped in the holding cell, then head for the harnessing room where they viciously stop the other kids from being harnessed.
It is a close call, and a frightening one, as we see Ben briefly paralyzed once more by the Skitters symbiote swimming in a holding tank similar to a Stargate "Hathor" scene but on a larger scale. Ben then shoots the tank of larvae, and kills all of them, clearly exacting vengeance for one – or more – of the evils done to him.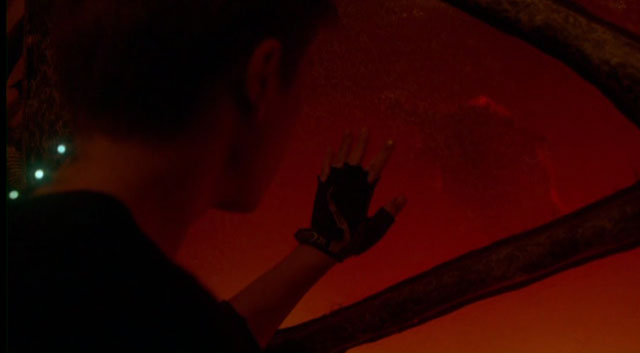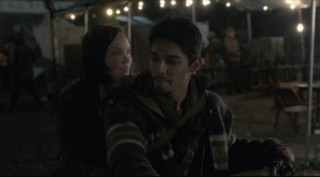 The episode then turns to healing for its last act. Jean and her father share moments together before she makes her final separation from him. She has been living her life without him for a long time.
Jeanne has clearly grown up and matured into a young woman forged by the need for survival. She knows she cannot stay with "Papa Bear", and so she leaves him quietly in the night, with only a note, Weaver, desperate to have any part of his family with him, cries brokenly when he finds it.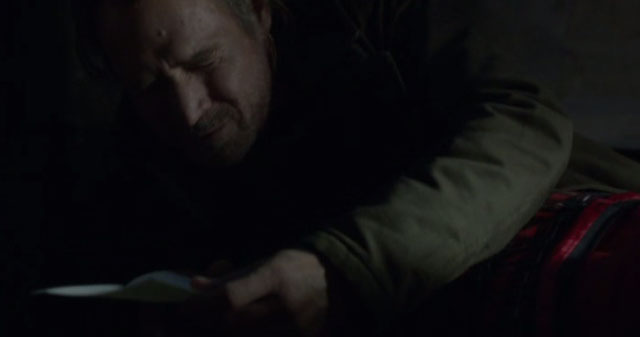 Ben and Hal try to connect as Hal confronts Ben about his glowing spikes. As this is likely a repeat occurrence, (especially since the last time, someone was killed), Ben dodges the question. His character arc could become very dark in future as his need for revenge and his hatred of the Skitters grows. He is one of the more interesting characters of the show, and definitely one of the wild cards.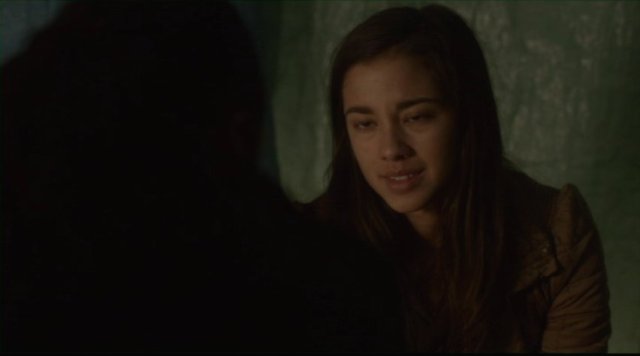 Jamil (Brandon Jay McLaren), finds Lourdes grieving for her family, and gives her a soft but steadying speech about the importance of never losing hope. The broken medical student seems to rally, but she will be under the veil of grief for some time.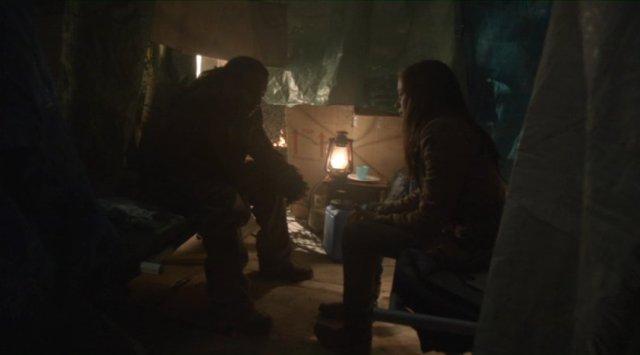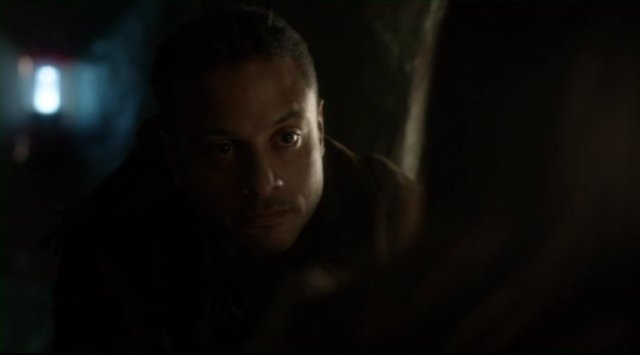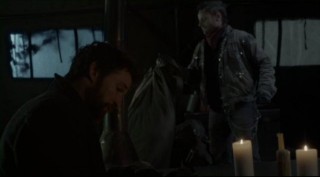 At episode end, finally, Tom Mason allows Tector to return to his position on sniper duty after what seems like only a day of punishment so long as he promises to keep Boon in line.
Ryan Robbins delivers one of the episodes greatest lines when he states he will keep Boon in line with this retort;
"I'll shove my boot so far up his butt that it will come out of his (Boon's) mouth".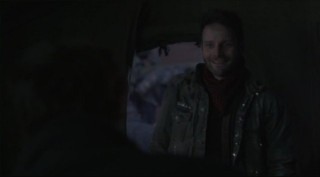 Tom  has possibly learned that there is nothing more he can do to save his family from the world around them, and so he is bending to the will of nature that he will have to have everyone fight who can in order to survive.
Further episodes will reveal if he is willing to continue to put Matt in danger or not, (or if Matt will keep pushing the envelope on his own).
My Thoughts About Falling Skies: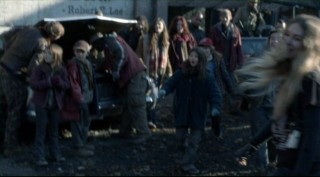 The episode was my introduction to Falling Skies as a reviewer. I have to say I am actually quite impressed and hooked, despite joining the team, I was coming in "cold" with almost no context to season two. You can bet I will remedy that as fast as possible because this series is one of the last solid alien invasion series out there. I so far find Falling Skies to be as intriguing as it is action-packed.
The Skitters' love of the children, for example, is twisted and haunting. How often does an alien race love those it enslaves? The episodes are well-written and crafted to keep you focused on the drama unfolding instead of losing you in visual spectacle or complicated plot lines, (so far).
The solid theme of family and brotherhood speaks to everyone internally, and so I believe this series touches everyone on a personal level, which definitely helps the ratings as people can relate to the characters and have a personal interest in what happens to them each week.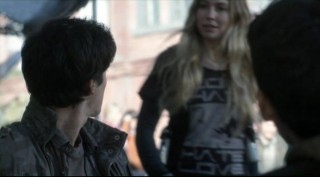 This week provided a nice reunion for Captain Weaver, allowing us a more solid look under the rough exterior into the human aspects of man underneath. Ben's mystery continues to grow while Hal's possible blossoming romance with Maggie (Sarah Sanguin Carter) made for a sweet little touch in the places it needed to be.
It seems like everyone is still rallying from the events of the last few months, but the world of the Skitters is not one for slow adaptation. I look forward to seeing what is coming next in Falling Skies!
We include both 2nd Watch episodes that have been released (as of my review) for your thoughtful reflections and enjoyment of this great series!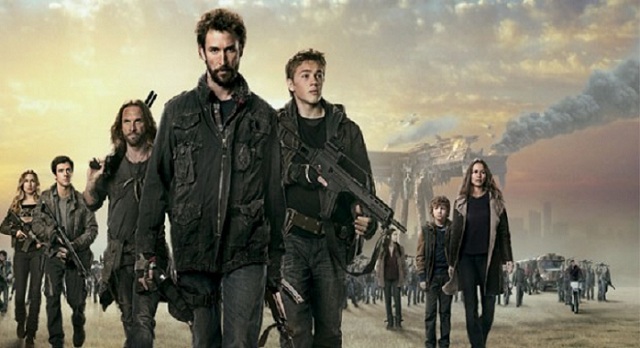 Thank you for visiting WormholeRiders News Agency
Please feel free to leave a comment here or if you prefer, click the social media icons below to share this news article.
Or as many of our readers and visitors often do, visit WHR on Twitter, WHR on Facebook or visit me on Twitter by clicking the text links or images avatars in this news story.
I and the WHR team look forward to Seeing You on The Other Side"!
Thank you.
Regards,
Nayari09 (Pam)