Welcome back Falling Skies fans!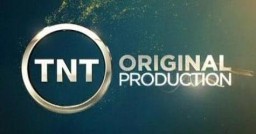 After traveling home from San Diego for Comic-Con 2012, this reviewer was satiated with joy as  the season three renewal delighted everyone who loves Falling Skies, the world's number one science fiction series.
At Comic-Con, Falling Skies was a fan favorite, Fans were overjoyed even with standing room only for their appearances in San Diego, both at the panel and in exclusive press room interviews where the crowd was at least five times larger than last year.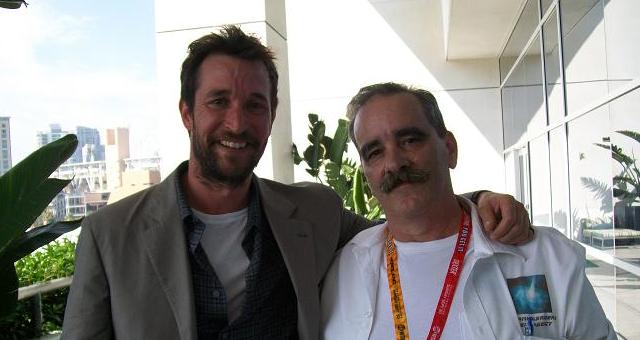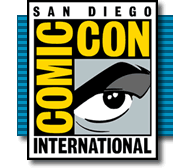 Our exclusive Comic-Con 2012 Falling Skies interviews featuring many of the cast and some special (non press room) discussion time with Noah Wyle about the series that will post tomorrow evening for your enjoyment!
TNT's worldwide approach for distribution of Falling Skies paid off handsomely with mass excitement evident at Comic-Con as this outstanding series proceeds to the seventh episode "Molon Labe".
We stand with millions of fans worldwide who agree with our ongoing grade for Fallings Skies, a solid "A Plus" in entertainment!
Molon Labe: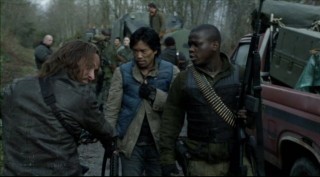 In the past week's episode "Homecoming" when three former members of the 2nd Mass returned to the group including Karen (Jessy Schram) , Anthony (Mpho Koaho) and John Pope (Colin Cunningham), we all witnessed an outstanding pivot point for our heroes in Falling Skies.
With superb direction by Holly Dale, "Molon Labe" ensures the series is absolutely set up is for what we are sure will be a massive confrontation with the evil alien slave master "Overlords".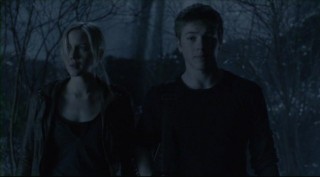 Before the second season concludes, there is more to be revealed in this weeks episode "Molon Labe" that we know will please lovers of science fiction television provided by the great team of people at the TNT Network!
As discussed on last Sunday's special episode of the excellent "2nd  Watch" program hosted by Wil Wheaton when he interviewed Jessy Schram, Drew Roy and Executive Producer Greg Beeman, this reviewer is positively convinced we are all in for the science fiction ride of our lives, so hang on tight for fun in "Molon Labe" as we discover what is about to transpire!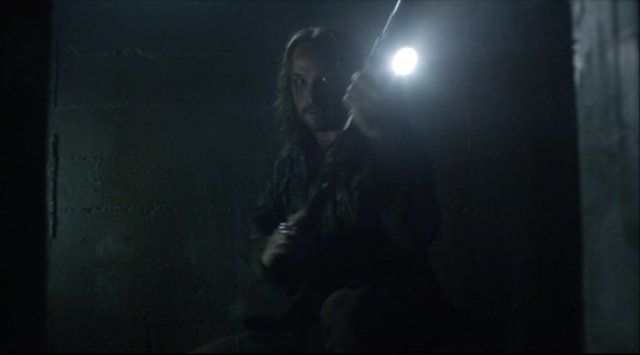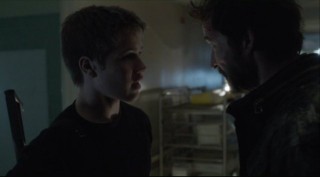 In the next exciting episode airing Sunday July 22, 2012 on TNT, "Molon Labe" is a game changer where we will witness more casualties, both alien and human as the battle for freedom comes to a head as our heroes continue their journey to Charleston to link up with others fighting the alien invasion of Earth.
For those who may be unaware, "Molon Labe" is a word whose definition is derived from the original Greek word, meaning "Come and Take" them. By the title alone and from the promotional trailer, it is no spoiler to reveal that the "Overlords" will be coming with their slavish "Skitters", and murderous "Mech Battle Bots" certain to cause trouble for Tom Mason and the survivors of 2nd Mass from Boston.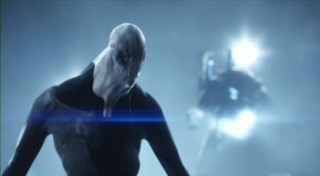 In Homecoming, the answers to long outstanding questions were addressed about why the "Overlords" really fear of the Skitter rebellion, why Ben (Connor Jessup) is so important to them, and to what lengths the "Overlords" will go to to capture him. All this as Karen convinces Ben to flee the encampment with her at episodes end of "Homecoming".
This reviewer has always suspected that "Skitterized" Karen (Jessy Schram) is not to be trusted. As we observed in "Homecoming" when Karen attacked Maggie (Sarah Sanguin Carter), we know that Karen must be up to no good, not being sincere about her desire to simply be with Ben, or for that matter join the "Skitter" resistance.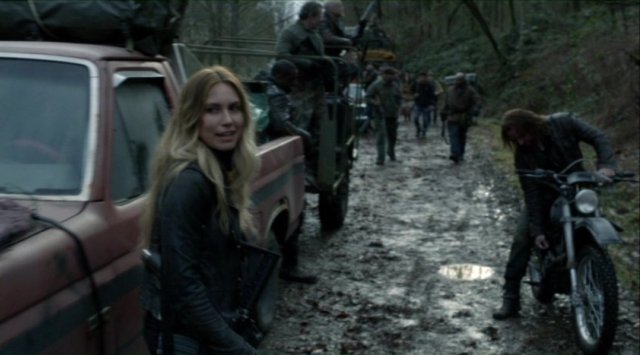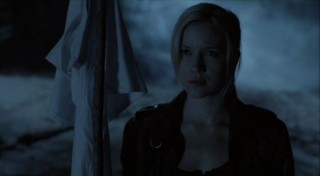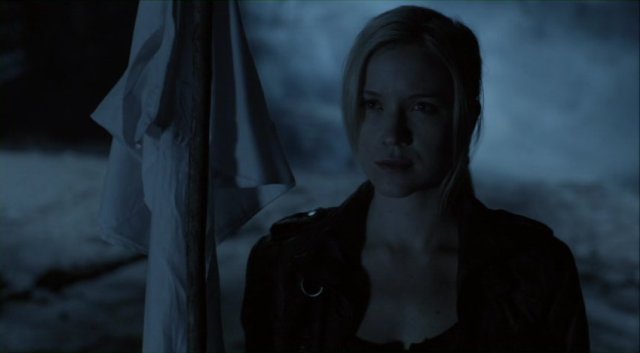 Our theory is that Karen has been completely assimilated into the alien collective and should never be trusted under any circumstance with one exception: the removal of her symbiotic spine implants!
In this wonderful episode, we will learn Karen's true intentions. This reviewer always suspected it was all a trap to force the 2nd Mass into surrendering to the evil "Overlords". In "Molon Labe" Karen is in for a few surprises herself that will blow all of our minds!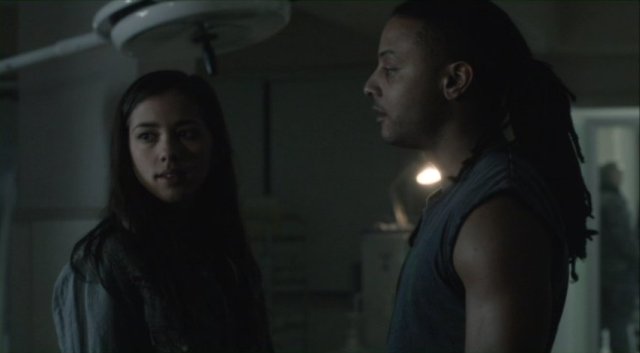 In "Molon Labe" as Lourdes (Seychelle Gabriel) and Jamil's (Brandon Jay McLaren) love continues to flourish, Captain Weaver (Will Patton) and John Pope (Colin Cunningham) recover from their wounds. In the meantime steadfast hero Anthony (Mpho Koaho) is reintegrated into the 2nd Mass, to the delight of this reviewer I might add. Stand by for more action from everyone's friend Anthony in this episode and beyond!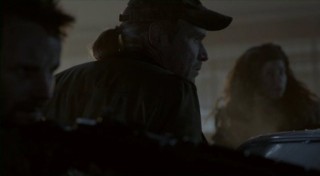 Naturally surrender is not an option or the series would be over. Instead creator Robert Rodat and producers Noah Wyle, Mark Verheiden, Bryan Oh, Greg Beeman, Grace Gilroy, Bradley Thompson, David Weddle, Remi Aubuchon, Darryl Frank, Justin Falvey and Steven Spielberg will take viewers on a nightmarish journey of crisis and survival for most, but not all of the surviving 2nd Mass membership.
"Molon Labe" is filled with exquisite battle sequences and scary moments that will likely raise your blood pressure in a good way.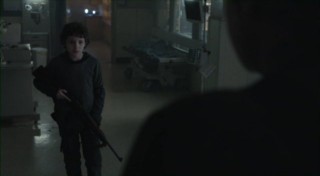 The up close and personal drama and love lost is dovetailed with personal responsibility as the young Matt Mason (Maxim Knight) will be given a "mission" as the "Overlords" surround the encampment.
Of natural progression gun play is sure to ensue as alluded to in the promotional trailer with Tom Mason leading the stalwart band of Freedom Fighters armed to the teeth for battle!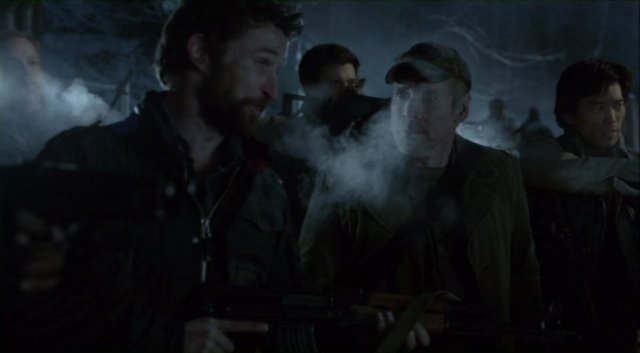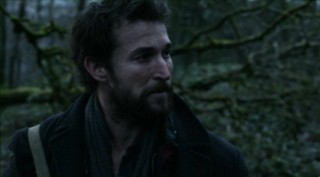 In "Molon Labe" the questions about why Karen returned will play a central focus in the unfolding drama replete with night action sequences, disaster, recovery, and of course Captain Weaver calling the aliens "cockroaches"!
Do we now all love when  Will Patton is saying "kill the cockroaches"?!
Several surprise scenes unfold when the fate of more than one member of the 2nd Mass will ultimately be decided. We will learn that although Karen herself is a victim like so many of billions whom have been slaughtered, what are her true intentions and why does she act the way in which she does?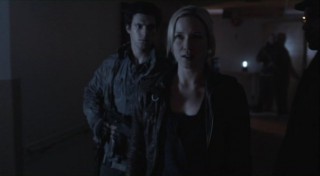 Is Karen so addicted to the "Harness" narcotic that she will turn her back on her friends? Karen's intentions and action will become the matter of life and death for the 2nd Mass we have spoken of previously as she returns to deliver an ultimatum to Tom Mason and Captain Weaver.
In one particularly horrifying scene when a member of the 2nd Mass expires, the visual effects are superb complete with a new nemesis that will likely haunt and perhaps even hunt down the survivors.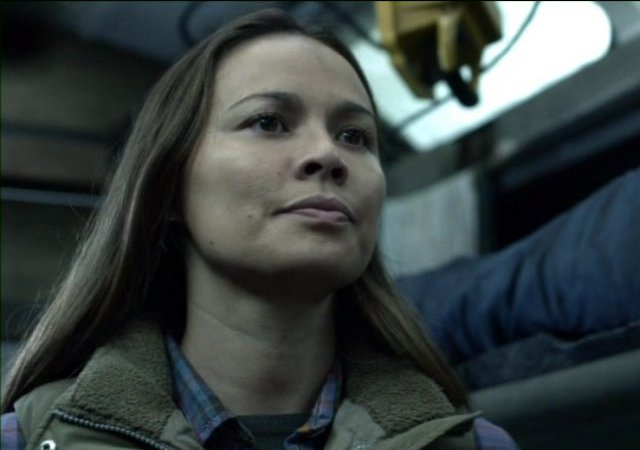 Can anyone say get the frakkin bug spray? And would it help in any event? This answer is also revealed in a squeamish, but fun sequence when a suitable alternative is discovered by Anne Glass (Moon Bloodgood) and Lourdes to fight the evil and hungry "bugs"!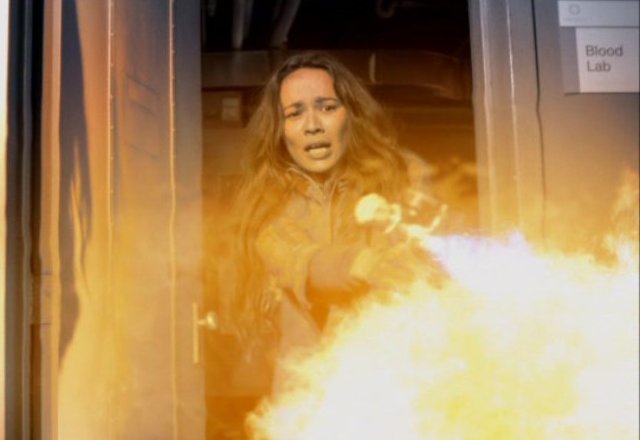 We were pleased that during "Molon Labe" Tector (Ryan Robbins) and Crazy Lee (Luciana Carro) roles continue to expand and their loyalty to their clan comes to the forefront in a poignant moment regarding their Berserker compatriot Boon (Billy Wickman).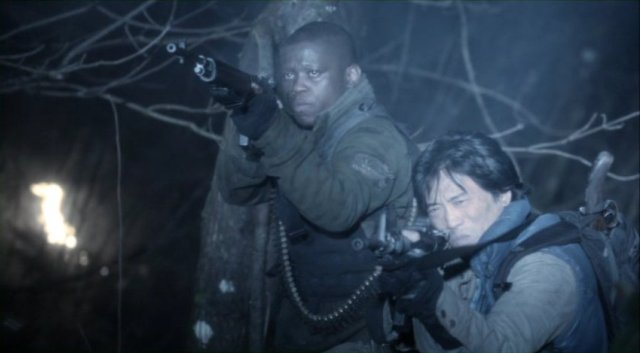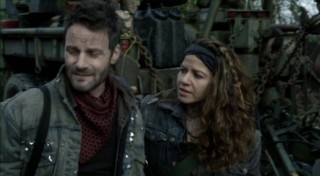 Favorite character Dai (Peter Shinkoda) is seen several times in "Molon Labe" but as always with a nice "Kill the Skitters" smile on his face as the journey continues.
It is nice to see each of these talented supporting actors adding realism and dimension to the Falling Skies story arc from their performances.
It is however quite sad when the outcome for one of the survivors is revealed.
Near the end of the episode, Tector and Crazy Lee interactions are delightful as the Falling Skies epic adventure creates new moments of fun "food" bonding in "Molon Labe" with Anthony.
Viewers will be more than pleased with yet more sarcasm from the ever irritable John Pope, the character we love to hate. Colin Cunningham and Mpho Koaho have delightful moments that will make everyone smile and giggle because their character chemistry is perfectly portrayed!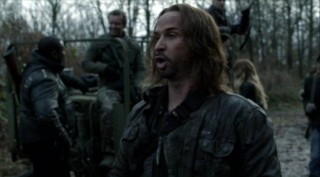 One of the most enjoyable scenes of the episode after Maxim Knight completes his "mission" a line that reminds one of Starship Troopers when he proudly utters "just doing my job" will definitely bring pleasure to the viewers as the young "Skitter" fighter assumes his position of Freedom Fighter in the 2nd Mass!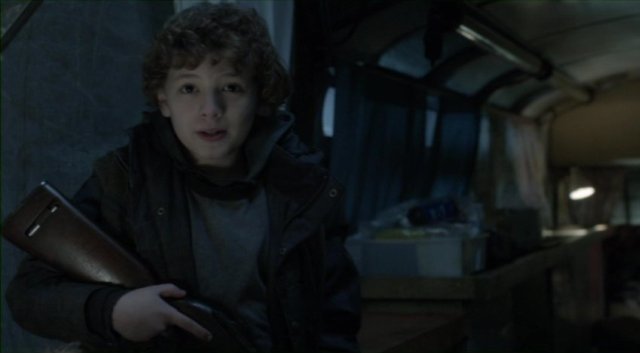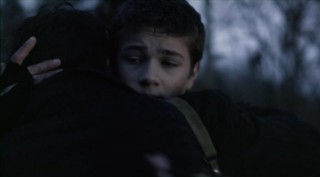 In concluding this preview of "Molon Labe", we know from previous revelations that Ben will soon likely head out for a solo mission to find the "Skitter" rebel leader "Redeye".
As we learned in a tender brotherly sequence when he told younger Matt Mason he would be leaving the 2nd Mass in the future. The final sequence of the episode sets up a new arc in the story as Tom and Ben share their own tender moment as father and son.
Falling Skies continues to the please the viewing audience with "Molon Labe".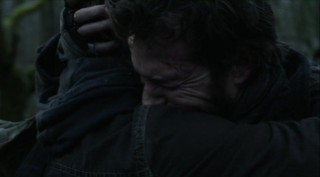 The episode is shot almost entirely at night with outstanding cinematography, excellent location shooting, superb action, fun battle sequences, great costuming, and wonderful makeup in scenes with awesome special effects that will most likely make your skin crawl!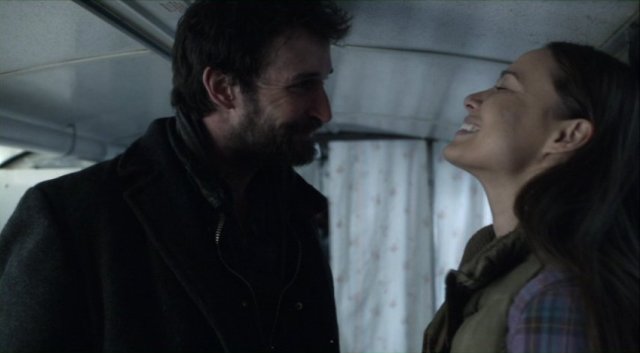 Beyond the great seventh episode of Falling Skies "Molon Labe", the romance and adventure is all set to go for a sure to be exciting story coming in "Death March", "The Price of Greatness" and "A More Perfect Union"  where there will certainly a be cliff hanger with more "Skitters"" Mech Battle Bots" and "Overlords" leading to a fantastic season three!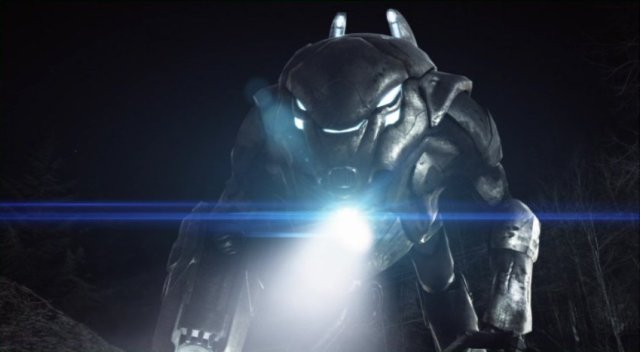 As mentioned last week, support Falling Skies by watching legally on your mobile devices, on DVR's and on the Internet at the TNT Network to further demonstrate your love of science fiction television on TNT! Do not illegally download Falling Skies or any program if you want more quality television programming. Please tell your friends the same thing: "Just Say No to Illegal Downloading" or face the wrath of the "Mech Battle Bots". Thank you.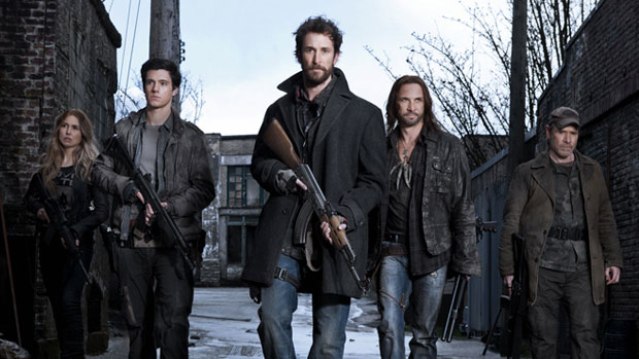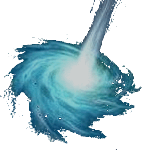 Thank you for visiting WormholeRiders News Agency and reading our theories, history back story and significance of the historical reference material imparted for our pleasure by the creators of Falling Skies!
Please feel free to leave a comment here or if you prefer, click the social media icons below to share this news article. Or as many of our readers and visitors often do, visit WHR on Twitter, WHR on Facebook or visit me on Twitter by clicking the text links or images avatars in this news story.
I and the Team WHR look forward to Seeing You on The Other Side"!
Thank you.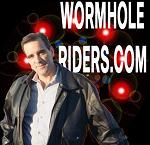 Best Regards,
Kenn