Welcome back Falling Skies fans!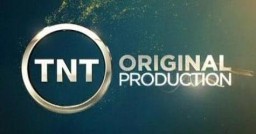 We begin our preview and editorial of "Death March" by reiterating our ongoing grade for Fallings Skies, a solid "A Plus" for quality entertainment, for drama, science fiction, character development, wide family appeal, great writing, superb costuming, cool makeup, and wonderful visual effects.
Coupled with strong elements of romance, adventure, mystery and dealing with consequential human loss in a struggle to survive, the 2nd Mass has persisted. In addition to the brilliance of the creators, the outstanding acting throughout this epic science fiction program has created a solid edifice of fan support.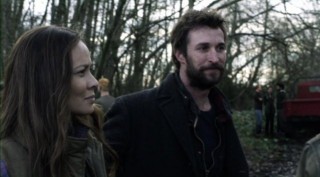 Olympics break notwithstanding, the past two week's episodes, "Homecoming" and "Molon Labe", in effect a two part suspense thriller, concluding with the harrowing escape of our heroes, has proven the resiliency, or long term staying power  of Falling Skies as a series.
To the delight of science fiction fans the world over, millions want to see more of Falling Skies! No doubt the positive ratings feedback to the creators, who have financed the Falling Skies science fiction entertainment adventure in a risky business environment, has reinforced their decision for the exciting third season of Falling Skies!
Raking up both solid live and time shifted (DVR) ratings, in 2012, Falling Skies has been averaging between five (5) and 5.6 million viewers in the important "Plus 7" category since so many people record, or time shift their entertainment to view programs when they desire to.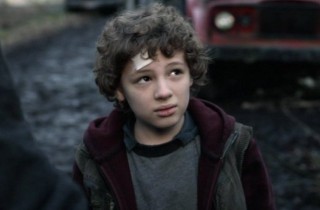 This is not to discount the steady 3.4 million live "plus same day" for "Molon Labe" which have earned the TNT Network the title for both the number one cable program on Sunday, and the number one "scripted" program rankings. Well done TNT, well done!
We know that some people do not like ratings. Yet few people blame ratings when their favorite programs, like Falling Skies, are picked up for additional season(s). But this is the nature of the beast, is it not?
For some, if not all of us, at one time or another, sometimes find it easy to forget that TPTB decisions are based on the same available empirical data source criteria, for win or lose, renew or cancel.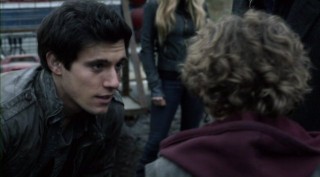 However, in the past three years, the ratings have been fine tuned with the advent of digital cable, now typically standard in many countries, even including the beleaguered United States and its lackluster economy.
Whereas in the past, broadcasters expected viewers to watch live, most, if not all, have taken steps to leverage the post air date data to more accurately rank their programs.  Initially it was the "Plus 1" number that reigned supreme. Then we heard of the vaunted "Plus 3" numbers. Now, thanks to improved viewer tracking technology, the "Plus 7" number has come to the forefront in the ratings data.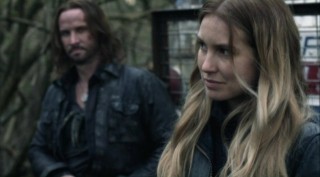 What is the major contributing difference in acceptance of all three?  Advertising. When digital content was first introduced, most on-line, On Demand, and or DVR sources did not contain in-line advertising to make these viewing options important to advertisers. Many remember "the good old, olden days" when the episodes available on demand or by DVR either had no commercials, or you could skip through them thereby scaring advertisers away from trusting those numbers.
In the viewing environment of today, with advertising inserted in-line, often not able to be by-passed (the first time around), advertisers who finance television programming have embraced and accepted the time shifted viewing numbers as a valid measurement of a program like Falling Skies success.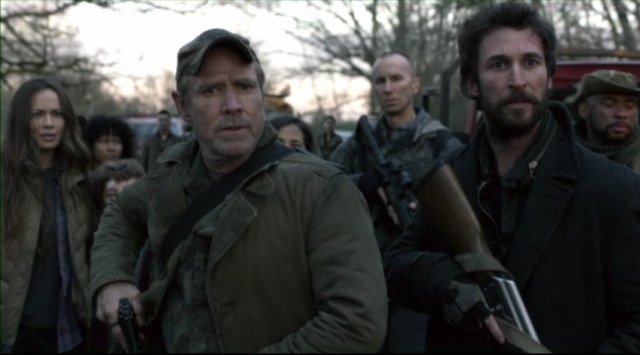 Death March: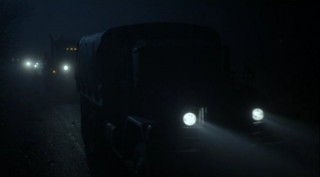 We find the 2nd Mass on the road to Charleston. Our erstwhile heroes have left the hospital, but not without cost. Captain Weaver (Will Patton) and Tom Mason (Noah Wyle) must help everyone deal with the deaths of Boon (Billy Wickman) and Jamil (Brandon Jay McLaren), viciously taken at the hands of the invaders of Earth, the malevolent "Overlords".
The loss of these two valued members has left the group shaken from the encounter as we prepare for new surprises and revelations that lead to the incredible season two finale!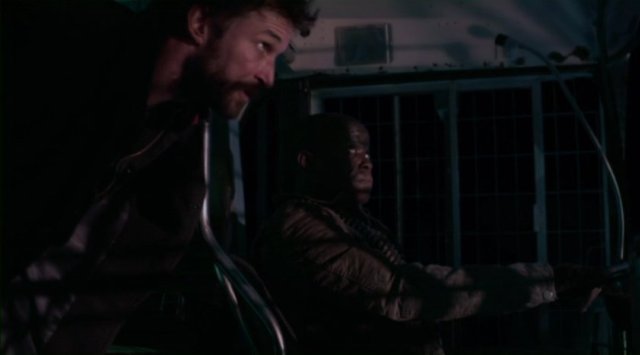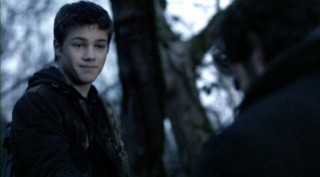 We all recall the well played emotional "Molon Labe" good bye sequence between Tom Mason and Ben (Connor Jessup).
We know that Ben felt he must strike out on his own to keep the 2nd Mass safe and locate the "Skitter Resistance" leader,  "Red Eye".
This clan of free "Skitters", who believe that the invasion of Earth, much as with the way their own planet was conquered and enslaved is just plain wrong, may prove to be key allies in the future for the survivors in the 2nd Mass.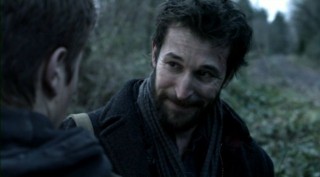 That they have temporarily escaped the malevolent and ruthless "Overlords" and their brainwashed hapless slave, poor Karen (Jessy Schram), undoubtedly feeding off the narcotic from her "Harness" once again, would seem like good news. Not quite so fast Falling Skies fans. A bevy of exciting action with several reveals are just up ahead in "Death March"!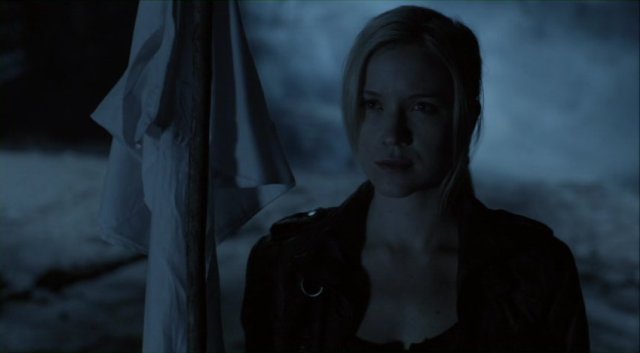 As we move forward, without much doubt, Karen is likely "higher than a kite" on the "Harness" narcotic. Sadly enslaved to the treacherous murderous "Overlord", Karen is certainly up to no darned good!
Be confident Falling Skies supporters, we can count on seeing this character again with continued scheming by Karen as she helps the evil "Overlords" get whatever they came to Earth to obtain! Although this reviewer knew that "Skitterized" Karen was not to be trusted, it was nice to see Jessy Schram play the part to the hilt!
Well done Karen…. Err Ms. Schram!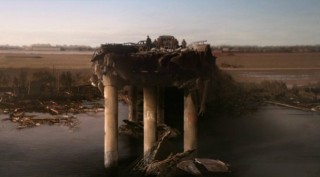 Many intriguing questions remain to be considered and addressed as the adventure in Falling Skies proceeds to an exciting season two climax.
Will Charleston be found intact, and will it be safe for the 2nd Mass? Or has the city been flattened like other cities including their home town of Boston?
Was Avery Churchill (Camille Sullivan) on the level when she met the 2nd Mass earlier in "Compass" enticing them to make the journey to Charleston?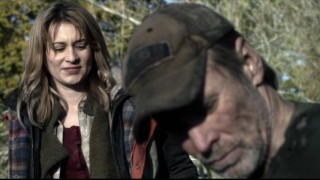 Or was Avery Churchill simply a treacherous plant by the alien "Overlords" to lure the 2nd Mass into a terrible trap?
Is the "Overlords" plan to either exterminate or brutally enslave our entire group of Freedom Fighters struggling to survive and eject the evil aliens from our fair planet Earth?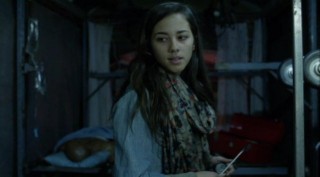 Will Lourdes (Seychelle Gabriel) be able to overcome her depression over the loss of Jamil and be an effective aid for Anne Glass (Moon Bloodgood)? Will Captain Weaver marry Maggie (Sarah Sanguin Carter) and Hal (Drew Roy)? Or is someone else preparing for a new arrival in the 2nd Mass?
And critically just what kind of behavior can we expect from troublemaker John Pope (Colin Cunningham)? Will Anthony (Mpho Koaho) be able to moderate Pope's obstreperous outbursts? Or will Pope become a center of controversy once again?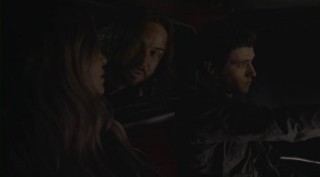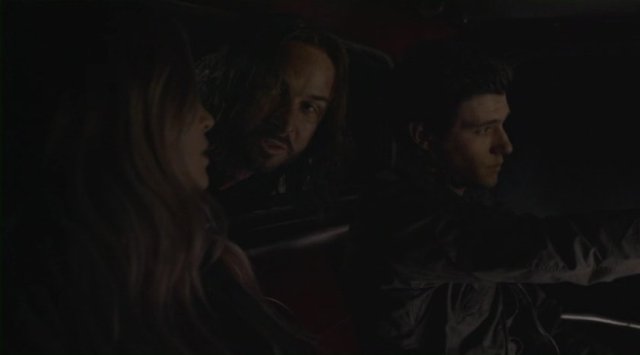 In "Death March" series creators Robert Rodat and producers Noah Wyle, Mark Verheiden, Bryan Oh, Greg Beeman, Grace Gilroy, Bradley Thompson, David Weddle, Remi Aubuchon, Darryl Frank, Justin Falvey and Steven Spielberg will shift gears to take viewers in a different direction, with several great plot twists affecting the 2nd Mass survivors, all of which are leading up to the series season two finale "A More Perfect Union" in only two short weeks!
As fond recollections of Captain Weaver referring to the alien invaders as "cockroaches" echo in our recent memories, the group is about to encounter a new enigmatic character whom will literally be thrust on the 2nd Mass in the dead of the night!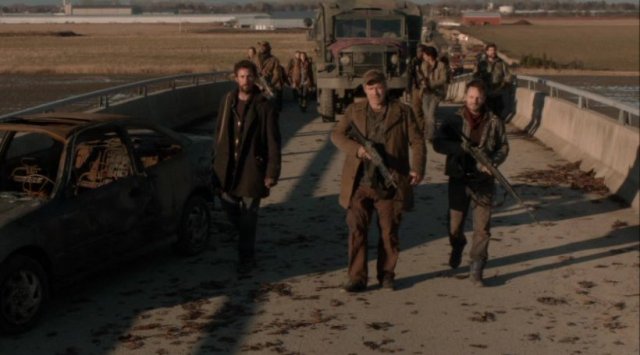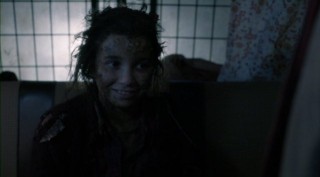 You wanted more on screen time with Matt Mason (Maxim Knight)? Hang on fans, you are going to get it as our young Skitter Fighter takes front and center in dealing with a new character named Jenny in "Death March" portrayed by the talented young actress Olivia Steele-Falconer.
Previously enjoyed by science fiction fans as "young Zoe" in Caprica and as "Annie / Leviathan" in Supernatural, we must ask ourselves will Matt Mason and Jenny become our budding adolescent romance in Falling Skies?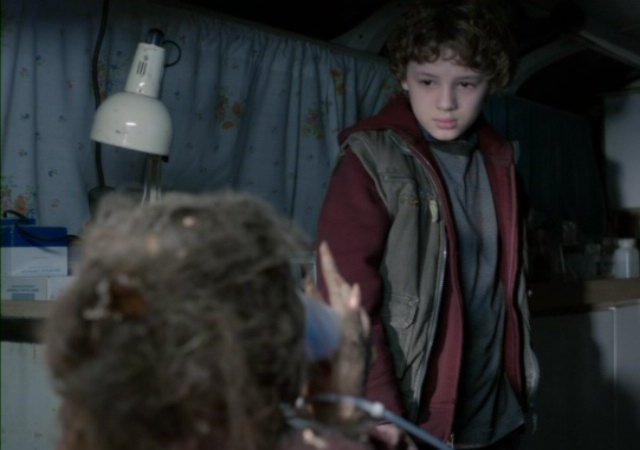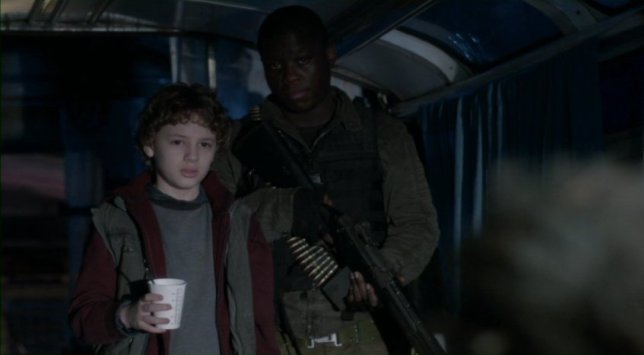 You wanted more Maggie and John Pope back story? Does John Pope have a good side? Well for goodness sakes people, the shocking revelations about the interactions between these two characters will be revealed to blow our minds in "Death March"!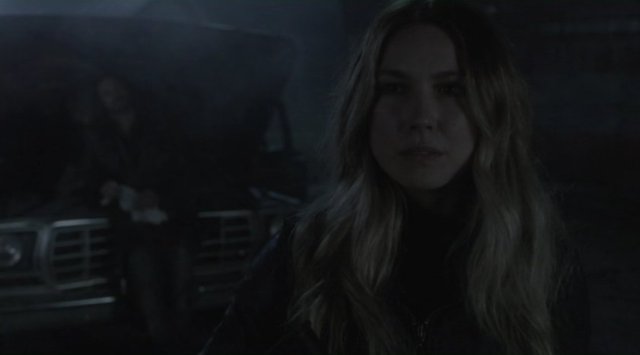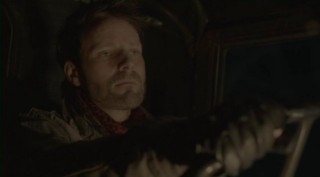 Will Sanctuary and Hell On Wheels fans get what they want and see more outstanding performances from Ryan Robbins as Tector?
You bet they do! And in "Death March" we will be treated to long delightful sequences of Tector chatting with Captain Weaver as these two talented actors bring their scenes gloriously to life before our eyes!
In "Death March" we will learn the back story of Tector, and why this character has become who we have observed and enjoyed what he is today!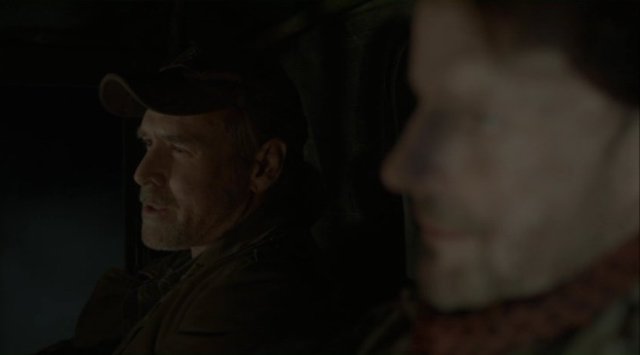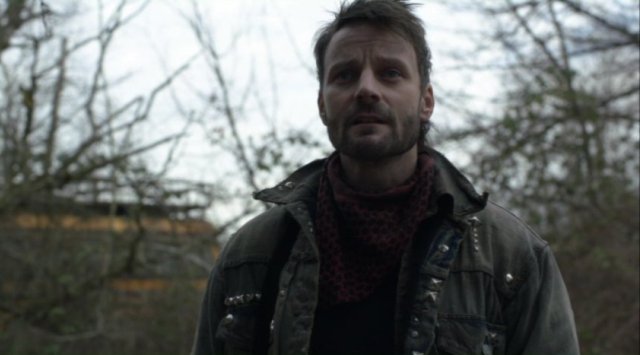 You wanted more of Maggie and Hal "one on one time" to help them grow not only their relationship, but their mutual respect for each other? In "Death March", there are great scenes with Sarah Sanguin Carter and Drew Roy, each delivering powerful performances as we learn about Maggie's past and their hopeful future together.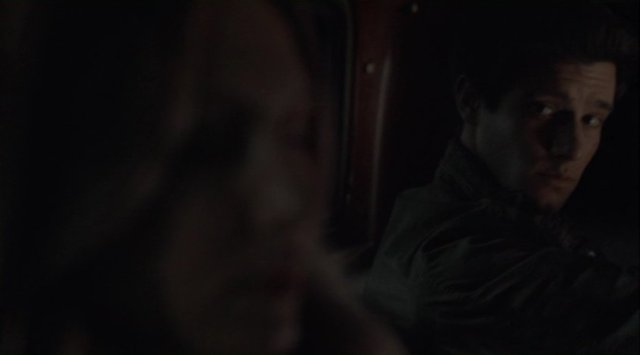 On a theoretical note (humorous, tongue in cheek); Will our soon to be newlyweds (Hal and Maggie) find an appropriate wedding gown for Maggie? And what about Tom and Anne? Will either of these turn out be a shotgun weddings? And we must know soon, will the "Skitter" "Red-Eye" be able to attend the festivities? Will "Red-Eye" bring the shotgun or will young Matt Mason be toting the weapons to secure the events?
Can anyone envision John Pope as the "best man" in either of these ceremonies? And will Anthony ever be allowed to use the shotgun to finally put John Pope out of his misery to help save the 2nd Mass? Get ready people, some of these questions will certainly get answered in "Death March"!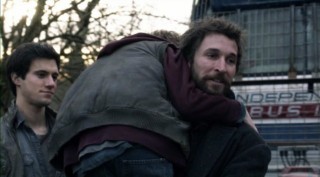 Humor aside, viewers will be quite pleased with the development of the story arc in "Death March". The new character sets up a possible series pivot point we may see in the future. Could this be an answer to what the Skitter Rebellion is really planning?
One of the most enjoyable scenes is a Mason family moment. The sequence is observed at the end of the episode when a 2nd Mass goal is accomplished. Somewkat bittersweet with Ben off on his "Red-Eye" mission,  Noah Wyle, Drew Roy and Maxim Knight share a hug while Moon Bloodgood fondly looks at the three Mason men happy together.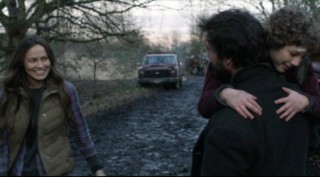 Concluding this preview of "Death March", know this; Falling Skies continues to feed the viewing audience with quality entertainment product each Sunday evening. The episode opening is shot entirely at night with outstanding cinematography, location shooting, action, battle, great costuming, and makeup in scenes with outstanding special visual effects that will make bring smiles to your faces too!
"Death March" more than effectively sets the foundation up for an outstanding season two finale in "The Price of Greatness" and "A More Perfect Union".
Trust me when I share that Falling Skies gets even better that it already has been with special an additional guest star that will bring smiles to the face of many a science fiction fan.
Did I say "better"? Make that much, much better! So make sure and tune in LIVE Sunday August 05, 2012 for "Death March" on TNT!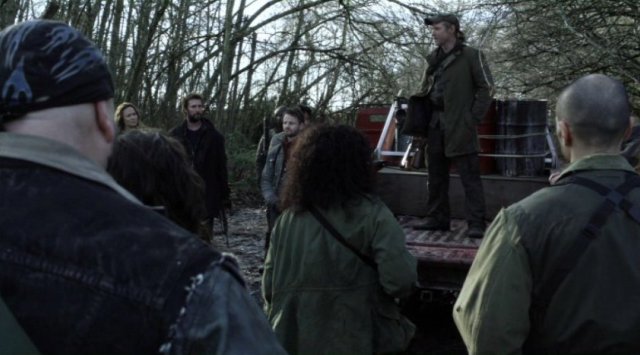 Lastly, support Falling Skies by watching legally on your mobile devices, on DVR's and or on the Internet at the TNT Network to further demonstrate your love of science fiction television on TNT!
Do not illegally download Falling Skies or any program if you want more quality television programming. And please tell your friends the same thing: "Just Say No to Illegal Downloading". Thank you.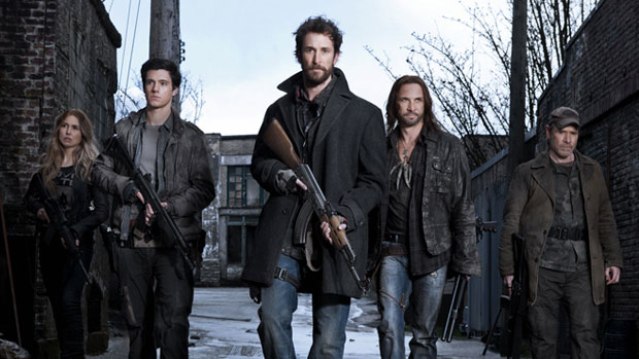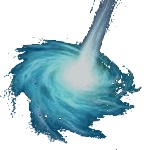 Thank you for visiting WormholeRiders News Agency and reading our theories, history back story and significance of the historical reference material imparted for our pleasure by the creators of Falling Skies!
Please feel free to leave a comment here or if you prefer, click the social media icons below to share this news article. Or as many of our readers and visitors often do, visit WHR on Twitter, WHR on Facebook or visit me on Twitter by clicking the text links or images avatars in this news story.
I and the Team WHR look forward to Seeing You on The Other Side"!
Thank you.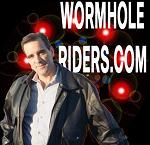 Best Regards,
Kenn