Welcome back Revolution lovers,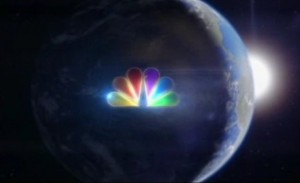 Excellently written by Paul Grellong, and directed by Philip Sgriccia, the situation in the second episode of season two of Revolution for our erstwhile band of heroes is escalating, both for the good, and unfortunately, for the bad.
With the exception of Rachel (Elizabeth Mitchell), Miles (Billy Burke), and Aaron (Zak Orth), we still do not fully understand how they all have become separated after the harrowing escape from "The Dark Tower" in the season one finale which we will revisit in "There Will Be Blood".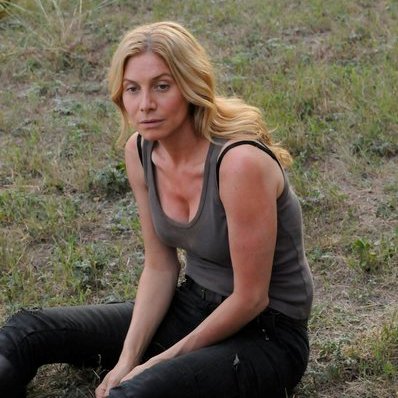 Rachel, still suffering from her nervous breakdown is about to undergo further stress due to the disappearance of Miles who was captured by seemingly ruthless murderers who have plans lay siege to the relatively peaceful town of Willoughby, Texas.
This is especially true of Charlie Matheson (Tracy Spiridakos) who is seeking revenge on General Sebastian "Bass" Monroe (David Lyons) for his heinous actions. In "There Will Be Blood", Charlie will catch up with "Bass" with new shocking developments revealed on the way!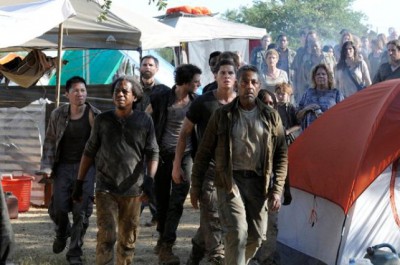 Meanwhile, Tom Neville (Giancarlo Esposito) and son Jason (JD Pardo),  have plans of their own to infiltrate the reconstituted United States command structure by gaining the confidence of  Secretary Justine Allenford (Nicole Ari Parker) who has arrived from Washington DC to assure the citizens that order is finally being restored.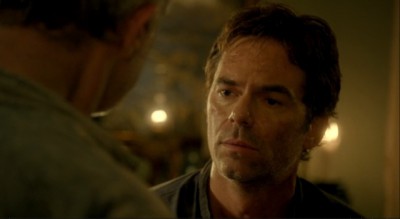 Sadly, as viewers will recall, our swordfighter Miles and Willoughby Texas' Sheriff Mason (Adam Beach) were taken as prisoners by the evil Tribal Chief, Titus Andover (Matt Ross) and his ruthless gang of malcontents after Miles left town subsequent to the tongue lashing he received from Doctor  Gene Porter (Stephen Collins) to stay away from Rachel.
Both of our heroes are being held prisoner in absolutely horrid conditions while listening to people who seem to be in the process of being tortured. Miles and the Sheriff wait in cages outside of Andover's infamous "Red Door", where the victims are likely killed.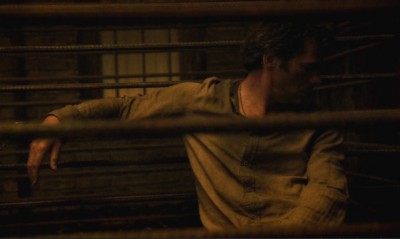 The story arc features a well developed and deployed use of the Single Effect focusing on human obsession, those who seek retribution may become consumed by their lust to obtain revenge and end up becoming the very malcontents they so despised.
This factor becomes the solid edifice of Revolution season two in an exciting episode that often had this reviewer on the edge of his seat!
There Will Be Blood: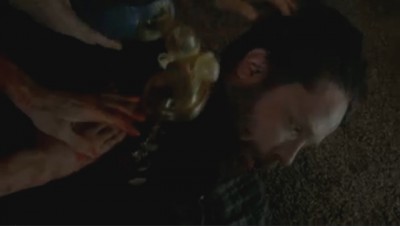 We begin with Aaron Pittman, risen from the dead after last episodes shocking death, jolts upright. Rachel , Cynthia (Jessica Collins) and Doctor Porter are stunned by the development.
So were many of the Revolution viewers (including me) who thought the Aaron Pittman character was being written out of the series!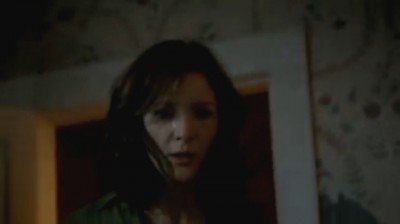 How was this possible? Some many hours later when Aaron is apparently completely healed, Rachel informs Aaron that his heart had stopped for some two hours!
This reviewer believes that the nano-technology that Aaron has been experimenting with had played a role in his resurrection, as well as the technology that was used to shutdown the power that is apparently having an effect on physics in our world which also has affected the fireflies in an odd manner.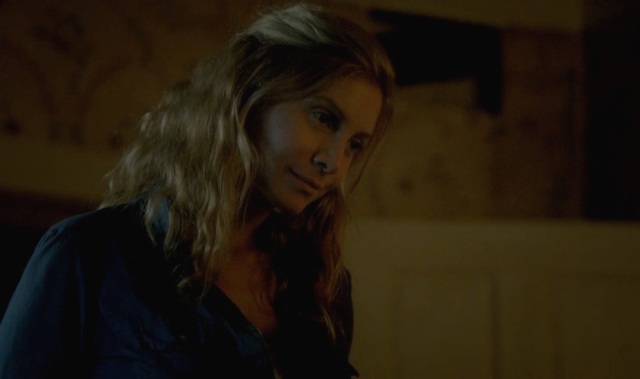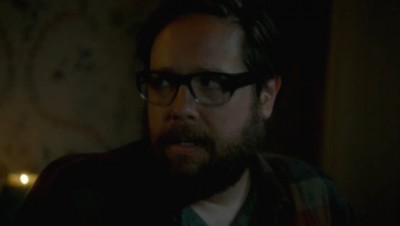 Aaron suddenly begins to sob in front of Rachel both out of joy and cautionary fear over what has transpired in his life in the past two hours!
Both discuss what could have possibly accounted for what has happened and brought him back to life? Both suspect the technology they have been working on that turned the power back on.

In a dreamlike sequence at the Willoughby, Texas courthouse, Aaron hallucinates seeing Ben Matheson (Tim Guinee) dying on the corridor floor.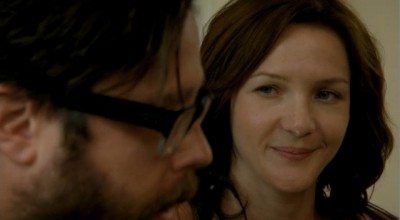 Shaking Aaron out of it, Cynthia (Jessica Collins), his new girlfriend, observes Aaron in a cold sweat, freaking out. Viewers may recall the sequence is much like when Ben had been killed in the series pilot episode.
One must ask; Does the nano-technology have a side effect that it stores and creates new memories based on past events to be replayed over and over again?
Although Cynthia is able to bring Aaron back to reality, he becomes more disoriented than before. Cynthia alludes to her belief that God saved Aaron. Logical minded Aaron informs Cynthia he was resurrected by the technology that originally caused the blackout. Aaron delineates to Cynthia what happened the night of the surge. From the look on her face, she does not seem altogether convinced.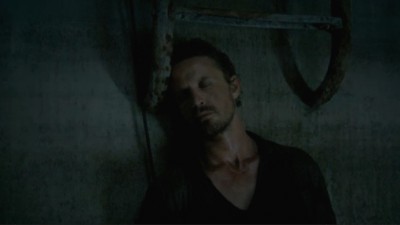 We segue to our former General, Sebastian "Bass" Monroe, nemesis, former friend of Miles Matheson.
Bass also has been captured, but by two roguish, brutish looking men who are named Adam and Sergei.
These two, who we think are more of the evil malcontents who work for Titus Andover, are actually employed by a more sinister group that we learn about at the end of the episode.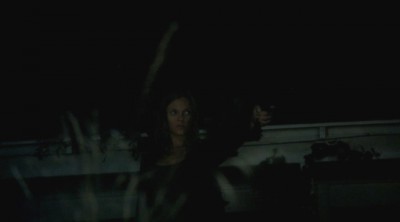 Charlie, using more stealth than I thought she was capable of, sneaks in to the camp hoping to snare "Bass" Monroe for herself. She cracks Sergei over the head and making her way to Monroe. Unfortunately, Adam wakes up, blasts her with his shotgun and Charlie is captured too!
At Titus Andover's main camp, Miles and the Sheriff are obviously in deep shyte. They have been imprisoned in a warehouse like barnyard animals, pigs and cows in filthy cages. Andover's men came by now and again whereby prisoners are escorted through the enigmatic red door at the end of the hall.
Despite this Miles gets a belly laugh when Sheriff Mason talks about how he got involved as Sheriff of Willoughby; his dad told him stories about a Texas Ranger named "Walker" Get the joke? Walker, Texas Ranger – The 1993-2001 television program starring Chuck Norris!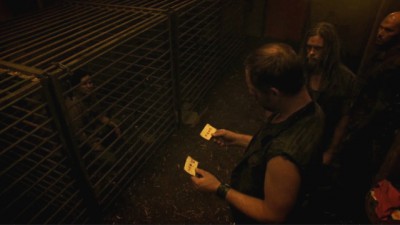 A frightened female in a nearby cage informs Miles that she has never seen anyone after they are taken through the Red Door where some kind of experiments are underway. Blood samples are procured from the Sheriff and Miles, indicating Miles is the only person needed. The Sheriff is murdered as Miles looks on in amazement wondering just what the heck is going on?! This reviewer was hoping Adam Beach would survive a bit longer.
Back in Willoughby, Texas, the guards discover Sheriff Mason strapped to his horse. He is dead, obviously the town is being sent a message of terror. Inside the town courthouse, the citizens are under protective lock down to avoid being captured by Titus Andover's gang of marauding murderers.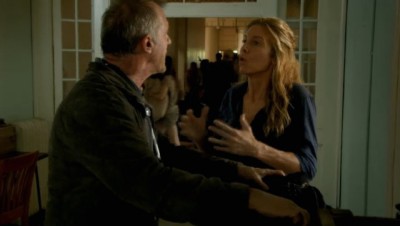 Rachel is having what appears to be another nervous breakdown, pleading with her dad to use his influence so she can lead a rescue effort and save Miles. Pops wants nothing to do with Miles and says so bluntly not wanting to lose his daughter once again.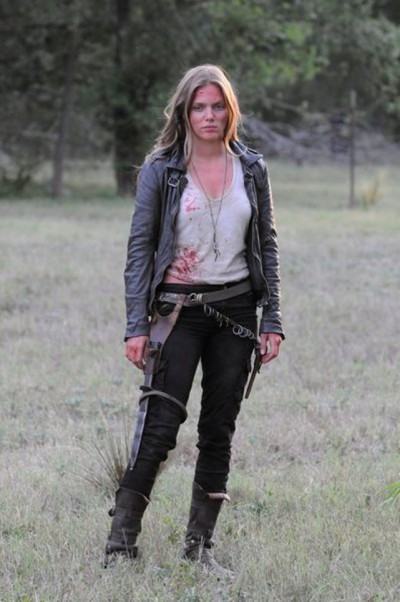 We find out that Charlie is safe. The shotgun was loaded with rock salt, not lead pellets. Bleeding, Charlie wakes up next to her target, "Bass" Monroe. They are being held in a swimming pool.
Adam tends to Charlie's oozing wound, threatening her to cooperate or he will use real shotgun shells on her. Charlie finds out that Adam and Sergei are bounty hunters for the United States Government, and they have been on Monroe's trail for over two months!
With orders to bring Monroe back alive to face charges, Charlie looks at Monroe, thinking they should kill him on the spot or he will effect an escape. This plot arc is tried and true. Since we are only at the second episode, Monroe must escape so we can have more "fun" with his character later.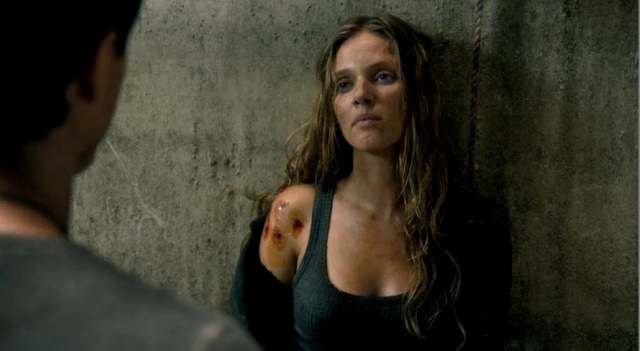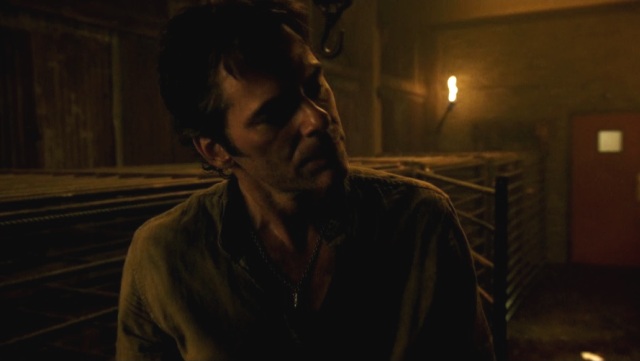 Scene change to the torture center at Titus Andover's Camp. Miles has found a way to pick the lock on his cage and is about tomake good his escape. The frightened woman, who we have learned is named Sara Wilkerson (Aidan Sullivan), begs him to get her out too.
This is a mistake because of the time it takes to pick her cage lock. Miles is attacked by three gang  members, killing two in the process. The third one grabs Sara and threatens her life if Miles does not surrender. Sara is caged again and Miles is manhandled off to to speak with Titus Andover.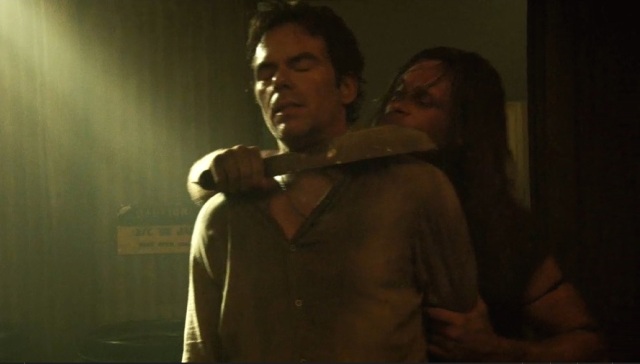 This reviewer thought this part of the story arc was a bit weak, but served to bridge the story arc well. The Miles Matheson we have known would have protected himself at all costs and not tried to save a stranger, even if she did know the Sheriff. This is what he taught Charlie, and therefore the scene therefore seemed a bit contrived.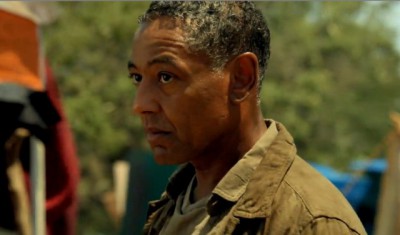 A quick segue back to Savannah, Georgia. Tom Neville has been adroitly brown nosing United States guards who have setup camp there. As we all know, Neville is a sly character, and has good reason to do so.
Neville believes, rightly so we might add, that the nuclear weapons releases on Atlanta and Philadelphia were ordered by the President's administration in exile in Guantanamo Bay, Cuba.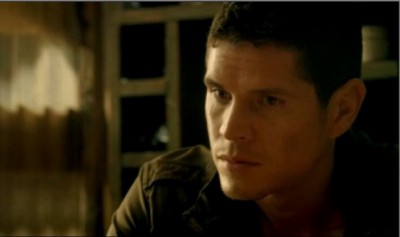 Neville and Jason plan on killing Secretary Justine Allenford to exact revenge for the death of his wife Julia (Kim Raver) in Atlanta.
As this reviewer has hypothesized previously, this reviewer believes that Julia Neville had escaped Atlanta somehow. I therefore predict she will appear to reprise her role by "saving" Nevile from "something" in a future episode of season two of Revolution.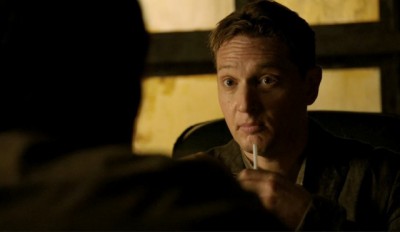 We find out that Titus Andover is a pervert who was a headmaster at a private children's school where he regularly abused young kids under his care.
Child abuser Andover proudly boasts that "God saved him" when the power blackout came since he was not discovered with evidence of the child pornography on his school computer by the local police.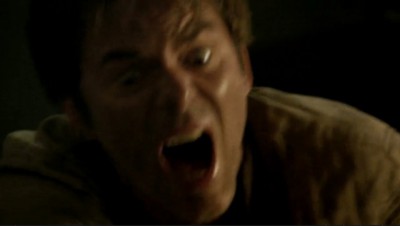 Miles dishes Titus some rude, but quite well deserved sarcasm and for his big mouth, and before he can figure out what Titus and his clan are really doing in Texas, Andover smashes Miles' sword hand with what looked like a steel hammer. Mile screams in pain and shuts up for a change.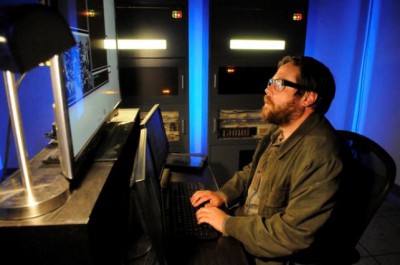 Aaron is still coming to grips with the reality of his miraculous healing. In another flashback moment, Aaron relives the final moments leading up to the bombs dropping on Atlanta and Philadelphia when his computer crashed.
Back to Savannah, Secretary Allenford and her bodyguards are inspecting the area. Neville and Jason's young friend, Greg (Jason Liebrecht), set an assassination plan in motion. Neville has setup the youngster to curry favor with Secretary Allenford.
Greg aims his gun at Allenford, ready to kill her. Suddenly, Neville whips out his own gun and kills him right in front of Secretary Allenford. Mission accomplished, Neville is about to become a member of her staff for being so alert to protect her.
As Charlie predicted, "Bass" Monroe makes good an escape. For some reason Adam decided to free Charlie, being only interested in Monroe who escapes out the back of the horse drawn wagon. Monroe kills Sergei, choking him to death.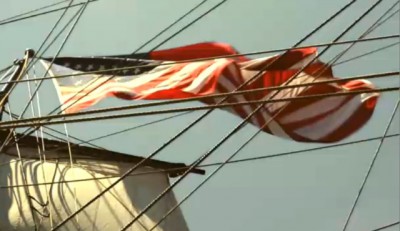 Charlie hears the scuffle, coming back to save Adam's life. Monroe, lying in wait knocks Charlie down and escapes just like Charlie (and this reviewer) suspected would happen. Sebastian Monroe will live to fight another day, most likely in another cool sword fight with Miles… or Charlie… or both!
We begin to get confirmation that United States Secretary Allenford's mission is most likely connected to Andover when she gives a letter to one of his henchmen sealing it with an official Eye of Providence mark (look on the reverse side of an American one dollar bill).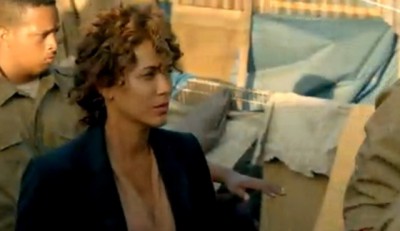 Later, Secretary Allenford opens a letter written in Arabic with the same insignia indicating that she and the administration are in league with Titus Andover.
The episode winds down with Secretary Allenford questioning Neville as to why he saved her life? Neville tells her he is an American Patriot and wants to help his country.
Secretary Allenford buys the tripe Tom Neville is shoveling, and takes him under her protective wing.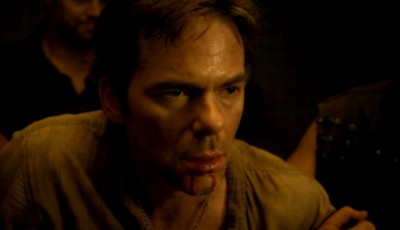 In the final sequence, Miles, with a smashed hand, but otherwise healthy, is taken through Andover's "Red Door". Titus' blood tests are for blood typing transfusions to help a sick woman we find in a makeshift operating room.
This reviewer suspects the woman is a survivor of the attack on Atlanta suffering from a form of radiation sickness and poor Miles has been nominated to be the next live blood donor!
All in all, an exciting episode that certainly sets up the story arc for the next episode of Revolution, "Love Story" on Wednesday October 9, 2013!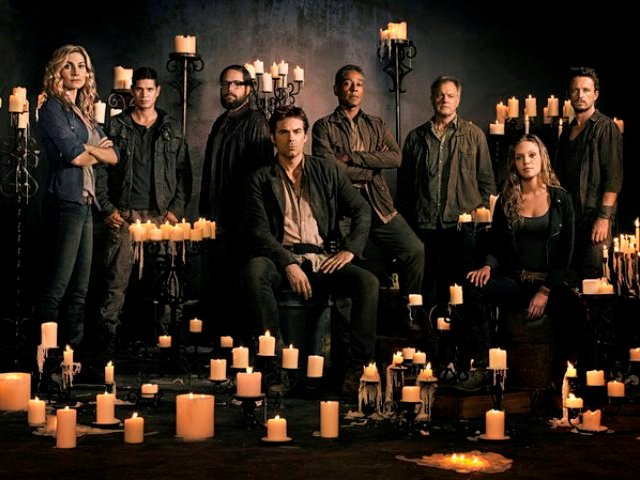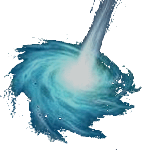 We welcome you back to our dedicated Revolution series review site and hope you enjoy our analysis of the second season of this outstanding science fiction drama program!
As always, thank you for visiting WormholeRiders News Agency and we look forward to seeing you on The Other Side of the Wormhole on Twitter, or visit and like our WormholeRiders News Agency Facebook company page.
Please feel free to leave a non spam comment here or by visiting Team WHR or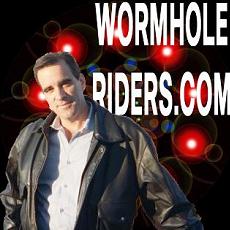 me on Twitter by clicking on the text links or avatars below.
Thank you!
Best Regards,
Kenn