Hello Creation Entertainment Stargate Convention Fans!


My annual trip to Creation Entertainment's Chicago Con this year started out quite slowly, as in at a standstill. My plane had mechanical difficulties and had to be checked by mechanics at the gate. After taxiing around the runway, sitting and then getting off and back on the plane, everything was set to go. All in all, I was an hour and a half late leaving NY and arriving in Chicago. Though, as it turns out, this ended up being a good thing, as you will see.
Dan Shea happened to be waiting for the same hotel shuttle, and after informing him that the shuttle should be arriving in 10 minutes, we were all off to the hotel, where everything was a rush to get checked in and then signed in at the Con known on Twitter by the hashtag #ChiCon . I thank Monica of Creation Entertainment for her professional courtesy and help.

Due to my flight being delayed, I missed part of Steve Bacic's Q&A, but it appeared that I hadn't missed the best part.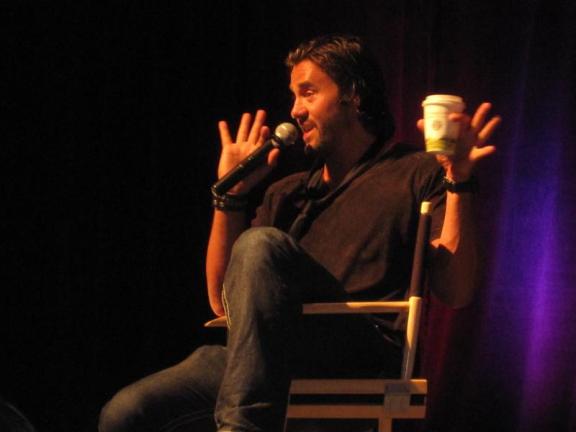 Steve's Q&A was interrupted by Dan Shea, who afterward called Steve out by challenging him to push-ups on stage. This then led to Steve writing all over Dan's back with a marker!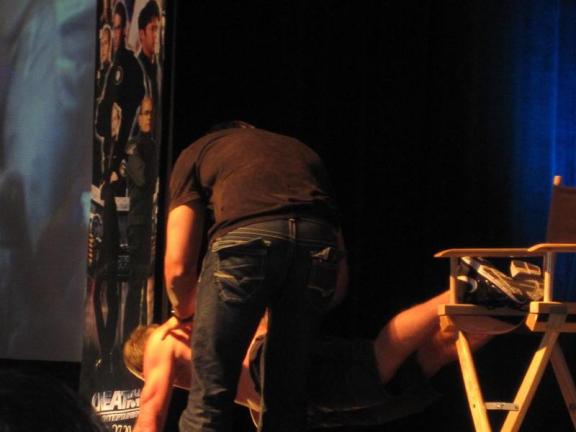 Dan then moved on to his Q&A and is quite animated on stage. Here, my personal experience comes in to play. Dan proceeded to tell an elaborate story about how Pip and I had deliberately told him wrong directions to the hotel shuttle as watched him walk back and forth. Dan asked my name and then launched into a discussion on Gone With The Wind! It was very funny! Eventually Dan talked about current stunts he has been working on and briefly discussed a stunt on Psych with Cary Elwes and on Fringe, where he doubled for John Noble!
Robert Picardo was up next and briefly discussed the difference between Creation Entertainment Star Trek and Stargate conventions, the fans and the shows themselves. Robert then proceeded to auction off a signed cast photo from season 5 of Stargate Atlantis for a charity he supports and endorses.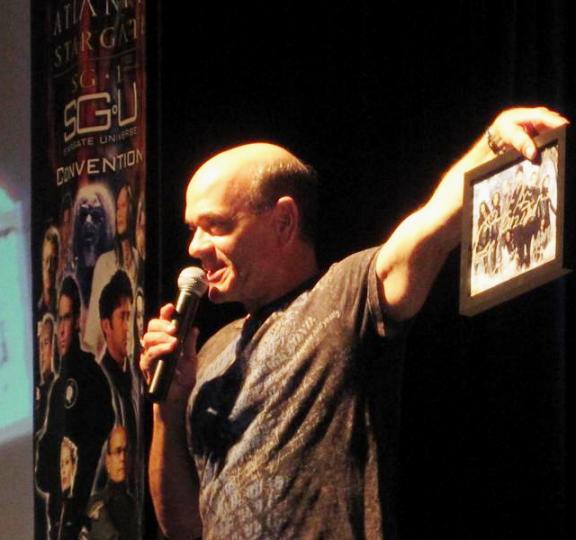 Christopher Heyerdahl and Andee Frizzell came out together for their Q&A. I had no idea how chatty or funny Andee was until she started speaking. Andee told several stories regarding Wraith costumes and props. Christopher was a little quiet at the beginning, but soon started jumping off stage to help people with the microphones and even sat in the front row!
Dan Shea hosted the Creation Entertainment Cabaret, at which Andee Frizzell told several embarrassing stories and Robert Picardo put on a wonderful performance of his well known character Alphonso. Each were absolutely hilarious to watch.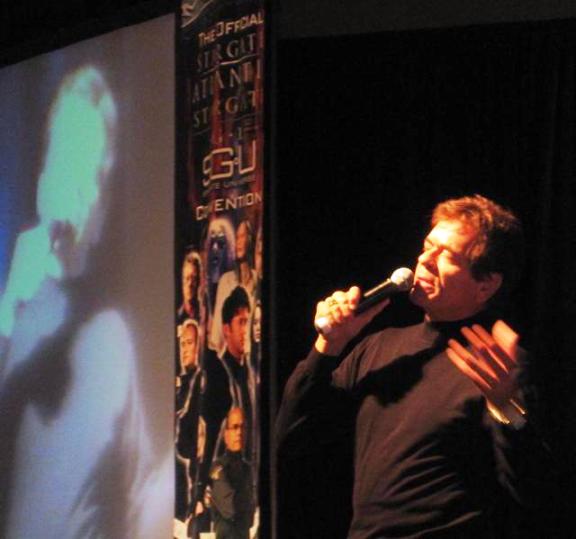 The fun Creation Entertainment Karaoke followed the Cabaret with special guests Robert Picardo, Dan Shea, Christopher Heyerdahl and Andee Frizzell. Each walked around the room and chatted with people. Robert Picardo even sang a few songs, one with his wife.
Saturday started with photo ops with Michael Shanks and Joe Flanigan and only proceeded to get better from there. Joe Flanigan and David Hewlett were the first on stage for their Q&A. Joe and David play so well off of each other and are a hoot to see in person. Of course their Q&A involved joking and making fun of each other, especially when a fan awarded Joe with a trophy for "Twitter Actor of the Month" and David won the the runner up trophy!
Dan Shea was again up on stage and told stories regarding stunt work which then led in all kinds of humorous directions.
After various photo ops, Michael Shanks was up for his Q&A. Michael came out with a shirt that said "Tweet This", which I will leave my fellow reporter DannysGirlSG1 to share with you in her report. Needless to say, Michael was very comfortable up on stage and proceeded to joke with fans as he answered questions to the delight of the audience!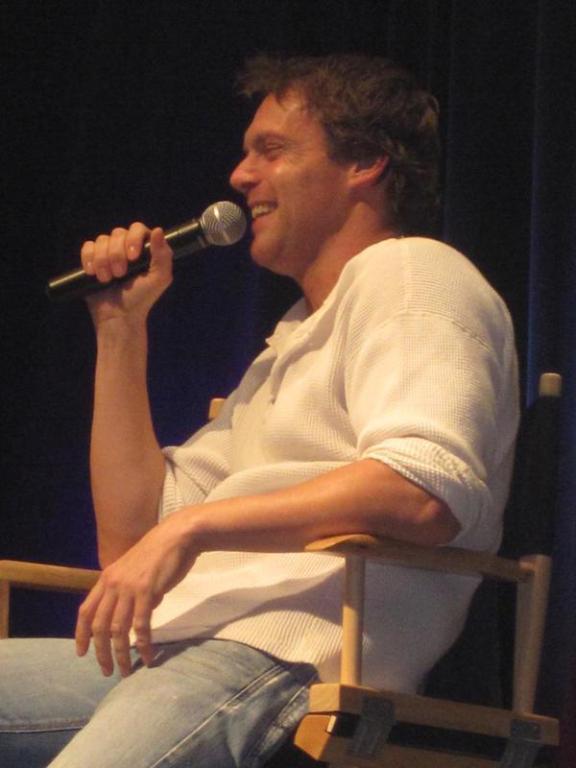 That evening was the dessert party and tasty treats with guests: Dan Shea and Andee Frizzell, who went around to each table to chat with the fans about their experiences of the day!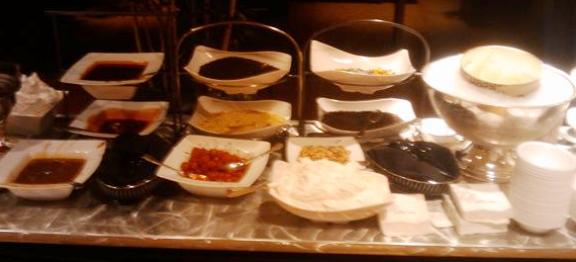 Sunday brought the wonderful Stargate Universe stars out for the Creation Entertainment Charity Breakfast, as well as Dan Shea, and on stage for Q&A's. Elyse Levesque, Brian J. Smith and Alaina Huffman each did an individual Q&A before a combined panel Q&A in the afternoon. Each spoke about the upcoming season of SGU, their fellow casts members and aspects of shooting the episodes.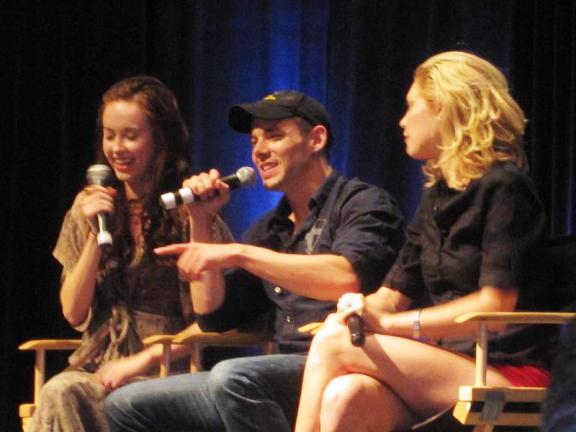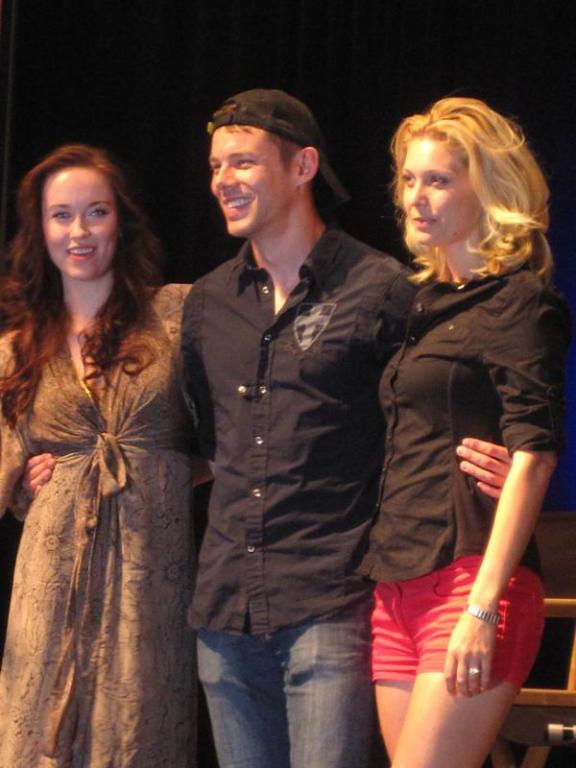 The convention came to an end with autograph sessions for each of the SGU stars. All in all, the convention was a lot of fun and the weekend was amazing. All the guests were happy to be there and enjoyed their time with the fans.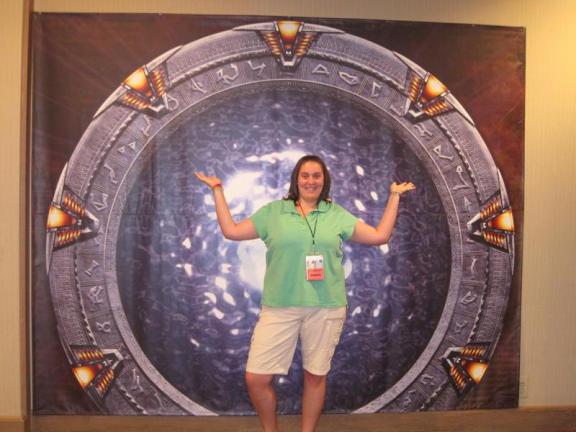 A more detailed report of each day of the convention will follow in the future.