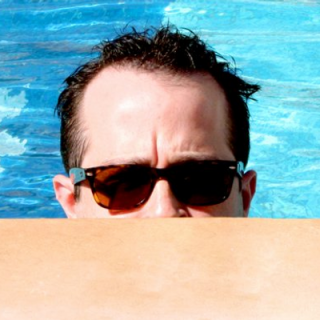 Martin Gero appeared late in the day Saturday November 7, 2009 at Creation Entertainments Los Angeles Stargate SG-1 Atlantis convention
Known as a writer, a director, and as an Executive Producer of Stargate Atlantis, Martin Gero is currently best know by Stargate Franchise fans as a script writer and as a consulting producer for the new SyFy hit series, Stargate Universe.
Our report on Martin's panel appearance will be as accurate as possible considering notes, photos, and crowd noise. We did our best though and trust you will enjoy reading about Martin Gero!
WormholeRiders had hoped that Creation Entertainment would schedule at least one of TPTB from Stargate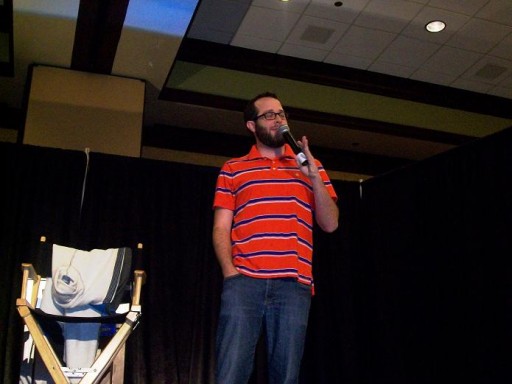 Universe. We were not disappointed with Creation when Mr. Gero appeared on the schedule a short time before the convention commenced. I for one was eagerly looking forward to Mr. Gero's stage appearance. I deliberately planned to skip dinner in order to catch every word about his Atlantis work and of course, writing and  co-producing for the new Stargate Universe series.
Unfortunately Martin was scheduled late in the day at approximately 5:45 PM and the panel started about 15 minutes late. Also one of our reporters experienced a camera failure which meant I was in the Farscape convention taking pictures and missed the first three minutes or so during his introduction. Fortunately another Martin Gero fan shared what was discussed with me for inclusion in this report. On the way into the auditorium, I noticed that many convention attendees seemed to be heading for dinner. I said to several that Martin Gero was on now! Several said they getting ready and dressing up for one of the evenings biggest events, the Creation Entertainment Cocktail Dessert Party! Oh well, I tried, but they were about to miss something special!

Mr. Gero therefore played to approximately a 50% to 60% full audience by the end of his 35 or so minutes on stage. In fact a friend, who was also taking notes, had not arrived yet from the Farscape side of the convention as that panel had gone over as well, so for the first few minutes I scrambled!

Reviewing my notes after the fact, the crowd was actually larger than previously reported, about 75% to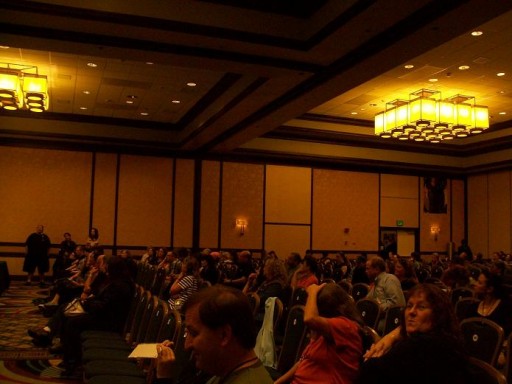 80% full at the beginning of Martin Gero's appearance and tapered off to about 55% to 60% capacity by the end.
For Stargate Franchise fans we can report that Mr. Gero's work, both  on Stargate Universe and the pending Stargate Atlantis movie "Extinction" immediately became "front and center" during the Q&A period.
Discussed briefly earlier in the day by Paul McGillion and Joe Flanigan of Stargate Atlantis, the very first question after his introduction, was about the pending Stargate Atlantis movie, termed 'Extinction'.
The first fan question was: "When could we expect the new SGA movie?"
Paraphrasing Martin's response, he was forthright: "The Stargate Atlantis movie is approved for production. Unfortunately, production funding is proving difficult to secure in the current economic conditions. As soon as production funding is located, the movie will enter production".  I believe he said late 2010 was the target, about a year from now, I but did not catch his exact wording in that regard because the Atlantis fans present let out a huge round of applause.
What happened next was most interesting. Once confirmed by one of The Powers That Be [TPTB] of what was happening with the Stargate Atlantis movie, a number of convention guests began to leave the auditorium until about 60-70% remained. I did not do an exact head count, but it was apparent that once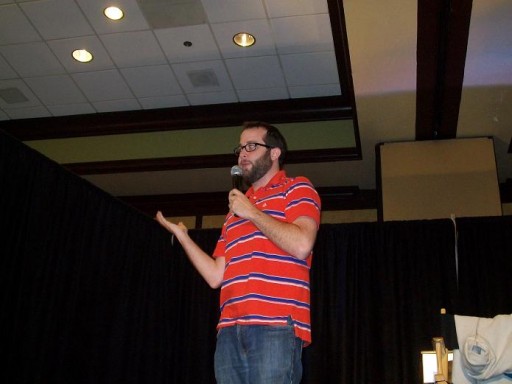 Stargate Atlantis fans received a confirmation to their question with Martin's answer, some, a minority of fans did not stay to discuss Stargate Universe. Frankly, we found this to be a little bit rude. After all Mr. Gero is a long time creative talent for the Stargate Franchise. Martin was not ultimately responsible for the non renewal of Atlantis, and has been an important contributor to Stargate. We think he is a person who is deserving of the respect that he has certainly earned.
As previously reported, some fans never forgave Martin for killing the "real" Dr. Carson Beckett. For what it is worth; I think the Atlantis plot twist was deliberately written into the Atlantis time-line to create a fan ground swell of support. Just my opinion, but the "Save Carson Beckett" campaign was one of the most intriguing developments in Stargate Atlantis. The ultimate return of Carson Beckett was as big of an event as was the return of Dr. Daniel Jackson in Stargate SG-1.
The audience that did stay obviously was very interested in Stargate Universe and mostly in support of the new Stargate, but the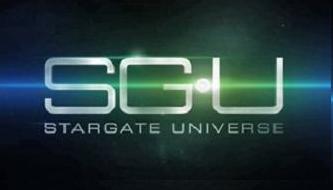 re were and are skeptics. We disagree with the skeptics, but respect their opinions. Those that left missed a real treat. Martin was comfortable and enjoyably animated on stage. Both supporters of Stargate Universe like this reporter, as well as few skeptics of the new series were answered by Mr. Gero directly and honestly. Several guests of Creation Entertainment asked tough questions that we will transcribe as accurately as is possible.
A few 'questions' were actually more of direct comments in that 'I' had not 'gotten' into Stargate Universe 'yet'.  Martin began what can only be described as a genuinely vigorous defense of Stargate Universe. Martin discussed where SGU was coming from and where SGU was going in terms of the Stargate Franchise without revealing too many spoilers. Martin did a very good job on both accounts.
As mentioned, the Q&A began almost immediately. After the questions about Atlantis, the topic turned to one of great interest; that of Michael Shanks reprising his role as Dr. Daniel Jackson in the instructional videos. Of great interest was what role will Michael play in Stargate Universe?  By having this question asked right off the bat, Martin had an opportunity to lead with a strong topic.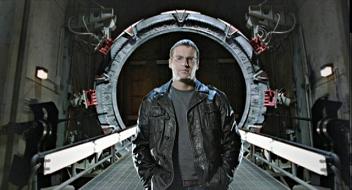 Martin Gero replied: "In that story, guest starring is the very handsome Michael Shanks! But ummm so …" Martin was referring to Michaels appearance in SGU episodes outside of the instructional back story videos produced on MGM Studios web site.
At this point the crowd erupted and went wild with cheers, screams, and squeals. This reporter as well, I mean my goodness, what is Stargate without a Dr. Daniel Jackson!?!  A general release of "woots" and cheers from the audience continued regarding Michael Shanks future appearances in Stargate Universe! This group was every bit as vocal in their support for Mr. Gero's' discussion of Michael Shanks role in the first season of Stargate Universe as any previous panel. The unspoken message? Cameo appearances by favorite Stargate characters like Daniel Jackson would be quite welcomed. Based on the pleasant expression on Martin's face, the message was well received.
Cheering as loudly as any other convention panel, this group were Star'Gaters through and through. That is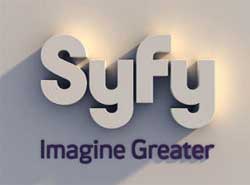 not to say these fans were better or more devoted to SyFy's and MGM's new Stargate Universe more than SG-1 or Atlantis fans. Quite the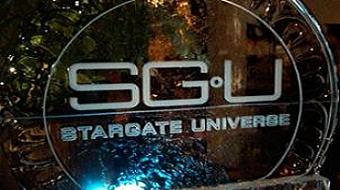 contrary; It was just that for those who remained it was clear that for them TPTB have brought back their favorite franchise. After all Stargate is Stargate especially with the ongoing cameos of Richard Dean Anderson Michael Shanks and others yet to be revealed, a vast majority of the fans we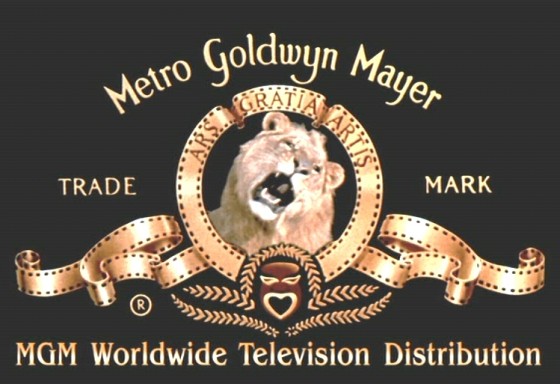 have observed and spoken with are pleased with the new content in Stargate Universe. Even skeptics I spoke with about Stargate Universe are willing to give the new series their full attention every week.
Martin Gero reiterated: "There is a spectacular episode appearing in the second half of the SGU season that has a lot of back story with the very handsome Michel Shanks" The crowd erupted once again to Martins delight!
After the melee about MS, It took some time before Martin could continue speaking!
Read More "Martin Gero on Stargate Universe – One of TPTB for You and Me!" »