Hello WormholeRiders!
Well here it is, at long last! Amanda Tapping from the Creation Entertainment Chicago Stargate 2009 Convention! I've got to say that never have I been so happy to know short hand! It helped a great deal in getting all of the details. It's not 100% accurate but it's as close as I could get it!
Amanda is…well, Amanda is AMANDA! She's sweet and funny, smart and so genuinely appreciative of her fans. She loves the fans just as much as the fans love her and it shows!
Amanda's panel began with a music video for Samantha Carter to I Can Hear the Bells from the musical Hairspray. Amanda began by going over what was going on in her life currently. Sanctuary had just finished filming Season 2 and she was settling back into her daily routine with her husband Alan and her daughter Olivia. Amanda wasted no time and threw it open to questions!
Did you have an interest in astrophysics before SG-1?
"I was interested in astronomy before but never really astrophysics until I played Sam Carter. The more research I did the more interested I was in the subject. I get asked science questions and…it's a show. I could not save the world from a black hole right now. I don't know if you've heard this story before but someone came up to me at a convention and said "so, what's a naked singularity?" I didn't answer the way I wanted which was "Sam Carter on a Saturday night." (crowd SCREAMS, Amanda looks cheeky). (In an English accent) Not quite scientific but funny!
"I met a real astrophysicist who was very challenging and was like 'you know what you did in that one episode…' I don't know what you're talking about…but he was very smart and he taught me a lot."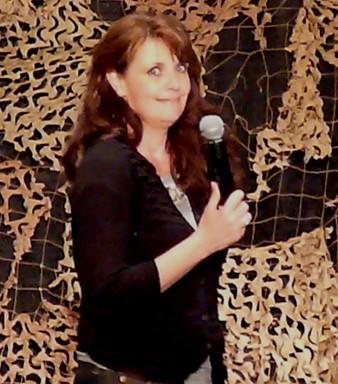 If you could have a "squee" fangirl moment, who would you have a squee fangirl moment for?
"Carol Burnett and a British comedian named Dawn French…and Jennifer Saunders. I could go on. Carol Burnett was really the first person I saw on television that I just went 'Oh my God she's amazing!' I just got tickets to see her do a live show in Vancouver. Those of you who don't know who she is (scoffs). She's only one of your country's greatest assets! That would be my squee fangirl moment. I think if I met Meryl Streep I'd just pass out. I don't think I'd actually get a full squee out because I'd run out of breath.
"What actually inspires me? This is going to sound really disingenuous and I don't mean it to, but you guys. Seriously. I know it sounds hookie as hell. When I made the leap from Stargate to Sanctuary and I made this leap not knowing that Sanctuary was picked up as a television series…it was the fan support that helped make it easier for me. And when I started Sanctuary and it went on television and fans were writing me and telling me that they supported me…Holy moly! It's what Martin (Wood), Damian (Kindler) and I talk about that if it weren't for the fans…you're the reason we're here. You keep us going. Someone asked me in the photo line if I was tired and no, because I'm getting all this great energy from you guys. You should be exhausted!!!"
A fan came up and asked Amanda if she got the shawl and baby bib that she had made and sent her. Amanda knew right away what she was talking about and thanked her profusely! What method do you use when acting?
"I don't know that I have a method. I studied Uta Hagen, read her book 'Respect for Acting.' I did a lot of character study work in University and voice work which I think is really important. Once you do a television series stamina is key. I remember the end of the first season of Stargate, Michael, Christopher and I were all sick. We were just wiped out. By the end of Season 2 we were exhausted. By the end of Season 3 we had a few more weeks left in us. It took a while to build up that stamina. I'm watching these young punks on Sanctuary who are like 'Ugh Episode 10 I'm so exhausted!' I'm like, 'Yeah, get over it! Get back on set! (cracks whip)' You see you get a whip when you become executive producer. I didn't know that! It's so awesome!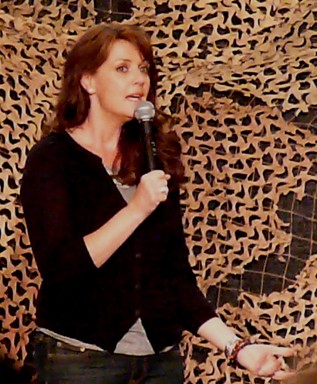 "My advice to you is to pursue it. I will never tell anyone, 'don't do it. It's too hard.' That's what I was told. Do it. If it's your passion go for it. Take all the classes you can take but go for it. The journey is way better than the result."
Who's a better kisser, Richard Dean Anderson or Mitch Pileggi?
"Rick and I…our kisses are like wine. We age well. Mitch and I was just this sort of raw passion…I hadn't seen Mitch since we shot the X-Files and then he was on the set of Atlantis when I was shooting. I ran over to the stage on a quick break and he was sitting in his chair on the ship and he was like, 'hey last time I saw you, you were naked!' The whole crew did a double take."