Hello, The Vampire Diaries fans!

Season two starts right where we were left in season one finale, Catherine Pierce (Nina Dobrev) pretended to be Elena Gilbert also portrayed by Nina Dobrev who attacked Uncle John (David Anders). Did you guys love that scene as much as I did?
For a moment, I really thought he would die right then and there. I really wished that it had happened! Later on we learned that he would play an even more important role in the coming episodes.
Before continuing my look back to the magic of season two, we include an interview with Nina Dobrev from the Jimmy Fallon show for your enjoyment.
We can summarize season two in three parts, the first one is about Katherine's arrival when we were presented with Mason Lockwood (Taylor Kinney). We learned more about the werewolves' mythology in the show as part two. We also learned about the curse which made Vampires enemies to the sun and Werewolves slaves to the moon. In the third part of the season, we saw our friends fight to save Elena from the dreaded curse.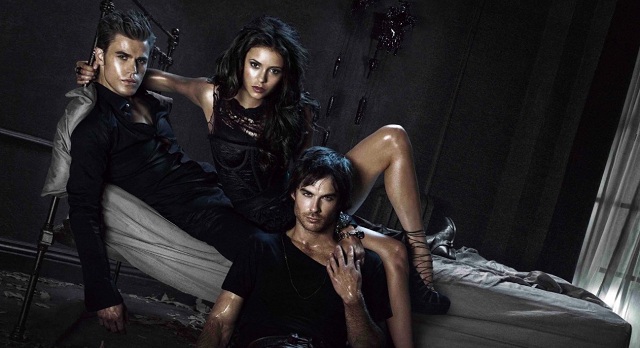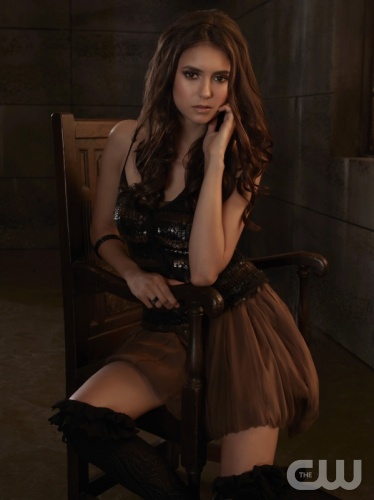 We soon began knowing that these two were working together to get hold of the moonstone, also, they were not only working together, they were having an affair, Katherine was using the guy to find the moonstone, she had a long story with the Lockwoods, we would find out way more about her and the family as the series went on.
At this moment, we may have wondered "alright, Katherine and Mason were together looking for the moonstone". WHY? Simple, we know quite well that if Vampires go out during daylight, they would burn on fire, right? We also learned that the werewolves were under a curse too.
These supernatural beings are related to the moon, whenever there is a full moon, they are forced to turn into a werewolf, they cannot fight it, it just happens, in an extremely painful way, we could feel the pain while we watched Tyler Lockwood (Michael Trevino) turn into one while Caroline Forbes (Candice Accola) helped him deal with that.
This whole dynamic was incredible, in my point of view, seeing how the story developed, from Catherine's and Mason's arrival, Caroline was turned into a Vampire by Catherine, which was one of my favorite parts of the season, she was a bit wild and reckless in the beginning, but soon she got on track as Stefan Salvatore (Paul Wesley) helped her cope with every change she would have to go through to the point to fully understood the curse.
Remember I had said we could divide the season into three parts? So, the first part is when we saw all about Katherine's plan to get hold of the moonstone. She played hard with the brothers, killing as much human being as she could.
She had a witch and a werewolf working with her, and in the meantime, Caroline was turned into a Vampire, John Gilbert left town under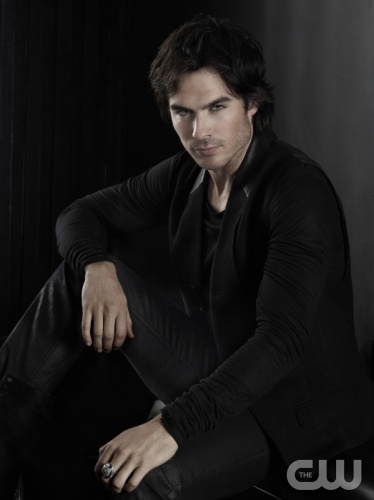 Stefan's thread, and the brothers had to deal with Kath teasing them about the love they had once felt for Kath and now, they feel for Elena.
Mason was the werewolf problem in the story so far. He got hold of the moonstone talks to silly Tyler to hand it to Katherine. The whole plan, we could guess up to that point is that they wanted to break the curse.
Was it not good to see where Katherine had hidden the moonstone? In a well full of verveined water and snakes, I could not hold the scream. While Elena helped Stefan altogether with Caroline Forbes and Bonnie Bennett (Kat Graham), Damon Salvatore (Ian Somerhalder) was torturing Mason is a very good scene. It was so damn well played by Taylor Kinney and Ian Sommerhalder. Even better than that, was watching Damon killing Mason with all torture equipment and the talking between them to the moment Damon ripped his heart out.
It was during the masquerade dance where all of her plans had its apex, we saw the gorgeous which who was working for Kath set a spell on both Kath and Elena, as our friend's plans were put in action. They had Katherine locked by a spell in a room where they planned to kill her, but who said life was easy? As soon as they started to stab her, all injuries were also afflicting Elena.
The situation was as follows, if they had killed Catherine, Elena would have died too, smart plan right? What there was no way she would know, is that her witch and our witch, Bonnie Benet were related, the same bloodline. How amazing, I ask you all. Here came Bonnie to solve all our problems.
They cast a spell in the moonstone and gave it to Catherine, who fainted breathless to my shock. That was when Lucy (Natashia Williams), Catherine's witch, said that she was not working for her anymore and our friends finally trapped her in that thumb, where she was meant to be. I do not think she was meant to be there, it was safer anyways.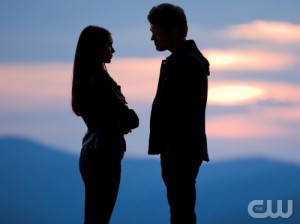 The whole plan Catherine had worked on this whole time was to get the moonstone, get Elena and deliver them to Klaus (Joseph Morgan), in the hopes he would be merciful to her, for what happened in her past, she was looking to a way to be free from Klaus, and she would kill anybody to achieve that plan, which was also Rose's (Lauren Cohan) and Trevor's (Trent Ford) plan, everybody wanted to make peace with Klaus.
Once she was locked in the thumb, her plans were over, but what happened in the past? That's was the principal question of the moment. Katherine was Elena in the past, the doppelganger Klaus was after for centuries, so he would be able to break the curse. Another question we had, what has Klaus to do with the curse?
The thing is that the curse had nothing to do with Vampires being enemy to the sun and werewolves slaves to the moon. The curse was placed on Klaus only. We learned that from Elijah (Daniel Gilles), who was also trying to use Elena to get at his brother, Klaus. Their family was very old and they had problems with a werewolf family, that's the beginning of everything.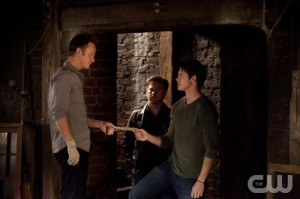 We found out that Klaus was son of a werewolf and later was turned to a Vampire, which made him both supernatural creatures. His mother was aware of that and had a spell cast on him, so his werewolf gene would be dormant. The whole thing about Klaus is that he wanted freedom, so to get rid of this spell, he had to get hold of the moonstone, the doppelganger and a werewolf.
When he had finally found the doppelganger, Katerina Petrova, 500 years in the past, back in Bulgaria, he was very close to break it, however, to save herself, she turned herself into a Vampire with Trevor's blood, which led Klaus to madness, killing her entire family. Katherine knew she could not run from Klaus forever, so we understood her plan by then.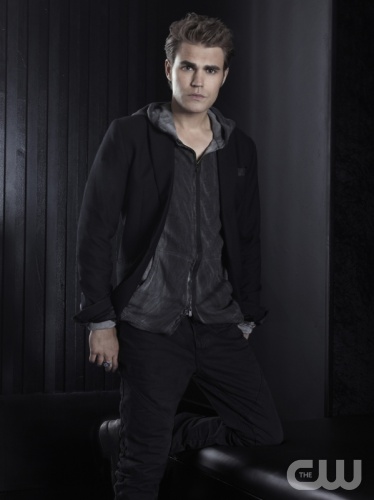 The second part in this season I mentioned in the beginning of my review is also very interesting, it was about the werewolf mythology and we could have a better insight into it, as we watched Tyler's transformation after killing a girl by accident during the Masquerade dance. In my opinion, it was great to see the development of Tyler and Caroline's romance, and forget about Matt Donovan (Zach Roerig), the poor guy is always left by his girlfriends for a way better looking man.
Caroline stood for him during all that time, despite the fact that he was becoming a dangerous "animal" and the fact that his bite was deadly dangerous to Caroline, a Vampire by then.
There was also a friend of Mason's in town, looking for him, ending up finding Tyler. Jules (Michaela McManus) in the werewolf shape bit Rose and killed her; the same fate was going to happen to Damon as Tyler bit him in the woods. This woman was definitely trouble, she also tried to use Elena to break the curse, as she believed would set her free from the full moon by using Tyler to get to Elena and Jules and her friends got close too, but again it failed.
The whole season was like this, lots of moments "what now?" and lots of twists and drove us all crazy. A good thing about Jules is that she ended up dead by the last episodes of the season; no one who kills a Lauren Cohan's character deserves a happy ending. No matter what television show we are talking about.
After all our characters have been through, we reached to the point where beating Klaus is the only option, the other one is not very good, which would be death of our loved characters, so that's Elijah's plan. Use Elena, like everyone else wanted to kill Klaus, the only way to get everyone on earth to safety. The only problem is that Elena would have to "die".
We could see through Damon's reaction that he really cares about people and loves Elena, well, it was kind of selfish, anyways, Damon,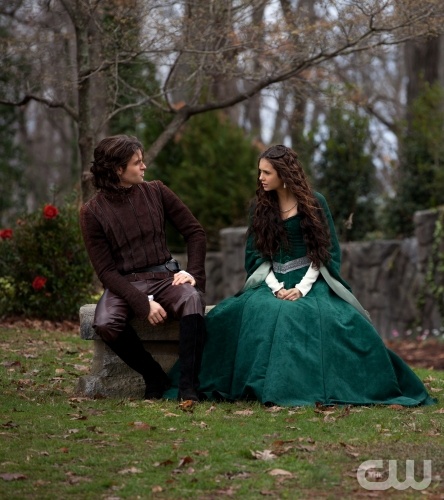 knowing that Elijah had a plan to get Elena Killed and then bring her back to life by using some sort of juju gave her his blood, so if Klaus killed her while breaking the curse, she would come back to life, like a Vampire. That is correct, but she would still be alive.
So, dear friends, how to kill an original "founder"? The tough job has to be done by a powerful witch, I mean; this witch has to get the power from a special place. This special place is a location where great quantity of witches was killed, on fire, for example. The manifestation of their powers remains in these place, and a witch could get this power. That is exactly what Bonnie did, this way becoming the most powerful weapon against Klaus.
There was a problem with all this power, if she uses it to kill an original founder, she would die, so Bonnie and Damon had an agreement to mislead Klaus, this way he, in the form of Alaric Saltzman (Matt Davis), would think he caused Bonnie super powerful witch's death, that was when Elena decided she would do it Elijah's way, she had the dagger out of his heart, bringing him to life.
Meanwhile, Isobel Flemming (Mia Kirshner) happened, Elena's mother came to town in order to protect Elena, and as a means to fulfill that, she pretended she was by Katherine's side, by the way her descendant. So, for a change, Katherine was used this time. Isobel offered Elena a safe house in her name where no vampire would be able to get in, he had Katherine to kidnap Elena and she herself kidnapped Alaric, after a lovely speech.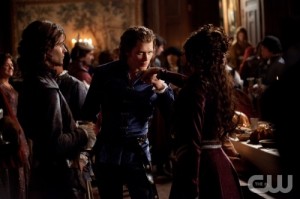 Let us go straight to the point here, Isobel's plan was Klaus' plan. She was compelled to do those things, get Katherine and Alaric and deliver them to Klaus, and finally we could see mother and daughter talking about their relationship, which was heartbreaking. I felt so sorry for Isobel, she really loved her daughter and then, after a conversation with Maddox (Gino Anthony Pesi) on the phone, he released her from her duties to have her taken the lapis lazuli necklace out and burn on fire in front of Elena, crying, what a touching scene, Miss Mia Kirshner. I love You!
Klaus was inside Alaric? That was very smart, it meant that he could leave and go wherever he wanted, no need to be invited. He used it to haunt Elena and she would never know it, really smart plan!
As soon as he got rid of Alaric, he start setting his major plan in motion, Elena was already convinced to surrender to save everybody else, as she had Damon's blood in her system problem solved by Bonnie, who had another spell cast on both Elena and John so his life would pass on to her, she would survive.
Klaus also had Caroline and Tyler kidnapped too, but as soon As Damon heard about it, he saved them and that was when Tyler bit him.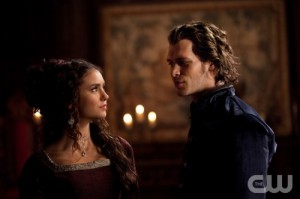 Apparently, Klaus plan was also frustrated, right? Aha, no! Klaus is way smarter than everybody in town, as he said: when you spend a thousand years trying to break a curse, it is always important to have a backup plan!
And what a cruel plan B that was, he had kidnapped Jenna, Jenna Sommers (Sara Canning), who was turned into a Vampire, to Elena's sorrow, and also Jules, the bloody werewolf. There was nothing Damon or Stefan could do, it was over, apparently.
Things take a sudden twist it amazes me, not bad enough to have lost her adoptive parents, Elena also lost her biological parents and now her aunt, Jenna had her Vampire heart ripped out, as had Jules to conclude the act sucking all of Elena's blood out of her body, right in front of Stefan's eyes by the way.
That's when Elijah, Bonnie and Damon arrived to save the day, or sort of, as the curse was broken, Klaus was transforming, as he had the werewolf gene released. As Elijah predicted, he was weak, and there was a weakness on Elijah we didn't know, his family. Klaus had his family and if Klaus died, Elijah would never see his family again, so they flew out of the field before Bonnie could do something, to my despair.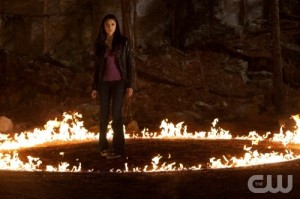 That was my favorite sequence from the show of all seasons, super powerful Bonnie beating Klaus up, the fire had such a great effect too, and Klaus, crawling away from her. It was a perfect scene played by Katerina Graham and Joseph Morgan.
As we reach to the finale, we get to know what's wrong with Damon; he was dying from the early Tyler's bite, which he revealed to Stefan during Jenna's funeral, an extremely sad scene, while she read John's letter, which was even sadder. Who could avoid crying while Nina Dobrev cried her heart out?
In the final episode, we had the characters trying hard to save Damon, who tried to commit suicide. Stefan was desperate to save his brother from the fatal werewolf bite, which at first seemed to be impossible and while he is in the quest for a cure, Damon hallucinated with Katherine as he saw Elena and almost killed her.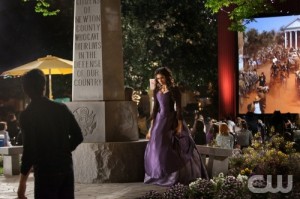 After some time, Stefan found out that the cure was nothing but Klaus blood, which seemed to be a terrible joke. What price would we pay for the ones we love? What would we do to save them? Stefan had to surrender to human blood in exchange for Klaus blood, the cure for a werewolf bite, as he is both, it was the hell of a scene, do you not think so also?
Paul Wesley did a great job, it was so truthful, he had become a ripper, once more, Klaus is the ripper puppy.
I hope you enjoyed my season two overview of "The Curse of the Doppleganger". See you soon for more of my reviews and analysis of The Vampire Diaries in season three!
In the meantime we include a fun interview with Candice Accola courtesy of TV Guide via Hulu for your enjoyment!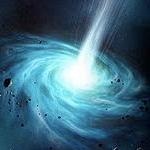 As always, we appreciate you visiting the WormholeRiders News Agency!
Feel free to share this article by clicking the social media icons below. You can visit the WHR on Facebook or me on Twitter by clicking the text links or images avatars here. In any event, the Wormhole Riders will look forward to Seeing You on The Other Side on Twitter to tweet about The Vampire Diaries!
Thanks for reading!