Welcome back Continuum wormhole time travelers!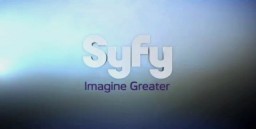 Continuum is, without a doubt, a well produced, superbly directed science fiction drama program with an outstanding veteran cast that we waited a very long to see, legally I might add, on Syfy.
Feature music adult language redacted: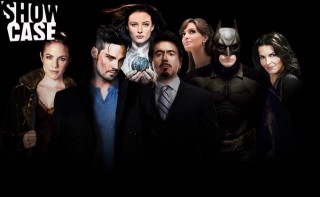 After a successful run on Showcase Canada in 2012, Continuum has been a real pleasure to watch each Monday evening on Syfy!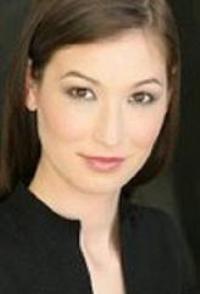 Especially after we learned more when we chatted with series star Jennifer Spence, who graced us with an exclusive interview on our You Decide radio show before Continuum began to air in the United States on Syfy.
Even more fun, the cast and creators of this great series are deeply involved on social media featuring "Continuum Twitter Parties" every week during their well received run in the United States!
We applaud the Continuum Twitter Team for rocking social media with fun tweets and cool question and answer sessions each week!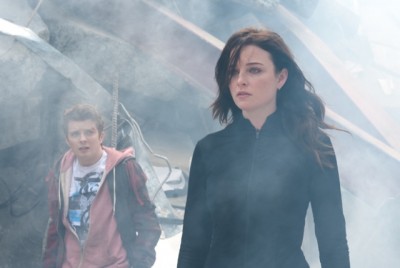 Hence, the selection of our featured video Continuum re-mixed song "Blankest Year" by the great band NadaSurf.

Although not featured in the episode, the name of the song, "Blankest Year", references to time, discussion of "life turned in to a television (TV) show", the "I'm gonna have a party" theme in the song, made me think of Kiera (Rachel Nichols) beginning her "blank year" trapped in the past.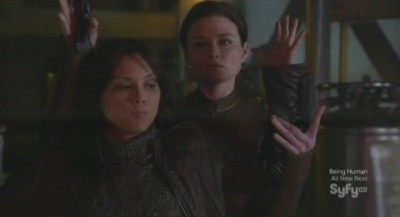 Stranded in 2012 away from her future life in 2077, Kiera has had to say "F__k it" too, to "party" in present time to stop "Liber8" and investigate her predicament in Vancouver. "Blankest Year" also has personal significance for this reviewer as discussed below.
The "Blankest Year" is a melody most appropriate for the absolute glee expressed on Twitter by the Continuum Series cast. Now filming their second season, each takes time tweeting, sharing their second season excitement with their fans in the "Twitter Parties". Well done Continuum Team, well done!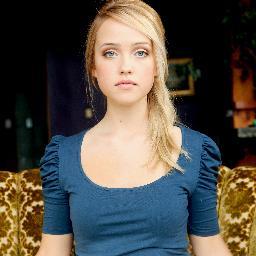 The idea for this featured music news video came by way of another fantastic NadaSurf hit "Beautiful Beat" which was brought to my attention via a reminder by a rising and talented Canadian actress, Siobhan Williams (pictured right). Ms. Williams is a guest star of the new hit television series, Motive, coming to the United States on the ABC Network this summer. Thanks Siobhan!
Although Continuum was heavily pirated world-wide, thankfully Syfy elected to air this great science fiction series to the delight of science fiction admirers across the United States, including this reviewer. Ratings have been strong with an announcement that Continuum season two will be featured on Syfy!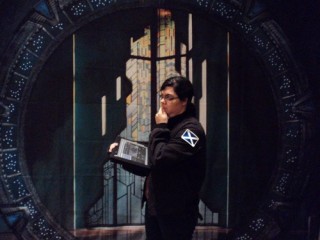 Although we tweet our own hearts while watching each Monday on Syfy, our review coverage of this superb series has lagged due to ripple effects in time from personal circumstances.
Here at WormholeRiders, we will rectify that situation before the series season one finale on Syfy Monday March 18, 2013 by catching up on all outstanding reviews in this coming week.
Wish us luck and stand by, Nayari09 (Pam) and I are going to have a Continuum analysis party with you the fans all during this coming week!
Fast Times: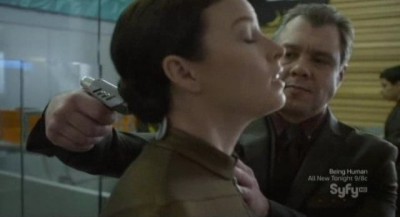 Excellently written by Jeff King and fabulously directed by Jon Cassar, in a series created by Simon Davis Barry, the fantastic "Fast Times" episode begins with a flashback sequence of series heroine Kiera Cameron (Rachel Nichols) recalling her first day of training as an agent of Vancouver City Protective Services (CPS) in the eighth decade of the twenty-first century.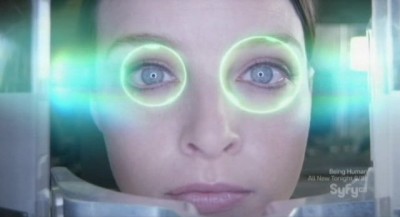 Kiera is observed being implanted with a neural device called "Cellular Memory Recall" (CMR), a liquid computing device invented by young Alec Sadler (Erik Knudsen) in our time period.
The viewing audience is then treated to a superb visual effect sequence by award winning Adam Stern's VFX team of Kiera's Head's Up Display (HUD) when she is connected to the network.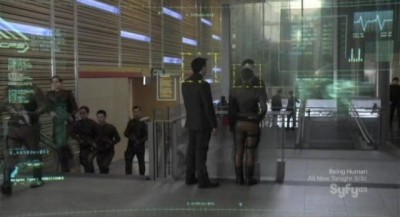 The CMR technology connects Kiera to the computer network of the CPS law enforcement in the year 2077.
Fortunately for our visitor from the future, the 2012 version of Alec already has his invention setup in the barn of his home connecting via cellular network with Kiera when she attempts to contact CPS of 2077 in the pilot episode. Did I say the "2012 version of Alec?" Yep! Get to that detail in a minute.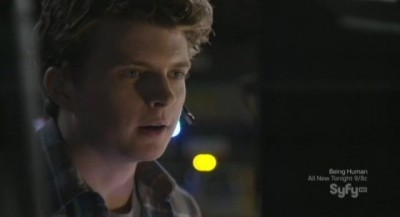 The entire premise of Continuum is delightful in this editors opinion.
Any why the heck not!? A program with time travel, wormholes, cool computer networks, with advanced technology not too far removed from what the viewer is accustomed to in the second decade of the twenty-first century. These make the story arc of Continuum not only believable, but quite enjoyable!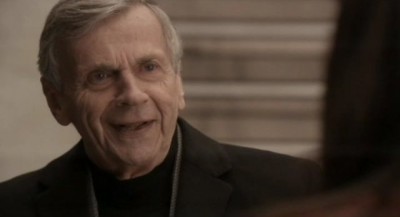 Subsequently, Kiera reluctantly reveals to Alec that she is from the future where his technology is dominant. Alec agrees to help Kiera during her time in 2012.
Neither Alec nor Kiera realize at this juncture in the series time that he is the very same Alec from 2077.
An elder version of Alec, portrayed by veteran character actor William B. Davis was revealed as a major suspected villain in the series during the pilot episode.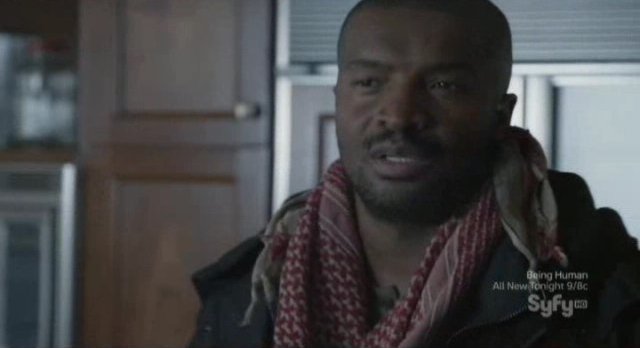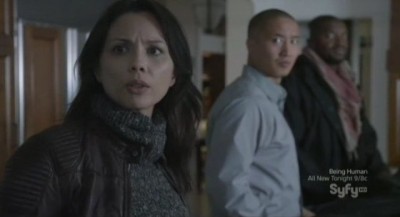 Meanwhile our Liber8 terrorists are meeting at their current hideout after obtaining weapons in the pilot episode. Under the leadership of Travis Berta (Roger Cross) and his lover, ruthless killer Sonya Valentine (Lexa Doig), vicious Curtis Chen (Terry Chen), maniacal Jasmine Garza (Luvia Petersen) the Liber8 2012 team plans to return to the original target year they missed arriving at when first transported through a wormhole from the year 2077.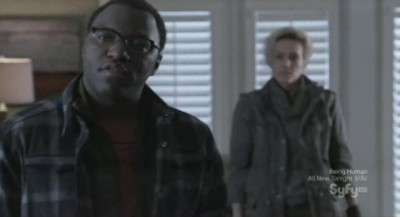 Liber8 Team 2012 with technical assistance from Lucas Ingram (Omari Newton) seeks to determine, among other things, why their leader Edouard Kagame (Tony Amendola) did not arrive with them in 2012.
Speaking of Kagame, he is the author of the "Liber8 Manifesto". Kagame who did not arrive in 2012 with them, has left a vacuum in the terrorist organizations leadership.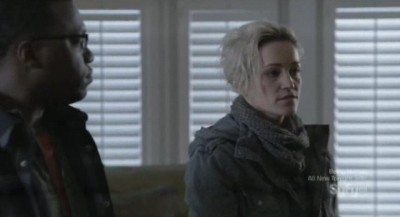 Liber8 Team 2012 suspects Kagame jumped to the correct time period. Their current plan is to join him to complete the tampering with time for their malcontent terrorist purposes to change all history to implement Kagame's "Manifesto". Is Kagame waiting for them at the original destination in time? At this point, no one knows exactly where Kagame is.

Kiera had managed to assume the identity of a Portland Oregon police officer named Linda Williams (Tonya Lee Albers) after using her enhanced technology implants to zoom in on her badge in the pilot. The cover story was a spur of the moment decision on Kiera's part. This decision will turn out to be a bad choice for our erstwhile time traveler as she will soon find out!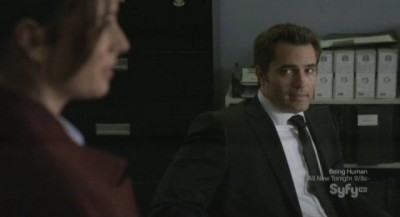 Kiera meets up with her new partner Carlos Fonnegra (Victor Webster) before they head out to the memorial service of the slain Vancouver Police Department members killed by Liber8 in the pilot episode.
The terrorists have a dastardly plan to obtain technology in 2012 by kidnapping and holding hostage a nuclear scientist, Doctor Simon Fraser (John Inness) who has been experimenting with temporal mechanics in his particle accelerator laboratory at a local university.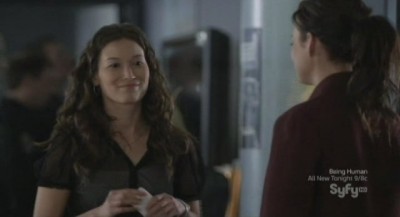 Suspicious of Kiera's fabricated and flimsy cover story story as well as her surprise appearance at the scene of the crimes in the pilot episode, Inspector Dillion (Brian Markinson) holds a meeting in his office.
Dillon has enlisted the aid of his faithful Vancouver Police Department computer genius, Detective Betty Robertson (Jennifer Spence) to verify if Kiera's cover story is the truth or not.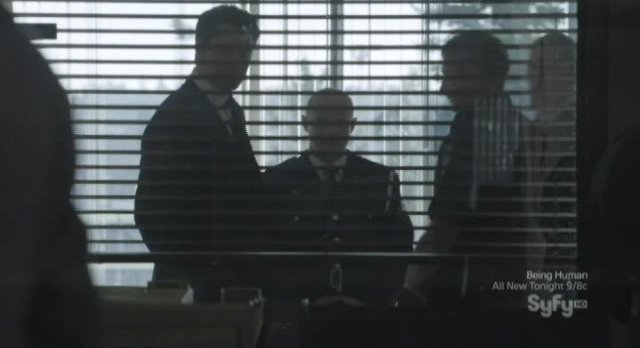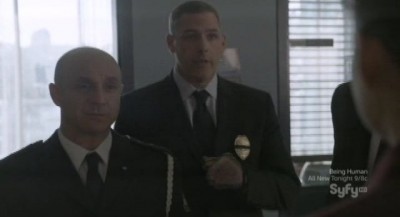 Low and behold, two real officers from the Portland Police Department arrive at the Vancouver Police station attesting to the fact that Kiera is not Detective Linda Williams! Kiera is exposed as a fraud and is taken into custody by Carlos. Kiera' quickly alerts Alec to her plight via her CMR.
One member of Liber8 transported through time to 2012, Matthew Kellog (Stephen Lobo) argues with Travis and his lover Sonya. Kellog believes they should stay in 2012 to manipulate the future for their own personal aggrandizement.
Segue ba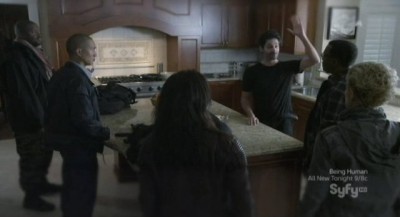 ck to Liber8 Team 2012 where a vote has been called, since Liber8 is a "Democratic" group of terrorists. Yeah right!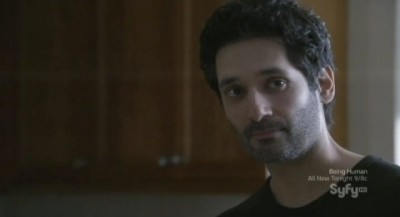 Kellog is left behind as Liber8 Team 2012 continues to execute their mission to escape the year 2012.
We are left at this point to wonder just what will become of this particular troublemaker? 
Meanwhile, our persistent Liber8 group has secured the temporal device while seeking Doctor Fraser.
The group is well underway planning to activate the temporal device. Lucas Ingram (Omari Newton), resident technical genius, has successfully hacked into and connected to the Vancouver's electrical grid in order to provide sufficient power to jump forward in time to their intended original destination. Or so he thinks!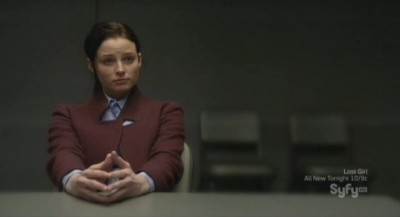 In an interrogation room, Carlos questions Kiera about what the heck is going on?
Alec quickly feeds Kiera answers via CMR while manipulating the government computer records keeping system to reinforce her "new" mission as an undercover federal operative, part of a group known as "Section Six", apparently an analog to the United Kingdom's famed "MI-6 Secret Intelligence Service".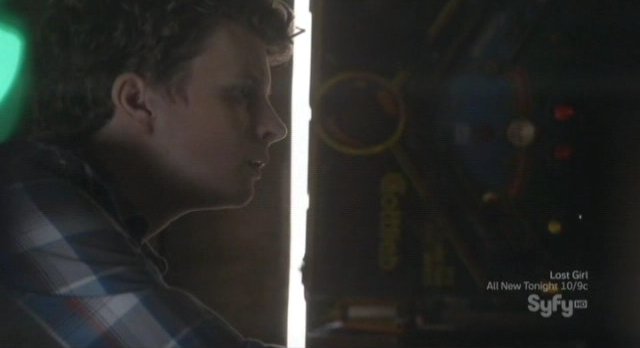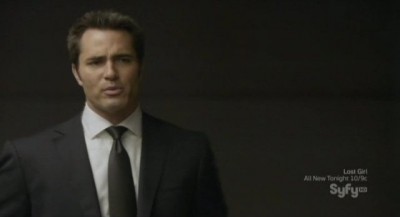 As Carlos presses her for information, Kiera works with Alec via CMR system. Later Kiera will track down Mrs. Fraser (P. Lynn Johnson) who will provide Kiera and Carlos with enough hints to convince Carlos she is in the level this time.
Carlos is conflicted because Kiera has been less than truthful by not revealing her true identity to him. Kiera saved his life in a firefight with Liber8 just days before. Carlos wants to believe Kiera, but is not sure he can trust her as a law enforcement partner.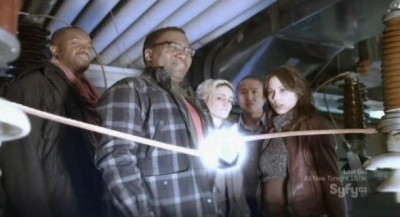 The Liber8 2012 Team arrives at the local power station to prepare to energize the temporal device. Naturally, a number of innocent people are killed in the process. Liber8 has no remorse for how many they leave dead, dedicated only to fulfilling their mission, believing that it does not matter when they arrive at the correct era.
At this point, we must ponder a temporal question with regard to Continuum the series. Will not the act of killing the police officers and innocent civilians affect future time creating ripples, changes and perhaps even paradoxes in the future? Has Kiera's and Liber8's future in 2077 already been altered irrevocably? Has the original destination they sought also been changed?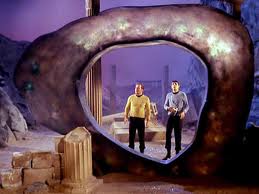 Or is it as one theory of temporal mechanics hypothecates; Does time simply flow around such incidents, filling in the disturbances caused by the elimination of some people?
Some believe that "what already happened" has occurred, and that circumstance made the future, in this case 2077 what is was in the first place, unchangeable. Others believe that time is more than fluid and alternate realities are the ultimate outcome.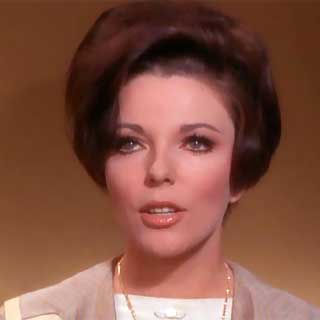 This editor subscribes to the "currents and eddies" theory of time flow first made famous in the episode of Star Trek known as "The City on the Edge of Forever" (1967) where anything is possible with alternate realities existing.
Therefore, under that theory, only drastic alterations, like the missed death in 1930 of a key person from history such as Edith Keeler in Star Trek The City on the Edge of Forever, would permanently scar or cause change in all future  history.
In Continuum, only "time will tell" (pun intended) in the series as to which will become manifest in the story arc.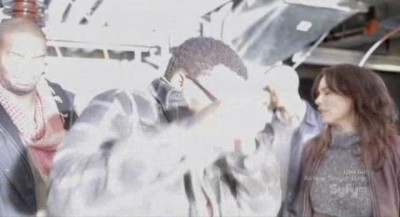 We segue back to the antics of Liber8 at the make shift power station laboratory. Technical genius Lucas completes connecting the city electrical system for the power required to energize their temporal jump device they are attempting to activate.
Bang! Lucas completes the power tap, the result is that power to half of Vancouver goes out in the city. Jasmine Garza (Luvia Petersen) and Sonya appear like they want to kill someone, but then they always look that way! Lucas is not so sure saying they need Professor Fraser to make adjustments to the temporal device at the last minute, and much more power!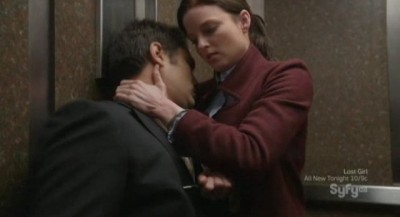 Back at Vancouver Police Headquarters, Carlos is escorting Kiera to the processing section for an official arrest. Suddenly, their elevator stops between floors as the power outage strikes the police station.
Kiera uses the opportunity to trick Carlos in the elevator. Her purpose is to track down the Liber8 terrorists after using her battle suit to stun him. During the power outage, Carlos is handcuffed inside the elevator by Kiera.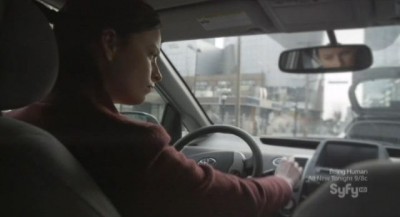 Alec feeds Kiera video surveillance from the power station where Liber8 2012 has set up shop. Kiera, regretting she had to knock Carlos out, makes an escape from Vancouver Police Headquarters in a humorous sequence when she steals a car with Alec's help.
Kiera heads to the power station converted to a temporal experimental laboratory thanks to technical wizard Lucas.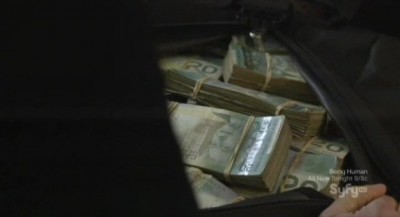 While Kiera stalks the premises armed to the teeth to stop Liber8, ever greedy Kellog is armed with future knowledge of financial events having visited an investment banker with a duffel bag full of cash!
It is quite obvious that Matthew Kellog is an opportunist planning a comfy and lavish lifestyle leveraging his knowledge of the future to become a very rich man in 2012. Can anyone say "Biff Tannen?"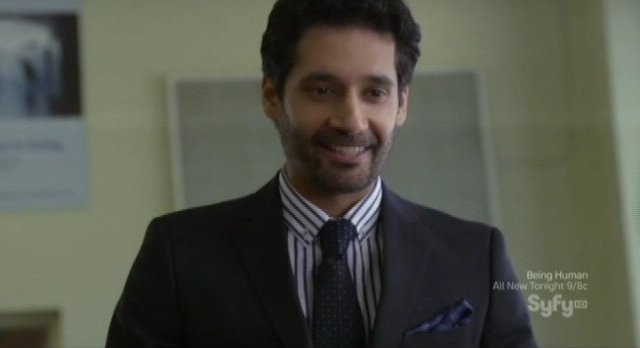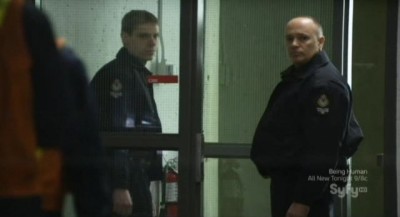 Kiera arrives at the power station determining that the members of Liber8 had been responsible for the power outage by hacking the power grid and deaths.
Kiera does not have much time as nearby officers have been altered to an "All Points Bulletin" seeking her arrest after earlier stunning and handcuffing Carlos to the elevator hand rail!
Following the clues from her earlier revelations, the power station turned time travel portal power nexus has been overrun with police and SWAT officers.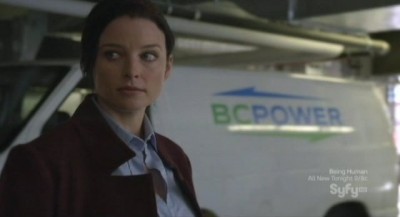 Kiera is observed sneaking around the power station while Alec confirms via CMR the identity of Professor Fraser.
Professor Fraser is a fusion energy specialist, just what the Liber8 2012 Team needs to complete their time travel mission to escape the present and go back to the future!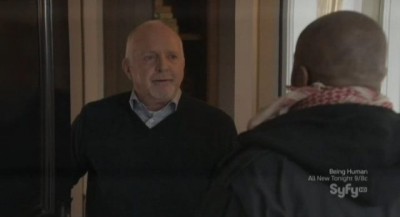 The pieces of the time travel puzzle quickly come together as to why Professor Fraser was the specific person the Liber8 2012 Team seeks him to help assist them with their time jump via the temporal device.
Travis decides to pay Professor Fraser a visit, and of course kidnaps him in the process!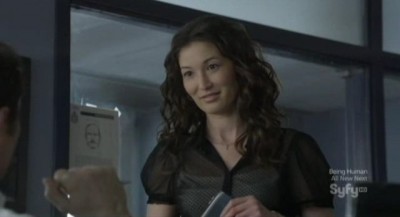 Back at the precinct, Betty Robertson of the Vancouver Police Department, resident computer guru and able detective, is much closer to finding out who is behind Kiera's assumed identity as a Portland Police detective. Carlos, now freed from the elevator and handcuffs, asks Betty to dig as deep as she can to find out everything she possibly can about Kiera.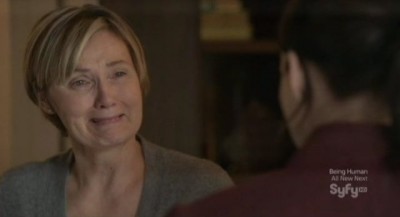 Kiera tracks down and confronts Professor Fraser's wife portrayed by veteran actress P. Lynn Johnson.
Mrs. Fraser is scared out of her wits for her missing husband. Of course, our Liber8 terrorists have kidnapped the good professor, taking him to the local university where the doctor has his nuclear linear accelerator needed to activate the temporal device.
Kiera is mindful that she will likely need physical help, if not rescue, since she is greatly outnumbered by the Liber8 2012 Team, even with her tactical advantage of Alec and her battle suit.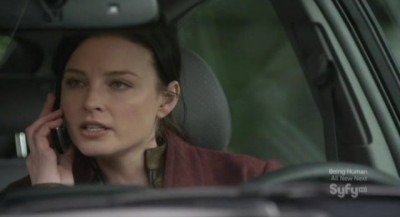 As Kiera heads over to the university, she leaves tell-tale trail of breadcrumbs for Carlos to follow by calling him from Professor Fraser's wife's cell phone that she has appropriated for that purpose.
Carlos quickly tracks Mrs. Fraser's cell phone signal in order to ascertain Kiera's ultimate destination, the university nuclear linear accelerator.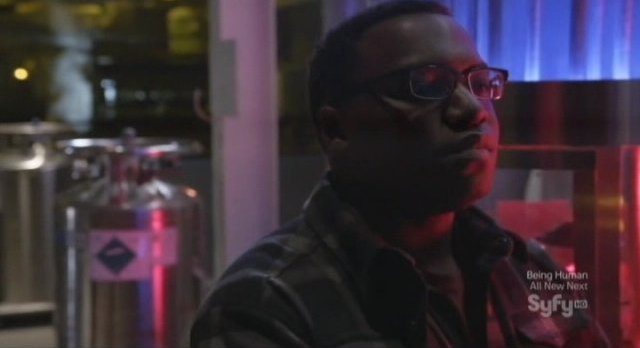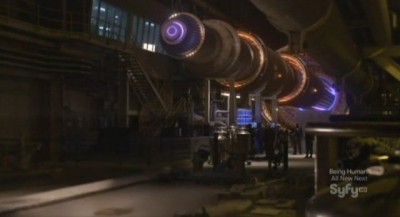 At the university nuclear laboratory, geeky Lucas prepares to activate the impressive linear accelerator to power the temporal device. Kiera arrives while in communication with Alec.
Kiera confesses to Alec that she plans to join the Liber8 2012 Team on their time jump mission, no matter where they are headed, hopefully to get back to her own family in the future.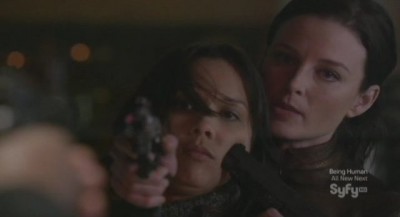 Kiera goes invisible utilizing her battle suit technology.
She sneaks up on Liber8 member Sonya Valentine, no easy task since this little minx terrorist is a handful to say the least. Travis makes a deal that they will release Frasier in exchange for his lover Sonya Valentine. Kiera agrees, releasing Sonya.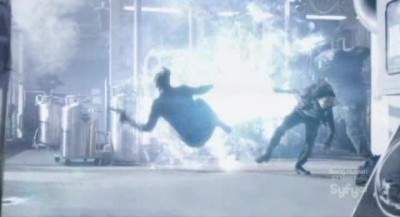 Something goes horribly wrong when the temporal device powers up and Lucas enters final time jump calculations to activate the wormhole in time.
Just before the expected time jump is supposed to happen, Kiera is observed daydreaming about being back with her family in the future if all goes well with the time jump.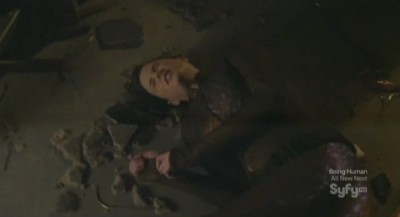 Instead of sending them all back to the future, the device explodes! Each member of the closely clustered group is hurled back in all directions, including Kiera who is thrown to the ground. The time jump has failed, everyone is still trapped in 2012!
Vancouver Police and SWAT teams converge on the university laboratory.  As a firefight ensues covering their escape, Lucas recovers all but one of the exploded temporal device fragments. As she had planned, after a firefight with Liber8, Kiera surrenders.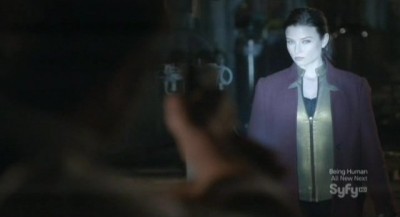 Kiera is arrested after being spotted by Carlos who has her dead to rights in his gun sights.
Kiera is handcuffed, booked and processed back at Vancouver Police Headquarters.
Although she has saved the Professor as well as thwarted the Liber8 plot, Kiera is heartbroken she did not get back to her family, beloved son Sam (Sean Michael Kyer) and husband Greg (John Reardon) in the year 2077.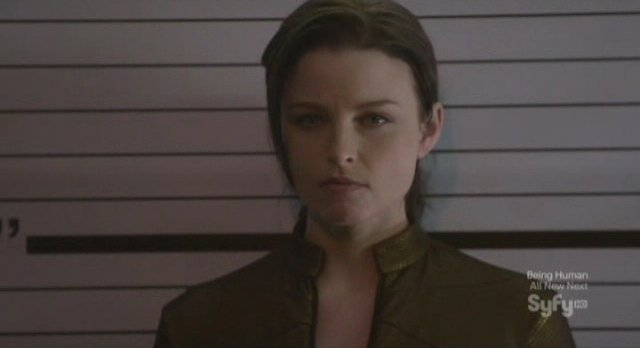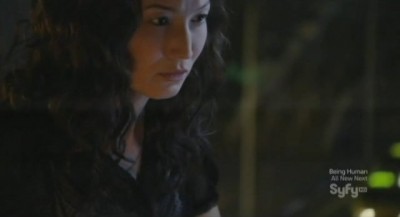 As the episode draws to a conclusion, Betty Robertson is frustrated in her attempts to expose Kiera's true identity.
It seems that Alec was successful in hacking the government database! By fabricating a deep cover for Kiera, the so-called "Section Six" federal security clearance level, our heroine's secrets are safe from discovery in 2012 for the time being.
Betty, a good cop, follows protocol notifying Dillon and Carlos that Kiera is apparently a deep undercover federal anti-terrorist operative.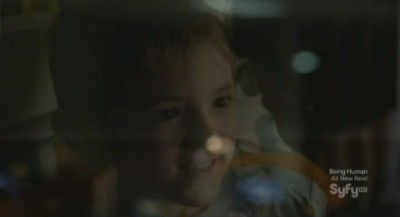 Kiera is released from custody and re-integrated into the department when Inspector Dillon creates a secret task force for the pursuit of the Liber8 members.
We observe Kiera at a desk thinking only of her son Sam. She is completely worn out by the events of the last twenty-four hours!

Subsequent to inviting Kiera to join the team, Carlos and Kiera are observed chatting. Carlos, although suspicious because Kiera did not reveal her identity, asks Kiera if she would like a ride "home?"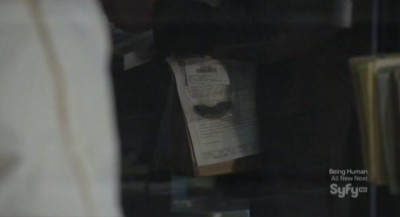 Kiera says no she wants to "catch up on some research". The real reason is that Kiera has spotted the temporal device time jump fragment in a plastic evidence bag.
As our time travel heroine heads back to her hotel apartment after an exhausting and frankly disappointing day, Kiera, in her own mind deals with the reality of the situation. Kiera is absolutely terrified that she may never see her family in the future era of 2077 ever again!
My grade for this series is a straight "A". Brilliant writing, acting, direction, costuming, location shooting, visual effects, and story arc make Continuum a block buster of a science fiction drama series! Bravo!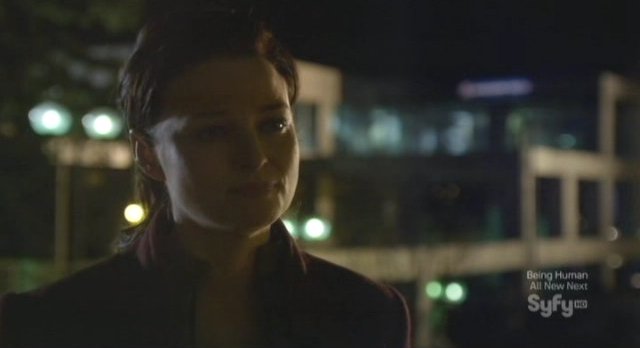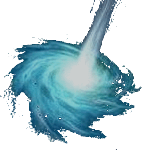 Thank you for reading and visiting WormholeRiders News Agency.
Please feel free to leave a comment here or if you prefer, click the social media icons below to share this news article.
Or as many of our readers and visitors often do, visit WHR on Twitter, WHR on Facebook or visit me on Twitter by clicking the text links or images avatars in this news story. I and Team WHR look forward to Seeing You on The Other Side"!
Thank you.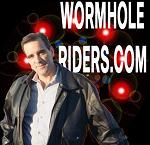 Best Regards,
Kenn