Welcome back WormholeRiders dedicated to seeking Dark Matter!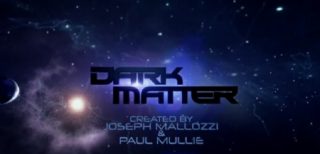 Major congratulations and kudos to Joseph Mallozzi, the cast, the crews and everyone involved with the hit science fiction drama series on their season three renewal by Syfy that is the SH*T and is BANANAS as far as #TeamWHR is concerned!

Over and above the talented main cast, kudos also for bringing three of science fiction admirers greatest contributors and outright legends together in a great Dark Matter episode, "Going Out Fighting"!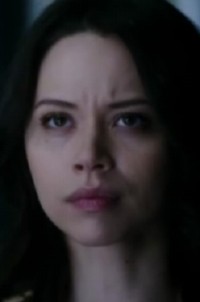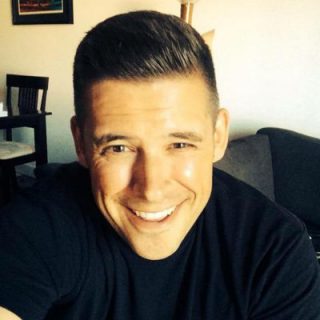 The first individual is Ivon Bartok who wrote an enchanting episode that delves further into the back story of Two (Melissa O'Neill) and her synthetically created life which is dependent on Nanites for survival.
Bartok, a legend in the Stargate world, having worked on all three series as well as special Stargate productions for MGM Studios production facilities at Bridge Studios Vancouver, did an outstanding job for his second screen writing endeavor. Thia in addition to his current duties as Supervising Producer of Dark Matter. We look forward to more screen writing from Mr. Bartok in the future!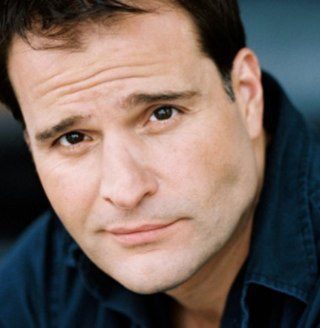 The second legend of entertainment is Director Peter DeLuise, well known for his work on all three Stargate franchises, and Sanctuary series. DeLuise has been more recently praised for his Directing work on Hallmark Channels hit series Cedar Cove, When Calls the Heart and the fabulous new series Chesapeake Shores!
An admirer of Peter DeLuise since his acting role as Dagwood in Seaquest 2032 (1994), a character name he reprised in 2002 Stargate SG-1 role as  Lieutenant Dagwood in an episode named "Descent"! Many fans also recall, with fond memories, his "Director" role in the campy Stargate SG-1 episode "Wormhole X-Treme"! DeLuise performed a superb job as Director in "Going Out Fighting", and we here at Team WHR look forward to more from this talented person!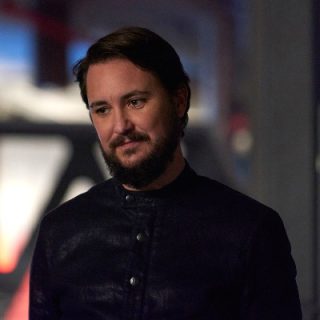 Third, and certainly a huge presence on our screens for well over a quarter of a century, is Wil Wheaton! This editor fondly recalls one of his first roles in The Last Starfighter in 1984. From there Mr. Wheaton's career began a meteoric rise with featured roles in Highway to Heaven, St. Elsewhere, Family Ties and Toy Soldiers before accepting the role that made him an icon, that of Wesley Crusher in Star Trek: The Next Generation.
Wheaton remained active in the Star Trek franchise with a reprise of his Wesley Crusher character in Star Trek: Nemesis and a voice role as a Romulan in the 2009 return of Star Trek. Wheaton has been active in many series we have adored, including Eureka, and The Guild, and of course, The Big Bang Theory! Congratulations to Wil Wheaton who recently has landed a choice role in Powers series on the Starz Network.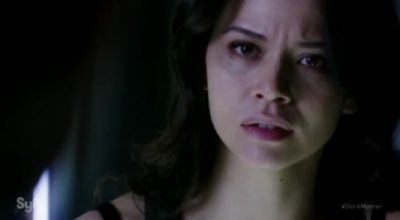 In Dark Matter, Wheaton has played a ruthless corporate villain named Alexander Rook, owner of Dwarf Star Technologies, a corrupt collection of elites that will do anything to increase their wealth and power in the galaxy, including making big trouble for our beloved fantastic female Two Boss (Melissa O'Neill)!.
We applaud Wil Wheaton for his role as miscreant Alexander Rook in "Going Out Fighting"! Moreover, we look forward to his reprisal of the smary, evil character that we love to hate in the twelfth episode, "Sometimes in Life You Don't Get to Choose"!
Bravo Wil Wheaton!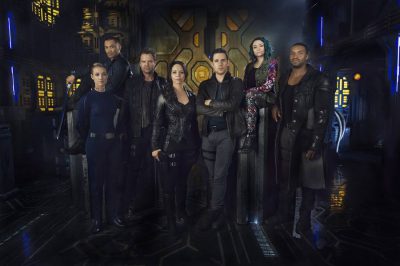 Naturally, it cannot go without saying that the main cast Dark Matter features so many gifted lead actors, all of whom have contributed to the success leading to a third season renewal of Dark Matter!
Each of these gifted actors are superb series stars (listed in numerical character order); Marc Bendavid (Jace Corso, now apparently deceased), Melissa O'Neil (Two / Portia Lin / "Rebecca"), Anthony Lemke (Three / Marcus Boone), Alex Mallari Jr. (Four / Ryo Tetsuda), Jodelle Ferland (Five / Das), and Roger R. Cross (Six / Griffin Jones).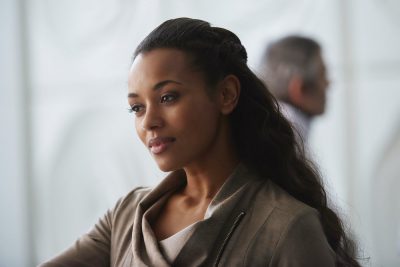 The seventh series lead is none other than the terrifically talented Zoie Palmer who portrays "The Android" and the addition of Melanie Liburd as Nyx is outstanding! All have become a well oiled entertainment dynamo under the guidance of Joseph Mallozzi!
Joseph Mallozzi and Paul Mullie, the brilliant creators of Dark Matter, have made history via the overall intensity of the series including the special effects, the Wormhole Blink Drive, and story arc have become a science fiction edifice on Friday nights that deserves many more seasons!
Now that Renew Dark Matter at Syfy, is a reality, let us all say thank you to Syfy!
Going Out Fighting: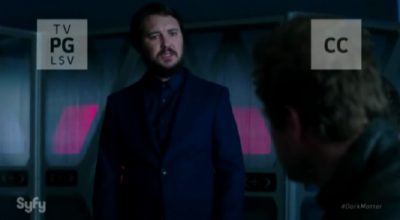 The episode opens after a brief reminder in previously seen on Dark Matter about Two having been created by crooked Alexander Rook at Dwarf Star Technologies on Earth. We are reminded that Rook is a vile human being, inside out!
Next we find ourselves viewing a romantic interlude having developed between two of our heroes, Four and Nyx.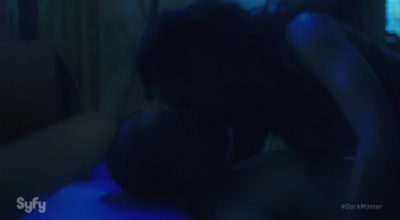 Lovemaking on screen are often tough scenes for actors. Both Alex Mallari Jr. and Melanie Liburd are convincing actors and do a fine job during these sequences.

After all, they are human beings in need of love and affection too!  The scene is replete with sexy music and steamy love making between two of the most kick ass characters in Dark Matter!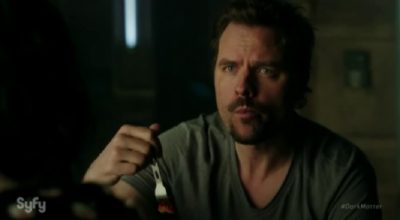 Next we observe Four and Nyx nonchalantly entering the dining room where Three and Five are sharing a meal.
Already agreeing to keep their love sessions a secret, both are observed being physically are stunned when Three states; "Wow, you too were really going at it last night", both Four and Nyx are in a state of panic that their lovers liaison passions have been overheard!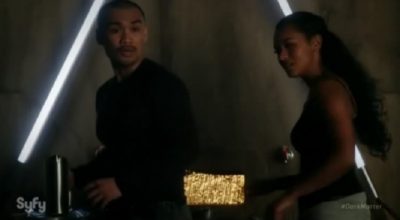 As it turns out, to the relief of our apparently guilty lovers, Three is only referring to their physical fitness sparing exercises in the gym the previous evening! Or does Three suspect they are lovers when he retorts "You guys moved up to grappling"? The look of discomfort can clearly be observed on Nyx and Four when Five, who also appears to suspect they are lovers says "Okay, I'm done" and quickly leaves the dining room!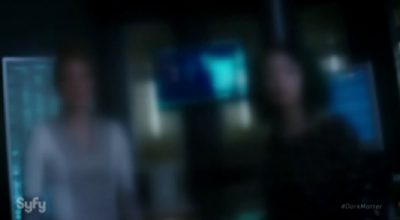 Five is then seen in the hallway outside Two's room and rings the buzzer. No answer! Five knows something is awry when she uses the comm system to call Two. Still no answer! Five enters the access code to find Two unconscious on the floor of her quarters.
Through blurry lens "eyes" Two wakes up in the infirmary with Five and The Android claiming "I'm fine". The Android informs Two that she is dying, that the nanites which sustain her life and provide Two with nearly superhuman abilities are failing!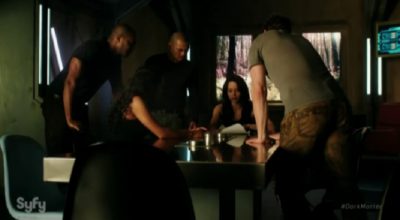 Three pf our five original crew members meet to discuss Two's dire circumstances.
Two explains what is happening and has drawn a picture of the headquarters Dwarf Star Technologies on Earth. Viewers will recall this is the corrupt firm run by Alexander Rook, who created Two.
Two is told by the other four that they will take care of her. Six says "its alright" for us to take care of you. Two reluctantly agrees "We're going to Earth".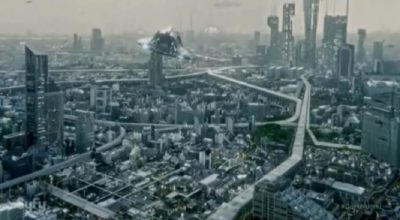 The Raza "Blinks" to Earth where we are treated to a spectacular view of a future city with a space elevator at Dwarf Star Technologies headquarters as the Marauder shuttle enters the area. Five and The Android say behind on The Raza to coordinate intelligence.
The Dwarf Star headquarters is actually the space elevator that connects to an off-planet station where Two was fabricated by Rook and his corrupt gang of scientist minions.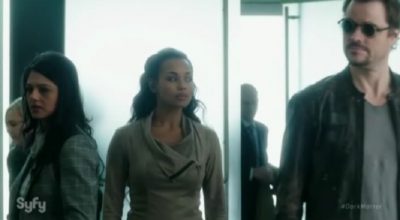 Subsequent to a reconnoiter of the headquarters security systems, Three and Nyx find out that access to the space elevator can only be granted via retinal scan.
Our heroes locate one Eric Waver (Jonas Chernick). Waver, according to Two's memory was the only Dwarf Star scientist to demonstrate compassion to Two, believed to have participated in helping Two escape.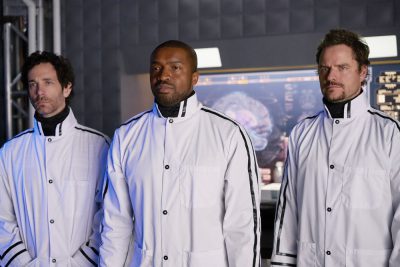 Once they have Waver's agreement to help Two, who informs our heroes that a nanite upgrade will cure Two.
Three and Six demand Waver "invite" two colleagues to help hack into Dwarf Star security systems The Android's has developed technology to allow Three and Six to simulate the two scientists retinal configuration in order to pass the scan point and access the space elevator.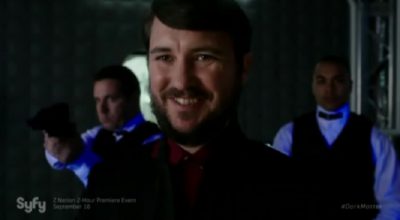 After an initial glitch during the security scan, a problem apparently related to a recent software upgrade at Dwarf Star, Waver, Three, and Six pass the retinal scan and are transported via the space elevator to the space station. They quickly locate the upgraded nanites for Two.
Somehow, Alexander Rook, has tracked their presence on the space stations and shows up with his goons. Three and Six are captured. Poor Eric Waver is convinced by Rook all will be okay and leaves. A gun shot is heard outside the room indicating Waver has been executed.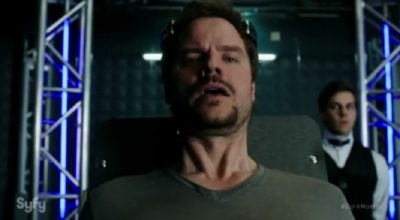 Smarmy Rook interrogates Three. Demanding to know the whereabouts of his property and "failure"; Two, whom he has replaced with a beefy looking male prototype synthetic human (Justin Howell). Three naturally refuses to cooperate.
It is here that Rook injects Three with some sort of a black liquid entity through his eyeballs. Three is taken back to the cell, where Six notices Three is acting oddly. It is certain that Rook plans to use Three as a backup plan to capture Two!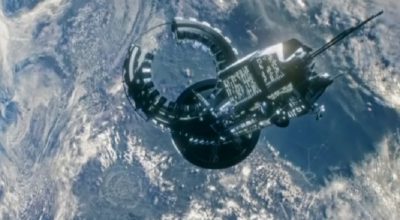 With the mission having gone sideways, Two convinces The Android to alter her failing nanites to give her full strength. The Android is very reluctant, warning Two it will result in her death in twenty-four hours!
Now we must deal with the challenge of exactly how will our heroes to get in the space station without using the space elevator that Rook has no doubt secured and made impenetrable?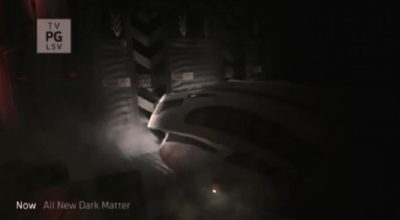 The Android has been busy locating a construction hangar on the space station that will fit the Marauder.
Coupled with a modification of the Blink Drive technology, the Marauder, with Nyx, Four and an enhanced Two on board to save Three and Six as well as get her nanites upgraded!
Four moves quickly to free Three and Six from their captivity. Two makes haste in getting to the lab where she was created to obtain the new nanites. Evil Rook has taken the nanites and has a surprise for Two, his beefy synthetic male to kill Two, his "failure"!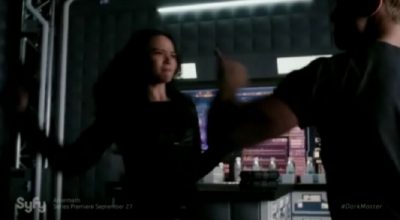 An excellent fight sequence is choreographed with beefy and Two, who is getting the crap kicked out of her. Surprise! Nyx shows up, followed by Four, chops up beefy with his trusty sword! Rook, facing capture, but with the impregnated Three as a spy, flees for his miserable life!
Two has used all her remaining nanites during the fight, falls to the floor! Is this the end of our lovely "Two Boss"? Quick minded Six comes to the rescue and extracts nanite blood from the beefy, the now dead prototype and injects it into Two, saving her life!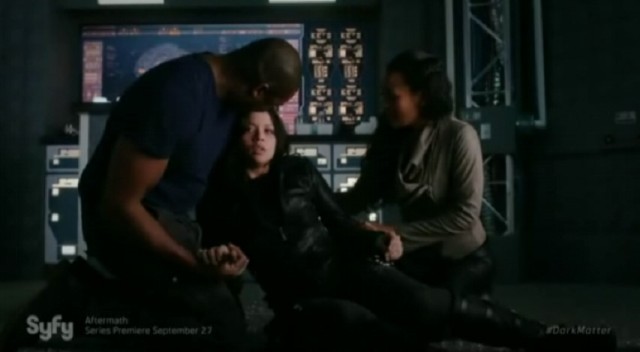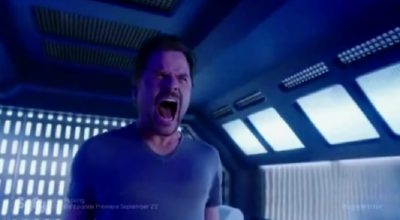 In the final scenes, Six informs Two that he believes Three has been compromised by Rook. Three is found near the Blink Drive and is stunned by Two. Three is locked up where the entity controlling him let's loose a blood curdling scream! Placing Three in a stasis pod, the black liquid entity knows it has been trapped and moves to escape. Oozing from Three's nose and mouth. Our heroes isolate Three inside the stasis pod from the entity and promptly eject the creature via the airlock.
Two, aware that Rook is fully of tricks asks rhetorically, "What was that on our ship?"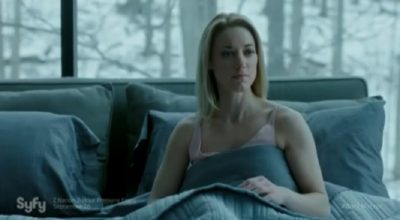 The final scene is enchanting, yet puzzling. Our beautiful Android is in a luxurious bedroom. Outside is a forest seen through the floor to ceiling glass walls. Is this a holodeck similar to Star Trek, or a construct in the Raza's computer that The Android uses to access her new emotions?
To learn the answers to these questions, and if you desire a third season of Dark Matter, #TeamWHR suggests that we all tune in each week for the remaining season two episodes on Syfy in the USA, the Space Channel in Canada, and Syfy affiliated stations all over the world!
Your support, by watching, tweeting live, with supporting comments may be critical to help ensure that Dark Matter is "green lit" for even more adventures beyond season three in the future!
Thank you.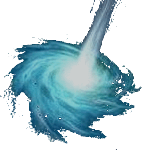 Please feel free to share this article with your friends, co-workers and or family and to leave your comments! We look forward to you visiting our dedicated review and analysis web site for Dark Matter in the future!
Or as many of our readers and visitors often do, visit WHR on Twitter, WHR on Facebook or visit me on Twitter by clicking the text links or images avatars in this news story. I and the WHR team look forward to Seeing You on The Other Side!"
Thank you.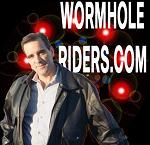 Best Regards,
Kenn of #TeamWHR