Welcome back Falling Skies fans!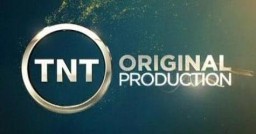 The exciting conclusion to what is actually a two part episode, Falling Skies "A More Perfect Union", is about to blow everyone's mind!
First, we continue with our "A Plus" grade for Falling Skies since the series has been successfully executing all throughout the first and second seasons!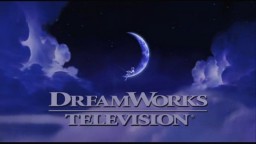 The superb entertainment from Turner Network Television (TNT), Zoic Studios and with kudos to Dreamworks Television Studios whom after nine season two episodes, left us ecstatic as well as humbled as the second season of Falling Skies comes to an an exciting conclusion.
We here are ecstatic because we know that a third season of Falling Skies will enter production in the near future. In fact season three scripts are already being worked by the cast, so by the time the season two finale airs, more Falling Skies is already on the way!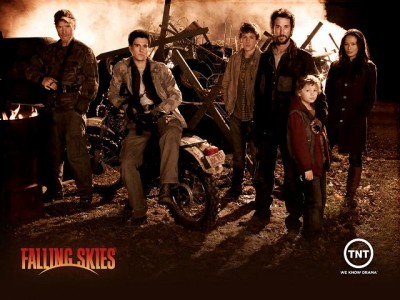 We are humbled because it means we have to wait patiently approximately forty (40) weeks until the third season begins for the surviving (remaining) heroes featuring Tom Mason (Noah Wyle), John Pope (Colin Cunningham), Anthony (Mpho Koaho), Maggie (Sarah Sanguine Carter), Anne Glass (Moon Bloodgood), Captain Dan Weaver (Will Patton) , Dai (Peter Shinkoda), Colonel Porter (Dale Dye) Hal Mason (Drew Roy), Karen (Jessy Schram), Ben Mason (Conner Jessup), Matt Mason (Maxim Knight), Hal Mason (Drew Roy), Lourdes (Seychelle Gabriel), Tector (Ryan Robbins), Crazy Lee (Luciana Carro), Lyle (Brad Kelly), and Marshall (Cainan Wiebe).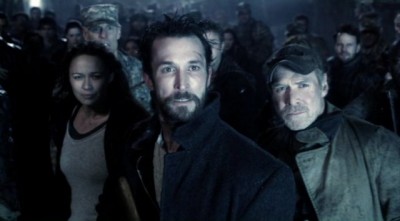 Falling Skies is definitely an outstanding "A Plus" family entertainment product!
The series creators Robert Rodat and producers Noah Wyle, Mark Verheiden, Bryan Oh, Greg Beeman, Grace Gilroy, Bradley Thompson, David Weddle, Remi Aubuchon, Darryl Frank, Justin Falvey and Steven Spielberg have also made us hopeful not only for of an epic third season following the adventures of our Falling Skies heroes, we are certain that they plan on continuing their fine entertainment work producing a great product!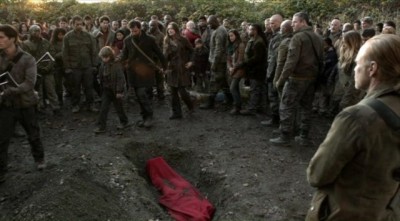 Falling Skies also makes us hopeful because we believe it is possible that in the future that TNT may decide to authorize a twenty episode season for Falling Skies after we have observed quite a bit of chatter on Facebook and Twitter to that effect.
Before continuing our preview of "A More Perfect Union", we would also express gratitude for excellent performances by the actors who "gave their characters lives" to "save the 2nd Mass" including Mike (Martin Roach), his son Rick (Daniyah Ysrayl), Uncle Scott (Bruce Gray), Jimmy Boland (Dylan Authors), Boon (Billy Wickman), Jamil (Brandon Jay McLaren) and all of the supporting cast members (and extras), each of whom have made this series such a delight to behold each week!
Thank you!
A More Perfect Union: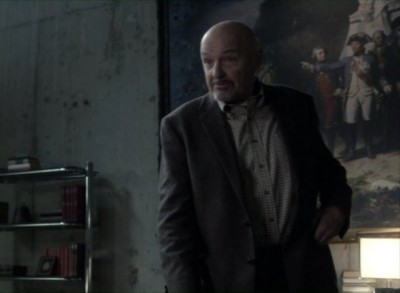 Last week Falling Skies, as a series, made a major pivot with the introduction of legendary actor Terry O'Quinn as Doctor Arthur Manchester, the so-called "leader" of the "New United States" headquartered in Charleston, South Carolina.
In fact, the underground sanctuary located below the rubble of Charleston appears to be more of a dictatorship than a Republic.
With O'Quinn as the persuasive Arthur Manchester the dictator, a former mentor to Tom Mason (Noah Wyle), is instead dispensing justice as he sees fit through his lackey, General Bressler, portrayed by another superb actor, Matt Frewer, all to the dismay of Colonel Porter (Dale Dye) and Captain Weaver (Will Patton).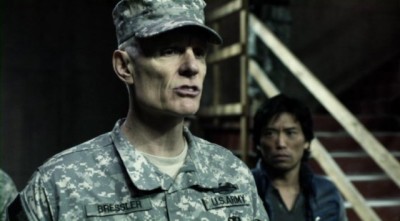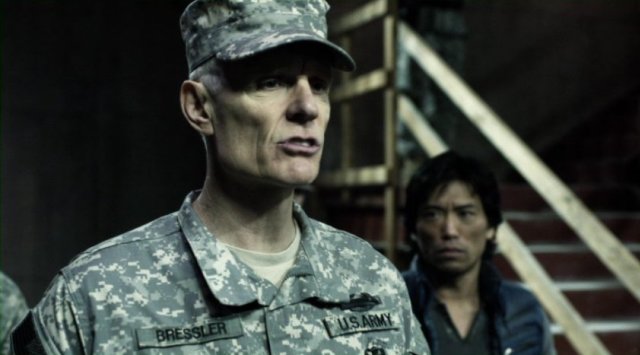 Dictator Manchester, with ample resources in the secret underground facilities, and Bressler under his thumb, felt safe from the "Overlords", their loyal "Skitters" and mechanical minions, the murderous "Mech" Battlebots.
However, one must inquire; Are they really safe enjoying the status quo that is available in Charleston? Can anyone be considered safe when facing such dire circumstances, alien invasion notwithstanding? We believe the answer is no, and for good reason long understood by real leaders throughout the corridors of time.
To coin an oft used phrase, "The price of liberty is eternal vigilance", often incorrectly attributed to Patrick Henry, Thomas Jefferson, Andrew Jackson or Abraham Lincoln (variants of the phrase were used by these men, but date back much earlier in history with much degree of debate about the original source of similar phrases in many countries), many forget a second part of the first documented use as perhaps best described in 1790 by John Philpot Curran "which condition if he break, servitude is at once the consequence of his crime and the punishment of his guilt".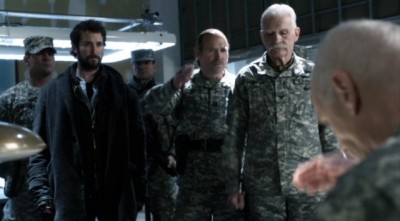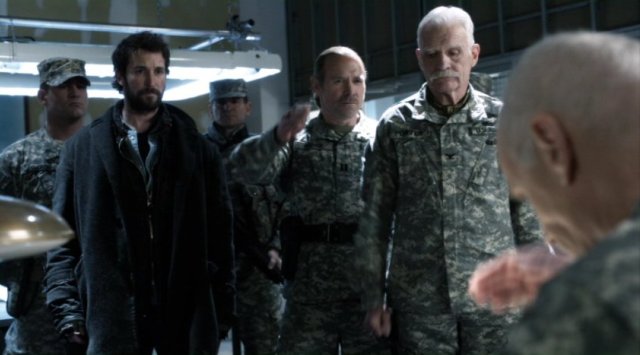 And so it will be with "A More Perfect Union". Unless the 2nd Mass are mighty careful, their collaboration with Arthur Manchester and or General Bressler could become a disaster as will be revealed this Sunday evening, August 19, 2012 on TNT.

As eloquently reviewed by Patricia earlier this week, and with deference to Falling Skies itself, the series brilliantly displays why it is popular, not only as a science fiction, invasion of Earth adventure, but for the realistic portrayal of human behavior in a survival setting.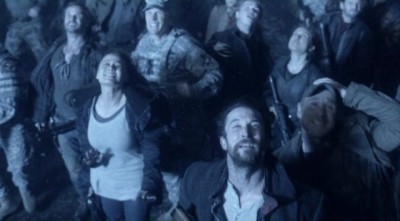 The family environment and the bonding that has occurred within the 2nd Mass has been one aspect of Falling Skies foundation of success. In "The Price of Greatness" and now the series second season concluding episode, "A More Perfect Union", the creators have artfully blended in the social engineering and politics or power over another, juxtaposed with the ever present need for survival. The series has pivoted perfectly at the 20 episode mark, in fact quite deliberately we believe, to depict the sensitive subject of the politics of human survival.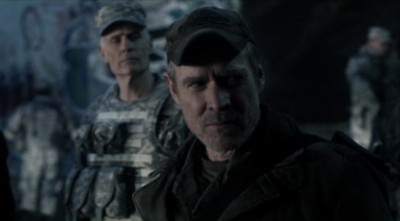 The well crafted move by the series creator dovetails election year political human interaction in the United States rather nicely. The Arthur Manchester and General Bressler characters, in both "The Price of Greatness" and "A More Perfect Union", do not represent liberal, moderate or conservative politics. Nor does Bressler or Manchester represent Democrat, Independent or Republication politics gone awry.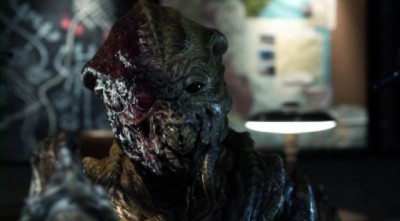 Instead, General Bressler's and Arthur Manchester's behavior represents an old adage known across the "real world" "Power Corrupts, and Absolute Power Corrupts Absolutely". The price for such behavior becomes clear in this episode.
At the end of "The Price of Greatness", we find General Bressler has declared martial law, freed the 2nd Mass and locked up  Arthur Manchester to allow Tom Mason and Captain Dan Weaver to seek out the leader of the Skitter rebellion, an alien we have come to know as "Red Eye".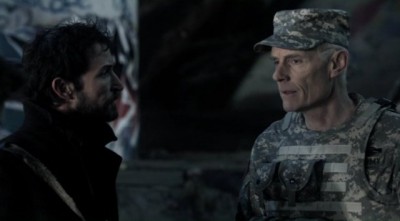 It is here that we begin "A More Perfect Union" In earnest as we discover in the opening moments for ourselves, it will be another mind blowing series of revelations as we witness Matt Frewer doing ample justice to the General Bressler character!
Unlike his previous role in Eureka, Frewer displays his many talents as the hardened soldier, yet subject to making the same mistakes as any human could. Suppressed by Manchester, Bressler now becomes the person with power, in charge of the proceedings in Charleston, albeit with a suspect agenda of his own!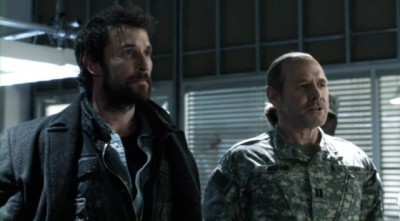 In this episode we will experience the return of characters whom have left the 2nd Mass survivors seeking answers to their own conundrums. We will also experience more death as the war between the humans, the "Overlords" and the Skitters of both ilk's comes to the forefront in the dynamic story arc.
What I can reveal about "A More Perfect Union" is that the cost of war, much like "real life", and the inherent deaths associated with same, will pale in comparison to what Falling Skies is really all about; human behavior, human failings, and critically, human spirit, as well as human renewal, all artfully couched in an alien invasion scenario with believable characterizations.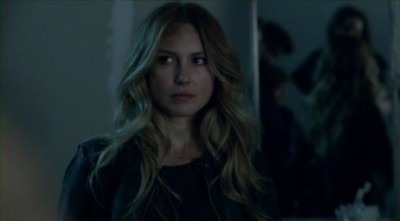 Not unlike the tragedy in Syria where a dictator is slaughtering his own citizens, or Communist China where over a billion people are enslaved by a ruthless corrupt regime providing "access" to cheap labor to the west, it can be stated without a doubt that such "access" comes at a price.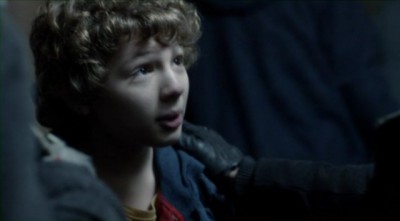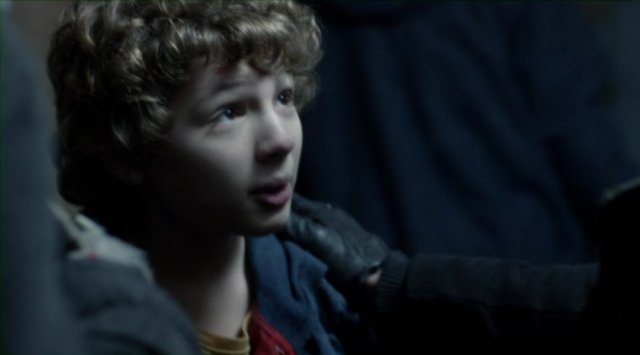 This is but one of the important messages of Falling Skies; Do not allow yourself or your friends to be "bought off", bribed or coerced into accepting anything.
This includes the dictates of the Manchester's and Bressler's of the world when such activities often come at the expense of innocent others whom are less fortunate or less capable at a given point of their development.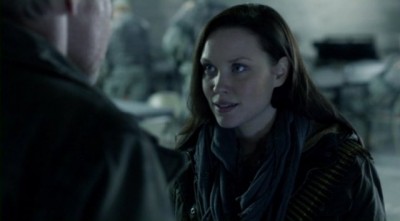 This is key to understanding why Falling Skies is a success. It is not so popular simply because it is an alien invasion series.
Not by any stretch of the imagination. Falling Skies has become the number one science fiction themed series world-wide because it is about human interactions when people are forced, by circumstances and or under pressure to do things they might not do if the situation was different if they were on the receiving end of such behavior.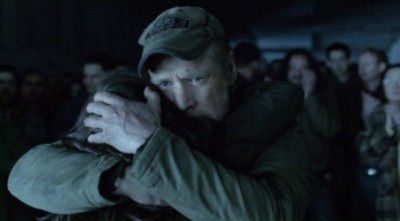 This is why the series, and for that matter, all entertainment succeeds or fails. If the audience fails to make a connection to the characters, and the "story" they have to tell, any entertainment product will fail.
In "A More Perfect Union" we will earn what people will do when faced with being "bought off", bribed or coerced.
We will also learn about the consequences and cost of the exercising of said power. This premise lays a foundation for questions we must all consider as this outstanding series prepares for season three which are many fold.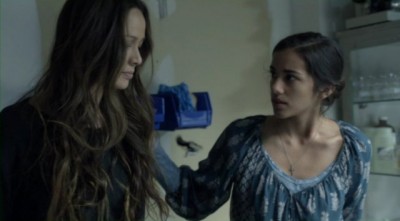 Will Lourdes (Seychelle Gabriel) be able to overcome her grief over the loss of Jamil (Brandon Jay McLaren) by "Overlord" "bugs" and be able to once again become a productive member of Anne Glass' (Moon Bloodgood) medical unit in the 2nd Mass?
Is General Bressler like Captain Dan Weaver used to be, seeking revenge for his own loss at the hands of the "Skitters"? Will his prejudice against the alien "Skitters" cloud his judgment and jeopardize an alliance to stop the "Overloads"?
Will Doctor Manchester see the error of his ways, his addiction to power and come to his senses? Or will this character succumb to the avarice of power?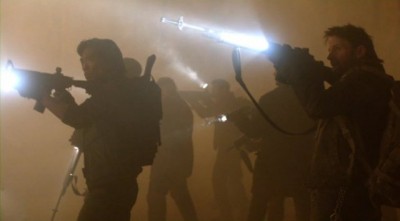 Will Tom Mason be able to convince either Bressler or Manchester that the "Skitter" rebellion is real to reinforce the 2nd Mass?  Or will Tom and the 2nd Mass be forced to abandon Charleston to seek "A More Perfect Union"?
Did Ben Mason (Connor Jessup) find "RedEye", and will he return with valuable intelligence to help the human survivors as well as his own enslaved race?
Will Hal (Drew Roy) and Ben come to an understanding that both will be able to live or die with? Has Maggie (Sarah Sanguin Carter) helped her young lover to be, Hal, learn how to deal with adversity as well as the joys of love?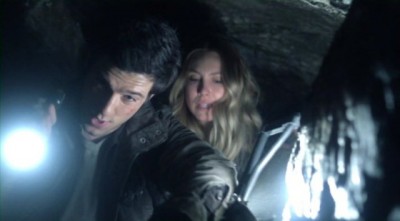 Will we see the growth of the father and daughter relationship between Captain Weaver and Jeanne (Laci J. Mailey) now that they have been reunited once again after she stood up to Manchester and paid the price with being placed on increased Kitchen Patrol duties as punishment?
Will young Matt Mason (Maxim Knight) link up with Dai (Peter Shinkoda), Tector (Ryan Robbins), Crazy Lee (Luciana Carro) and Lyle (Brad Kelly) to become their superior officer in the ranks of the Berserkers? Can we ultimately hope Matt will place John Pope under arrest for his ongoing recalcitrant and obstreperous ways?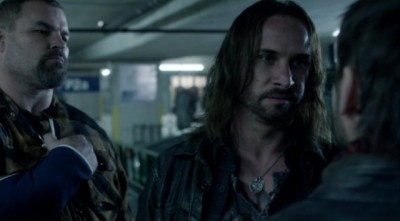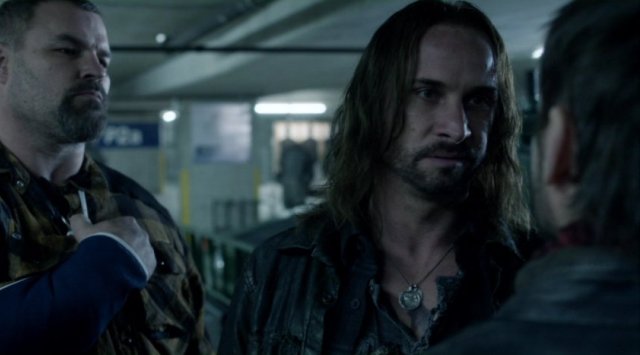 How will John Pope (Colin Cunningham) and his buddy Anthony (Mpho Koaho) react after they learn what is coming at the end in an exciting climax of "A More Perfect Union" leading up to the third season of Falling Skies? Will these two characters return in season three? We hope so!
And last but certainly not least, character wise, what the devil is evil "Overlord" narcotic addicted Karen (Jessy Schram) up to? What tortures has she dreamed up to exact revenge for her "master" being captured and shot by Tom Mason, and just how many will pay the ultimate price for her perverted machinations against those who have tried to save her from enslavement at the hands of the alien invaders!?!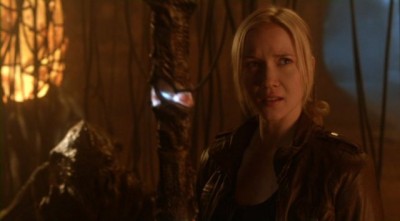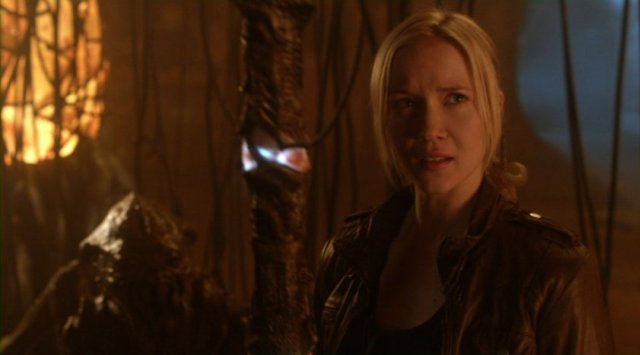 Finally, we did not do a preview last week deliberately, feeling that the pivot in the Falling Skies story arc precluded such being spoiler free. We have taken this tact previously on many series, preferring to wait for a complete analysis of the Single Effect of a particular episode even when we had already seen an episode or even an entire season ahead of time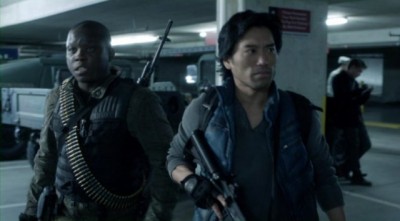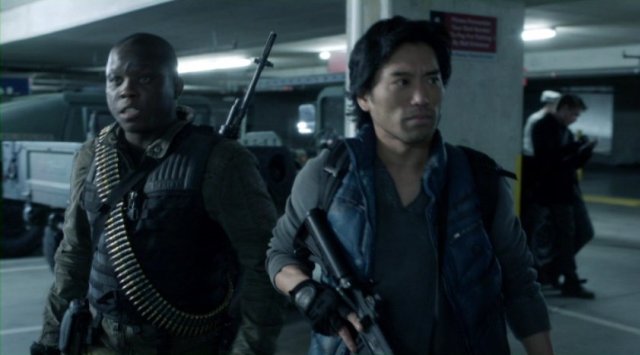 Who will perish, how many and why? These details will be revealed in our second season finale analysis already staged for publication by one of our most experienced reviewers!
When will the shocking details on "A More Perfect Union" be revealed? As soon as the west coast airing of Falling Skies is completed.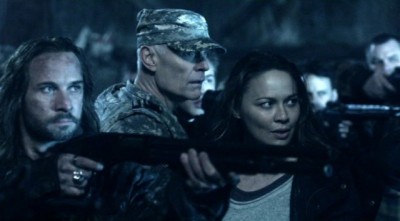 You see, unlike other sites that are desperate for web hits who release their recaps before millions of people have even seen an episode, we follow long cherished journalistic ethics that forbid such paparazzi attention seeking activities. This despite the fact that in most cases, we have seen the episodes before they are aired. Legally I might add and not from criminal "torrents" and illegal downloading that threatens the very foundation of entertainment as we have discussed with many network and studio executives.
I will leave all of you with a few thoughts to ponder; The final moments of Falling Skies "A More Perfect Union" are a cliffhanger in every sense of the word and in more ways than one. Characters we love will be gone, others will be turned to evil, still others will bring new life into the troubled world, while an outstanding new alien element will more than effectively set the stage for what we are sure will be a fantastic season three as delineated with this quote:
"It is nothing we have ever seen before!"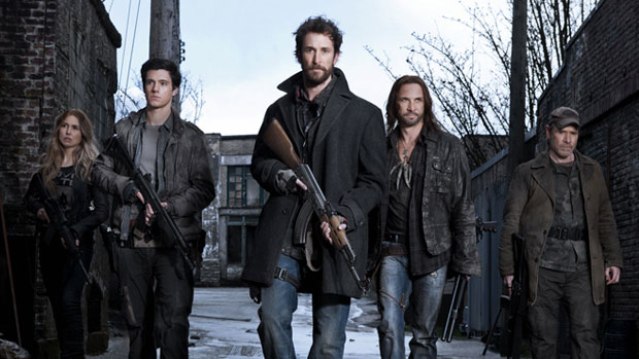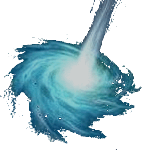 Thank you for visiting WormholeRiders News Agency and reading our theories, history back story and significance of the historical reference material imparted for our pleasure by the creators of Falling Skies!
Please feel free to leave a comment here or if you prefer, click the social media icons below to share this news article. Or as many of our readers and visitors often do, visit WHR on Twitter, WHR on Facebook or visit me on Twitter by clicking the text links or images avatars in this news story.
I and the Team WHR look forward to Seeing You on The Other Side"!
Thank you.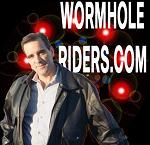 Best Regards,
Kenn