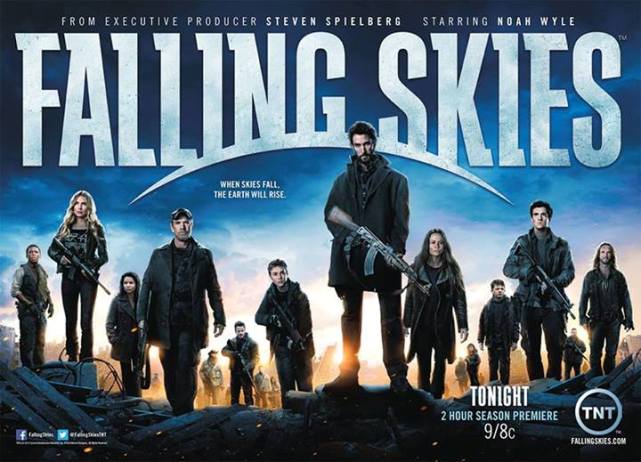 Welcome back Falling Skies freedom fighters!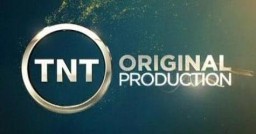 Matt (Maxim Knight) is the battery delivery service in this episode. He is making sure that everyone's Walkie Talkies are working by delivering fresh batteries to the troops in the outlying regions of Charleston that setups up the entire episoe.
We also enjoyed the great song by The Wailing Jennys "One Voice" featured during the ending montage. We include a live performance of "One Voice" by The Wailing Jennys from "Pickathon 2006" below for your enjoyment.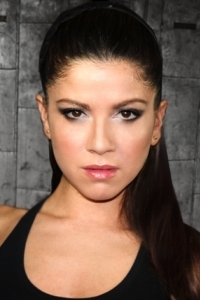 Badlands:
To pass the time, Ben (Connor Jessup) and fellow soldier, Deni (Megan Danso) are engaging in riddles. Further down the line, Matt meets up with Tector (Ryan Robbins) and Pope (Colin Cunningham) while Crazy Lee (Luciana Carro) takes a bathroom break.
The peaceful situation does not last long. They come under fire. Moments later, after they take out the shooters, Pope discovers that Crazy Lee has fallen backwards onto a piece of re-bar.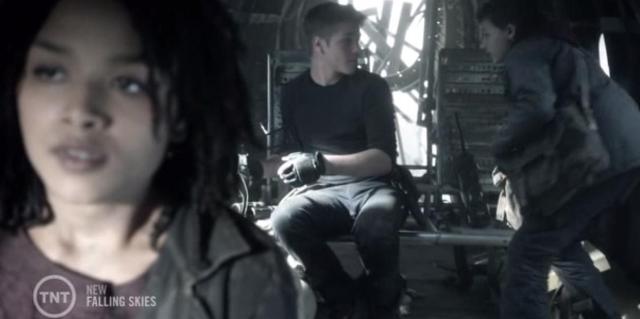 Meanwhile, Tom Mason (Noah Wyle), who is now President of what this small band believe to be the last of the American resistance, watches his son, Hal (Drew Roy) recover from his injuries. He has started walking, but he still has a long way to go. He is called away by his assistant, Marina (Gloria Reuben).
As they walk, Tom indicates that he wants someone available to replace him as leader if anything should happen to him. His assistant is not too sure of the idea.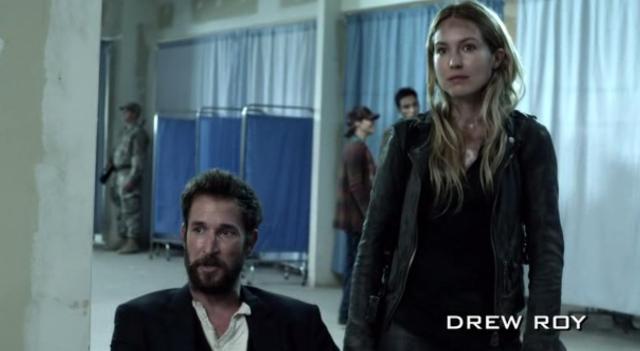 As they walk, he comes across Jeanne (Laci J Mailey), who is finishing up her project, a sculpture made up of scrap metal in the middle of what has become the town square. Tom gives it its name – The Liberty Tree.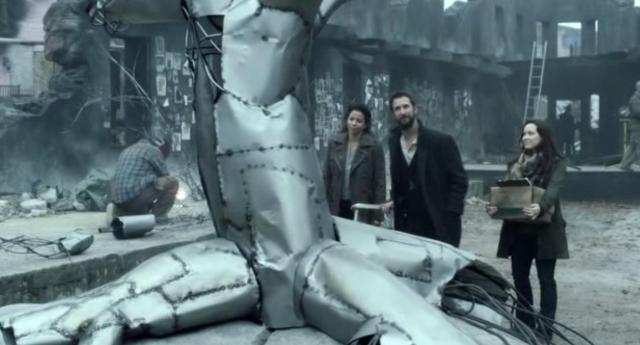 While Pope uses a hacksaw to detach Crazy Lee from the re-bar, Dr. Anne Glass (Moon Bloodgood) is doing the usual tests for her baby. The baby, however, is acting a little unusual.
Anne turns around to see her daughter, at far too young an age, standing in her crib. Startled, she knocks over a microscope. Lourdes (Seychelle Gabriel) enters, and seeing that Anne is having an emotional reaction, hurries over to help.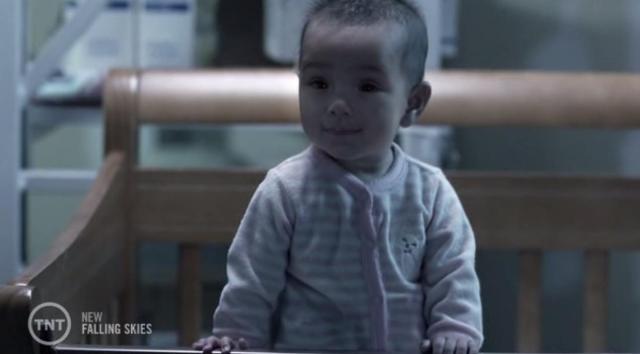 It is not unusual for a woman who has just had a baby to be a little out of sorts. We have all heard of postpartum depression. Some women have mental issues that can come close to full blown mental illness.
We all hope, I am sure, that this is not what is happening. Instead, because this is Sci-fi, it is likely that the baby is the one who is unusual.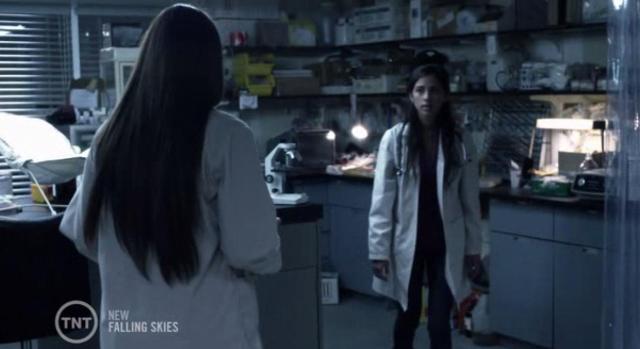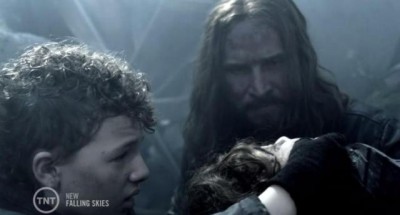 As John Pope continues to saw away at the steel re-bar to free her, Crazy Lee tells a story about her dog, and how, when it lost it's ability to walk, her family had to make a fateful decision about it.
This was the time for Pope to make a decision.
Matt, who is holding Lee's head very steady, does the adult thing and tells her that they are getting her out of there.
Based on the expression on his face, Pope must be impressed with the young Mason.
This kid is growing up fast.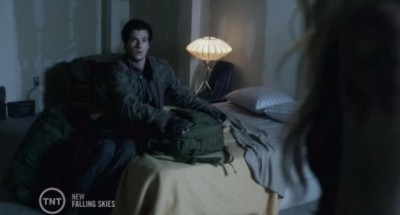 Margaret returns to her and Hal's accommodations only to discover that he is packing to go somewhere. He tells her that he is leaving.
When she demands to know what is going on with him, he tells her, in his dreams he is going to see Karen, "she implanted something in me. She controls me.
All that I know is that I've been going to see her". Margaret tells him that she is not going to let Karen win. She is going to stand beside him and not leave him.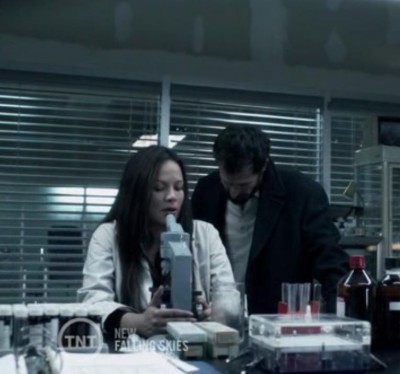 While Anne continues to work, Tom arrives to comfort her. What a nice guy. He tells her he has been working very hard and he has been neglectful of her. He apologizes and promises to pay more attention to her.
Tom also admits that Lourdes came to see him. He tells her that she does not have to go through this alone. He does not get the answer he is expecting, however.
Anne tells him, "you have no idea what you are talking about, Tom". Anne takes it even further by telling him, "I don't think she's human".
While young Matt sits with Crazy Lee, Lourdes explains to Pope about the re-bar in Lee's head. It does not look good.
Tom heads down to meet the sniper. All she is giving up to Gen. Bressler (Matt Frewer) is name rank and serial number. We do learn that her name is Catherine Fisher portrayed by Luvia Petersen who we also love from her role in Continuum!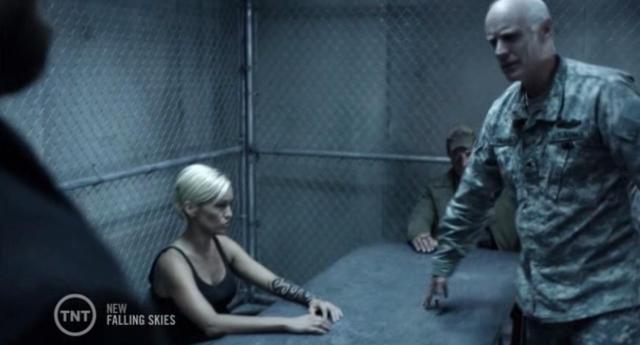 Tom sits down to talk to Lt. Fisher. He tells her that he assumes she had been watching them for a few days, saw them working with skitters, and assumed they were collaborators. He explains that they are working with rebel aliens against the enemy.
She tells him that she thinks, "the only good alien is a dead alien". Tom, at that point, looks a little discouraged. We also learn that Weaver (Will Patton) is no longer just a Captain. He has been promoted to Colonel. That is quite a field promotion. It looks like he jumped right over Major.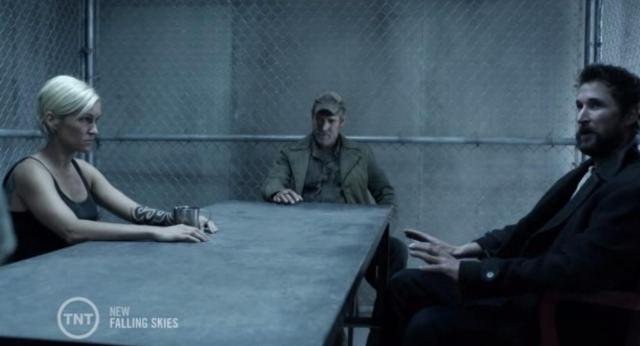 Weaver tells Lt. Fisher that Tom is the President and she should show him some respect. Her reaction is a smile. She replies, "I work for the President, sir. The real President, Benjamin Hathaway. Who do you think sent me here?"
Tom, Weaver, Bressler and Marina return to the President's office to confer. Weaver argues that her team is probably headed back to Hathaway's place to claim they are collaborators, while Marina argues that she could be making the who real president story up. Tom thinks they need to get to the President and tell him what is going on.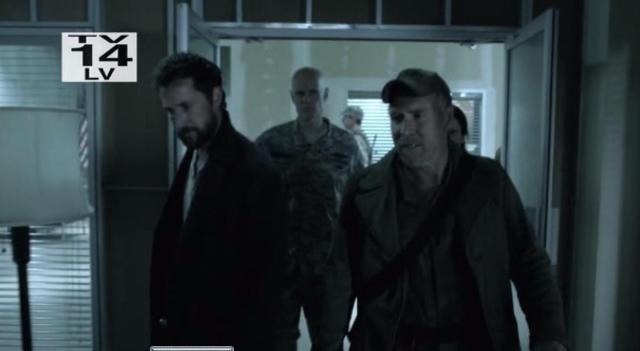 Bressler is the one who gets to dump cold water on everything. They are on high alert and expecting trouble any day, "We can't afford to be sending anyone out on a wild goose chase".
Tom counters with, "we can't afford not to". Bressler brings it all home with, "we don't know where Hathaway is. Unless we take the gloves off, that sniper is not going to tell us". So, they are back where they started.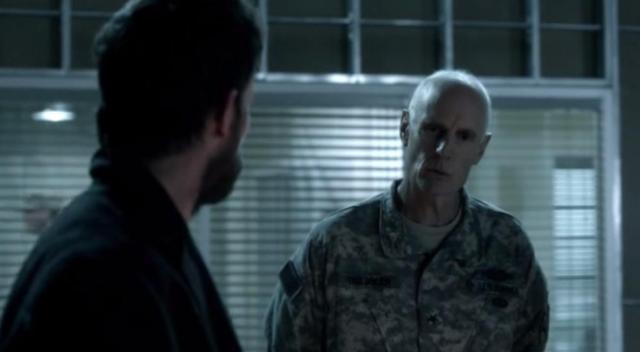 Lourdes has come to visit Anne with a small bottle of alcohol. It looks like red wine to me. Anyway, Anne seems glad of the company. She begins by sounding apologetic. The baby should be everything they could hope for. Lourdes tells Anne that they have been on the run for two years.
Now that they have settled down, it is beginning to catch up to them. Anne seems to have bought the argument, telling Lourdes she cannot afford to fall apart right now. Lourdes offers to stay the night if Anne wants her to.
Then everything clicks; "did Tom send you here?" Lourdes will not leave when Anne demands it. Tom asked her to stay. I think Tom is going to get yelled at when he gets back.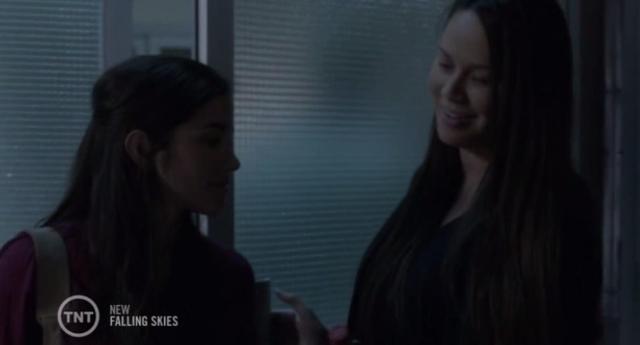 Weaver brings some hot chocolate for his daughter Jeanne as she finishes up the sculpture. They have a nice father daughter talk about the likelihood that they are going to die at the hands of the alien enemy.
Weaver seems very optimistic and upbeat to Jeanne. He tells her it is because he has something worth dying for.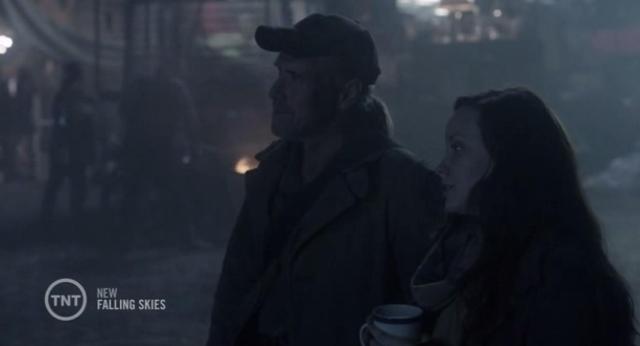 Tom arrives at Crazy Lee's bedside. He thanks her, as she lays unconscious, for all that she has done for the Second Mass. As he leaves, John Pope has something to say,
"She should never have been out there. She was dead on her feet before that shot rang out. So are half my Berserkers working on your top secret bubblehead project, the others on the front lines just in case the fish heads get hungry. There's no rest! There's no explanations! We don't even know what the hell it is we're helping them build. Do you? You don't care. Not really. She's lying in there with a hole in her head, not because of them; because of you, Mr. President. You". All Tom says in reply is, "You're right".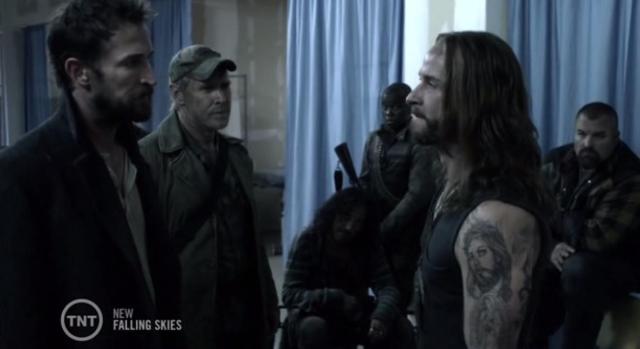 After Pope tells off the President, he returns to Crazy Lee's side. She is awake. I wonder if Popes angry tirade woke her up, and if so, how much of it she heard. She does not seem to be focused on that though, since she tells Pope that she wants to go to Disneyland when all of this is over, just her, Pope, "and the kid".
Pope tells her he cannot go to Disneyland since he got into a fistfight with Goofy and he is banned for life. She says his name, then, passes away. In her hand is a religious medallion. Pope gives it to Matt.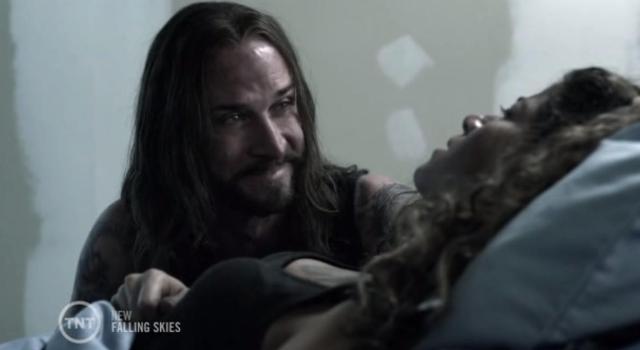 Back at Maggie and Hal's place, Maggie tries to talk Hal out of leaving. She tells him that Karen made him do things that he is not responsible for. Then she hits him with both barrels, "this is treason we are talking about. Do you have any idea what will happen to you if you turn yourself in?
How amped up people are about this? They'll hang everything on you whether you did it or not. Not even your father is going to be able to help you. You better be sure about this before you say anything to anybody".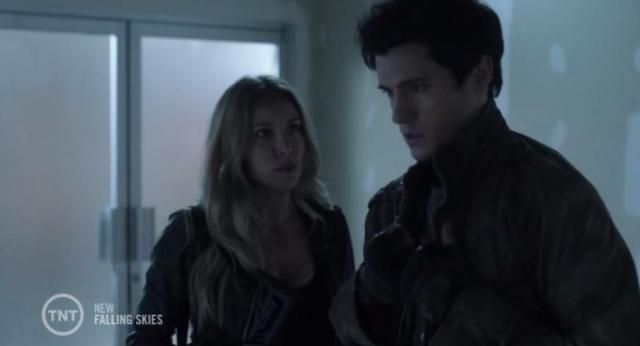 Tom has made his final decision about his successor if anything happens to him. It will be his assistant, Marina. Despite her half-hearted attempt to say no thanks, he tells her, "you'll be fine". Then he arrives in the now crowded town square to make his speech regarding the sculpture.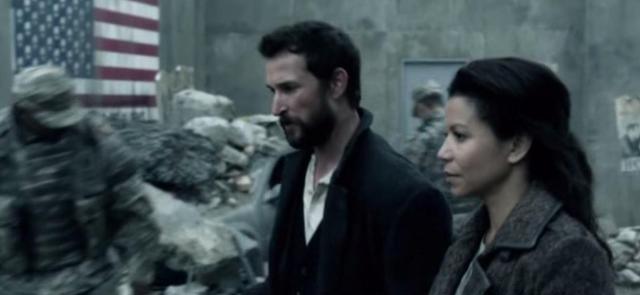 Once his speech is over, a choir sings and people begin writing on metal leaves, the names of people they have lost, and attach the leaves to the tree. Matt makes an attempt to hang the religious medallion onto the tree, but cannot seem to manage it. He hangs it back around his neck and joins his father.

In the middle of their remembrance, the enemy choose to attack. Everyone scatters. In lock up, the sniper, Lt. Fisher yells, "Hey, let me fight!" No one seems to hear her. The episode ends with Anne and Tom's baby looking peaceful and happy despite the chaos around her.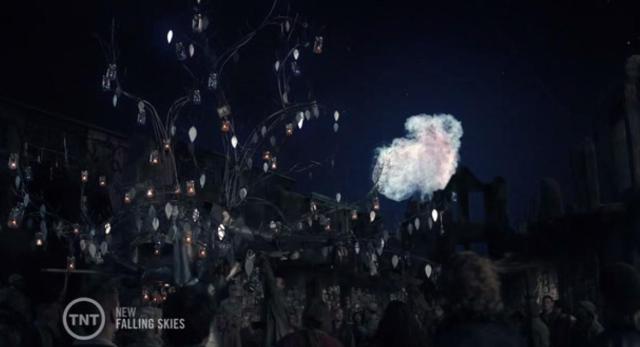 Was there a deeper meaning to this episode? If there was, it is the same meaning we take away from all wars; that despite death and loss, the important thing is to live the life that would make our loved ones proud of us. It is, "how we live", that is important, says Tom in his speech.
How many of us can say that we live a life where we do the right thing?
There are still lots of unanswered questions such as, what is up with Tom and Anne's baby? Is Hal the mole or is someone else the mole and we are being misdirected?
Pope has already tried one insurrection, breaking away from the Second Mass, will he try it again since he is still obviously not happy with Tom's leadership.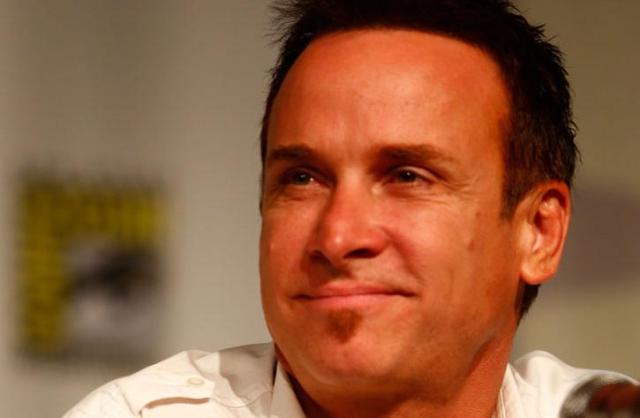 Pope is one of the most interesting characters in this series. Colin Cunningham continually knocks it out of the park with his acting. This episode gave us a glimpse of the softer side of Pope, that he really cares about his friends.
His magnificent speech to Tom Mason before Crazy Lee's death also demonstrates that all of his people are important to him and that he will stand up for them.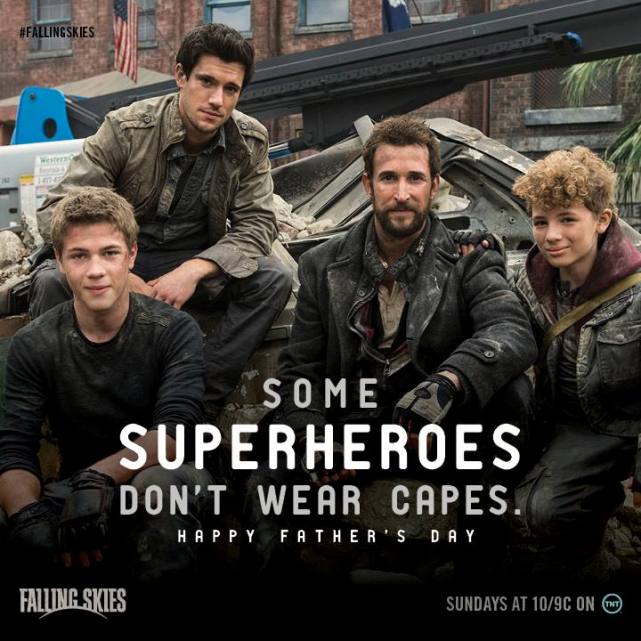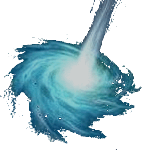 Thanks to Kenn for assisting with the audio video embeds for my Falling Skies review and analysis. And thanks to you for stopping by WormholeRiders News Agency!
Please feel free to leave a comment here, click an icon below to share this interview or you can visit and follow me on Twitter by clicking on my avatar to the right.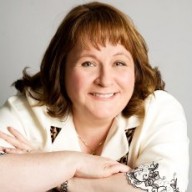 Regards.
ArcticGoddess1 (Patricia)