Welcome back WormholeRiders seeking answers in the Helix!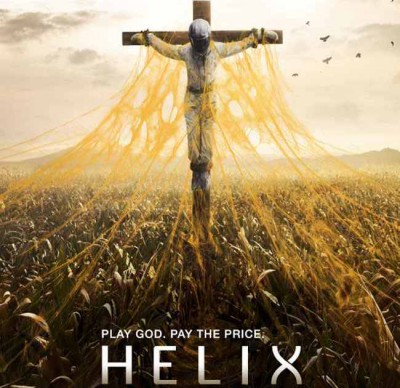 Well, the "eyes" certainly had it this episode, wouldn't you say so? The opening scenes involve Carol (Helen Johns) and Cadmus (Kent McQuaid), two infected mychotics "living on the outside".
We can rightly surmise that Carol is the scary figure that Leila (Cristina Rosato) saw earlier this season. These two are arguing like an old married couple – he is making derogatory remarks about her cooking, "when will the stool be ready?"
I have to believe that Cadmus was playing with the words , "stool" and "gruel"…especially when he further insults Carol's cooking by saying that it looks like s**t, and then he puts over the top by saying that it tastes like it too. Justifiably Carol dumps it in his lap! And there is that eye again!
Writing credits for Ectogenesis go to Cameron Porsandeh and Timothy J. Lea, this episode is a masterfully weaved tale of power struggles and power plays at the direction of Jeremiah S. Chechick.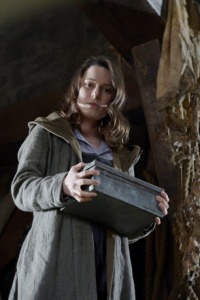 Ectogenesis:
From every corner of the island and those already on it to those just arriving, or in a dream sequence, the characters were fighting for every angle and inch tonight. However, we all got something no one was expecting – JUSTICE FOR DOREEN (Catherine Lemie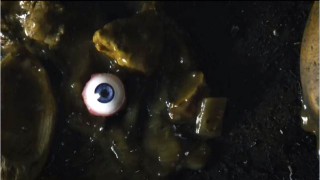 ux)!!
I think the social media universes exploded with Helix traffic when she first appeared tonight. Appearing in Alan's (Billy Campbell) consciousness, Doreen questions Alan's motives; she points out that first he was trying to save Julia, then it became a hunt for immortals in Paris, and now it is to find a cure for THIS pathogen.
Doreen thinks that perhaps Alan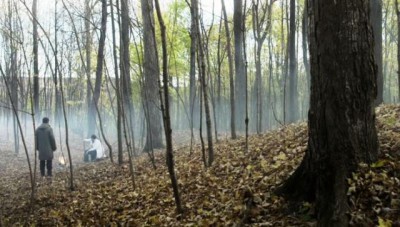 is a man in search of a mission – wherever he may be he's there to save the world; Alan seems to think that that is not true that he indeed knows WHY he is where he is, Doreen continues to disagree.
If I didn't know any better I'd say that thanks to Doreen, Alan can have an argument with himself inside his own head. This sequence is ended with Kyle (Matt Long) waking Alan up; it is very evident that these two will never be buddies. As Alan gets up, we see that one of the Coast Guard has gone missing.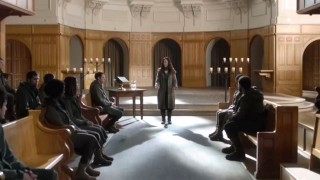 The chapel of the abbey is looking quite empty, what with only a handful of survivors from the mychosis attack and Michael's (Steven Weber) culling. We see a shaken and nervous Anne (Severn Thompson) trying her best to rally the troops in the presence of Peter (Neil Napier), "we will prevail".
The survivors include Olivia (Sarah Booth) who almost immediately bombards Anne with questions about their food and water supply. Anne assures Olivia and the survivors that Peter has assured her that their sustenance supply is ok to consume. Another survivor jumps aboard Olivia's coattails and rails Anne asking why did Michael lie to them and why did he kill everyone? At this point Anne visibly starts to lose control of the group, and very shakily claims that what Michael has done was a "terrible mistake". Peter is left shaking his head as he can see the control of her followers slip away.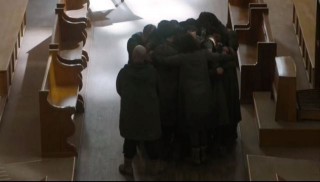 Like a born leader, in walks Amy (Alison Louder) followed by Landry (Sean Tucker) bellowing "Lies and more lies!" – Amy truly is a commander of the entrance. A brilliant exchange ensues between Anne and Amy, starting with Amy claiming that Michael "who called himself our brother, fell prey to the evil words of the outsiders, and now my mother is following his path".
Anne is getting irritated now, her rebellious daughter is calling her out in front of the people they are supposed to be leading, "how dare you talk to me like that". This only adds fuel to Amy's fire and she raises her voice in response, "I will speak to you any way I like!"
Amy begins to proselytize again, "we are no longer afraid of Michael; the old ways are dead, the time has come to move on. My mother has embraced them (the CDC), even laying with one of them, come join me…" And who is the first one to Amy, none other Olivia, and not soon after the rest of the survivors are all embracing Amy in a group hug, creepily supervised by Landry…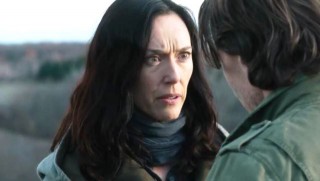 Now, how many of you (like me) found yourselves talking to your TV's and fearing for Anne in the next scene? We hear Peter, but see Anne – on a ledge just looking out, surveying the lay of the land. Peter fears what her next move will be too, you can see this on his face and hear it in her voice as he tries to comfort Anne.
She explains how all her life she has spent her entire life doing what she was told to do, how no one listened to her unless she was repeating Michael's words. If she did not agree with what he was saying she would go along because of her belief in Michael. Recounting their time in the oubliette, Anne tells Peter that she felt safe with him and tells him that the survivors will need a leader and that despite the favor being in Amy's corner, Anne will not go "down without a fight".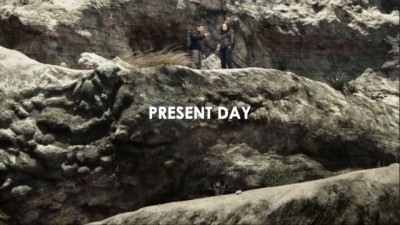 As the moment becomes more tender and open Peter's phone suddenly goes haywire! A wave of concern washes across his face and he discloses that "they're here, they're already here on the island".
Saying only "the answer to our problem" to Anne, we have already seen Day 9 flash across the screen, now we see "Present Day" on our screens and then the timelines have come together – Julia (Kyra Zagorsky) AND Sergio (Mark Ghanimé) are there!!
Discussing their plan – find Michael and find the infertility biotech quietly and quickly – Sergio chambers a round in his pistol in case they run into trouble; it's been five days since they've heard from Peter, who knows what is actually going on.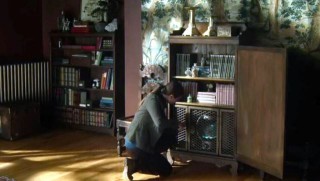 Back at the abbey, Sarah is trying to pry her baby from the clutches of Amy's locked cabinet when Amy and Landry walk in and discover Sarah. Having called Amy a crazy bitch, Sarah is jokingly threatened with Landry washing her mouth out with soap.
Making the survival and return of her baby paramount, Sarah gives in to Amy's demands to make her immortal but not before we get a little background on the baby jar and the reasons. Encountering resistance to raising children apart from their parents, Michael tried to separate the children and the mothers as the fetuses were still in-utero, though he ran into issues with the growth of the unborn as the jars did not grow with the babies.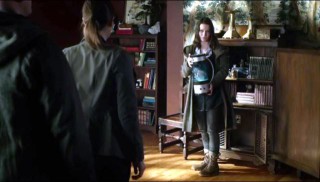 Furthermore, Michael had created a neutral environment – a synthetic womb – that allowed for the growth, "without all the troublesome emotional attachments". Again Sarah reacts by calling Amy and her kind insane.
Without skipping a beat, Amy retorts "your opinion is noted" and tells Sarah that she "does not care about your or your little tadpole". Sarah explains how she became immortal and how she would need the help of Alan or Peter (because she cannot perform a spinal tap on herself).
Sarah is again met with resistance from Amy, but this time in a very Veruca Salt type manner – she wants it NOW! But it's not just the immortality; she wants everything Michael had, "his world and his eternity". She will not allow any help for Sarah, especially since Peter is "off playing nursemaid to my 'poor' mother" and wanting it NOW she is unwilling to wait for Alan to come back – if he comes back at all.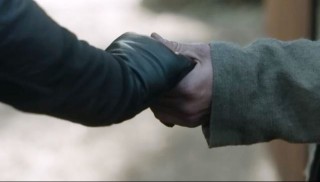 As we see Sarah preparing a syringe in the botany lab, as the scene finishes there's a knock at the door…more aptly put, at the gate. Jules and Sergio have arrived at the abbey to find a locked gate. They figure that they do not wish to scale the wall for fear of what might be waiting for them on the other side and it locks from the inside, so they do the next best thing – they knock.
Of course someone hears it, but not just anyone – Peter opens the door, followed soon by Anne. Anne declares that she is in charge, and though welcome, Jules and Sergio are arriving at a time of change. Taking Julia's hand Anne and Anne enter, followed by a curious and watchful Sergio, and bringing up the rear is an outcast and dejected Peter.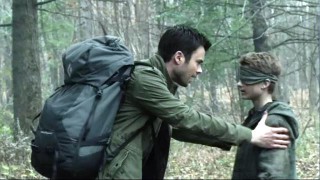 Meanwhile back in the woods, Alan, Kyle, Lt. Commander Winger (Patricia Summersett), and the team are still searching for the missing man when they encounter a rabbit hanging from a tree – its eyes missing.
As Kyle is revealing that they've seen this before, there is screaming off in the distance. All but Kyle go running off to investigate; he stays because he sees Soren (Cameron Brodeur)! To Kyle, Soren says he's sorry. As Kyle begins to ask why, he is attacked by Cadmus. The last we see of Kyle is being dragged through the woods by his feet by a running Cadmus.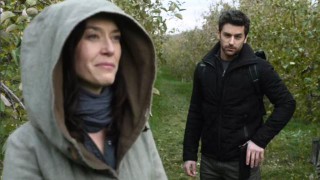 Back in the orchards Anne and Julia are chatting while walking through the rows of apple trees, followed closely by the watchful eye of Sergio and the prying ear of Peter. Julia begins to question Anne about Ilaria but it quickly becomes clear that Anne knows nothing of Ilaria. The ever calm presence of Anne prevails and she offers any assistance though she does not know how she can help; feeling like Anne is not letting on all that she does know, Julia tersely asks that Anne not waste her time.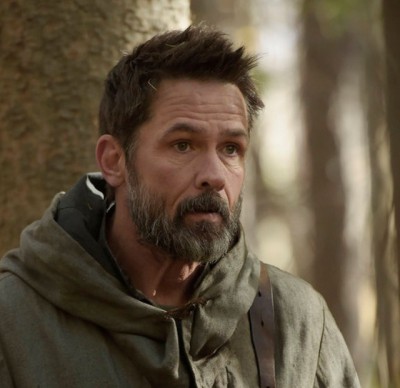 Julia lets on that they know about Michael's sterilization technology, to which Anne simply replies, "this is an outside world problem" followed immediately by an impatient sounding Julia saying, "this is a whole world problem."
Picking up on Sergio's presence and firepower Anne points out that they have no reason to lie and that Julia is not asking for their help – they will help.
A heated exchange ensues between Peter and Julia to which he demands $100,000,000 and guaranteed immunity from Ilaria for his help. She calls him a pig, and Peter states matter of factly that "pigs get fed".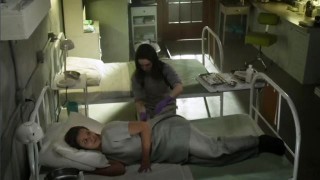 From outside we go inside, to the infirmary. Sarah is laying on her side on a bed, her back exposed to Amy who is preparing to perform the spinal tap on Sarah. Sassy as ever Amy says that she's not sure if she'd let anyone do this to her without anesthesia, to which Sarah counters "I can't tell you what to do if I'm asleep." You can just see the seething disappointment in Amy, it would be much better for her if Sarah WAS asleep…Amy misses the first time and hits the nerve, has to start over again.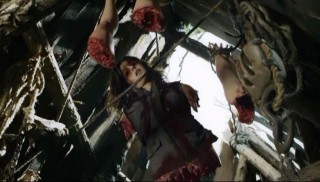 Before we can see Amy complete her task we are back in the woods with Kyle and Carol. They are going back and forth about salt as she offers Kyle some of her "stool" (gruel). Refusing her food Carol claims that Kyle thinks he's too good for her food and she rushes in to try to start taking his eye(s).
Luckily (?) for Kyle he is "rescued" by Cadmus as he sits at the table and starts to eat the food. Looking up as in exasperation Kyle loses it again as he sees Leila…an arm here, her torso and head over there, and let's not forget about the legs, they're there too, all up in the rafters of the hut.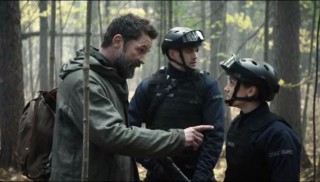 Outside in the woods Winger and Alan have found the missing man – hanging from a tree, missing his eyes. They are quarreling about whether to continue to look for Kyle or head back to the abbey. Using the dead man as leverage, Alan argues that he can't get any more dead than he is, they will continue their search – and once again, Winger's command and control is being usurped by a(nother) Farragut. Then as he finds a gum wrapper, Alan inadvertently steps on a booby trap that unleashes a tree to his face and knocks him out.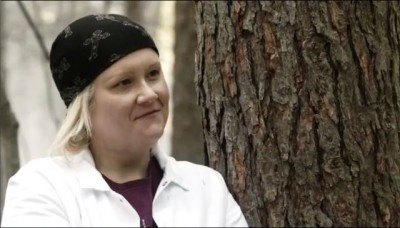 We are treated to another dose of Doreen who has an exchange with Alan about why he cannot stop searching for Kyle; it made me think something that is completely of the deep end, perhaps Kyle is the progeny of Sarah and Alan…haven't quite figured out how, but stranger things have happened on Helix!
However the search for Kyle continues and a moment of levity can be found in the exchange between Winger and Alan (upon his return to consciousness) when she tells him that they are closer than he thinks to finding Kyle but that she doubts that the mychotics are into Juicy Fruit.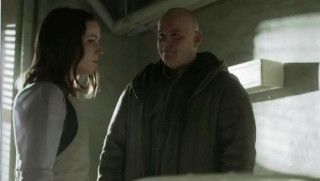 Amy has successfully completed the spinal tap but does not trust Sarah to complete the process. As her devotee and self-proclaimed protector Landry steps in and offers to take one for the team. Pick me! Pick me!
He explains to Amy that if Sarah lets him go first he will either die or they will be immortal together. Verruca Salt strikes again as Amy is not happy with the prospect of having to wait another few days before being able to collect more spinal fluid from Sarah, but she eventually gives in and has Sarah inject the fluid into Landry. Saying that that was not part of "the deal" Sarah's plan to poison Amy has been thwarted and she is now painted into a corner as Amy brings up baby and says that it is now.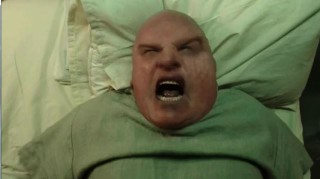 Comforting Landry as they talk about their forever future, Amy questions Sarah's hesitation and stalling in her administration of the injection. As Landry begins to say he doesn't feel anything he begins to convulse and writhe in pain. Immediately a judgmental glare is given to Sarah from Amy and she reacts by asking for help to hold Landry down.
All Amy does is continue to glare accusatorily at Sarah asking what is happening, whereupon we are treated to this exchange: (Sarah) "I don't know, I've heard of patients rejecting CF infusions before" (Amy) "and I've heard of doctors who poison their patients!" imploring that she did nothing of the sort, a frantic Sarah tries to hold Landry down while Amy gets up and heads out declaring that she most certainly did and that she can say goodbye to her baby.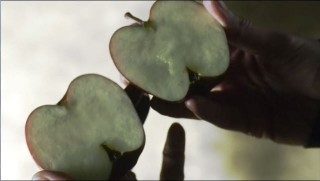 As this drama plays out in the infirmary, in another part of the abbey Julia is cutting into an apple that was provided to her by Anne and Julia remarks that there are no seeds in the apple. All of the trees are grafted from a single root stalk – Mother – discovered by Michael when their orchard was suffering a blight.
She was the only tree to survive, apparently absorbing the fungus rather than being consumed by it like all the others. It was only later on over time that Michael discovered that it was the root cause of sterilization of mortal men who ate her fruits.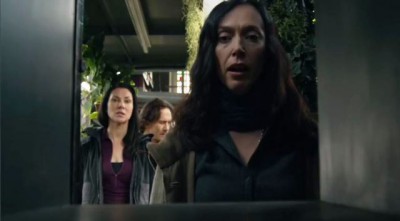 Julia wants to see Mother. Anne consents and leads the group to the botany lab to see Mother. Behind the lock and key of a safe, Anne explains that they "have taken great precautions where Mother is concerned, nothing at the abbey is more important." As the door opens, the safe is empty, Mother is GONE!
Kyle's day is as bad if not worse than Anne's and is asking for water when he looks at who is in the hut to thankfully see that it is only Soren. Soren is putting a jar of "red stuff" away and Kyle sees this and asks what it is. Soren explains that it is from "The Bleeding Tree" and that if they do not eat it they will continue to get sicker – it keeps the mychosis at bay. Kyle pleads for Soren's help, but he is reluctant because he does not want to lose any more of himself to Carol's cooking.
Rethinking his approach, Kyle plays one captor against the other basically telling both Carol and Cadmus at separate times in no uncertain terms that each is trying to keep Kyle for themselves.
Carol unconsciously shares with Kyle that they do not each other because the disease makes the meat rotten and that it is wrong of them to eat each other (tainted meat!); she runs off after Cadmus to stop him from keeping Kyle to himself. Now Cadmus returns to the hut to see Kyle having injured his eye. Kyle tries to convince Cadmus that it was Carol, that she wanted him all to herself. Cadmus is fuming and takes off after Carol.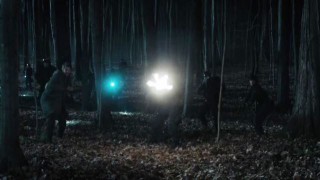 Kyle has loosened his bindings to a point the he can get out and quickly collects his pack, his pistol, the sap from the Bleeding Tree, and a jar of honey. He is running for his life as we are treated to "(They Long to Be) Close To you" by The Carpenters.
A soothing out of place tune for this week, perfect selection! We can hear Cadmus bellow in the background, "run rabbit, run!" as Kyle trips and we hear glass crashing and crunching in his backpack. At this point Kyle does the unthinkable: taking a deep breath he opens the remaining intact jar, the jar of honey and begins to drink.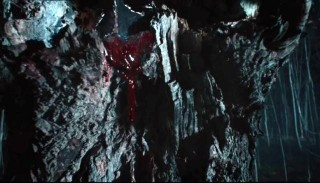 Cadmus and Carol catch up with Kyle as he sits defeated on the forest floor having ingested the tainted honey, making himself unappealing to the mychotics. As they are about to kill him, the Coast Guard opens fire cutting Carol and Cadmus down.
The Coast Guard, Winger, and Alan close on Kyle and ask him if there are any others; Kyle says no, just Soren and himself. The clock is now running for Kyle – 48 hours to live, they have to find the Bleeding Tree or he is a dead man.
Full of conflict, confusion, and baffling actions "Ectogenesis" was jam packed with action this week as we saw strained reunions, justice for Doreen, and power struggles – more of the same superb ingredients to Helix but packaged in a different slant with more players in peril. I cannot wait for next week's episode – where is Mother? Does Landry survive? How is Kyle? Anne vs. Amy – who is going to take the (championship) belt next week?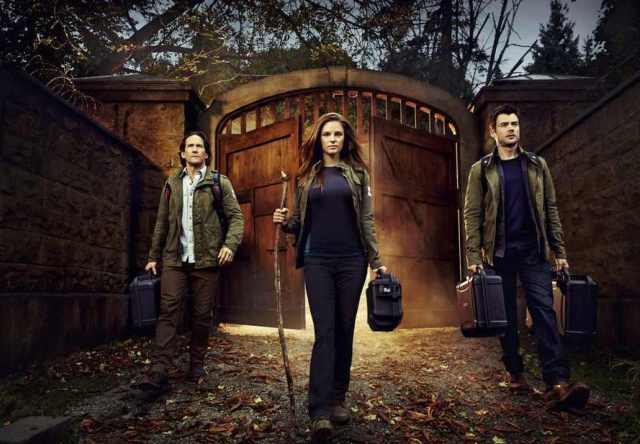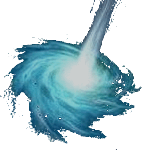 Thanks to Kenn for final audio, video embedding , and additional image staging, and many thanks to you for reading and visiting WormholeRiders News Agency.
Please feel free to leave a comment here, click an icon below to share this news article, or you can chat by visiting and following me on Twitter, just click on my avatar to the right.
Thank you!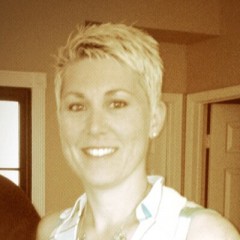 Karina (FidgetTBC)