Welcome back The Vampire Diaries fans,

I am honored that the WHR TVD Team Leaders DragonBayne (current) and Kimmyxoxo (former now on leave of absence) selected me to write this past weeks review of "All My Children". It is an excellent episode representing a merging of several aspects of The Vampire Diaries!
I was must confess that I was quite pleased to see that Ether was taken out of the picture. Too bad she was not laid to rest once again! Esther is a definite troublemaker and had everyone on edge during her return in an attempt to run the show her way in Mystic Falls!
I have no doubt that Klaus (Joseph Morgan) was happy Esther (Alice Evans) was eliminated for the time being when Pascal Verschooris directed "All My Children" in an episode written by Evan Bleiweiss & Michael Narducci saw fit to dispatch her. To be clear, Ms. Evans did a fine job in her performance of evil Esther.
But I am getting ahead of myself. Before continuing my review of "All My Children", we include the promotional trailer from the next episode "1912" airing March 15, 2012 courtesy of the CW Network.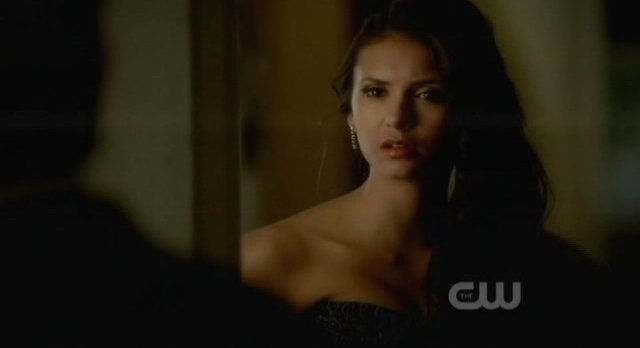 All My Children: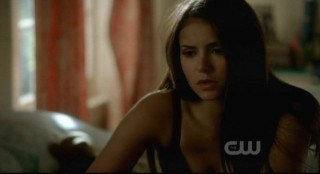 Elena (Nina Dobrev) begins her day with a disturbing  discovery about Damon's latest indiscretion. Elena is angry and upset to discover that apparently none of her so-called "good" friends agree with her on how they should react to the "Original" family's internal vicious power struggle threatening to tear Mystic Falls apart at the frakkin seams!
We observe that our lovely and courageous Elena is again caught up in the evil destiny of the Bennett witch clan. Bonnie and Abby (Persia White) find themselves playing a part in a ritual to appease the dark force spirits.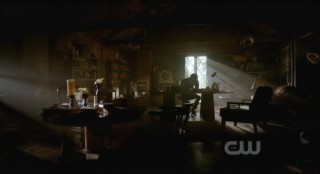 When Elijah (Daniel Gillies) gives Damon and Stefan a dangerous ultimatum that puts Elena in danger, they turn to Alaric and Meredith (Torrey Devitto) for help with a plan that leads them to a terrible choice. Candice Accola also stars.
Elena (Nina Dobrev) wakes up and calls Stefan (Paul Wesley). Stefan rudely ignores Elena's call. Elena leaves a voice mail message  that she must to talk to him. Being ignored does not make Elena happy so she decides to call Damon (Ian Somerhalder).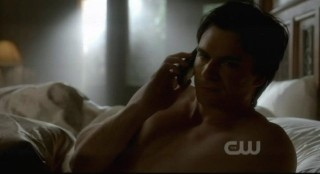 As you may recall Elena had called numerous times the previous night. She wants to talk and tells him if he is angry, that he needs to get over it.
We are a bit surprised to discover that that he is lying in bed with Rebekah (Claire Holt) after an intimate encounter making it quite obvious that he has been able "to get over it". Poor Elena knows nothing of this development at this point.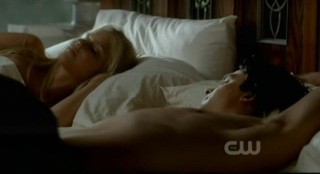 Next we see that Rebekah is escorted to the door. Rebekah is wearing the previous evenings lovely party gown. Elena is waiting patiently on the other side to speak with Damon.
After Rebekah departs, Elena asks if this is how intends to get even for her hurting his feelings. Elena quickly reminds him Rebekah tried to kill her less than two days ago.
Damon suggests it has nothing to do with her. She informs Damon that Esther has evil plan to kill them all. Damon says immediately that he is all for it. Stefan joins in, saying it is the only way.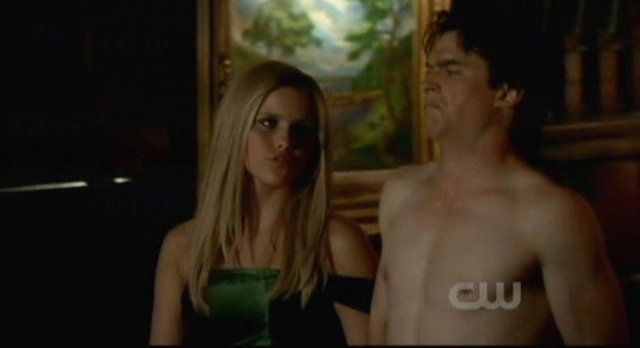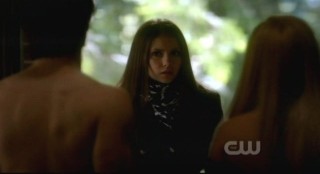 Elena catches the two lovers in the act forcing Rebekah to head home on a walk of humiliation and frankly in the opinion of this reviewer an outright shame. She will pay for her indiscretion a bitter later in the episode!
Elena hangs out at the house to conduct a little chat with Damon and Stefan about their shameless behaviors. It does not They are their usual selves, somewhat egotistical, but no doubt the towns heartthrobs!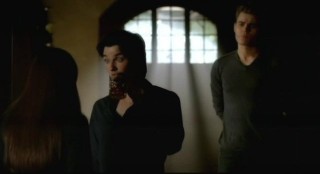 All in all, this reviewer must admit that with the amount of casual sex and open boozing that occurs in Mystic Falls, I certainly hope these young folks are wearing some sort of protection and visit the counselors at alcoholics anonymous once in a while!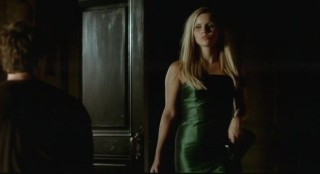 Subsequent to leaving the house, Rebekah is immediately harassed  by Kol (Nathaniel Buzolic) and Klaus (Joseph Morgan).
It is quite obvious that Kol is nervous and restless. He definitely wants out of the situation. Klaus agrees and they subsequently depart the scene.
We segue to Elijah (Daniel Gillies) who shows Rebekah the burned sage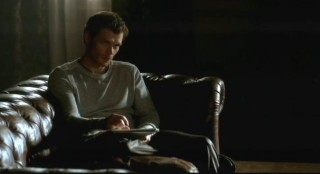 remnant from the process of Esther's privacy spell. He is convinced Esther is up to something no good for everyone in Mystic Falls.
We learn that he cannot ask Finn (Casper Zafer) because he is in a dark place of self hatred and self-loathing. Moreover Elijah does not trust him as far as he could throw him. This reviewer agrees that Finn is an unreliable individual.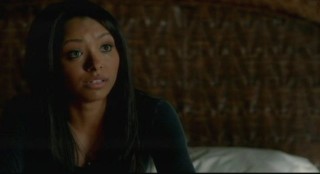 Next we witness Elena talking with Bonnie (Kat Graham). She is bitching about about Damon's bad attitude after sleeping with Rebekah. Bonnie immediately goes to work on a new privacy spell with Caroline (Candice Accola) to help out.
We then discover that evil mom Esther has paid Bonnie and Abby (Persia White) a little visit earlier that morning. Esther is channeling their entire blood line. Bonnie's appears to be okay with this entire evil plan because she wants them taken care of too.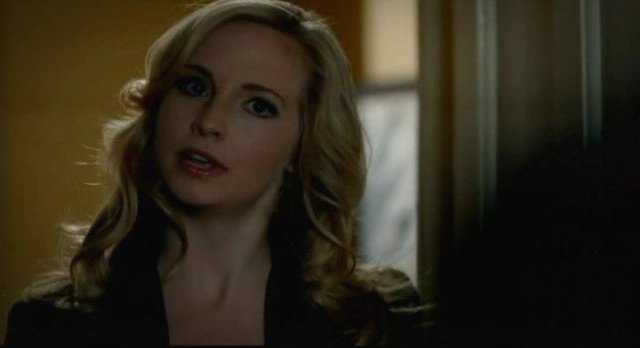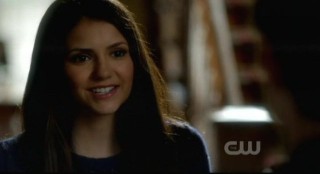 Elena experiences a touching moment of emotion feeling compelled to save Elijah because he had saved her previously. Bonnie tells Elena they will not have to wait long. She is convinced that all will  be dead by the end of the night.
Due to the fullness of the moon, she was forced to seek Bonnie and Abby to ask if they will help out. Back home, Damon is becoming concerned that Elena's intervention will have the effect to mess up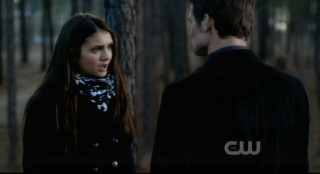 Esther's plan.
Elijah then visits with Elena asking her to accompany him. Elena and Elijah drive together into the woods. Elijah informs Elena about the "olden days" and what they mean.
Elijah takes Elena to a cavern in the mountain that connects with secret tunnels underground. He reveals this is where they used to hide from the werewolves during a full moon.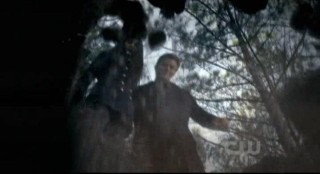 He knows she lied about what his mother said. He can hear her heart racing. Elena fesses up. Now Elijah knows his mother wants him dead. Elena wishes she could help Elijah more. Elijah tells her to be careful what she wishes for because it might come true.
As Elijah stomps his feet on the ground, the floor suddenly collapses. Elijah puts Elena in his arms and jumps into the underground tunnel complex. Elena ends up unharmed in the cavern tunnels underground however she discovers she has no cell phone reception to call for help.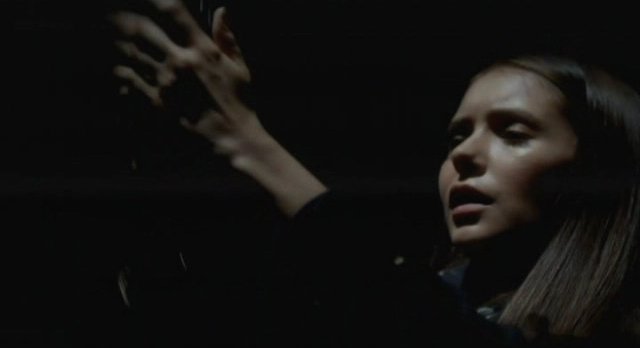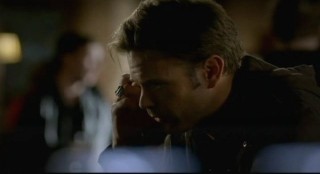 Alaric Saltzman (Matthew Davis) calls Damon from the Mystic Falls Bar and Grill expressing concern wondering where in the world of Mystic Falls Elena could be.
During the call, Alaric, also called "Ric" by some, is observed at the Mystic Falls grill and restaurant with Meredith (Torrey DeVitto).
Meredith had examined his stabbing X-rays to determine what had happened, however Alaric was already well advanced in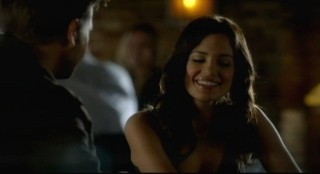 the healing process for her to determine anything about the knife weapon that caused the original injury. 
Meredith suggests he might have been compelled, thereby providing a reasonable explanation as to why he cannot remember the details of the original attack.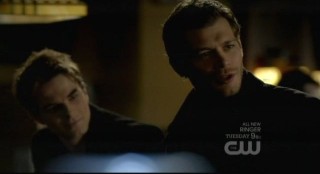 Suddenly our attention is artfully drawn to Klaus and Kol whom have appeared at the bar next to Meredith and Alaric furthering adding even more tension to the situation.
The scene moves to Bonnie and her mother Esther (Alice Evans). They are with Finn at the witch house planning the execution of their next act for an overall power grab in Mystic Falls. Esther is determined to draw enough power from the entire Bennett witch bloodline to achieve her goals.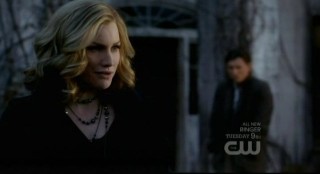 Esther is defiant when she says; "Tonight, sisters, we shall bring peace to the spirits of nature that we serve and for that, I thank you".
The question I suggest that we must certainly consider at this point in the story arc is whether or not Esther will ultimately succeed? Moreover, what will happen to the witches and her in the future if Esther fails at her mission?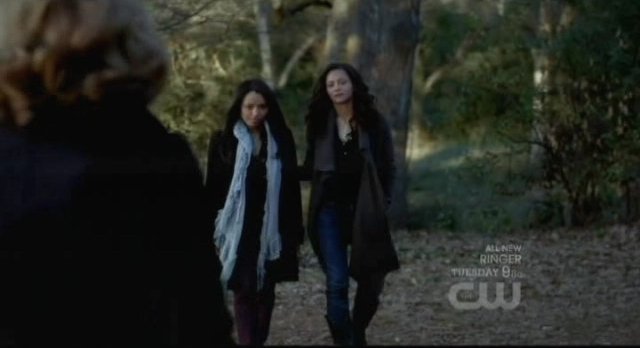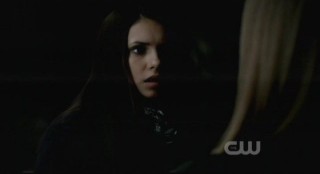 We return to Elena in the tunnels where she finds a passage in the cavern complex and follows it hoping to escape. Low and behold  Rebekah is waiting for her. An epic confrontation is most likely about to unfold in the caverns under Mystic Falls!
This reviewer was concerned that Elena might suffer and pay the ultimate fate, becoming a minion of Rebekah or worse, death at the hands of her adversary!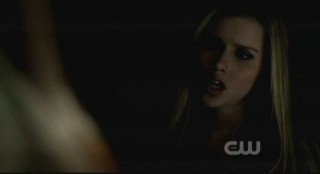 Fortunately, a bit later Elena will be able to use a magic area in the cavern and thwart Rebekah's plan for the moment. However she is trapped and in a desperate situation. This reviewer was intrigued as I wondered how the heck Elena would escape!
Stefan and Damon return home only to finds that Elijah is waiting for him there. He brags that they have Elena trapped. In exchange for Elena's freedom, Elijah demands their help to stop his mother Esther who is a threat to everyone in Mystic Falls.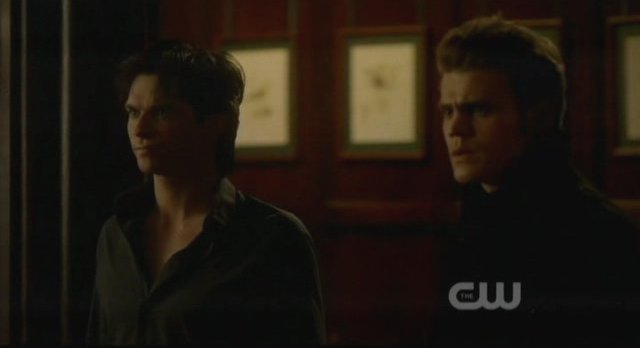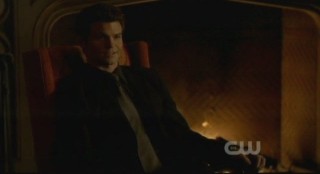 Pleasantly surprising was a nice plot twist, Elijah states that the Bennett bloodline has to be broken. Elijah says does not know where Esther and her gang are. He only knows that Bonnie would know his intent to stop him if she saw him coming, which is why he needs help.
Elijah sets a time deadline until 9:06 PM because he know they must act before the power of the full moon becomes manifest when Esther will have total control. Elijah is adamant that they must stop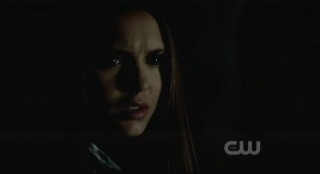 Esther before 9:07 PM or Rebekah will kill our lovely Elena!
Meanwhile back in the cave, Rebekah takes a video of Elena to prove to the the Salvatore brothers.
This reviewer smirked because it was obvious that Rebekah's self control not to just kill Elena was at it's breaking point. Despite her desire to get revenge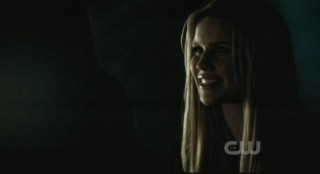 on Elena for her being stabbed in the back previously.
Damon is now fully ready and is prepared to kill Bonnie if hy must to save Elena. Damon has prepared a brilliant but less comprehensive plan. Damon knows that if he uses a dagger and when one dies, they will all perish.
This would in effect their apply corrective action to address the problem. Damon knows that daggering an original will kill a vampire, so he plans to have someone else execute the plan to stop Esther.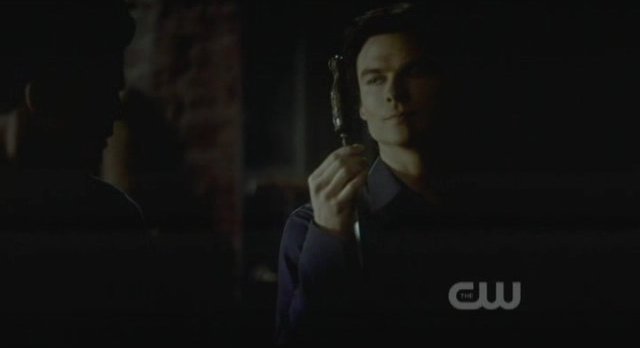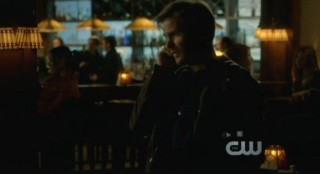 Damon calls Alaric, who is still at the Mystic Falls Bar and Grill. Observing that Klaus and Kol are drinking at the bar, Damon suggests a bit of a female blond distraction. Perfectly timed, In walks lovely Caroline who succeeds in drawing Klaus's attention.
Caroline leaves the bar with Klaus sniffing her sex, he takes the bait and follows Caroline who tells him she is not interested in him.
Klaus challenges her to get to know him. Caroline sits d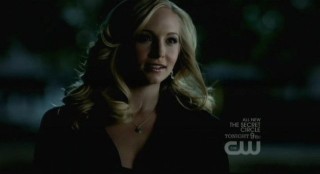 own. "Just to be clear, I am too smart to be seduced by you," she tells him.
Klaus responds with a sarcastic; "Well that is why I like you." The diversion has worked perfectly and is a nice bit of writing to add flavor as well as additional sexual tension and excitement to "All My Children".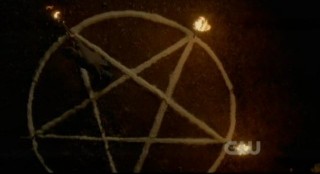 The time is drawing nigh. We observe Esther preparing a salt pentagram on the ground with five torch lights around it.
In an spooky setting each part of the pentagram represents and area for each of her children to occupy during the pending ceremony.
Esther plans to turn them all back into regular human beings again as part of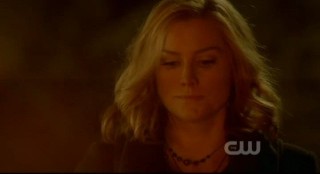 her ultimate grab for power in Mystic Falls.
The final coup will be when Finn  sacrifices himself to be freed from his what he refers to "a life of shame". A fairly brilliant plan if Esther can pull it off. This reviewer very much enjoyed the setting with the full moon preparing to rise around the pentagram.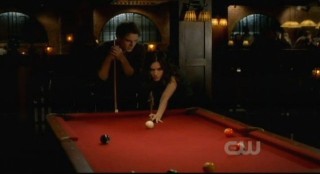 Back in the Mystic Falls In the bar, Kol goes over and starts making sexual advances to Meredith while she is playing billiards. Meredith glares at Kol and says "get lost".
Alaric comes over and quickly stabs a dagger into Kol's chest! The deed has an effect in the cave as the camera switches to Rebekah who is witnessed gasping for life. Rebekah turns white and collapses to the ground allowing Elena to make her escape as time runs out.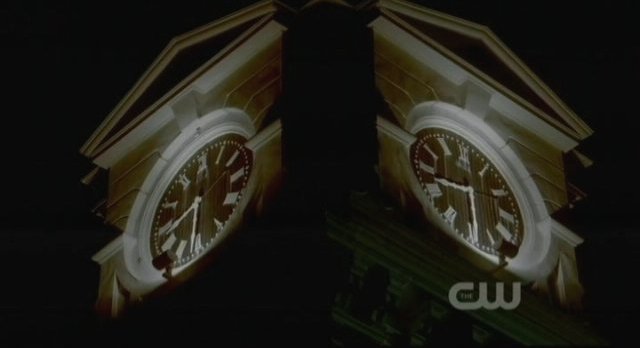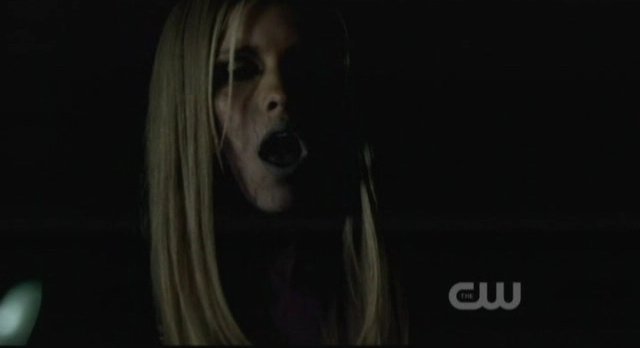 Back at the pentagram circle, Finn drops to the ground. Klaus does not perish but can tell something is terribly wrong. Ric carries dead Kol into the alley where he meets with Damon and Stefan. Klaus jumps them and takes the dagger out out of Kol, knocking down Alaric, then Stefan. He hatefully stares down Damon for what he has done.
Damon informs Klaus his mother Esther hates him. Elijah joins the two and and confirms that Esther does indeed despise him. Frustrated, Klaus demands that Damon tell him where the witches are or he will give the order to Rebekah to kill Elena. Time is running short as it is only thirty minutes before the full moon. Can we say "tense"? You betcha!

Quick scene switch and we are back in cave. Rebekah has recovered and proceeds to track down poor Elena. Elena has found the cavern with the cave paintings where Esther's old coffin is located. In a cat fight I enjoyed, evil  Rebekah tackles Elena to the ground.  Elena is fortunately able to escape and seeks refuge in a no vampire zone. Frustrated Rebekah is unable to enter the area leaving Elena safe… for the moment!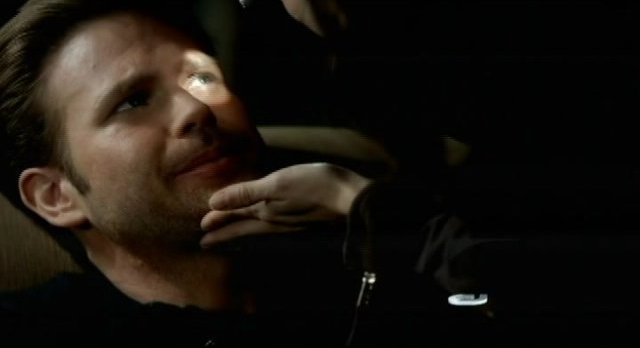 We next observe Meredith who has brought Alaric home with her to check on his wound. She indicates that he may have a broken rib. In the process, Meredith tells Ric o let Damon and Stefan take care of Elena while she will take care of him.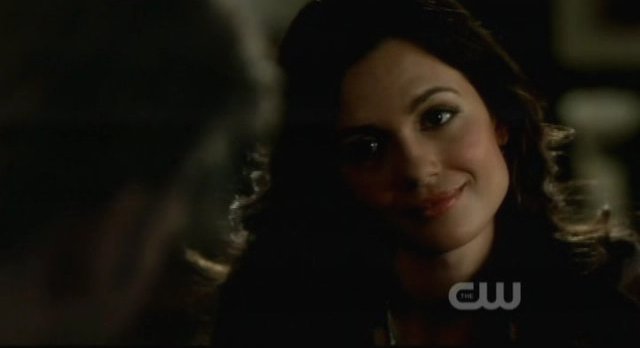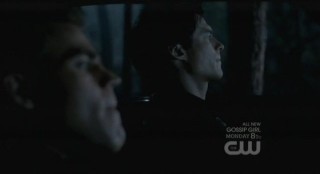 At this point, this reviewer must share that "All My Children" is perhaps the most fast paced episode in The Vampire Diaries series. The number of scenes switches and plot twists was superbly accomplished and very enjoyable. The scene switching continues as a breakneck pace which will provide more surprises as we will observe.

Back to Damon and Stefan, we find they have arrived at the house of witches. Damon points out if they do nothing, the only one who dies is Elena, which is what she would likely desire to have happen.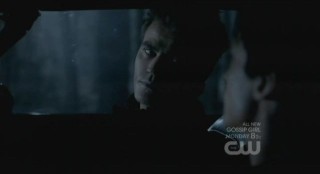 Both know that Elena would sacrifice herself for a friend. Damon points out Elena is going to despise whichever one of them kills Bonnie. In a funny moment, Damon and Stefan decide they will flip a coin for the "honor" to do the killing.
But what of poor Elena? Surely Rebekah is not finished yet? Sure enough Rebekah arrives with with a container of gasoline. She plans to cook Elena is a cave BBQ!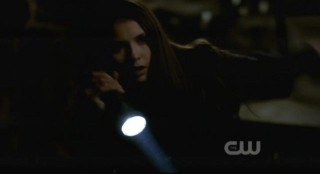 Splashing the gasoline on both Elena and on the ground, evil Rebekah then lights matches throwing them at poor Elena's feet. Elena is given a choice, either come out from the protective no vampire zone or be cooked alive! OMG!
As Rebekah taunts Elena, she rather calmly points out she (Elena) is not the one whose own mother (Esther) wants her dead. Elena correctly advises Rebekah she is still wearing her mother's necklace whic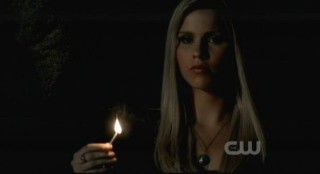 h might seal her fate.
Rebekah defiantly rips the necklace off throwing it as Elena. Elena seems to have gained the upper hand even as Rebekah holds a burning match threatening to BBQ her alive.
Elena appears certain that Rebekah is not going to go through with the human BBQ. Why you ask?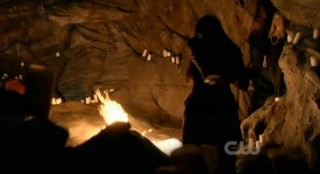 It is obvious to this reviewer. Elena correctly figures out that if Rebekah is still alive tomorrow, she will have expended all of her revenge in one act.
Elena instead believes that Rebekah is tormenting her because she had hurt her feelings in the past when she (Elena) stabbed Rebekah in the back.
To this point Rebekah shoots a video clip of Elena to send back to her clan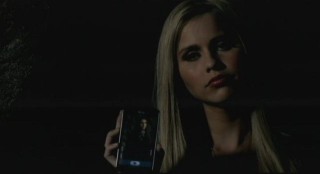 which will be used as a blackmail device.
As the episode winds down, we see Kol, Elijah and Klaus approaching the pentagram of power. Esther and Finn are safely inside the enchanted area. Esther informs both of them about the pain of watching them kill others calling them a terrible curse on planet earth. She informs them that begging for their miserable lives is a complete waste of time.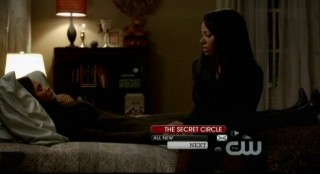 In another tense scene switch, Bonnie and Abby have sought refuge inside the witch house. Stefan finds Bonnie in the basement, telling her if she cannot stop Esther he will have to determine another method to do so in order to save Elena. Stefan says the only way to cut Esther off is if one of them is no longer a witch.
Meanwhile upstairs, Damon sneaks up on Abby and holds her letting her know it will only hurt for a second when he snaps her (evil) neck. In the Pentagram, Esther can feel the witches are abandoning her.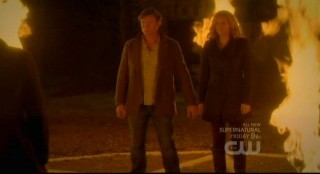 As the flame around the pentagram shoots up. Finn drags his mother to safety. In more excellent fast scene switching tying it all together, Rebekah breaks the "good news" to Elena. that Damon has turned Abby into a vampire. She informs Elena she is now free to go. WOW!

Back at the witches home, Bonnie sits with Abby as she goes through the transition to vampire. Caroline stands guard and tells Elena that Bonnie does not want to see her. Everything that night was designed to save Elena, however, like always, it is poor Bonnie who has ended up getting hurt in the process.
At their own home, Stefan mentions Damon had won the coin toss. He asks why Damon did not make him turn Abby. Damon can tell Stefan's barely hanging on to reality and desires to be the old Stefan again. He also has noticed Stefan stopped drinking human blood. He has not had any human "red beverage" since the night he threatened to drive Elena off the bridge. Stefan can tell Damon still loves her. Damon admits it, but he does not believe that Elena still loves or even wants him. "It's for the best, I'm better at being the bad guy anyway," Damon says.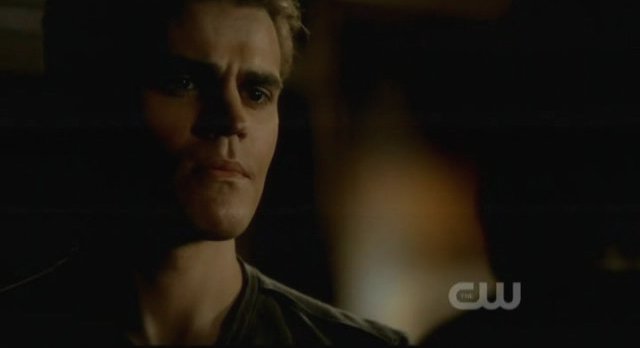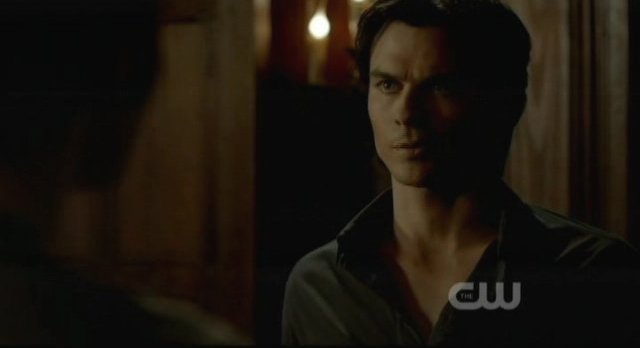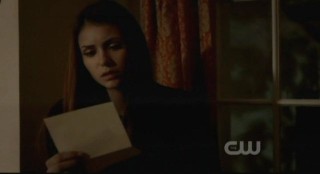 Elena arrives back home and discovers a letter on her bed from Elijah informing her he did things he despised to protect his family.
Elijah relates confidentially in the letter to Elena hold on to her compassion and that he will hold onto his regret for all time.
Evil, yet lovely Rebekah arrives home finding Elijah deep in thought. Elijah is feeling contemplative and looking rather guilty in the pro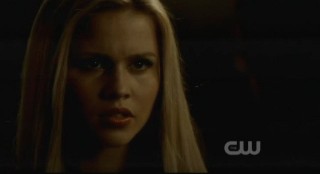 cess. It is apparent that Elijah is feeling deep regret about manipulating Rebekah against Elena in this power struggle in Mystic Falls. 
Stubborn Rebekah insists they are actually "better" than the retched mortal human beings. She flippantly responds with a smart ass retort;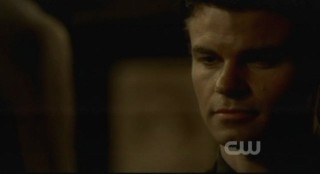 "Mother made us vampires, she did not make us monsters. We did that to ourselves".
Embittered Klaus has made a decision. He elects to burn his personal collection of drawings and sketches of Caroline. Before doing so he looks at them fondly remembering his lust for her. In his hands, we are treated to see the drawings one last time before they are incinerated and turned to ashes.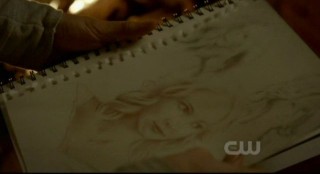 For me, I thought there was a moment of hesitation on his face as if he was reconsidering. True to form Klaus then threw them into the fireplace to try and erase his memories of her.
Is Klaus really done with his obsession with Caroline? Only time will tel until we know the answer to that enigma!.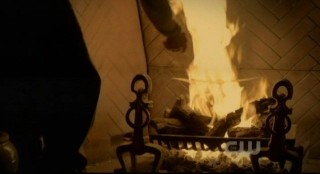 Although Esther, Kol and Finn have executed a successful escape, their attempt at a Mystic Falls power grab has failed for the time being. However this reviewer is sure these troublemakers will return to make another attempt in the future.
In the near ending sequences, Rebekah finds him and shows him her cell phone. On the cell phone screen is a video of Elena in the tunnels. In the background are the cave paintings we observed earlier. Herein lies a secret of what is coming in the future..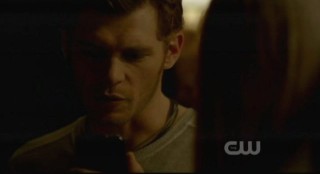 There is a certain drawing of a native worshiping at the great white oak tree they had burned to the ground. The markings in front of it are of the native calendar.
It depicts the tree is from 300 years after they fled back to the "olden days" world. The two discuss with some trepidation that if the tree still exists, it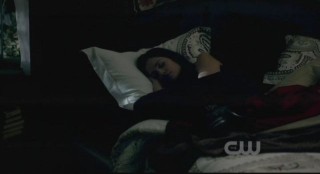 could be used to kill them all. Yikes!
In the final exciting moments of the episode, we find Alaric who has woke up on Meredith's couch. As Meredith sleep in the bed, Alaric sees her patient files, including one for William Forbes.
Surprised, Alaric finds something wrapped in a red velvet towel. It is the weapon, a knife used for the nefarious purposes by one of Meredith's patients.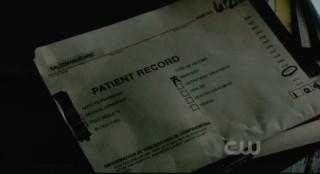 In a surprise twists as Alaric is looking at the records, he has been distracted looking at the documents and does not notice Meredith entering the room.
Alaric suddenly looks up as Meredith is pointing a gun at him. "You were not supposed to see that"!  Meredith fires the weapon setting up the hiatus with a cliffhanger that will certainly be a focus for the series in "1912" and beyond. The Vampire Diaries returns March 15, 2012 on the CW Network!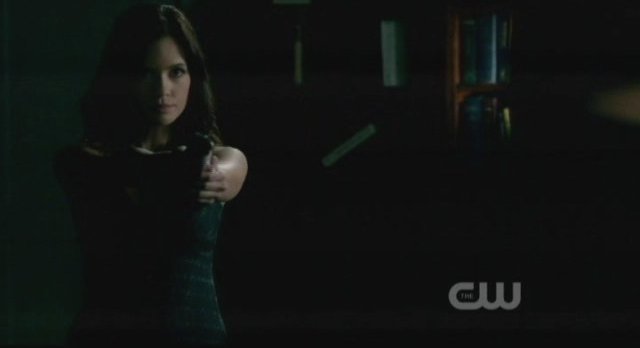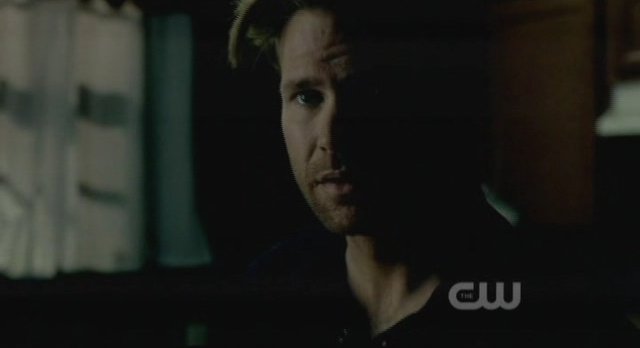 As mentioned previously, the "All My Children" episode is the fastest moving of the series in the opinion of this reviewer. The creators brilliantly dealt with several overlapping story arcs in a smooth fashion not always witnessed in other scripted series. A job well done by The Vampire Diaries team and Warner Brothers Entertainmet!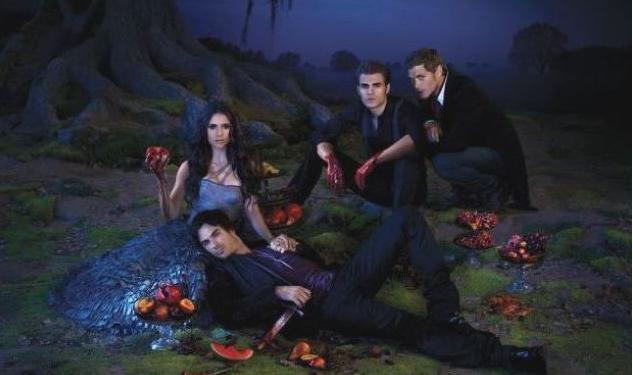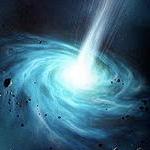 Thank you for reading and visiting WormholeRiders News Agency.
Please feel free to leave a comment here or if you prefer, click the social media icons below to share this news article.
Or as many of our readers and visitors often do, visit WHR on Twitter, WHR on Facebook or visit me on Twitter by clicking the text links or images avatars in this news story. I and the WHR team look forward to will Seeing You on The Other Side"!
Thank you.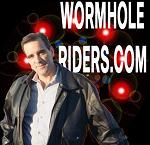 Best Regards,
WR_Systems (Kenn)