Welcome back WormholeRiders dedicated to seeking Dark Matter!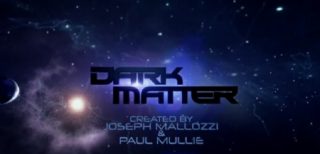 Dark Matter, developed by Joseph Mallozzi and Paul Mullie, produced another outstanding episode in "We Voted Not to Space You"! The episode was written by Paul Mullie and Directed by Ron Murphy.
Viewers may recall that Murphy directed two episodes in season one. Ron Murphy is quite well known for his superb work on the fabulous Lost Girl series where he worked with Dark Matter's Executive Producer Jay Firestone.
Murphy, who also has directed the new hit series Wynonna Earp, will return later this season to direct the thirteenth episode of the Dark Matter for the season two finale!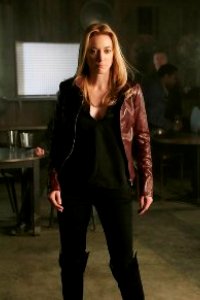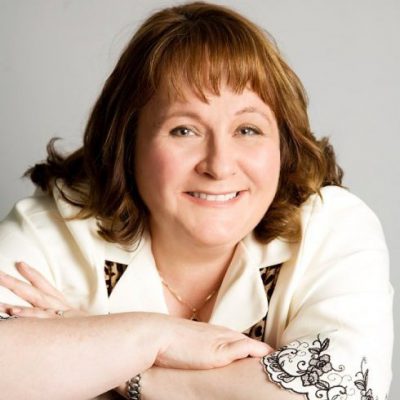 Before beginning my analysis of "We Voted Not to Space You", many thanks to Patricia Stewart-Bertrand, our Canadian Senior Editor, for writing excellent reviews of the first four episodes while I was preparing to attend the yearly geek festival known as SDCC 2016 more formerly known as San Diego Comic-Con.
Our awesome week long adventure in San Diego to attend SDCC 2016 included covering the delightful Dark Matter panel conducted on Thursday July 21, 2016 that #TeamWHR attended. We will have a complete report with images and video that we will report on in the near future.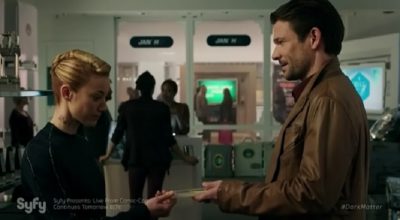 In the previously on Dark Matter segment, we are reminded that The Android (Zoie Palmer) has been given an emotion chip that will help her behave in a more human like fashion.
As Patricia correctly observed in her previous two episode review, our loveable Android has become, to the delight of science fiction admirers, much like "Data" (Brent Spiner) in Star Trek: The Next Generation!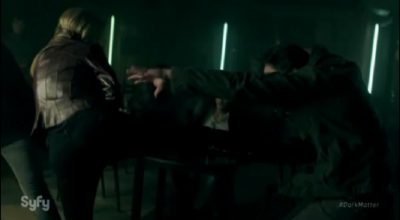 In "We Voted Not To Space You" we will witness our favorite "Don't Let Me Down" lady, The Android kicks some serious ass in the opening sequences.
In several fun tweets, fans voted to give a name to The Android. This editor's favorite was "Ass Kicker" while others called her "Trouble". As the episode end, TeamWHR tweeted that The Android "Ass Kicker" would mean "Trouble" for any and all miscreants in Dark Matter!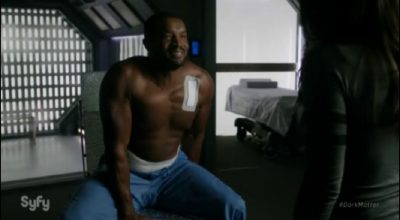 We also witnessed the return of the ongoing character Six (Roger Cross), who returned to Dark Matter in the previous episode after a one episode absence (although his name was mentioned in the credits of episode four indicating that Six would continue to be an ongoing character in the Dark Matter series).
Cross is one of our favorite actors who we have admired since his appearances in the The X-Files in 1994, Sliders in 1995, and Stargate SG-1 in 1997, and his great work on Continuum and many other series and movies!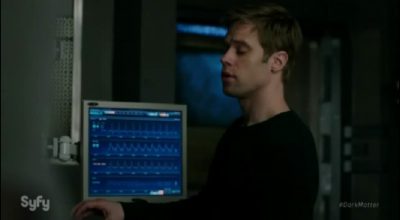 Six, as we learned earlier in episode one of season two "Welcome to Your New Home", was found out to be a Galactic Authority agent. Six, who was planted on The Raza to spy on the crew for their nefarious purposes, has expressed guilt about this dubious development. The interesting questions are how hard will Six have to work hard regain the trust of our heroes, and could he really still be a double agent setting up the crew once again for capture by the Galactic Authority?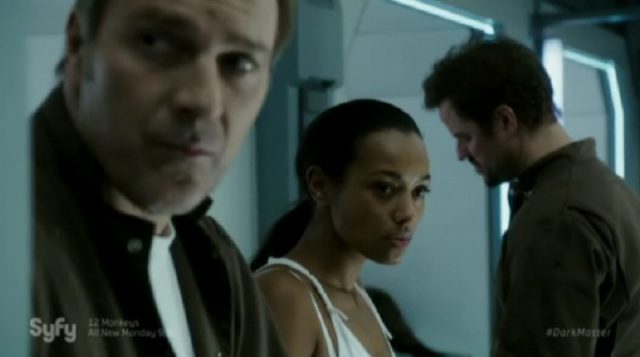 I like all the Dark Matter characters, including the addition of marvelous actors Mike Dopud portraying Arax Nero, Melanie Liburd as Nyx, and Shuan Sipos as Devon.
Each of these characters were introduced during the first four episodes of season two. All characters, especially Six and The Android, proved to not let the team down, hence our selected review theme above, "Don't Let Me Down" by The Chainsmokers!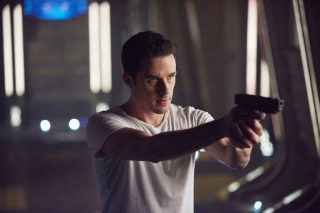 In "We Voted Not To Space You", we will also be treated to the return of Marc Bendavid, who murdered his alter ego, One. Bendavid is excellent in reprising his role as corporate criminal and murderer Jace Corso!
Jace Corso has proven to be a corrupt scumbag in league with the criminals within the Galactic Authority. Thankfully, Jace Corso will receive some of his "just desserts" during the episode.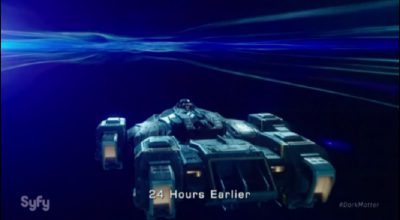 "We Voted Not To Space You" featured more outstanding special effects with Faster Than Light (FTL) sequences of The Raza and the Galactic Authority ships moving into normal space from light speed. Kudos to Joseph Mallozzi's VFX team for superb special effects!
One of the most exciting, fun, and perhaps best episodes so far, "We Voted Not To Space You" represents the pivot point establishing the foundation for the adventures our heroes will face in what is to come in the second half of Dark Matter season two!
We Voted Not to Space You: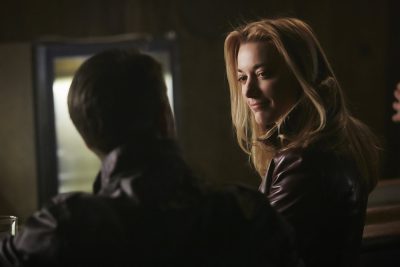 The opening scene brought cheers all around social media during the live broadcast on Syfy and the Space Channel as The Android is witnessed in a bar on some back water planet. Android then orders a whiskey that is offered to be paid for by a handsome patron sitting next to her.
Our female hero, after flirting with her bar mate, then proceeds to kick ass on a nearby miscreant!
At this juncture in the story arc, it would appear that The Android has installed the emotion chip that was given to her by Victor (Brendan Murray) in "We Were Family".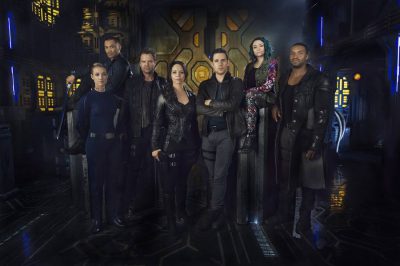 One of the  nice things about Dark Matter season two is the smooth interaction of the cast, Marc Bendavid (One / Jace Corso), Melissa O'Neil (Two / Portia Lin), Anthony Lemke (Three / Marcus Boone), Alex Mallari Jr. (Four / Ryo Tetsuda), Jodelle Ferland (Five / Das), and Roger R. Cross (Six / Griffin Jones), and of course, Zoie Palmer, who portrays the lovable Android that binds the crew together on their perilous missions in deep space.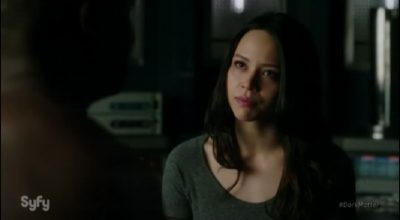 This smoothness included a segue to the previous day when Two gives Six the good news!
The Raza crew makes it clear to Six that "We Voted Not to Space You". Six will need to prove him self loyal to the cause after it was discovered he was a spy for the Galactic Authority in "Welcome to Your New Home"!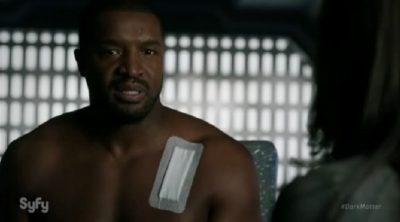 This development is dovetailed when Six is offered a chance to redeem himself by providing inside intelligence about the corrupt Galactic Authority (GA)!
Six attempts to prove his loyalty by suggesting The Raza locate an undermanned Galactic Authority (GA) outpost and hack into their computer systems.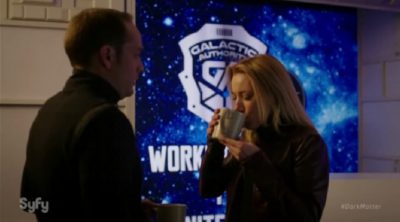 This sequence is the perfect setup for The Android, who is unknown by most GA minions.
During her visit to the Galactic Authority space station, she diverts the guards attention by asking for coffee as she ransacks the GA computer network finding circumstantial evidence that Jace Corso was in proximity to the scene when One was murdered!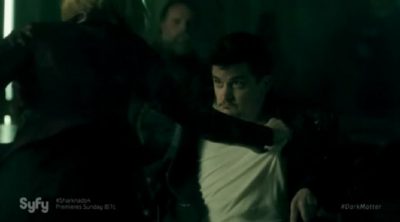 Back to the present in the timeline where e started the episode, The Android captures a miscreant named Danny Bones in the bar. The miscreant is believed to know where Jace Corso is likely hiding out. Bones is subsequently interrogated by Two, Nyx and Five.
Bones confesses that Jace Corso's is located on nearby planet. Nyx, Two, Three and Four gear up to find Corso and obtain retribution for his murder of One .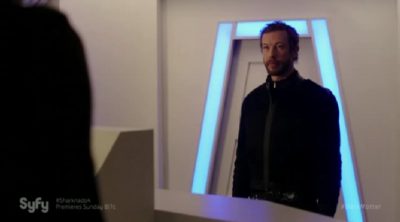 Enter our Lost Girl special guest star Chief Inspector Kierken (Kris Holden-Ried) of the Galactic Authority.
Kierken's GA team has monitored The Android's computer hack job deducing that our heroes will most likely seek out the corrupt Jace Corso to exact revenge for his brutal and cold blooded murder of One.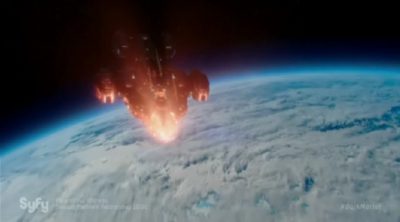 Another cool VFX scene then occurs when the GA Cruiser arrives at the planet where Corso is believed to be hiding.
To avoid being detected by the GA or Corso,  The Android lands The Raza on the  surface near an abandoned Fusion Reactor, powering off the ship to remain as stealthy as possible.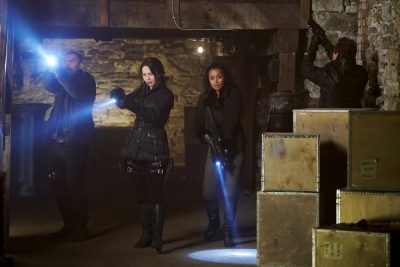 More great scenes are when Two, Three, Four and Nyx explore an abandoned fusion reactor where Corso is believed to be hiding out.
Naturally, a gun battle ensues between Corso and our heroes. Jace Corso is shot, but not fatally. The Raza crews attempts to break into a room where Corso is nursing his wounds. Meanwhile, Kierken's Galactic Authority team moves in to save Corso.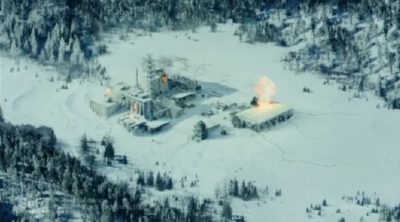 While Two, Three, Four and Nyx break into the room, they discover that not only has Corso escaped, he has activated an emergency self destruct sequence! The abandoned facility is blown to smithereens trapping Four, who unfortunately becomes Kierken's prisoner!
Nyx, Two and Three capture Corso and beat the hell out of him, then Two orders Corso to help them dig out of the mess! Corso taunts Two about One claiming he was a weakling!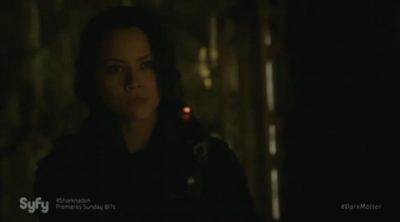 Two exacts her revenge, shooting Corso after he confesses that it was not the terrible Traugott Corporation who hired him to murder One. We are left to wonder who actually ordered the assassination?
As the episode winds down, Kierken, with captured Four, are seen on the surface.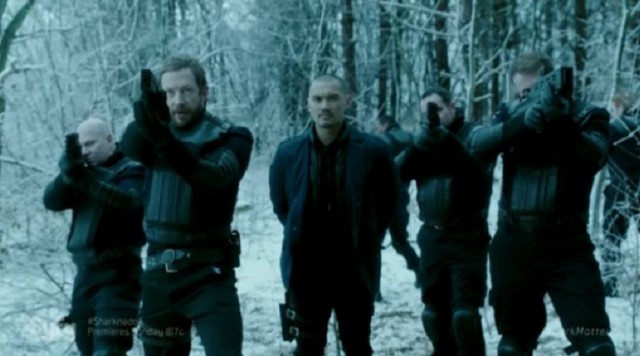 Our heroes, who also escaped the disaster, find themselves in a standoff with The Galactic Authority.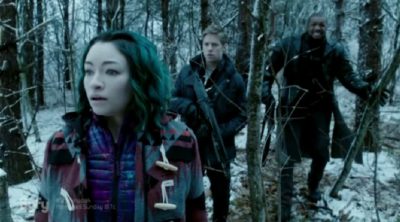 Things go sideways for Kierken when The Raza's shuttle suddenly appears with Devon, Five and Six coming to the rescue of their comrades!

Not too happy about his having to surrender, Kierken accepts the inevitable and turns Four over the our heroes!
The guest starring appearance of Kris Holden-Reid was a nice touch that bodes well for a future encounter with the Galactic Authority. This editor hopes to see Holden-Reid again in Dark Matter!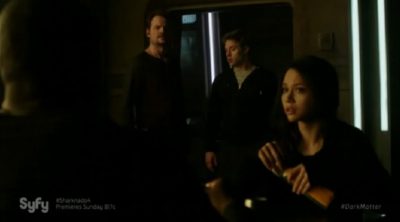 Conducting an after action debriefing, with Six now apparently firmly back on the team, all speculate on who actually ordered the killing of One?
Six, having been on the "inside" shares that when he last talked with One, One revealed that the acting CEO of his company, Darius, had become corrupted. All generally agree that this will become their next target to avenge the murder of One.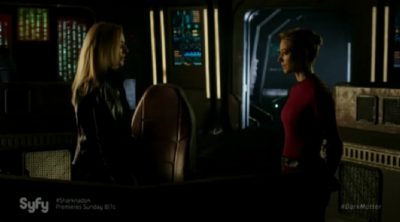 In a very fun ending sequence of "We Voted Not to Space You", we find The Android chatting and being lectured by her own Android Projection!
The computer holographic projection accuses The Android of being a bit reckless since her emotion chip upgrade; "You're a danger to this ship and everyone on it … and you know it," as the screen fades to black.
Perhaps we can suggest (request) that the "killjoy" (pun intended) Computer Projection get an emotional chip upgrade as well in the future?
#TeamWHR at WormholeRiders strongly suggests that if you desire a third season of Dark Matter, make sure to tune in each week for the remaining episodes on Syfy in the USA, the Space Channel in Canada, and Syfy affiliated stations all over the world! Your support, by watching, tweeting live, with supporting comments may be critical to help ensure that Dark Matter is "green lit" for many more seasons in the future! Thank you.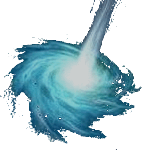 Please feel free to share this article with your friends, co-workers and or family and to leave your comments! We look forward to you visiting our dedicated review and analysis web site for Dark Matter in the future!
Or as many of our readers and visitors often do, visit WHR on Twitter, WHR on Facebook or visit me on Twitter by clicking the text links or images avatars in this news story. I and the WHR team look forward to Seeing You on The Other Side!"
Thank you.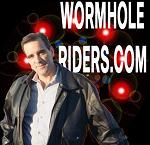 Best Regards,
WR_Systems (Kenn)