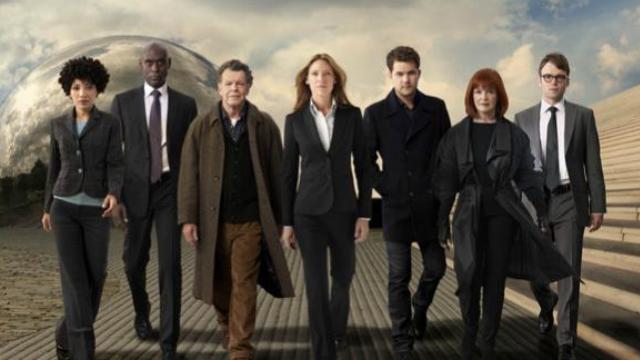 Hello Fringe fans,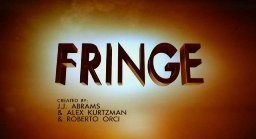 This week's episode started with our beloved Peter Bishop (Joshua Jackson) talking to the evil Mr. Robert David Jones (Jared Harris).
The scenes were back in the series past about Peter's knowledge of nefarious Dr. Jones him and his attempts to control reality in the original timeline. This reviewer pretty much loved the flashback. Both actors did a great job then as they do now.
I cannot tell you how many times that conversation made me sigh, but it was many times. In my view, one of the greatest scenes of all time was the chopping in half of Dr. Jones in the wormhole.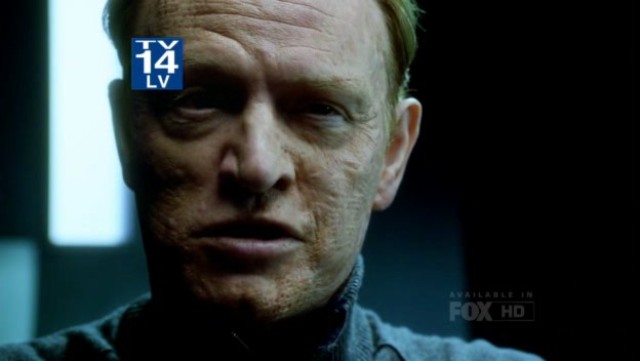 Before continuing we include the promotional trailer for the next great Fringe episode "A Short Love Story" courtesy of FOX Broadcasting.
The End of All Things:
We also had the opportunity to see Walter Bishop (John Noble) "playing tough" with Peter from the previous episode. During the "previously seen on Fringe segments", to our deep sadness, we witnessed Olivia Dunham (Anna Torv) disappearance from Peter's car, in that fateful gas station encounter. This set up tour a search for what I consider to be the most loved woman of all times and Fringe realities.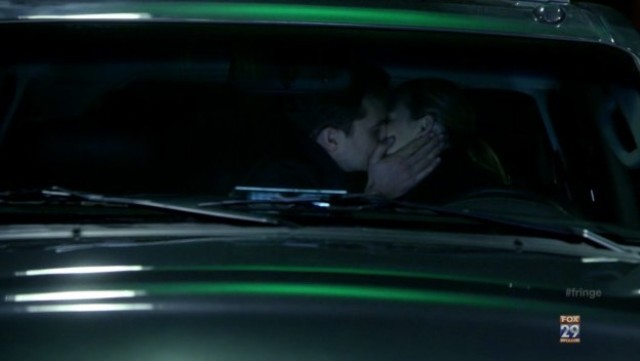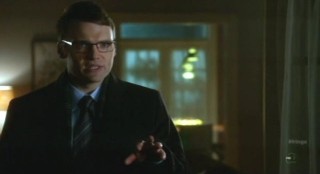 I have always enjoyed seeing Agent Lincoln Lee (Seth Gabel) in action since he joined the series. Seth always does a wonderful job in all his roles. However, please let me just point out here, who the heck does he think he is to talk about Olivia like that!?
I wanted to scream at Agent Lincoln Lee, 'hey Olivia belongs with Peter Bishop, get out of their way!' I am always willing to scream at someone who does not act nice to Olivia.
To be honest that is basically what I do a lot while watching Fringe here in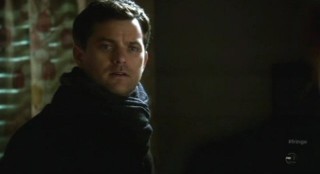 Brazil. If someone is not nice to Olivia Dunham (Anna Torv). you just might be able to hear me scream all the way to the Fringe set in Vancouver British Columbia!
I express my sincere thanks to J. J. Abrams, Joel Wyman, Jeff Pinkner, Tanya Swerling David Fury, in fact to the entire cast, creators and crew of Fringe for making us all "feel" emotions with the characters in my favorite television series.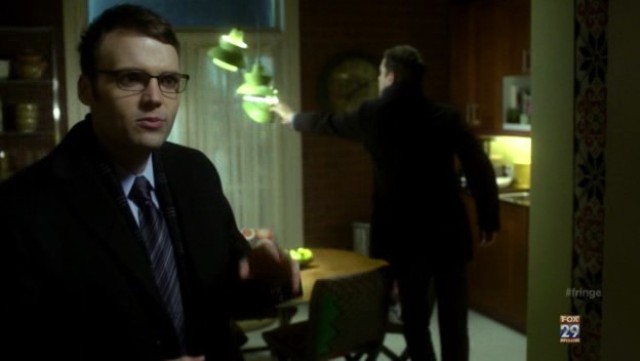 Getting back to Peter and Agent Lee's conversation; They were looking for some evidence in Olivia's house indicating who had taken her and where she could be? I must reiterate that Agent Lee's kept on irritating me with his worries about Olivia which seemed less than sincere.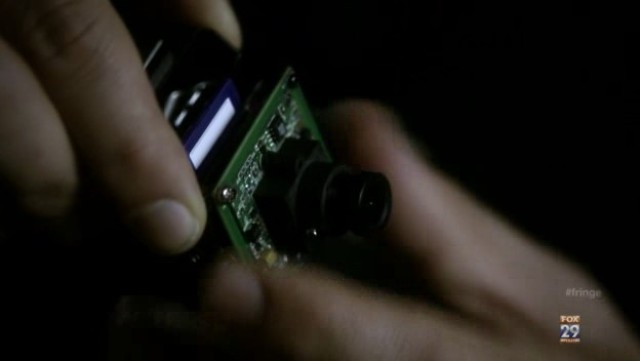 Things got better, in fact was "cool" though, when he told Peter it was relevant to him because she was his partner. Despite his rough exterior, when Agent Lee in fact told Peter he was quite upset because he (Peter) loved her. It was even "cooler" when he said Peter was ignoring him. Peter probably did not ignore Lee, but I did, I certainly ignored him!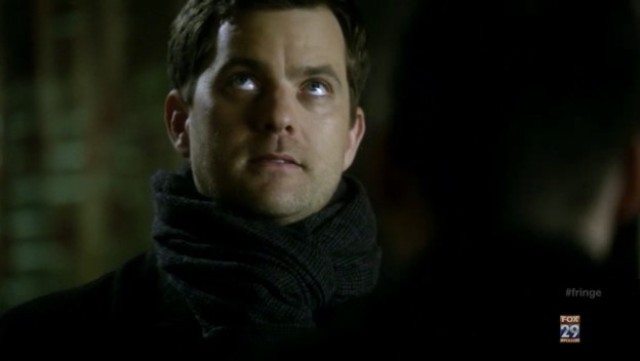 Next we get to the principal suspect. It was obvious to this reviewer that they would think it was Nina Sharp. Nina had access to Cortexiphan, access to Olivia and in any event, the sequence was really quiet believable.
Nina Sharp was certainly behind it all; however they did not know the fact that there were two Nina Sharp (Blair Brown), one a shapeshifter created by David Robert Jones to do his bidding. This was really amazing thing to watch and most enjoyable.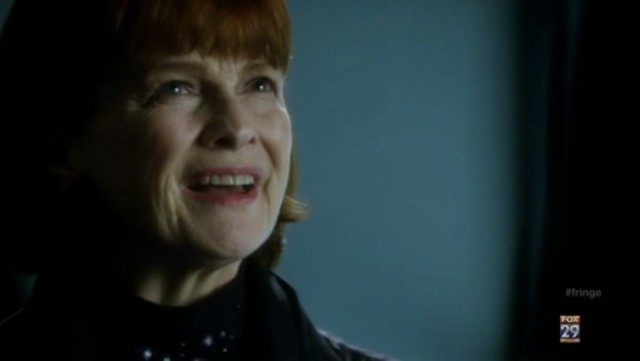 I do not know about you, Fringies, but I did not believe that the kidnapped Nina was the real Nina who raised Olivia, even though I was quite upset to have to witness the torture scenes. Being the real Nina or not, it was painful to watch.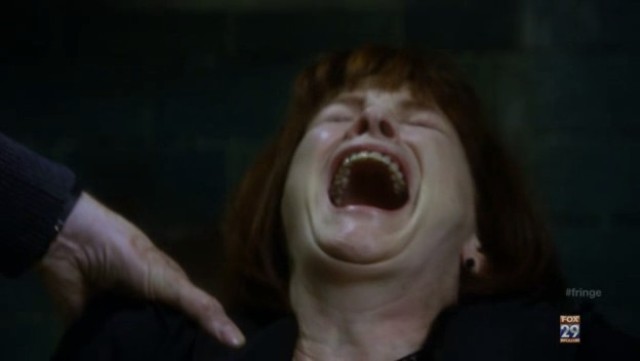 As we all know, Olivia's ability is triggered by emotions, fear most importantly. When the torture began, the only thing I could think was, please do not be the real Nina Sharp. I do think in this timeline, Nina was the most lovable woman she could be, taking good care of Olivia since she was a child.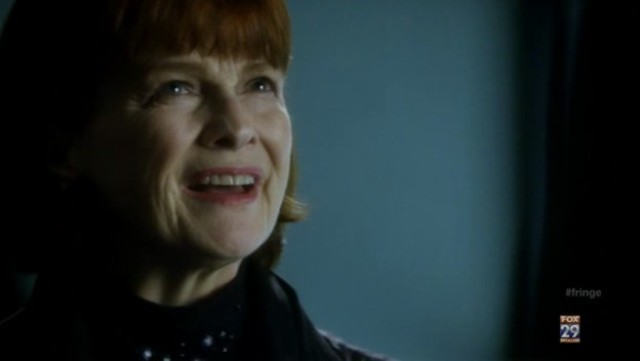 Observers… there were a public meeting of Observers this time, to discuss September's (Michael Cerveris) situation. Septemer has been responsible for Peter's return because he refused to follow December's (Eugene Lipinski) orders. I know that many people like the Observers, but every time they show up, they say something; I feel like OMG, apocalypse is on the way.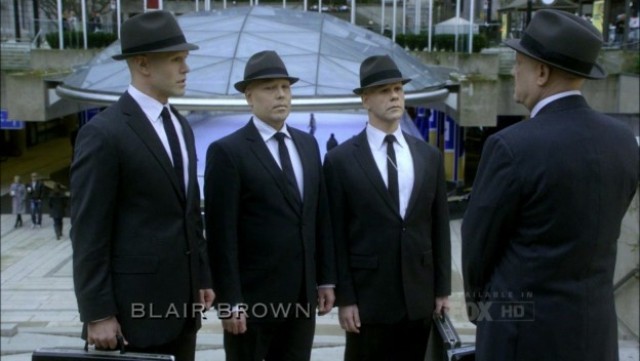 We were aware that Lincoln already suspected, ops, was sure Nina Sharp was guilty, and when she was questioned by Phillip Broyles (Lance Reddick) she could not do anything else but call for a lawyer, which always makes people look guiltier.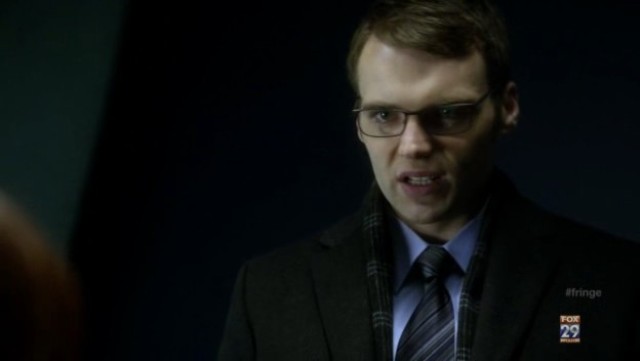 You know why I do not think she was Nina's doppelganger? David Robert Jones would not risk putting his crime partner on jeopardy; she was the real Nina, no shadow of doubts. I could even think of Jones idea to use the real Nina as a distraction, because this way Massive Dynamic would not be looking for Olivia with all technology stuff they have, smart Mr. Jones!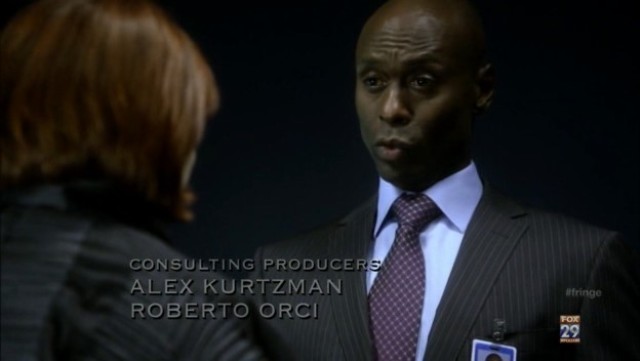 "What I do know is that if I had kept her here, as I should have, then she would not have been taken." It is so cute how protective of Olivia Walter is in this timeline, really cute.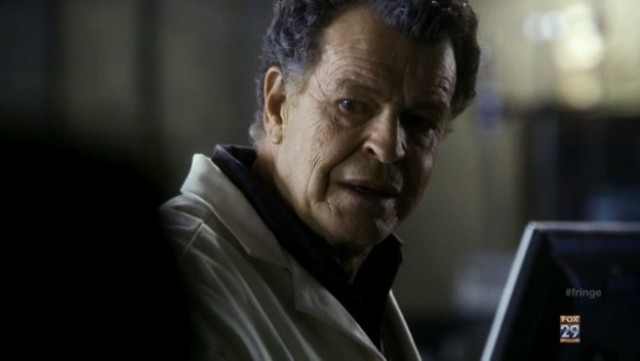 My stomach got all turned upside down when I heard the word "Palimpsest". This word has such a huge meaning to the show; an exemple would be a manuscript, made of papyrus, which has been written over many times, with the earlier writing incompletely erased and often legible. TRACES OF HIM CONTINUE TO BLEED THROUGH!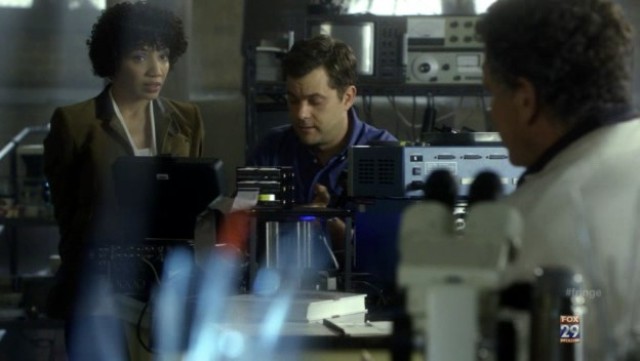 Holy mother of God, here is what I think: no matter how hard you try to erase something, there will be always traces of what was "written" to be seen, always. Sometimes, it will be a very small thing, other times it will be such a hugely greatly immense love that the "thing" which was erased will be very well read, in a very loud sound.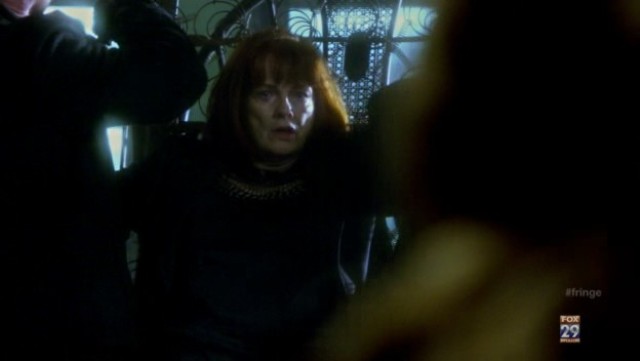 David Robert Jones was not aware of the fact that the timeline had been re-written, that Peter and Olivia now had previous knowledge of him. It was the failure of his plan, torturing Nina would not help Olivia activate her ability, even being electrocuted right in front of her, it would not help.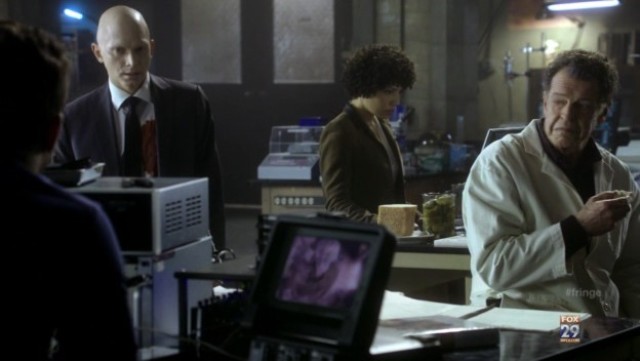 In the mean time, I could not believe my eyes, September showed up in the lab while Peter Walter and Astrid Farnsworth (Jasika Nicole) talked about David Robert Jones. He was shot in Back to Where You Have Never Been and six episodes later he is still alive. He brought so much light to his people as Peter got into his consciousness.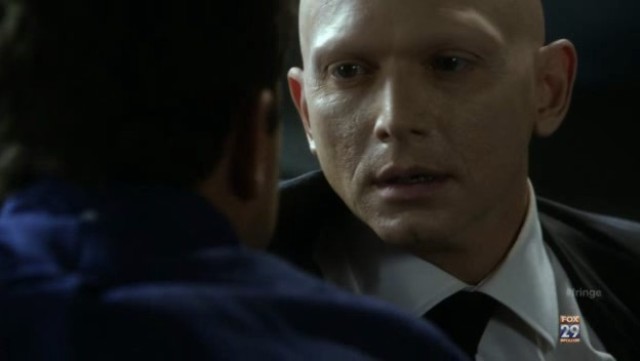 Olivia was doing no good at trying to light up the lights in Jones box as she witnessed Nina's torture, so while Olivia talked to Nina about her memories, trying to connect to anything about their relationship, due to the fact she was now with two distinct set of memories in her head. She said the worst thing she could say, Peter was the one who helped her activate her ability at the original timeline.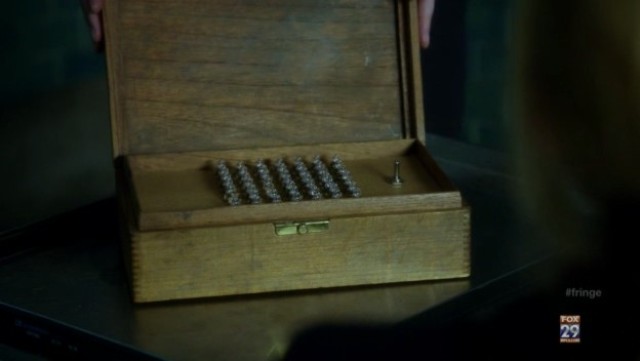 It was quite clear that this Nina was the enemy and holy mother of god, she knew about Peter! Soon enough Jones people got hold of Peter to use him to test Olivia again. There is no reason to worry, Nina may know a lot, but she did not know everything, and as Olivia heard Nina sharing telling her about their memories, she knew that was not her Nina,, which reminded me of Peter talking to Alt!Olivia Dunham about the greek sentence from A New Day In The Old Town.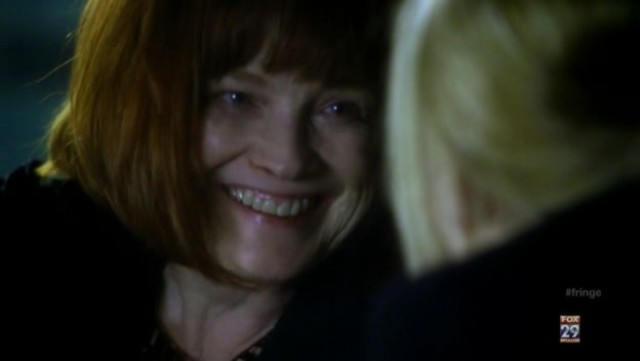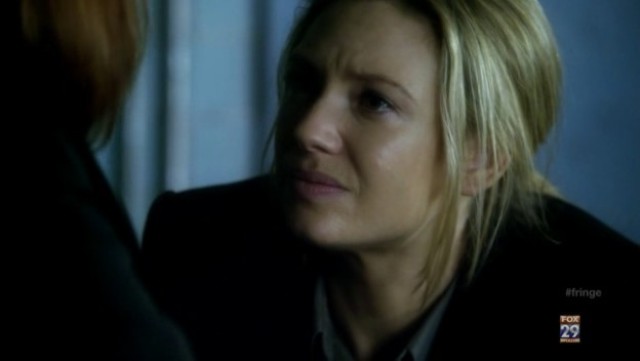 Funny thing here, as soon as Olivia told Nina about Peter, she started to feel excruciating pain, she did not fool me for once! As she got out of the room, we actually saw that she was fooling Olivia and told David about Peter, they needed Peter.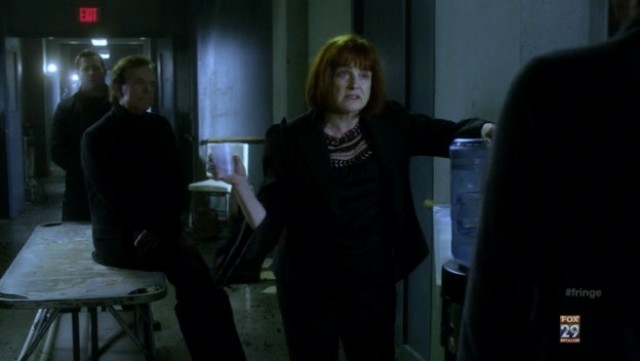 Back to Walter's lab, Peter suggested to his father that he could go into September's consciousness and try to find out if the Observer knew Olivia's whereabouts, despite the fact that he was dying, and if that happened while Peter was there, both would die, gladly, that didn't happen.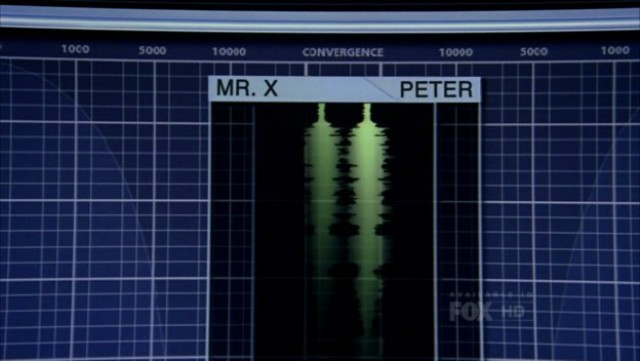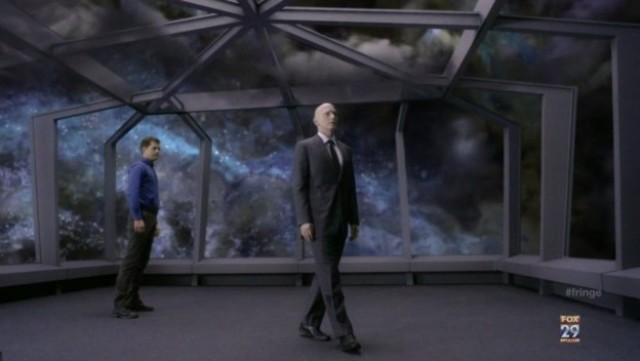 The Observer's mind is something magnificent, a glad room which reminded me of Keifer Sutherland's movie, Mirrors. In this room, the observer showed Peter the beginning of all and also some things from his history, like when he distracted Walternate from creating a cure to his dying son, as well as Bolivia's baby, his son and also Olivia from the original timeline. In that point we got our answer that the Observers are scientists from many generations after Peter's.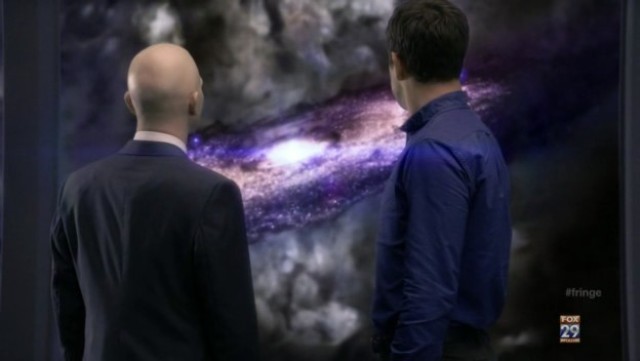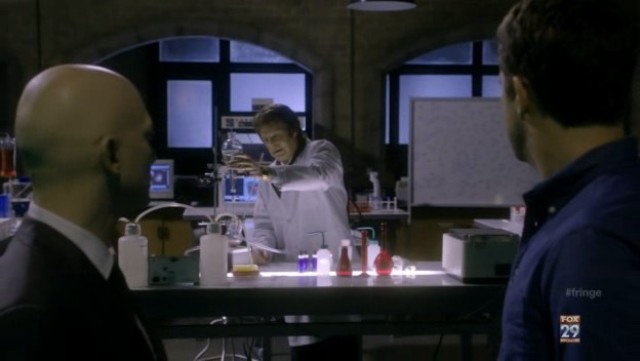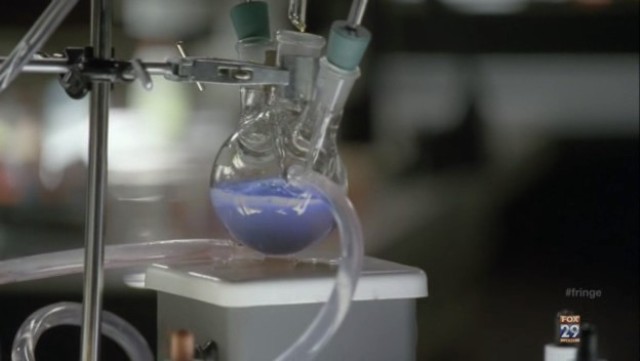 I understand that when you have such an opportunity to talk to an observer about anything, you may have a lot of things to ask, but what is really relevant since you may have such a short time? Who they are, where they came from and what Peter needs to do, that was all.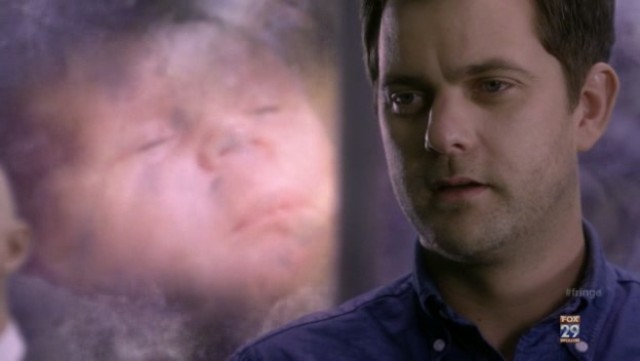 As I have been thinking since season two, it was all September's fault, he distracted Walternate which lead to a chain of events that would mess everything up, as he himself said, the timeline is corrupted. One thing got me bothered; he could not finish his last sentence: you have to find a wa? A way to undo what I did? In my opinion, September has only gotten things worse, and this last act will not help put things right at all.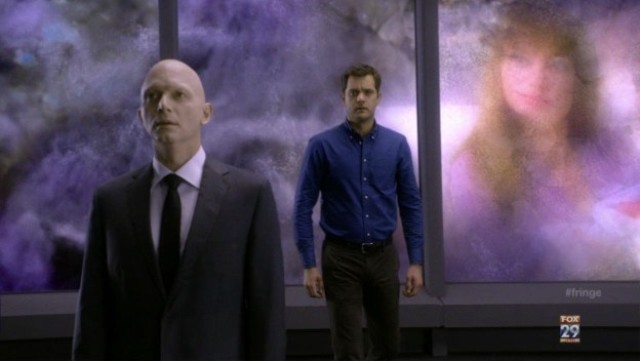 Peter did as he was told by September, he went to his house to find Olivia and who did he find? David Robert Jones' people, who kidnapped him to force Olivia to do what they wanted her to do, light up the box of lights, and to my shockingly surprise, she did far from just lightening the little lights from the box, she discharged a massive amount of energy in the room, which made Jones and his crew run for their lives. The coolest Fringe episode ever!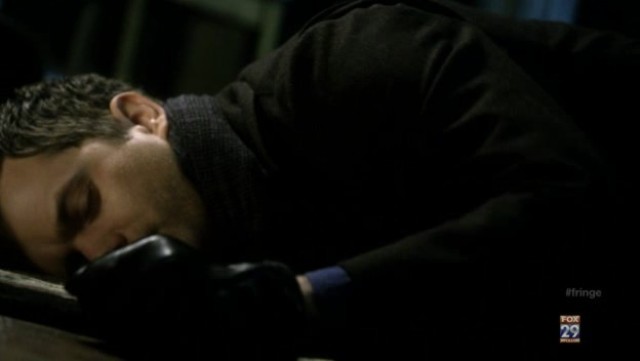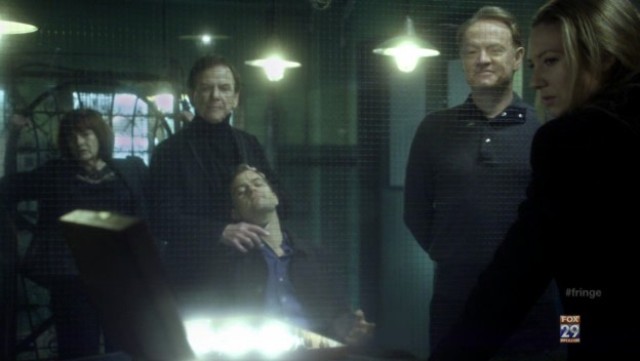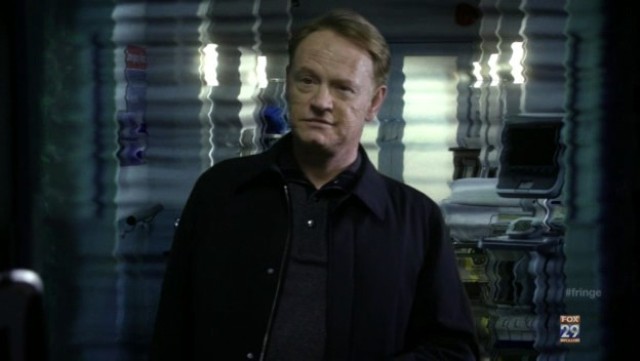 Fringe benefits, to my despair, helped Jones and fake Nina escape to the alternate universe, but hand in there, things got worse. Peter broke up with an in love Olivia, what the Observer showed him, plus what Walter has said about memory projection messed Peter's head.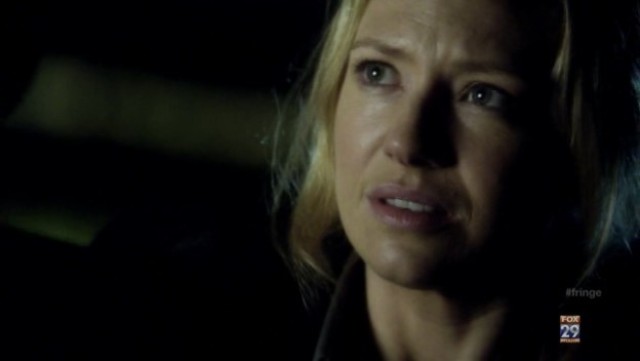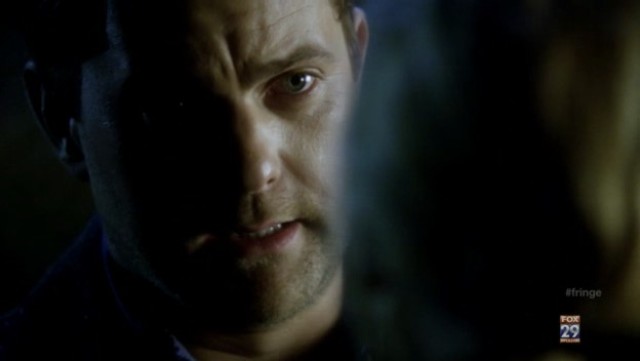 He was convinced the woman in front of him was not his Olivia, despite her insistence in saying she was in love with him, he had to leave her and go home. Despair, now we will have a four week break, let's all get our Kleenex and cry until March 23rd when we will have a new episode.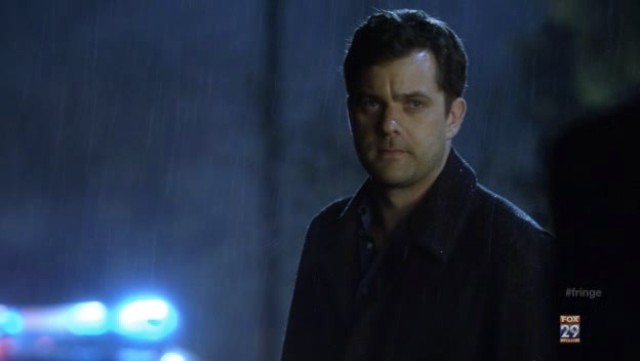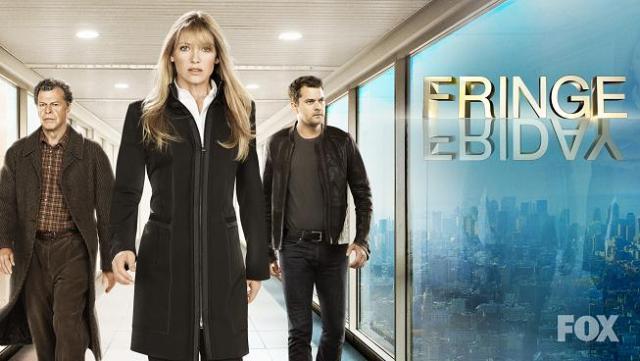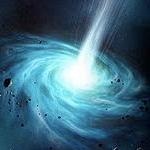 As always, we appreciate you visiting the WormholeRiders News Agency!
Feel free to share this article by clicking the social media icons below. You can visit the WHR on Facebook or me on Twitter by clicking the text links or images avatars here. In any event, the WormholeRiders will look forward to Seeing You on The Other Side on Twitter to tweet about Fringe!
Thanks for reading!