Welcome back WormholeRiders seeking answers to find a Home4Helix!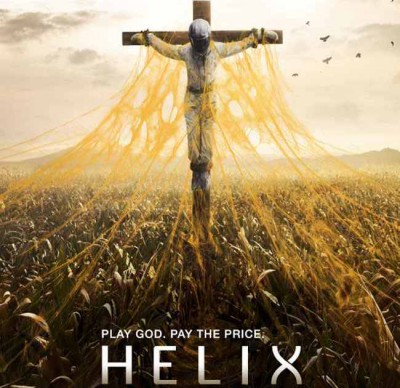 In a tour de force tenth episode of Helix named "Mother", an outstanding science fiction drama mystery was written by one of this editors favorite script writers, Tiffany Greshler!
In "Mother", Greshler lays a solid foundation for the series as it turns the corner moving towards the season two finale.
Tiffany Greshler is a gifted writer whom we had the honor of interviewing this season. Tiffany has proven screenwriting skills, so much so that this delightful weaver of tales will co-write the Helix season two finale bringing an exciting crescendo to admirers of the series that millions world-wide had hoped would result in a third season of #RenewHelix viewing!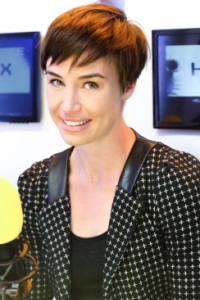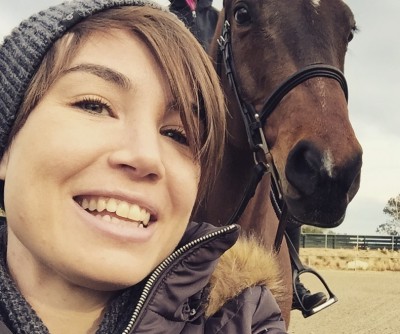 Tiffany Greshler was deservedly promoted for  the second season of Helix.
This very talented young lady also wrote the fourth episode of season two "Densho" as well as the season one episode "Black Rain".
This subsequent to a successful stint by Tiffany Greshler as assistant to show runner Steven Maeda during the successful first season of Helix!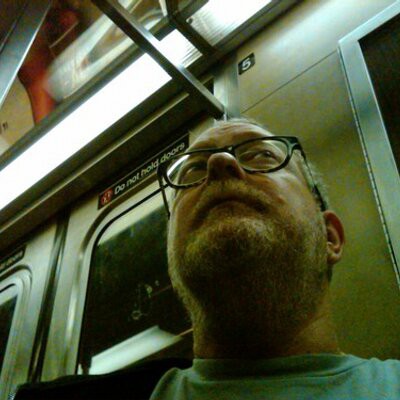 "Mother" was directed by industry veteran Jeremiah Chechik, well known for his work not only in Helix, but other fan favorites including Motive, Bitten, Chuck, Warehouse 13, Being Human, and many more over his  career which has spanned over a quarter of a century!
Chechik's smooth control of the scene to scene action written by one of this editors favorite screenwriters, Tiffany Greshler is a delight to behold as the action unfolds from the previous episodes when a virulent outbreak of an infectious disease on Helix Island takes it's deadly toll in the "Mother" episode.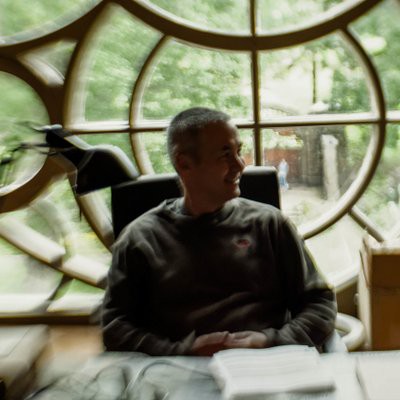 Before beginning the analysis of "Mother", we would like to share that WHR has deliberately withheld our reviews of the tenth through thirteenth episodes of Helix to savor the wonderful memories of the dynamic nature of the second season under the leadership of Steven Maeda for a rather specific purpose;
Our hope is that viewers world-wide will write, call, tweet and otherwise let The Powers That Be at Syfy know that Helix deserves not only a third season, but a fourth and fifth season! We here at WormholeRiders believe two more seasons are needed in order to complete the story arc contemplated by the series creators including Ronald Moore, and Cameron Porsandeh. So we suggest fans work together to #SaveHelix! What say you?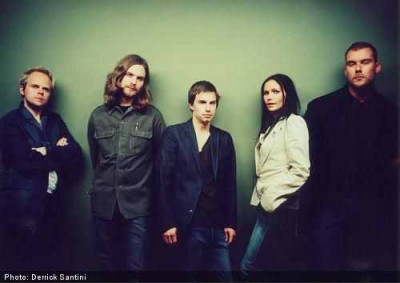 Although we now know that Helix has been not renewed by Syfy or Showcase Canada, we, and millions around the world hope that fans will rally to nudge Syfy to make a special announcement of Helix series renewal during San Diego Comic-Con (SDCC), which runs from July 08 to July 12, 2015 and reverse their decision. You the fans and admirers of Helix can make that happen by writing, calling tweeting the good folks at Syfy and let them know you want MORE Helix! As The Cardigans would undoubtedly says; help SAVE OUR FAVORITE GAME, HELIX! Thank you.
Mother: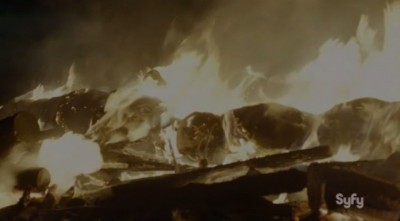 "Mother" opens with a scary scene reminiscent of the biological disease outbreak of Ebola on the African continent earlier this year that was caused in part by a failure of governments world-wide to properly quarantine the region, resulting in unneeded deaths in non infected countries.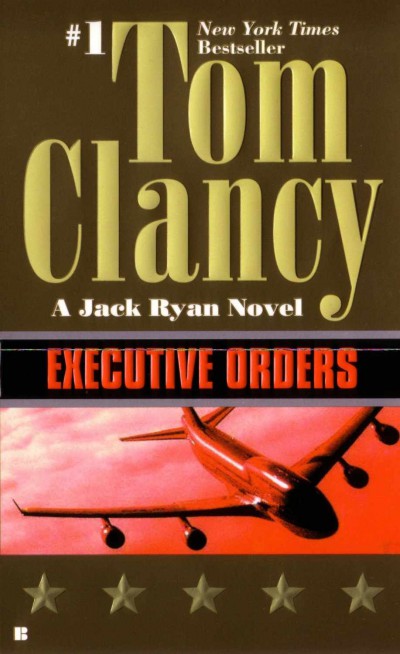 The scene of bodies being burned also reminds this editor of a Tom Clancy novel "Executive Orders" (1996), the eighth Jack Ryan series of books by Clancy where Ebola was used as a weapon of mass destruction against the United States in an alliance between Iran and Iraq known as the United Islamic Republic (UIR).
The parallel is clear to the modern evil unleashed by the malevolent ISIS (Islamic State in Iraq and Syria) that the Clancy novels foresaw.
It cannot go without mention that Helix, as a series, dovetailed the contemplated corporate use of infectious diseases by Ilaria, an eerie similarity to the Horizon Corporation in Clancy's 1998 thriller "Rainbow Six" that planned to take over Earth after killing the majority of its inhabitants. In Helix, the back story of corporate greed and lust for power is laid bare!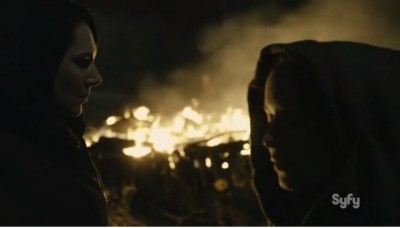 The funeral pyre for the dead former residents of The Island finds viewers with Doctor Julia Walker (Jules portrayed by Kyra Zagorsky).
Jules is intently questioning Sister Amy (Alison Louder) who has become the de-facto power on The Island. Jules wants to know about "The Bleeding Tree" known as "Mother",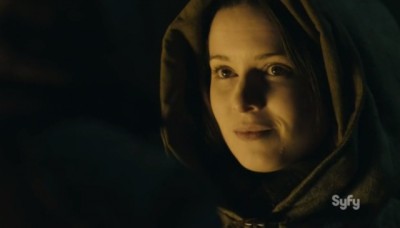 "Mother" is the root, or origin of the sexless apples cherished on The Island, believed to hold curative powers to stop the disease killing so many. During their encounter, Jules delineates the nefarious Ilaria's plan to depopulate the Earth. Jules intent is clear; She is seeking Sister Amy's help to locate "Mother" so Jules can stop Ilaria from executing their fiendish plan!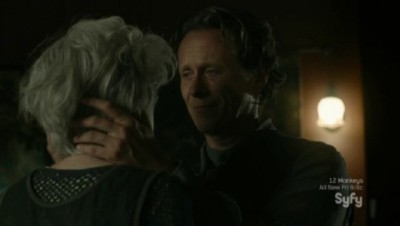 Long suspected, as we witnessed with Sister Agnes (Clare Coulter), killed by Brother Michael (Steven Weber), Sister Amy does not desire mere temporary power on The Island; Sister Amy wants the Immortality that Michael has withheld from his progeny; Mom/Sister Anne (Severn Thompson) and Grandma Agnes, each of whom Brother Michael impregnated in acts that no one could refer to as less than an insidious and incestuous plan to create a race of immortal "children".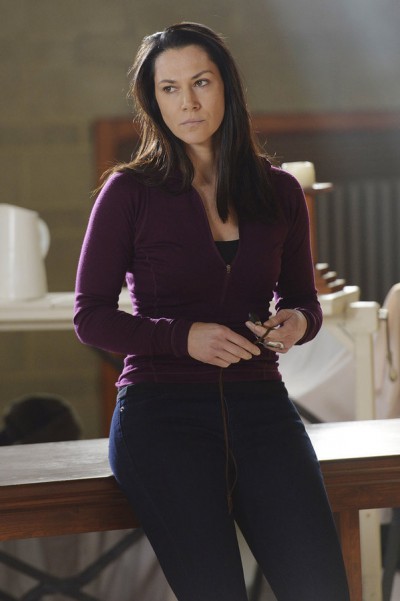 Jules seemingly agrees to make Sister Amy a silver-eyed immortal in exchange for the "Mother" root. This editor is convinced that Jules despises Sister Amy and her lust for power. In the opinion of this reviewer, Jules is only agreeing to make Sister immortal, but plans on not really doing so after obtaining access to "Mother".
Jules and Sister shake hands on the "deal" while Sergio Balleseros looks on the two ladies suspiciously as the funeral pyre blazes away. Long acquainted with the powerful at Ilaria, Jules warns Sister Amy in no uncertain terms that her (Amy's) fate will be death if she does not deliver "Mother".
As mentioned above, this editor is certain that Jules will try to kill power mad Sister Amy regardless of whether she delivers the root or not. After witnessing the scheming Amy, delightfully portrayed by Alison Louder, does anyone disagree Sister Amy deserves to be buried on The Island?
Meanwhile, the scene moves to Doctor Kyle Sommer (Matt Long) who is searching for "The Bleeding Tree" with Doctor Alan Farragut (Billy Campbell) back at the Abbey. Kyle is obviously impatient to find a cure for his own debilitating condition escorted by Lieutenant Commander Winger (Patricia Summersett).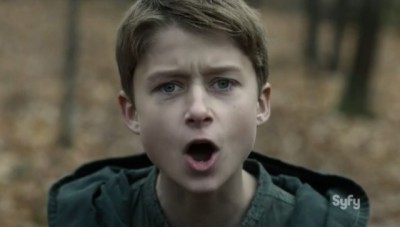 Lieutenant Commander Winger reports to Alan that they have not found any of the sought after red sap. Alan is reticent about the plan reminding Winger that once afflicted Soren, portrayed by the talented young actor Cameron Brodeur, is the only person who has recovered from the mycosis.
Alan believes that Soren's acquired immunity must be the secret to finding an antidote. More importantly, Alan is not very optimistic regarding Kyle's medical prognosis, stating Kyle has only "48 hours, if that" and expresses doubt about the ultimate military plan if things go awary. This makes for great drama, leaving viewers to wonder if the Kyle character will be sacrificed before the end of the second season?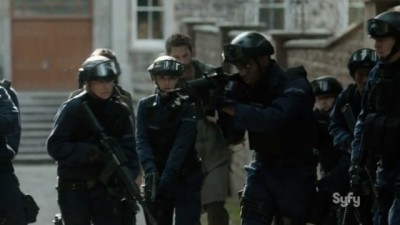 Lieutenant Commander Winger, having arrived two episodes earlier in "Vade In Pace", has promised medical supplies and evacuation from The Island. This reviewer believes that Alan's suspicion may be correct; that the government will attempt to cauterize The Island, killing everyone in the process in an attempt to halt the spread of disease. Little do they know that is not the agenda that Ilaria has in mind for the over populated world.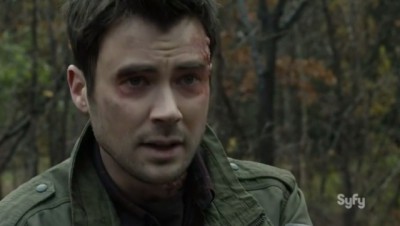 Soren appears from the tress and approaches Kyle, who is already suffering from mental delusions. Kyle backs away from Soren seemingly hallucinating and in outright fear. Alan warns Soren that Kyle needs the red sap. Soren innocently quips; "Why not just bring him to the Bleeding Tree?".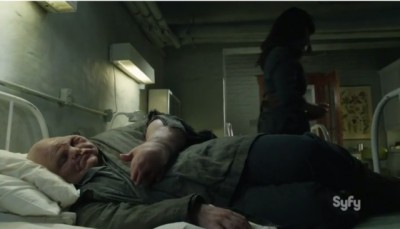 We segue to lovely Sister Anne with horribly grotesque Brother Landry. All viewers have felt for Landry who has suffered under a failed experiment overseen by power mad Sister Amy.
Sister Anne is in complete tears when with"Brother Landry" for what Sister Amy has done and not being able to protect him from the machinations of Sister Amy.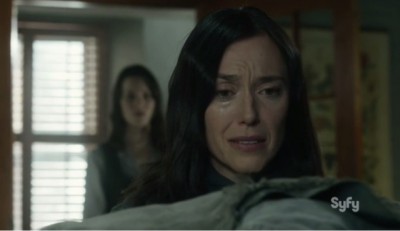 Sister Amy, none to happy with this development, leers at her mother Sister Anne. Anne informs Amy that "Mother" is missing. Anne does not want the valuable root to fall into "the wrong hands."
We suspect (know) that Sister Amy has plans to steal the "Mother" root for her own devious purposes as a failsafe to protect her own life at the cost of any adversaries who might interfere with her scheme of achieving immortality. The chemistry in this scene between "mother" and "daughter" Anne and Amy is palpable.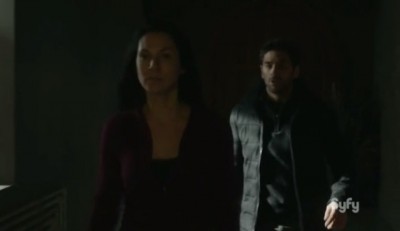 In the meantime, Jules and lover Balleseros contemplate the crazy situation on The Island. Brother Michael has created a "Family Feud, Sister Wives edition", a rather funny line considering the circumstances.
It is here in the story arc that our belief that Jules has no intent of making evil Sister Amy immortal. Jules makes it quite clear to Sergio that such is an impossibility! The two allies head out in differe nt directions to find som item that they can use to thwart Sister Amy.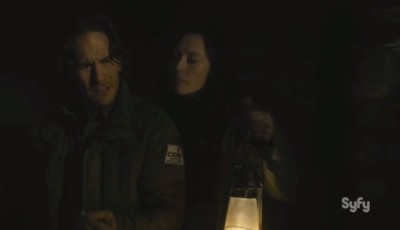 We find Doctor Peter Farragut with Sister Anne in the Abbey's botany lab having torn the place apart looking for "Mother". Jules comes in and instructs Anne to excuse herself from the conversation, throwing an insult at Peter that his plan to search the Abbey room by room is useless.
Peter and Jules, former lovers have a bit of spa tabout who has been a bigger traitor over the course of the past few years. To the delight of this reviewer, Jules verbally slaps Peter, rubbing salt in his wounds, reminding Peter that he betrayed her to her own father Hatake!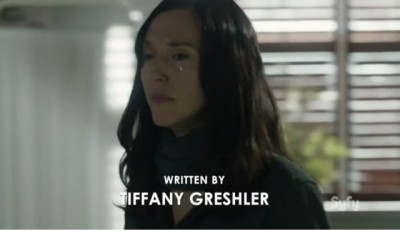 Anne now moves to defend her lover Peter, verbally assaulting Jules that trusting her daughter, Sister Amy's about "Mother" is a fools errand. Anne makes a huge reveal; she states forcefully that only she, Michael, and her son Brother Landry had control of the "Mother" root!
That s correct folks, Sister Amy and Brother Landry are brother and sister! Our worst incestuous nightmare suspicions are revealed! We think back on the sexual scenes between the two and now understand the nature of the vile relationship between the entire family procreated by pervert Brother Michael!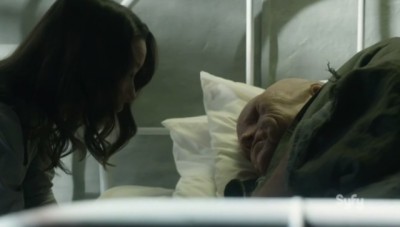 Next we see Amy with her suffering brother, Landry. We truly feel sorry for what has happened to him. Scheming until the end, Amy asks Landry where "Mother" is. Landry is virtually comatose, unaware that Amy is crying, seemingly feeling guilt at what she has done.
Sarah Jordan (Jordan Hayes) appears in Landry's to continue treating the poor soul. Livid that she cannot speak with her confidant, Sister Amy orders Sarah her to "fix" her brother Landry. Sarah brusquely informs Amy the medicine does not work that quickly.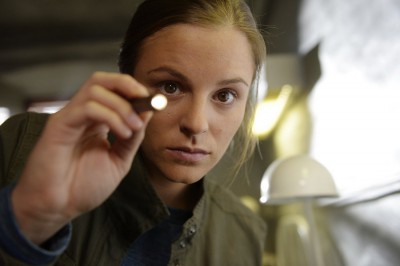 Amy threatens to kill Sarah's immortal fetus to no avail. Sarah and Amy both know they need the unborn waif to complete an immortality treatment on the devious Sister Amy.
Amy reiterates that Sarah had cure Landry "or else." As Sarah begins to conduct a blood test on, our suffering friend Brother Landry awakens with one word to his sister; "Amy!", grabbing Sarah in the process!
As the exciting episode builds to a fantastic conclusion, we witness Landry dragging Sarah down one hall in the Abbey and then another. What is he after? Is it "Mother" that he has protected above all else? During the sprints in the hallways, Sarah is dropped by Landry as Anne, Sarah and Jules run into each other all seeking the same thing… "Mother!"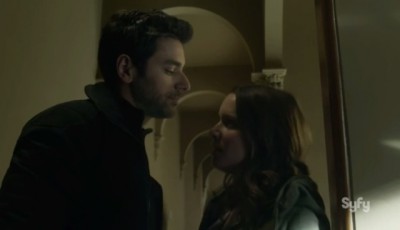 Now we find Sister Amy sneaking up on Sergio (Mark Ghanimé), who promptly begins choking her to death! Balleseros relents to join Amy to look for "Mother" despite her insults about his sexual relationship with Jules.
Jules has admitted the horrific Ilaria plan, "worldwide sterilization" to reduce the population to a manageable level. This story arc aspect differs greatly from the Tom Clancy novels mentioned above in which outright genocide of a majority of the worlds population was the desired outcome of the terrorists.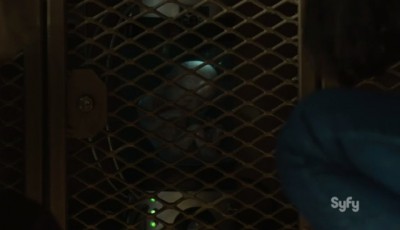 Sarah is aghast at Ilaria's scheme! Only a bit less messed up than the original Narvik genocide, Jules is openly frank that if the Narvik variant cannot be stopped this time; they will lose everyone. Sarah status she only cares about her immortal fetus.
More reveal time as Sarah leads Jules to the immortal fetus, explaining that good ole' Alan is the father! Jules is shocked only momentarily. Recalling her own infidelity no doubt, how can she be the "pot calling the kettle black"? Building on the action we learn that the container housing the immortal fetus is leaking fluid.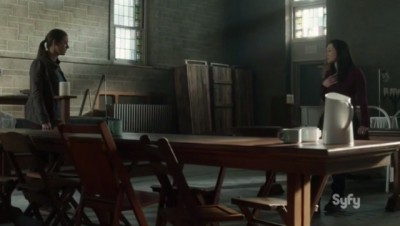 Jules suggests that "working" with Sister Amy, tricking her into believing she will get what she wants, they can save the immortal fetus AND find "Mother". But how? That juicy detail is left for the very last shocking scene of the episode!

Out on "The Bleeding Tree" trail, Kyle's hallucinations are reaching epic proportions with Soren and an entire group of island children taunting and throwing of dirt at him. Alan tries to calm Kyle down who suddenly vomits and attacks Alan, kicking him in the stomach!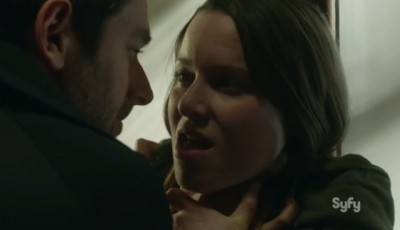 Scenes overlap each other in a perfect storm; deviant Sister Amy tricks Sergios into letting himself get slashed as she disgustingly licks the blood from his palm. the away team makes contact with the evacuation ship, learning that it is too late; completely "overrun" with disease and sending a distress signal! Winger struggles with the facts; this means that another team will likely be dispatched to sanitize the entire area!
Back in the ancient laboratory, Jules and Sarah are sharing scientific information about why Sarah became immortal via Jules (in season one), but the same for Landry did not work. Neither really know what went wrong. Surprisingly, Jules tries to recruit Sarah to Ilaria. No doubt this topic will be revisited later in season two despite Sarah's initial rejection of the offer!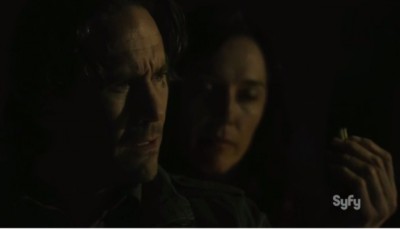 Anne has placed Peter in the dark, "no distractions", for her version of "twenty questions" to determine if he is worthy. Anne presses; what does he want? Respect, Peter babbles "When did he feel the most respected", Anne asks. Peter whispers, "When I was sick." Anne opens a door and extends her hand to welcome her new partner!
We end the episode with several quick, but well done sequences that complete the foundation of what will happen in the final three episodes of Helix season two: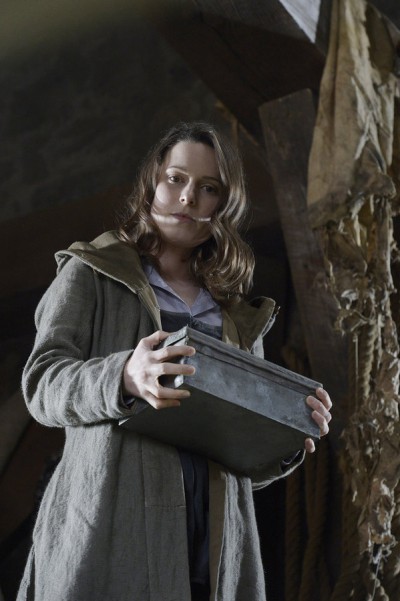 Sister Amy and Sergio are in the Abbey belfry. Landry appears to protect "Mother" as Sergio ties Landry with bellrope, but he falls to the bottom. Naturally Sister Amy grabs "Mother'"s box. Sergios desperately grabs for life on the edge. Dear Sister Amy steps on Sergio's hand and sends him to the bottom too. Are both Landry and Sergio dead? This detail is left for the next episodes to disclose!

Jules wants to talk to Amy alone but Sarah insists on going with. Sister Olivia (Sarah Booth) comes in to say Empress Sister "Amy will receive them now". "That's the bitch who stabbed me," Sarah retorts, not knowing, but suspecting that Amy has secreted "Mother" away for safekeeping.
A major reveal then occurs from Sister Anne to Peter; he is led to a room full of pregnant women tied to hammocks. "Those who refused" Brother Michael's call to breed an immortal companion ended up here! The disgusting scene shows the why; each has had their teeth removed so as not to chew through their feeding tubes. Once these "pure vessels" gave birth, dear Brother Michael would kill each of them! OMFG!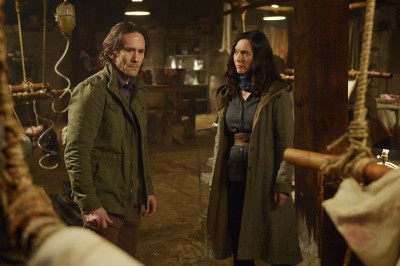 Anne then hands Peter a knife and asks if he will choose to become a leader at the Abbey? Peter agrees cutting a nearby woman's wrists proving he is worthy to Anne. Anne promptly hands Peter the dead woman's newborn. Sheez!
In the last moments we learn that Alan has saved Kyle from throwing himself and Soren off a cliff at the top of The Island. As Kyle let's go of Soren, we all see "The Bleeding Tree"!
The last scene of this superb episode finds "Queen" Amy rather unhappy with both Jules and Sarah. Neither have lived up to their part of the bargain. Queen Amy plans to get even with Sarah by killing the immortal fetus, until Jules bluntly informs Queen Amy the key to Amy's future Immortality IS the fetus!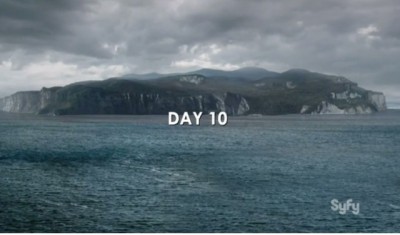 Sarah freaks out when Jules goes further promising to implant the immortal fetus' and engineer its stem cells to be compatible with Queen Amy. Sarah completely goes crazy screaming at the prospect of using her baby to live up to the deal with Sister Amy! It is here that this reviewer believes it is all an act to trick Queen Amy into revealing "Mother"! Did I say OMFG yet!?!
We here at WHR suggest everyone send a #RenewHelix tweet on Syfy Friday's and on Showcase Canada to express your desire to see Helix renewed for a third epic season! Thanks again!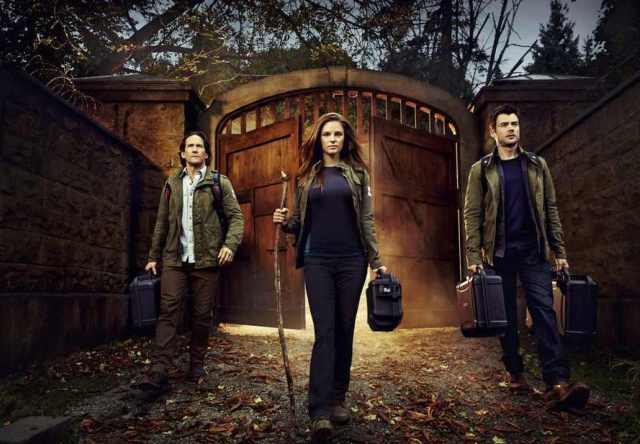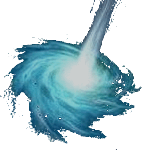 Please feel free to share this article with your friends, co-workers and or family and to leave your comments! We look forward to you visiting our Helix dedicated analysis web site in the future!
Or as many of our readers and visitors often do, visit WHR on Twitter, WHR on Facebook or visit me on Twitter by clicking the text links or images avatars in this news story. I and the WHR team look forward to Seeing You on The Other Side!"
Thank you.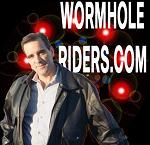 Best Regards,
Kenn