Welcome back WormholeRiders seeking answers to find a Home4Helix!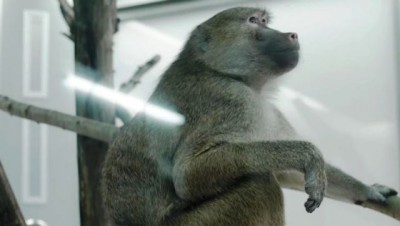 Welcome back fans!
First let us all help #SaveHelix in order to get a new #Home4Helix Somewhere Over The Rainbow!
This episode, Plan B, begins with…drumroll please …MONKEEEEEEEE!
It wouldn't be Helix without a monkey sighting! From the National Primate Research Center in Bethesda, Maryland (Four Star) Admiral Fiedler (Frank Schorpion) is shown the true devastation of the organophosphate pesticide, described by the tech as being similar to the VX gas.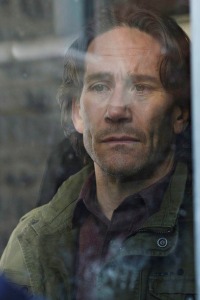 Plan B:
The monkey begins to shriek and howl as its flesh starts to melt and almost seem to be eaten away off the creature, the gas killing everything (that is living) in the glass enclosure.
Revealing that they have figured a way to mass produce the pesticide, the tech shows the Admiral the storage facility and asks him how much they'll be needing. As the camera pans out, the Admiral says he'll take "all of them".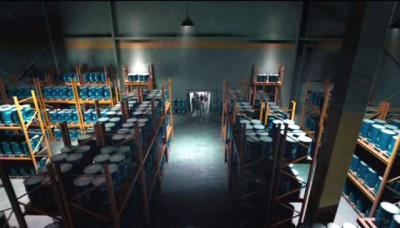 A wonderfully written episode, as has become custom – it's Helix, there should be no less! Thank you to Leigh Dana Jackson and Adria Lang for such brilliant lines for their actors to speak beautifully and seamlessly at the direction of Jeff Renfroe.
Much appreciation to all producers on all levels of this episode: Sandrine Gros d'Aillon, Maril Davis, Stephen Welke, Javier Grillo-Marxuach, and Mr. Jackson also served as a co-producer too! I would be remiss to leave out Ronald Moore, Lynda Obst, Steve Maeda, and the shows talented creator Cameron Porsandeh!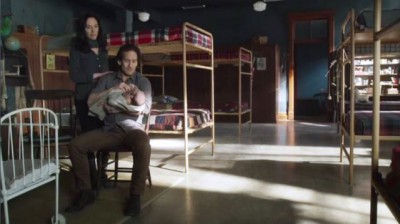 All the cute, fuzzy, and warm from the next scene with Peter (Neil Napier), Anne (Severn Thompson), and baby is gradually removed once one hears their dialogue.
Sure there is the first time parent feeling as Anne tells Peter that he is "a natural with that baby, you'll be the father that he needs", all the while Peter is glowing and coddling and downplaying his skills.
Anne mentions that the baby needs a name, but quickly turns the conversation when Peter says he hadn't thought of naming the baby. Sensing that Peter has jumped in with both feet, Anne suggests that the name can wait, instead there are "loose ends that need to be tied up". Peter picks up on this and Anne gently explains to him that it's the skeptics, and that if THEY are going to rebuild that there can be NO interference.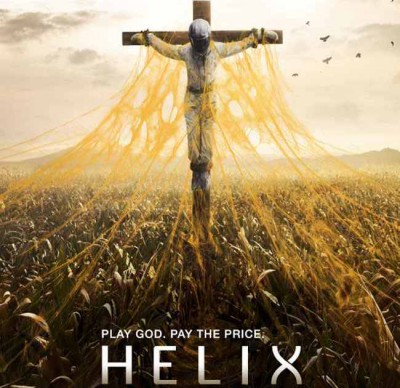 Peter begins to go off into a stare as he both listens to Anne and thinks to himself. Expulsion is not good enough, Anne warns against the possibility of being exposed. First contemplating letting Sarah (Jordan Hayes) and Kyle (Matt Long) leave the island, the warning of exposure quickly changes his mind; NO ONE can leave.
And of course when it comes to Alan (Billy Campbell), well, there was no plan to ever let him leave, "Alan is like a dog with a bone, he would never leave us in peace" says Peter to Anne.
All too quickly and tenderly we see Anne leaning in to Peter saying, "I will stand behind ANY decision you make." Having already thrown "you're a born leader" in Peter's direction, the puppet master Anne is back at work.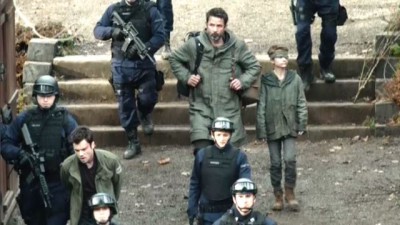 Impatient Amy (Alison Louder) is having the procedure explained to her by Julia (Kyra Zagorsky) – that through the use of an artificial placenta and umbilical cord the forever fetus will be implanted into Amy's womb. Before that can happen though Amy's system needs to be "shocked" with bovine hormones to prepare it to become a receptacle for the fetus.
As much as Amy may wish it, one cannot "magically" become 15 weeks pregnant overnight! In the midst of her explanation to Amy, Julia sees the triumphant heroes return – Alan, Kyle, Soren (Cameron Brodeur), Cmdr. Winger (Patricia Summersett), and her Coast Guard party – from beyond the walls; Kyle shackled and Alan and Soren conversing.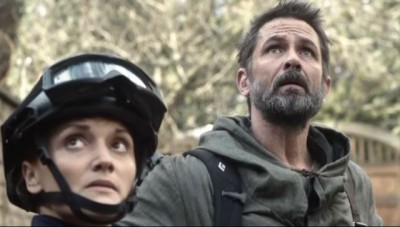 Explaining to Winger his need to distill the sap into a concentrate for a base for a cure is a necessity for Kyle and for any other mychotics on the island, Alan catches sight of Julia through Michael's (Steven Weber) office window as well.
He orders Soren to be taken to the octagon (their make shift lab) as he stares for a minute and then takes off to find Jules. This is the first time since Arctic Biosystems that Alan has seen Julia.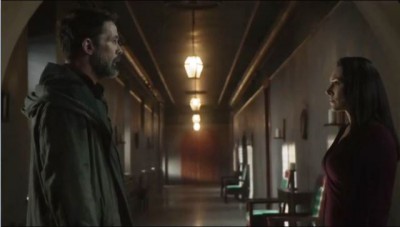 Julia comes down the stairs from the office as if to head Alan off and finds him the hallway bearing down on her as well. Not having known that Alan was on St. Germain, there is an accusatory "what are you doing here?" tossed in Alan's lap from Julia; and folks, now the gauntlet has been thrown.
They go back and forth tossing barbs at each other, "looking for you" says Alan, "but you've been busy with your new friends at Ilaria"…to which Julia counters, "the same friends that you have been stalking and killing." Alan recounts that the last thing that Jules had said to him at the helicopter at Arctic Biosystems was "find me" and that that is just what he has been trying to do; in his own way.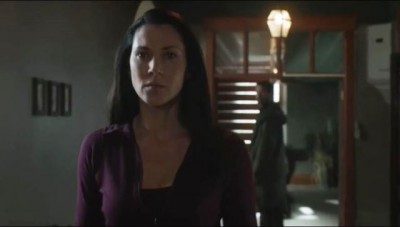 Trying to explain to Alan just what she is doing on St. Germain, Julia tells Alan about the pending Narvik C outbreak/release. She also tells him about how she is chasing down Mother as her key to the infertility project versus mass mortal genocide.
With an obvious bug up his butt Alan spits out, "spoken like Hatake's (Hiroyuki Sanada) daughter." Not skipping a beat, Julia declares I AM Hatake's daughter; you can either help me or get out of the way" and she takes off down the hall brushing past Alan. One final spar hears Alan asking about what happened to the woman he fell in love with, and we see Julia determinedly step forward saying, "She became immortal."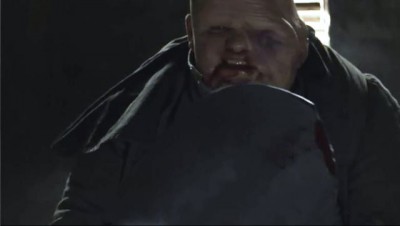 From the beautiful to the, um, not so? Amy has sent two of her cronies to the bottom of the bell tower to dispose of the bodies of Landry (Sean Tucker) and Sergio (Mark Ghanimé).
However, "I'm not dead yet" could be heard from the mind of Landry (in his best Month Python voice) as one tried to roll him over.
Then with sudden surprise and strength Landry sits up and snaps the poor guy's neck! Like Julia, perhaps there was a latent immortality in Landry that was awakened with the (tainted) spinal fluid from Sarah.
Maybe it took a massive shock or trauma to "knock it loose"? As Landry gets up he grabs the shovel of the first crony and beats the second one to death.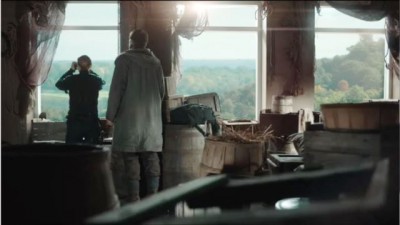 A reflective Sarah is seen gazing out her window and pacing her room as her door is unlocked by Olivia (Sarah Booth) because it apparently was feeding time at Amy's zoo. As Olivia is counselling Sarah, Julia comes down the hall. Feeling a brow beating from Julia, Olivia explains that Amy had asked her to keep an eye on Sarah; Julia quickly retorts "she's not a prisoner."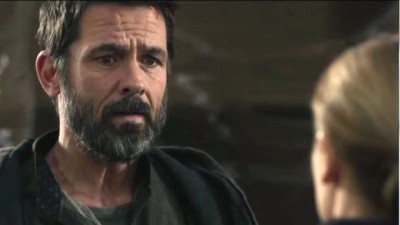 As Olivia departs, Sarah and Julia begin to argue in their familiar circle, with Sarah even dropping the "by using the baby that I made with Alan" line…ever patient Julia waits Sarah's dialogue to conclude then carries on with her pleading for Sarah to trust her, something that Julia has been imploring Sarah to do since Julia's arrival on the island. Julia is up to something, but she coolly rationalizes to Sarah that perhaps forever fetus will start to grow once again after being "placed" in a mortal; it seemed to have stopped growing in Sarah, that if they try this it may have a chance to live.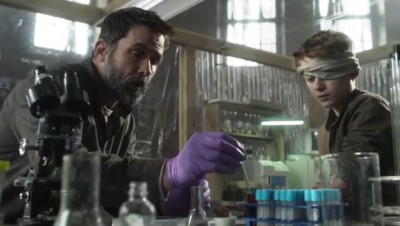 It is now taking three Coast Guardsmen to tie down Kyle, in a bed back in the refectory, and the three of them are really struggling to do so. Kyle is imploring that binding him to the bed is not necessary. In the background Winger is unsuccessfully trying to get a call out for evacuation.
It appears that at every turn the channels are jammed. Alan goes over to Winger, explains that there is now a new threat – Narvik C. Not being able to get through to her ships and now this new information from Alan is a greater cause for concern for Winger and she takes off for "higher ground" to make visual contact. Alan follows and sees her immediate disdain for what she observes.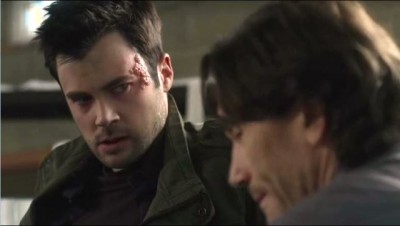 Questioning what he is looking at, Alan begins to show some concern. Not mincing words Winger tells Alan that the navy is going to kill everything.
Explaining to Alan that after the first Narvik outbreak the military set up a 2 pronged approach to aggressive infectious diseases. First step "Plan A" is an aggressive containment and "Plan B' is eradication with an aerial spraying of organophosphate pesticide, killing everything (in this case, EVERYTHING on the island).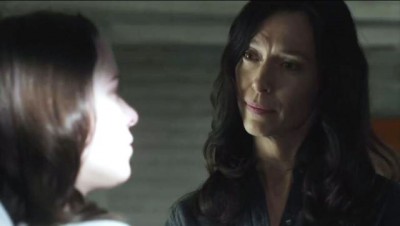 A perturbed Alan gets into it with Winger not liking that she knew this, and she quickly counters with the fact that they should all have been long gone by this point. Alan starts to pack for an evacuation and Winger stops him by saying that they're dead, they're all dead.
Dumbfounded he stares as she further explains that Plan B assumes that all still alive HAVE been exposed to the pathogen and will need to be killed to prevent further spread. Ever the optimist, Alan halts the packing and starts the science; now it's his turn to explain to Winger that they have until sundown to synthesize a cure.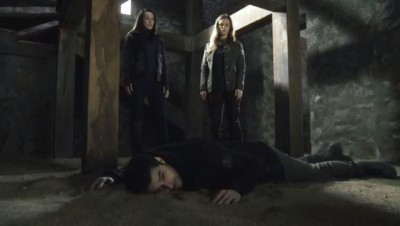 Elsewhere we see the struggling Kyle get a visit from Peter, much to the dismay of Lt. Humphries (Julian Bailey). As Peter lives in the footsteps of his love, he too is becoming a master manipulator as he smooth talks to Kyle about all the things that have happened to the CDC team since they came to the island.
Having mychotic Kyle think for a moment as to what his original purpose was in coming to the island – to stop Alan. Kyle begins to reflect that if he weren't tied up he take care of Alan. "Why don't we just keep this between us" Peter whispers to Kyle as he leans in to untie one of Kyle's wrists.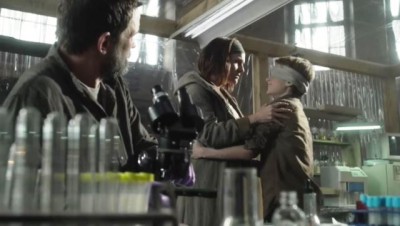 In the infirmary, Amy gets visit from Anne. Amy does her best to rouse Anne, to cause her to get angry; even tossing in her face Anne's problem is simply that she does not get angry, she is too calm, too docile – remember the sheep?
Anne declares that she does not have a problem, that the purpose of this visit is simply to give Amy a chance to apologize. Once Amy's outburst ceases, Anne serenely tells Amy that she has "hurt a great many people, I hope that one day you'll realize how your actions have ruined the lives of many…" As their "conference" ends, Anne's parting shot to Amy is simply "just remember, I gave you a chance."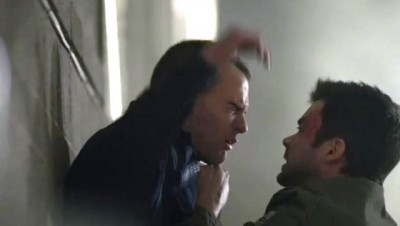 Back in the bowels of the bell tower, Sarah has led Julia to Sergio's body, telling Julia that a follower had told Sarah of the body. Sarah postulates that it is Amy behind Sergio's death, and then in a complete 180 degrees in conversation tells Julia that she will help her with Amy's immortality BUT it better save her baby.
There is a silent nod of agreement as Julia bends down to the body, flips it over to his back and takes the pistol from his belt.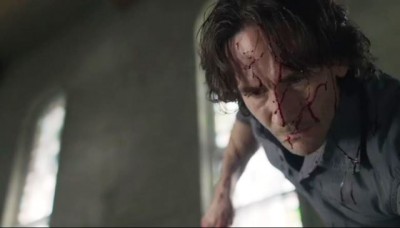 Alan is now drawing blood from Soren in the lab and he is telling Soren how he thinks that Soren's blood is unique. Upon hasty analysis it becomes evident that Soren's blood IS indeed unique and that they may just be able to create a cure using it.
At that moment Olivia busts in and is beside herself excited to see her son. Soren explains how he is helping Alan and how his blood may be helping to make a cure. Still embracing her son, Olivia says that she "owes" Alan, and that Michael had always preached to pay their debts.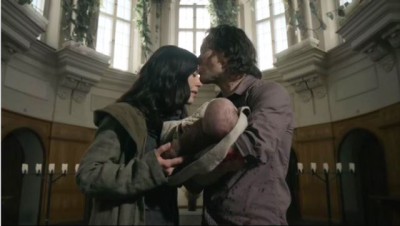 So we head back to the eating area as it is now feeding time for Kyle, and poor, poor Lt. Humphries drew the straw to bring the tray of food. As he is laying the tray on the side table, Kyle attacks! Dazing Lt. Humphries and leaving him on the floor, Kyle darts off and out of the hall.
In walks Peter and stands over Humphries. Begging for help from Peter and getting none, Peter's only response is "sorry lieutenant your path ends here." We see a knife to Peter's side, he readies himself and then prison shanks Humphries to death, leaving a dazed and blood spattered Peter.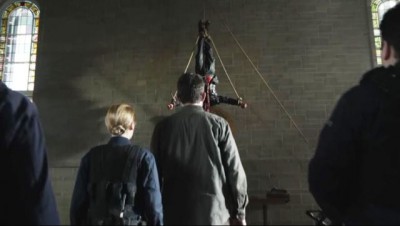 Anne enters the meeting hall/church proper to find Peter standing at the altar with the baby. As he turns around to reveal his bloodied self, Anne grows concerned.
Seeing this concern, an all too serene Peter conveys to Anne that the baby is alright, that there is not a scratch on him. She is pleased and Peter tells her that his part is complete and that it is her turn.
It is his turn to be concerned, reminding Anne that they need to be careful and to not let anyone see them. They come close for a tender moment, and Peter reassures Anne that all will be over by nightfall; suddenly Anne hears movement from the rafters…Landry!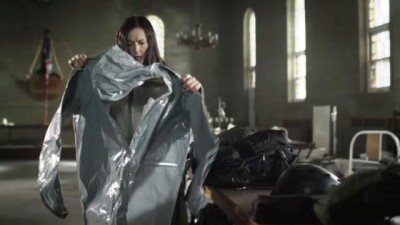 Back in the refectory Winger, her men, and Alan find a strung up Humphries – hanging in an inverted cross, eyes removed, and gutted with his intestines hanging out and reaching to the table below. All but Alan's first thought is Kyle and Alan is left to make a case for Kyle stating that what they see before them is too "surgical" to have been a mychotic.
Winger will have nothing of it and orders the men to continue to lock down the abbey and to shoot Kyle on sight. As they all depart, Anne enters. Surveying Peter's handiwork, Anne thanks Humphries for his sacrifice, "you died to ensure his glory". She carries on to a Coast Guard backpack, pulls out a bio suit, and looks it over…what does she want with that?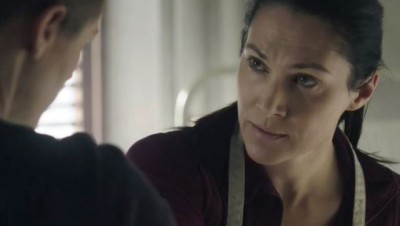 We see Amy getting prepped in the infirmary, Julia is checking last minute minutia, Sarah with the instruments. Amy softly grabs Sarah's hand and tells her not to worry, that she (Amy) will be a good mother (to Sarah's baby) – a glaring Sarah makes it obvious that she is not at all pleased with the direction that Amy's quest for immortality has taken.
Amy is still trying to make friends as she sincerely says that soon the three of them will be sisters. As calm as ever, Julia tells Amy to rest and that it'll all be over soon. Taking that as a threat, Amy responds with one final threat of her own regarding the fact that if anything happens to her while she's under, she will take the location of Mother to her grave.
Julia gives the magic nod to Sarah and she has the perverse pleasure of "gassing" Amy. As she finishes this task she quickly grabs the scalpel and drives for Amy's neck. Julia stops her and says the all too familiar, trust me…what is Julia up to?
Heading upstairs to the rafters of the church proper/meeting hall, Anne is in search of Landry. She starts calling to him, "Landry my sweet boy, you can come out, no one is going to hurt you." And he does, he reveals himself to Anne.
As Landry shows concern for Amy, Anne begins to lecture him on his sister. Telling him that Amy is on a dangerous path and fears that she may have perverted his too, that his "feelings for her will be his undoing". Landry wants no part of this; he does not want to be lectured by Anne, not by anyone. He grabs Anne by the throat and lifts her up and almost over the rail, but ultimately cannot finish her off.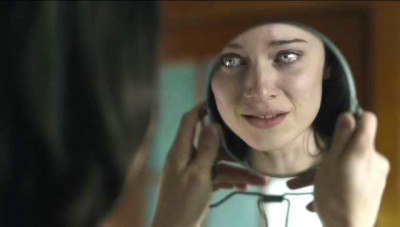 As Amy awakes, she feels no pain. Julia tells her that she feels no pain because the procedure was successful, as one can clearly see by the long and unhappy face of Sarah.
Sarah ultimately storms out, not wanting to be around Amy's elation at being immortal; Julia seems to be left to manage both personalities and women, a delicate balance.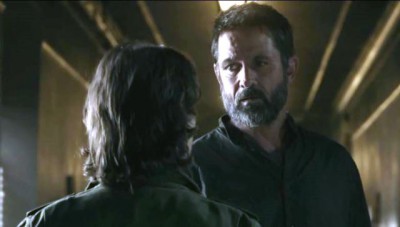 Next up in Peter's maniacal plan are two "chance" meetings – first one between himself and dear brother, second between dear brother and Kyle. First meeting takes place in a hallway, and after the two mix it up a bit,
Peter claims to be working as the errand boy of Julia telling Alan that he needs to see her about some new information about Narvik C. Getting Alan's goat about it being the "Jules and Alan show" again
Peter departs in a huff after claiming to not know anything.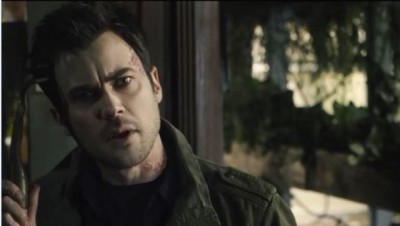 Now apparently Soren had been listening and takes off after Alan toward to botany lab. As he enters and searches for Julia, he gets lassoed and hanged by Kyle. "Don't Kyle me! I'm on to you!" Kyle yells at Alan as Alan pleads for his life. Kyle goes on about the time he spent with Cadmus and Carol and what he had reflected upon.
He accuses Alan of working for Michael, for coming up with a fungus that would infect anyone who ingested it. "You did this to me!" Kyle exclaims and point to his mychosis, blaming Alan; Soren sees all of this and flees.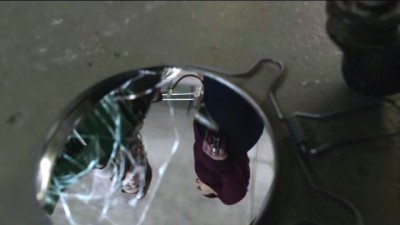 Amy is still admiring her eyes, going on and on about how beautiful the silver is; she cannot grasp by Julia and Sarah insist on covering them up with contact lenses and Michael with his injections. Julia presses Amy for the location of Mother, as she has held her end up of the deal, now it is time for Amy to spill it.
Unrelenting, Julia grabs the mirror from Amy's hands and tosses it to the ground, growing ever impatient at Amy's lust for self. "Just because you're immortal does not mean that you can't die" – famous potential last words from Julia to Amy; and with a scalpel again to her throat, Amy tells Julia where Mother is.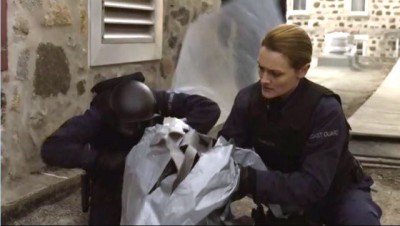 Outside of the abbey, the sun is beginning to set and the planes are inbound. Up on the rooftops the Coast Guard are feverishly trying to finish securing the windows and vents, and stopping the fans from working, trying to create that protective barrier. Hearing the planes, Winger orders her team to "gear up" in their bio suits and gas masks. Now we see Anne's handiwork and what she had been up to – their bio suits have been slashed and their gas masks have been crashed.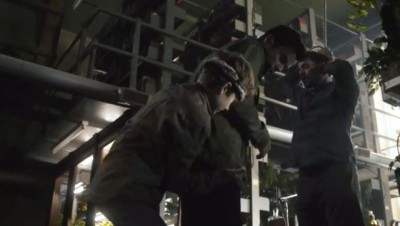 Back inside, Soren has rushed back to the lab and removes the serum from the blender and makes a syringe – I hope that that is the right stuff! He bolts back to the lab and stabs Kyle in the leg with the syringe, injected its contents into Kyle. Kyle collapses to the ground and Soren goes to cut Alan down. As their story winds down, Alan recovers and Soren looks to Alan asking if he is on a good path. I have to agree with Alan, yes, Soren, you are on a good path!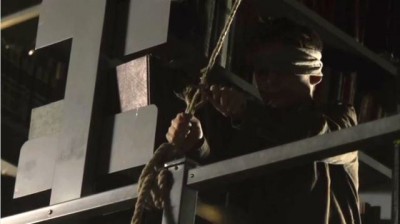 Cue up "Somewhere Over The Rainbow" by Judy Garland and we are shown all hell breaking loose – the Coast Guard frantically trying to gear up but cannot because it has been sabotaged!
Winger and her crew cannot get back inside as sinister Peter stands there watching them die behind a locked door; Soren hastily cutting Alan down from the rafters; Julia hurriedly going outside to recover Mother; and Amy happily pushing open the abbey doors and heading outside to dance in the "mist" to prove her immortality and shout out to the world that she is a god, "I'm just like you father, only better! It took you 500 years to do what I've done in a mere 19! Your legacy is over and mine is just beginning!"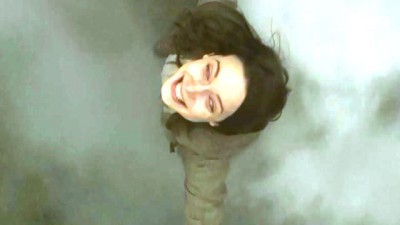 Only, in reality, clearly in which Amy does not live, the outcome is not exactly what all would have hoped for. Amy is NOT immortal, and Mother is dead – both having been exposed to the pesticide.
We see in a flashback, that Amy had had her eyes injected with silver, much like Michael and the blue; and I'm sure Sarah took a perverse pleasure being on the other end of the needle, really sticking it to her.
And Amy also winds up "not dead yet" and dragged off, presumably by Landry. And as Julia returns, Sarah runs out to greet her asking if she had found Mother. "Yes, and so did the gas" says Julia as she pulls out the root to show Sarah, "it's dead and soon now will be the rest of the world."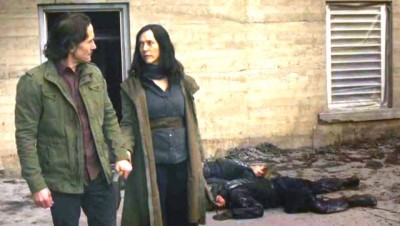 As a final parting shot, Anne and Peter are out on the rooftop, and as they survey the devastation, they agree that they must continue on their path, the must finish their job….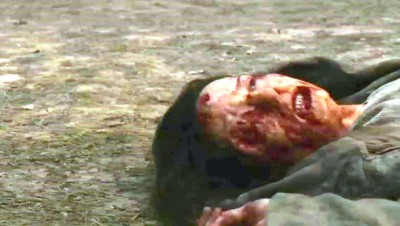 WOW!! Another packed episode in the can!
What's next? Did Amy survive? Who dragged her off? Speaking of survival, how's Kyle? What are Julia and Sarah going to do now that Mother has effectively been destroyed? Alan and Soren, they make a great little team, eh? Speaking of teamwork, Anne and Peter, hmmm…shippers?
Show of hands who wants to see this one go further? You can if we all work to #SaveHelix to #RenewHelix and help find a #Home4Helix!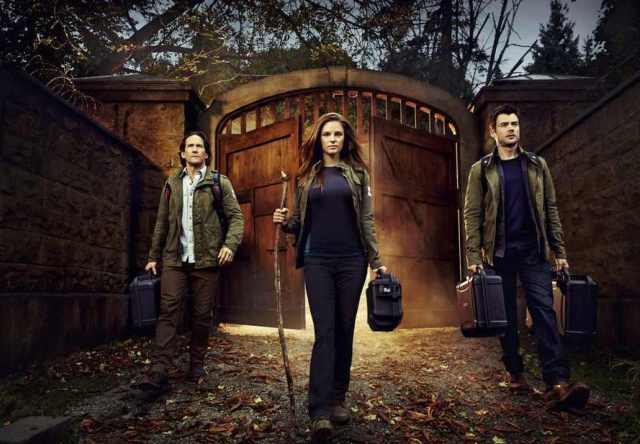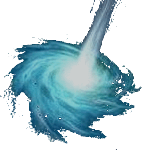 Thanks to Kenn for final audio, video embedding , and additional image staging, and many thanks to you for reading and visiting WormholeRiders News Agency.
Please feel free to leave a comment here, click an icon below to share this news article, or you can chat by visiting and following me on Twitter, just click on my avatar to the right.
Thank you!
Karina (FidgetTBC)