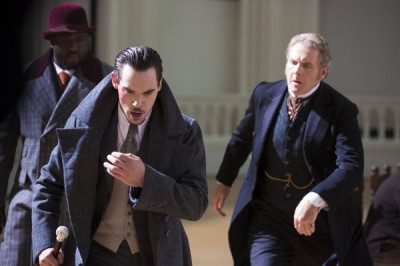 Here we are again facing the winter hiatus of our favorite show. This episode was the turning point in the show. It was the most crucial episode to date, the one we have been building up to.
I know that new episodes won't come back until January 2014, but in the meantime, let's hope this review will hold you until then.
I know that different myths of Dracula have him walking in daylight and other tales have him burning at the slightest ray touching his cold, dead flesh. Whatever myth you subscribe to, this episode made its point perfectly.
Of Monsters and Men: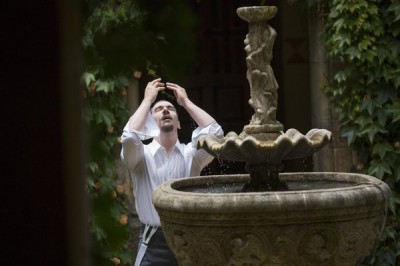 Now, on with the review…just a reminder that not every scene will be analyzed, just the ones I feel are the important to me and the story. The opening scene is beautiful with Jonathan Rhys Meyers!
I love how JRM really takes in the sun around him, he soaks it up. He truly had his day in the sun, it is as if he had been a prisoner (which he sort of is) in solitary confinement who is finally able to go outside again.
Feeling the water on his face, feeling the rays of the sun on his skin it is a feeling I am sure he has not felt in a few centuries. It is a great scene, but sad at the same time knowing that this is just a dream.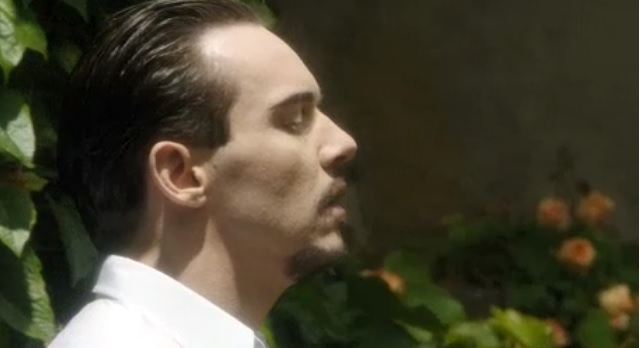 There are many things about this series that I love and the score is definitely one of them. It has the suspense or drama or playfulness that it requires and it is fit perfectly. This opening scene is no different, you can feel the urgency of the scene unfolding as the score builds. Well done Trevor Morris, keep up that great work.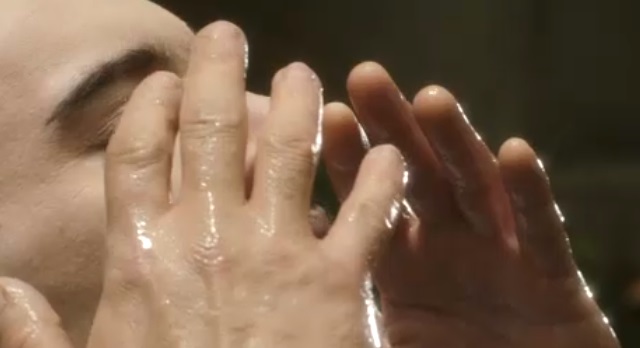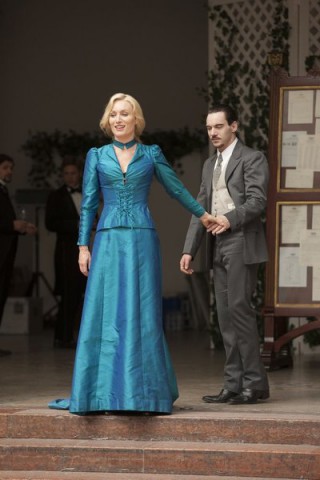 As smart and intelligent as the gorgeous Lady Jayne (Victoria Smurfit) is, she is also very naïve and not using her head but her physical lust instead.
The great thing about this scene, is that as much as she tries to justify that Grayson (JRM) couldn't possibly be a vampire, is that she is completely and utterly wrong.
It is the myth and legend that one must believe, but then again that is the very essence of what myth is all about. Myth is what you make it, it changes and evolves as the centuries do, that's the beauty of it.
Browning (Ben Miles) of course has a more level head when it comes to Grayson, he knows something is not quite right. I laughed out loud when Jayne says that she spent a great deal of time with him and she would have noticed if he were Nosferatu. 
Sometimes hiding in plain sight is exactly what the enemy does, it is the only way to go unnoticed. Poor Jayne, if she only knew she were sleeping with the enemy.
I am curious what will happen when (or if) she ever finds out that he is really the one she seeks.
My point about Lady Jayne and her brain is proven when she mentions to Lucy (Katie McGrath) that she, too, knows what it is like not to have your heart's desire. Of course Lucy is taken aback when Jayne mentions that she isn't talking about Grayson, but Mina (Jessica De Gouw).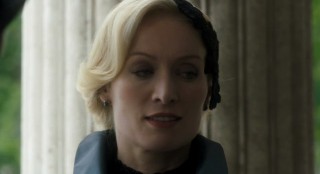 Again, as I mentioned in my previous analysis post about Dracula, the subject that Jayne is referring to is very taboo in that age, but still is very much present in the modern world of today.
It is very strange to me that no one else picks up on this, I guess that is why Lucy can have unrequited love for Mina and not have any problems from others about it.
Can I say how happy I am that we finally got to see (if somewhat PG-rated) Harker (Oliver Jackson-Cohen) and Mina (Jessica De Gouw) consummate their relationship. It is nice to finally get a chance to see how much they love each other. I know that Jackson-Cohen posted on his twitter account the night of the episode "I don't see anything wrong with a little bump and grind"…which of course was just a bit cheeky and a quote from an R. K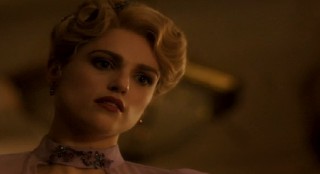 elly song.
The scene leading up to the copulation scene is very sweet. The getting caught in the rain and subsequent shedding of clothing, very tender. It does show how much they love each other and that as Grayson had pointed out earlier, nothing can sever their bond.
Even though they are engaged, it is still a big step for Mina to show herself to Harker before marriage. It is still taboo for women to initiate any kind of sexual desire (or desire of any kind) as it was not their place, but instead to be subservient to their men and not the dominant ones. Jonathan making sure Mina is comfortable is sweet as well, he really does love her.
Their scene is not as wild and erotic as the scenes between Grayson and Jayne, but the power of it no less significant. Harker's suggestion of eloping instead of a lavish wedding doesn't go over very well with Mina. Understandable since society dictates that a big wedding would be best for a couple like them. It is clear also that Mina wants to have her fairy tale wedding. Like the good man he is, Harker relents (with not much of a fight) to her request of proper marriage in a church.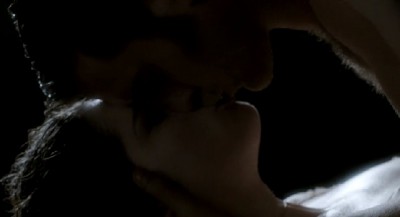 When Grayson is forced to meet the stockholders in broad daylight his angst is clearly written on his face. This is what he has been waiting for, to walk in the sun, but hoped that the serum Van Helsing (Thomas Kretschmann) is working on would be complete. Unfortunately Grayson has no choice but to accept the change of venue and up the ante for himself. There is always a price to pay for the thing we want the most.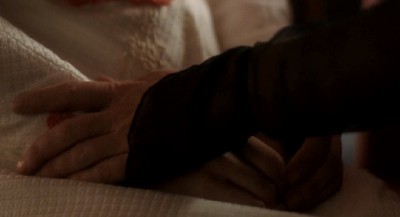 The scene with Jayne and Lucy is well…interesting, to say the least. Naughty Jayne, seducing Lucy like that when she knows very well that Lucy has her heart set on someone else. It didn't surprise me that Jayne revealed a little bit of her own mystery to Lucy in the admission of her own female lovers in her youth.
The only thing that sucks about this scene, is that Jayne tells Lucy that Mina likely feels the same way. I am still not clear why Jayne manipulates Lucy into thinking that if she tells Mina her true feelings that Mina will feel the same?
But then Jayne is a mystery herself. We may find out later in the season…hopefully we will at least. Masterfully done by Victoria, well played my lady, well played. With the seduction of Lucy in full swing, poor Lucy does not stand a chance against the seasoned Jayne.
I am glad that Mina's curiosity won out and she confronted Van Helsing about the mystery substance that she found in the bottle. She pressed him enough so that he gives her a bogus, but at least decent explanation as to why the reanimation of dead cells is possible. Careful Mina, you know what they say about curiosity and a certain feline…her brain can get her into trouble as Van Helsing points out.
Thankfully Van Helsing is smarter than her and can convince her (although I suspect not completely) of the origin and use of the blood and he does not go through with his plan to kill her. Mina's reasons for her fascination are heartfelt, her mother's death from cancer is I am sure one of the reasons she is pursuing the medical profession. Van Helsing feels for her and no longer feels like she is a threat to his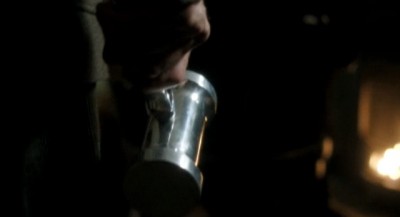 and Grayson's plan.
Jonathan finds himself in a bit of a pickle when Davenport (Robert Bathurst) informs him that he should make sure he knows what he is getting himself into with Grayson. It is again a matter of perception in society that Jonathan has to worry about more so now that he will be married soon. Of course the ulterior motive of Davenport is definitely there and his desire to destroy Grayson and everything he stands for is Davenport's driving force.
The way he reveals the deception to Harker is very clever and diabolical at the same time. Well played Davenport, the chess game has again commenced. Grayson's move is next and what a move it is. The play "A Doll's House" by Henrik Ibsen happens to be one of my favorites and one that has significance in this particular episode about women and their place in society.
Well done to writer Katie Lovejoy for incorporating a play with such groundbreaking themes and placing it perfectly in this episode. Especially since the women in this show are definitely not afraid of being who they really are, they are fighting against the male dominated society that they are born into and the same society Ibsen talks about.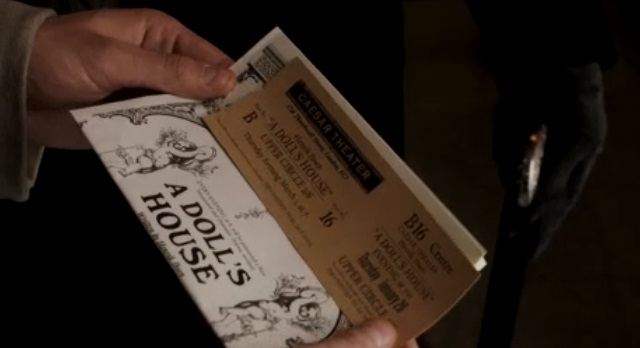 The scene with Lucy and Mina is a sad one, I feel for Lucy and the fact that she wore her heart on her sleeve, tore it off and gave it to Mina, who tossed it aside and stomped on it. That must be so devastating. Katie McGrath is wonderful in this scene, she captures Lucy's vulnerability and utter devotion to Mina perfectly. Jessica's reaction is perfect, too, her undeniable discomfort is evident in the way she becomes towards Lucy. Well done ladies, well done.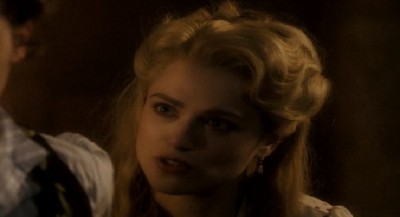 The scene in the makeshift lab with Grayson strapped to a wheel is a painful scene to watch, but necessary. I often watch those kind of scenes through my fingers covering my face. It is a hell of a scene to play and both men do their best. Discomfort? Is that what you call excruciating pain? Okay, Van Helsing, whatever you say!
Easy for him to say. Renfield's (Nonso Anozie) concern for his master is great, Nonso has such expressive eyes. He plays it very well, it is as if Grayson is his child not his master. The needles…ouch, but again absolutely necessary in order for Grayson to be "human" or "normal" as the saying goes, no pain no gain.
The pain that Grayson endured was worth it, if even for a few minutes. The solarium scene is beautifully shot. The way that Grayson doesn't stay in one place for long, the way that he shows only one side of himself to the stockholders while the other side is scorching. He still manages to finesse his way through the meeting.
All the while, Renfield has a very watchful and worrisome eye on him, literally timing his exposure. Proving everyone wrong, it is a huge win-sort of-for Grayson as he keeps the suspicions at bay (if only for a little while longer) about his aversion to sunlight.
The look on Jayne's face is priceless, her "I told you so" to Browning was perfection…if temporary. Renfield comes and saves the day and of course Grayson must excuse himself. Well done, and well-orchestrated, like a pas-de-deux, although Grayson has to have the last word, which could very well be his undoing as his flesh is starting to scorch.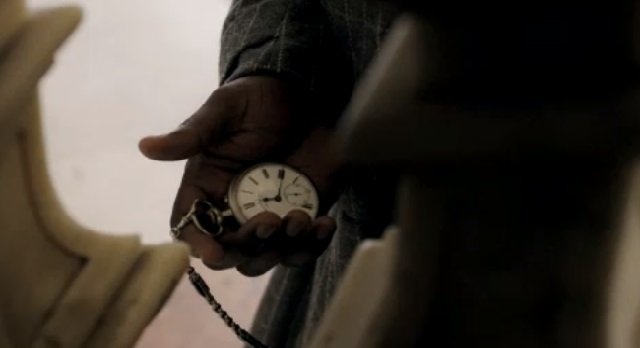 The scene with Van Helsing remembering the slaughter of his family by Browning and the Order is so frightening. His revenge is cemented more and more as the show progresses and we see just how incredibly brutal the Order can be. It is no wonder he is helping Grayson and his quest for revenge.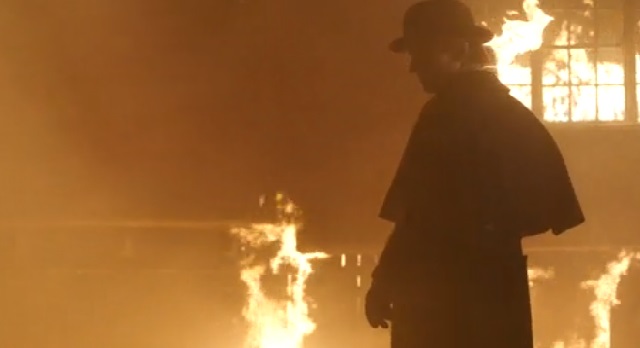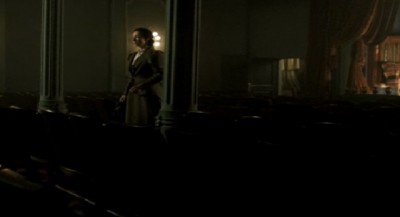 There is only one way for Grayson to heal and that is to feed. The way it happens is brilliant, it is reminiscent of the old horror films that would rarely show the monster or menace to the audience.
In this case, we do know who it is, but don't get to see the full brutality, only partially, but we do get to hear it, which is far worse.
By not showing the audience the full brutality of his act, it leave sit up to our imaginations (as twisted as they can be) and that is what makes this scene that much scarier. In the end, Grayson is back to normal, blood truly is the life!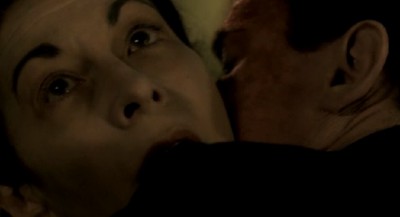 Well my fellow Dracula fans, thus concludes my review for this year! It has been a great ride in 2013 and cannot wait until we resume again in the New Year. Have a great holiday and fang-tastic 2014!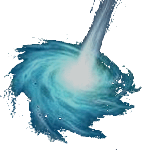 Thank you for visiting WormholeRiders News Agency. And thanks to Kenn for video embedding and additional images for my review. I will be back over the coming weeks with more on our series review sites for Dracula and next June for Defiance!

Please feel free to leave a comment here or If you prefer, you may also click the social media icons below to share this news article or as many of our readers and visitors often do, visit the WHR on Facebook or me on Twitter by clicking the links or images avatars in this news story. See You on The Other Side"!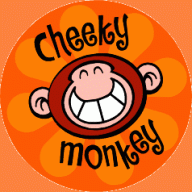 Until next time,
Sincere regards,