Welcome WormholeRiders who are dedicated to Dracula!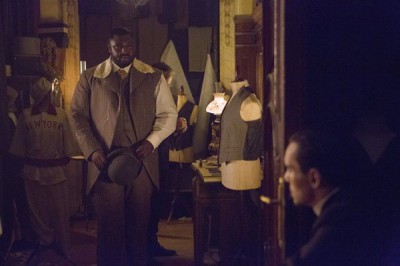 This was the best episode so far!
Wonderfully written by show creator, Cole Haddon and Nicole Taylor, it had everything! Grayson's preoccupation with walking in sunlight, his real feelings for Mina (Jessica De Gouw) and his rival, Jonathan, as well as a great back story for R.M. Renfield (Nonso Anozie)!
The Devil's Waltz episode was superbly directed by Nick Murphy, who also directed two episodes of Primeval. Murphy is a writer and producer as well.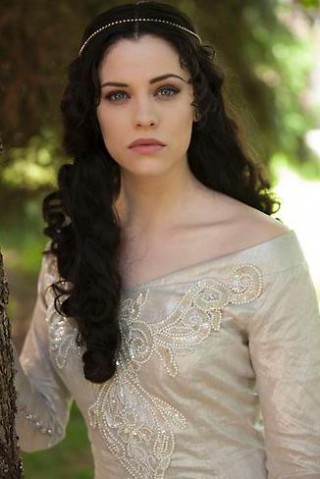 The Devil's Waltz: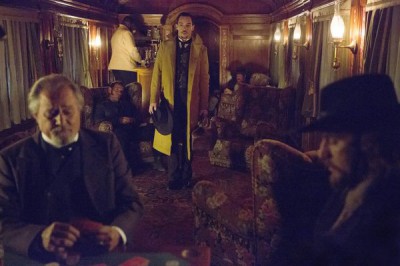 Carrying on from the previous episode, Renfield (Nonso Anozie) finds himself a prisoner of Lord Davenport (Robert Bathurst) and the Order.
Davenport has employed a mysterious woman tasked with but one objective; to find out who Grayson (Jonathan Rhys Meyers) loves.
Meanwhile, Mina (Jessica De Gouw) is now having erotic dreams involving, who else, but Grayson.
Enter Lucy, who interrupts her dream and reminds her that she has to get ready for her engagement party. Poor girl; she has to endure a party all about her.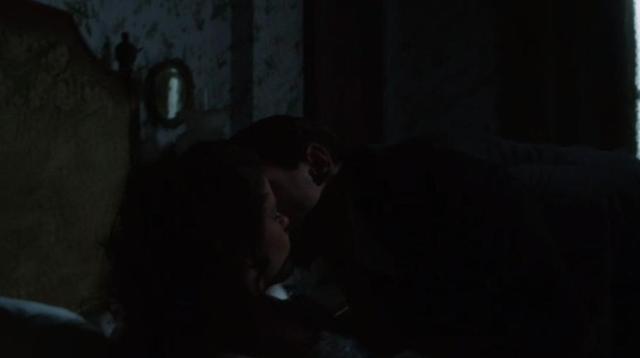 As Dracula/Grayson oversees the creation of the experiment that he hopes will permit him to finally step into the sunlight, he directs Dr. Van Helsing (Thomas Kretschmann) toward a subject he has found to experiment on.
All that is now required, is for Van Helsing to not only have come up with a serum that works, but also a method to move it throughout the body. Only now, after several hours have passed, is he becoming aware that Renfield is missing.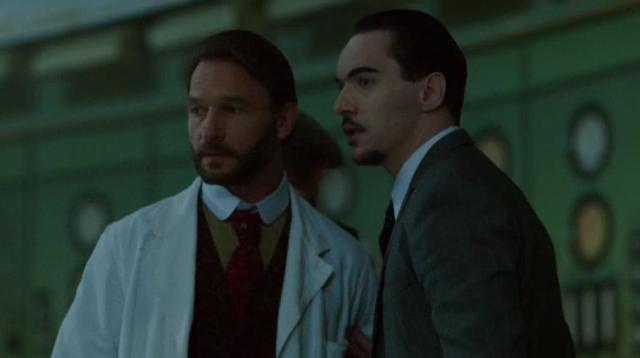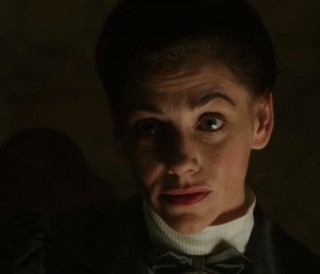 Step into the dark pit of despair where Renfield now resides. He has been beaten to a bloody pulp by the time his tormenter arrives. It is a woman, who seems to have a sadistic side that matches just about everyone else in this series. Despite her best efforts, she continues to be unsuccessful in her quest to get an answer from Renfield.
Harker (Oliver Jackson-Cohen) is on his own quest, digging into General Shaw's business dealings. He discovers that Shaw is receiving money from an arms manufacturer. A light bulb goes off over Harker's head as he realizes that General Shaw is taking bribes.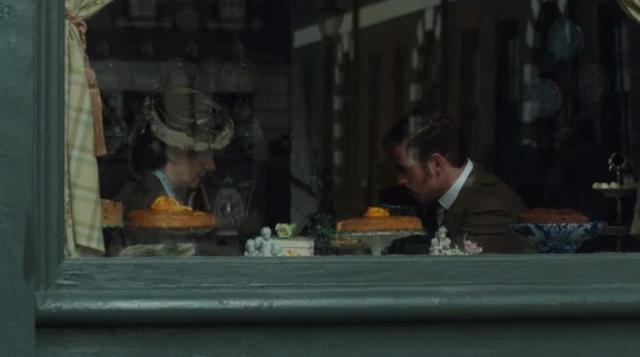 Harker has arrived at Grayson's residence to share the news he has discovered. As he does so, Mina shares with Lucy (Katie McGrath) that she had a rather disturbing dream. Lucy suspects that Mina is having second thoughts about the wedding. Something is definitely going on.
Meanwhile, Grayson has pulled Harker aside to tell him that Renfield is missing. Harker gets sent on a mission to locate Renfield.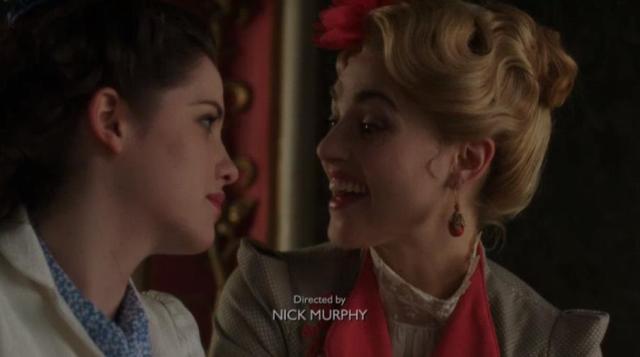 Before he leaves, however, we find out that he has dis-invited several of his friends and associates from his previous job at the paper, and people he no longer thinks fit into his new life style.
Mina is horrified that he would do this. Fortunately for their relationship, Jonathan later has a change of heart. He invites his past coworkers and his friend, Szabo (Miklós Bányai ) to the event.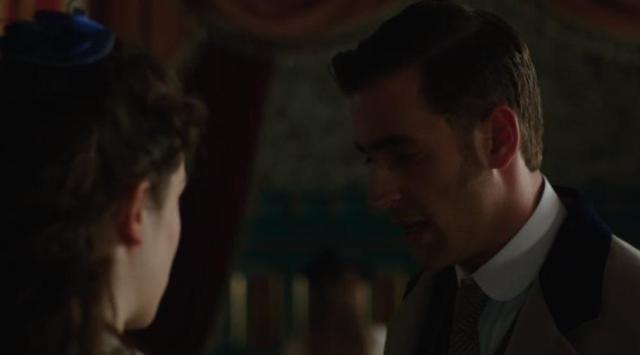 This episode provided a wonderful bit of back story for Renfield. Not only does he not betray his loyalty to Dracula by telling his captors what they want to hear, but his true character is exposed in his courageous willingness to advise Grayson when the two men first meet.
What also becomes clear is that Grayson's early obsession with being able to walk in the sunlight quickly is replaced by his concern for Renfield. This is obviously more than just the concern that it is hard to find good help. Grayson maintains an obvious loyalty to Renfield.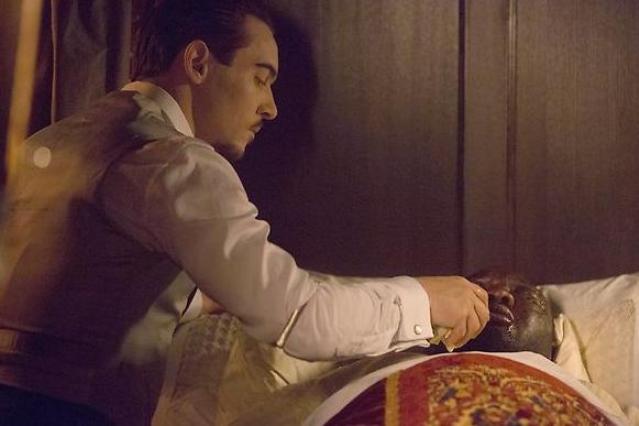 Further, as Van Helsing experiments on the female vampire, she does not speak. Instead, her utterances are animal-like. Was this done to reduce our abhorrence that Dracula would experiment so readily on one of his own?
Perhaps we could even take it a further step; that he is experimenting on a woman who was just in the wrong place at the wrong time through no fault of her own. This definitely reinforces the thought that Grayson is, in fact, evil and not just a victim of circumstances. He is not a reluctant Vampire.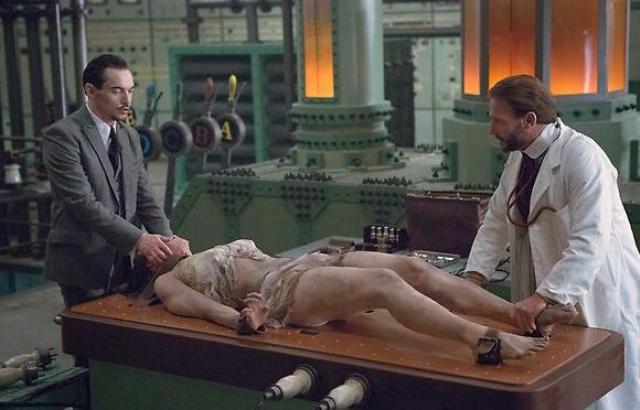 Grayson meets his enemies at the engagement party later in the evening. I wonder if he is aware that they are his nemesis, or if he only suspects them. This episode makes it plain that Grayson uses a heightened ability to smell in order to find Renfield. Perhaps this ability also helps him know who among the people invited to this grand event were not exactly in his corner.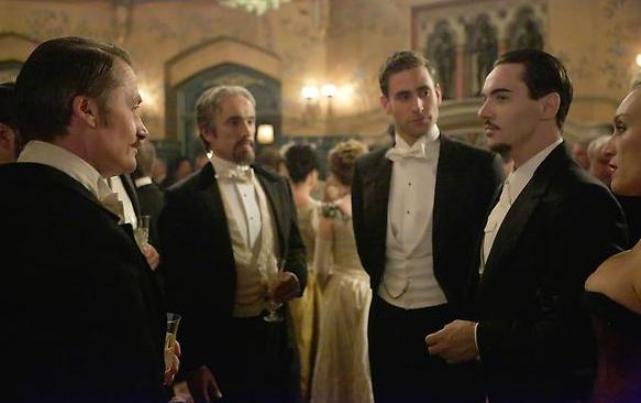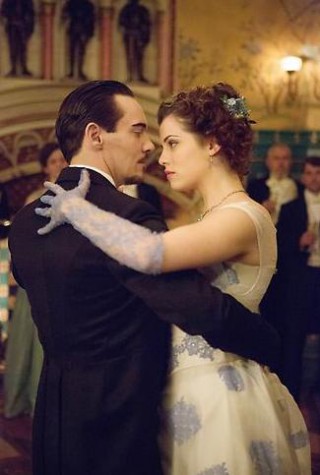 There was a lot going on in this episode. It was a good thing that Grayson could multitask. He not only was preparing to host the engagement party of the year, he was also supervising Van Helsing and looking for Renfield.  More than that, he is definitely demonstrating ambivalence toward Harker. It is not often that the employer visualizes slashing the neck of his employee.
Unfortunately for Grayson, the serum that Van Helsing has devised is still not ready. The poor female test subject ends up going up in flames. However, Grayson does find Renfield, terminating Renfield's tormentors in a very gruesome manner. Grayson's enemies are still not aware that he is the vampire they are looking for. It seems like it will not be too long before they put the pieces together, however.
Harker seems to continue to be torn between his loyalty to his new employer, Grayson, and Mina. He has not yet quite figured out what to do when Grayson's and Mina's needs conflict. Mina has her own issues, with her unconscious feelings for Grayson.
It looks as if Harker might get left in the dust unless he is prepared to fight for Mina. This raises some possibilities. Will he ally himself with Grayson's enemies? Will he stay in Grayson's circle while looking to get even on his own? Or will he let everyone walk all over him?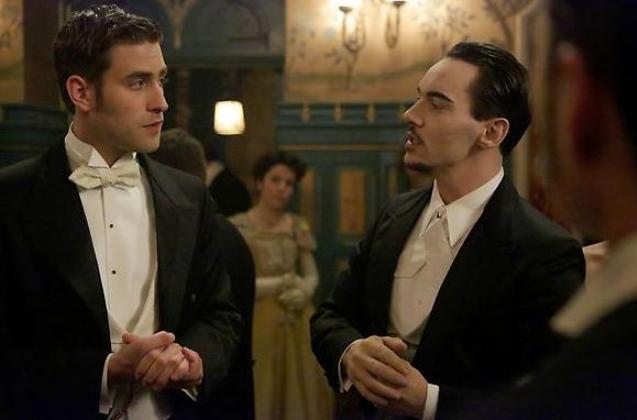 Lady Jayne (Victoria Smurfit) has noticed Lucy playing with Mina's hair. Will blackmail follow, e.g. Jayne getting Lucy to look for information on Grayson through her friendship with Mina? That way, Lucy gets some sort of revenge on her friend for leaving her and Jayne can prove whether or not Grayson is a vampire.
I think that his episode of Dance with the Devil was also a play on words to demonstrate that Grayson is also in a dance with the Order. Grayson has been pretty much in control of his dance with the Order from the outset. The show might be well served by bringing some danger into the doors of Carfax, allowing Grayson to work with his back against the wall and a greater number of enemies to deal with, possibly coming at him from more than one direction.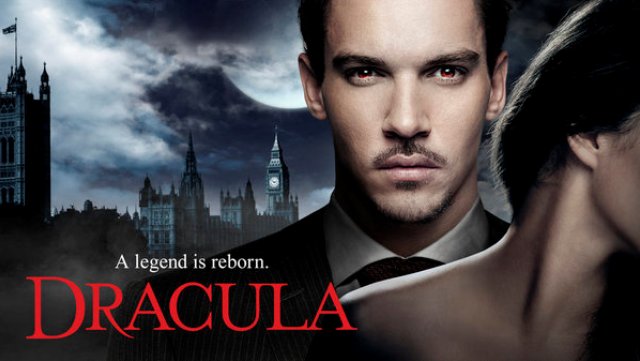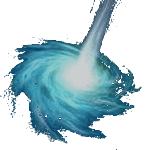 Thanks to Kenn for final staging, audio video embedding and additional image selection, and many thanks to you for visiting for stopping by the WormholeRiders News Agency Dracula's Definitive Domain dedicated web site!
Please feel free to share this article with your friends, co-workers and or family. Feel free to leave your comments and we look forward to you visiting in the future.

Or as many of our readers and visitors often do, visit WHR on Twitter, WHR on Facebook or visit me on Twitter by clicking the text links or images avatars in this news story. I and Team WHR look forward to Seeing You on The Other Side!"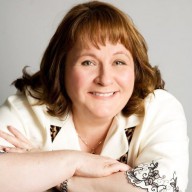 Regards,
Thank you.
ArcticGoddess1 (Patricia)