Welcome back WormholeRiders seeking answers in the Helix!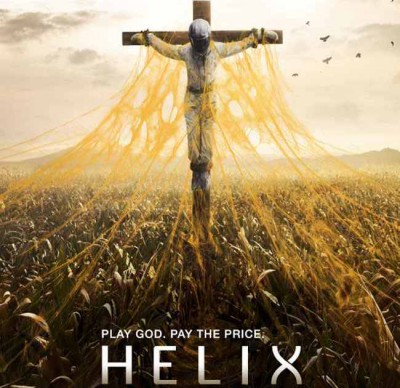 This week's episode "M. Domestica" continues the fast pace we saw in "Oubliette" – I blinked and the episode was half over! Written by Javier Grillo-Marxuach and directed by Grant Harvey (the same outstanding director as last week's episode "Oubliette").
I am seeing a continuity trend within the eries that sets up moments that are most enjoyable!
Therefore, we begin with a different kind of animalistic side to Helix, one we haven't seen since the "biology class" of season one!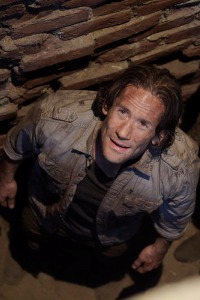 M. Domestica: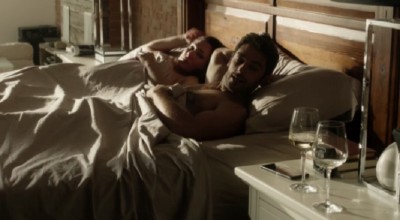 We open the episode to find Dr. Julia Walker (Kyra Zagorsky) in bed with Dr. Alan Farragut (Billy Campbell), only when she calls out his name, oops – it's not exactly Alan!
Another fine and bearded specimen named Sergio Balleseros (Mark Ghanimé) can be found not wanting stop, nor offended at the gaffe.
Interspersed in the intercourse is the small matter of an executive level meeting concurrently taking place at Ilaria.
This meeting, led by Dr. Pozniak (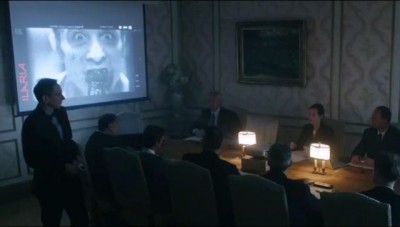 Arthur Holden), is recapping the "tragic events" that took place at Arctic Biosystems under the watchful eye of Hiroshi Hatake (Hiroyuki Sanada).
Meanwhile, back in the bedroom, as Julia gets out of the bed Sergio gets a message that the time of the meeting has been changed – to an hour AGO! A perturbed Julia is left scrambling and wondering why she wasn't notified of this change.
With the discussion in meeting centering around a new Narvik virus, a "C" strain, Julia enters and all eyes are on her as she makes it to the LONE empty chair; pleading her case as she sits down that she was not told of the time change.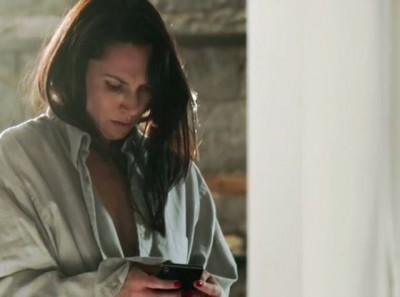 Julia is gravely concerned about Narvik C and the board's plans to implement it within a short period of time!
Dr. Pozniak states that "with 17 coordinated strikes we can reduce the world's population by 75% in 3 months" while still having the cure available to administer to a "short list" of essential mortals; thus making the planet stable and sustainable.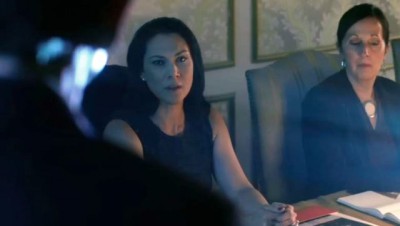 As Julia finally voices her concerns she is met with a poignant sermon from Dr. Pozniak: "this is not genocide, it is a cleansing moment of clarity"; he continues to lecture remarking on the fact that Julia has barely lived one lifetime and has not had the displeasure and sorrow at having not had to watch relatives burned at the stake and slaughtered (across seven continents, having apparently lived for centuries himself).
At this moment the chief in charge of the board room, played by Deena Aziz (another Syfy alum who most fans will remember from Being Human as "Mother") puts the eradication to a vote – all but Julia raise their hands in favor of going forward with the "cleansing".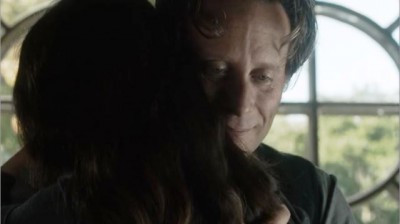 The next few scenes take us back to the present, back to the abbey where we see a grieving Brother Michael (Steven Weber) being consoled by a resilient Sister Anne (Severn Thompson) as he explained how Sister Agnes (Clare Coulter) just simply collapsed, that he tried everything to save her – his daughter, Anne's mother.
Anne continues to console Michael, telling him that "you will prevail, that is how we prevail". Anne is now kneeling at a seated Michael, listening to him preach that Agnes has taken her final path. As they get up, Michael tells Anne, "I knew I could count on your strength, of all of my daughters you are my favorite" – wait, what???? Haven't we heard that before?
Watch out Anne! And dude, that creepy smirk by Michael while being comforted by Anne…someone needs to wipe that off his face, and not so gently either!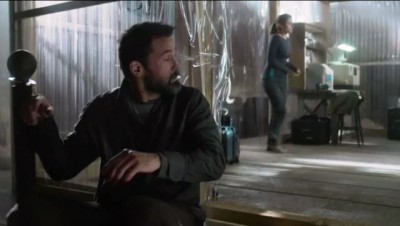 Dr. Sarah Jordan (Jordan Hayes) finally wakes from her "nap" and leaves the infirmary heading right to the "lab" (after a wardrobe shift). She both noisily and gingerly enters finding Alan handcuffed to a post of some kind. Questioning both Dr. Kyle Sommer (Matt Long) and Alan as to what is going on, Alan reveals to Sarah that Kyle is a "mole" investigating the CDC's most wanted.
Sarah is affronted by Kyle and once again is left feeling that she is working for herself, by herself, not knowing who is good or bad and who she can trust – though she does declare her trust lays more with Alan than it does with Kyle. Standing up for himself, Kyle declares that the last time he checked he " was the only man that did not desert his post or get his name on a CDC terrorist list".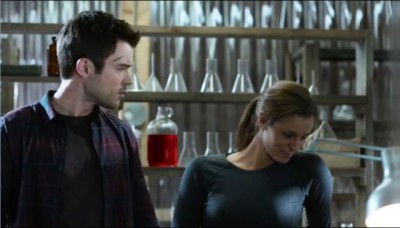 Looking at Kyle's progress and expressing aloud his findings, Alan scoffs at the two of them capturing their attention as he tells them that they are looking at "M. Domestica", common apple pollen. Sarah quickly exclaims "of course, why did we not see it?" Immediately countered by Kyle with "what did we not see?"
And that my dear friends feeds into Alan's comment about Kyle "really" being a doctor and Sarah's reservations about him having the knowledge to get them out of their mess; it also lays doubts in this reviewers mind as to if Kyle really is a good plant into the team.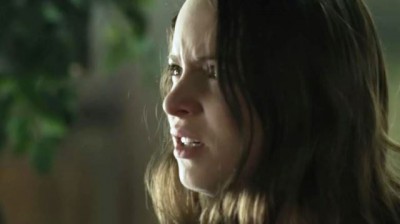 From one confrontation to another, we see a VERY distraught Sister Amy (Alison Louder) receiving the news of her grandmother's due to a stroke from Sister Anne. A very rebellious and recalcitrant Amy begins a critical diatribe against Michael toward Anne – "does he even know what a stroke looks like?"
And then escalating further to leveling accusations, that Agnes was on her way to inform Michael of Sarah's silver eyes, that he lied to them when he told them that he was the only one. She doesn't stop there, the ultimate accusation is when Amy declares that Michael killed Agnes for knowing too much, for standing up to him about Sarah.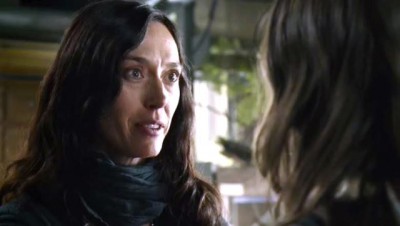 The biggest reveal so far (in this episode) is one of confirmation. Confirmation of a theory that most were positing though may have not said aloud: ALL of the portraits on Michael's wall are of his daughters, of his lovers – they are ONE IN THE SAME!
We learn that Amy will soon be reaching that magic age of 20 and Anne begins to lecture Amy on how she will do her duty to keep "the line" unbroken and produce a daughter for Michael, a granddaughter for Anne.
Now here is where I truly question Michael –is he playing God? Is he playing a "Natural Selector" of sorts or is he really looking out for the well-being of his people? Is he such a self-righteous botanist that he feels that he can apply the breeding and pollination laws of flora to fauna?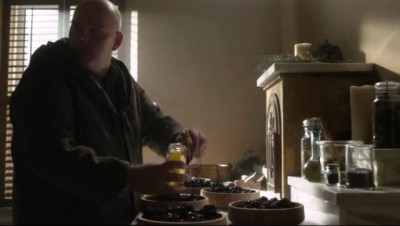 Now we see our gruesome twosome, Sister Amy and Brother Landry (Sean Tucker) in her room as she sadly enlightens Landry on the "Planting Ritual".
This barbaric tradition (as she calls it) leaves Landry in a quandary – he looks up to Michael, as a leader, as a great man; he tells Amy that she should be honored to be a part of this. An upset and insulted Amy lashes out.
Landry however, completely enamored with BOTH Michael and Amy, raises his voice at her to stop. This momentarily puts her in her place, but being the quick thinker that she is, Amy instantly grabs his hand softly, telling him that she prays for things to get worse – to get so bad that Michael's "power" would be taken away, that she would be able to run away.
As she is now caressing Landry's hand, she grabs it and carefully runs it up her chest, proclaiming to Landry that she wants the father of her child to be someone special. And with her super-duper-manipulative-puppy-dog-eyes Amy looks at Landry and says, "if only someone would make sure he couldn't do those horrible things to me", slowly turning her gaze to the jar of honey on the nightstand. And of course the next thing we see is Landry tainting the berries used to celebrate Agnes during her remembrance ceremony; but not ALL of the bowls.
Now Amy had mentioned that she had prayed for things to get worse "since this horrible disease started" and I am again left to question: what disease? Narvik? Are the inhabitants on the island just pawns in a giant petri dish for Ilaria to see how they would handle Narvik?
Michael cannot be suffering from the same disease as "future" Julia – or could he be? Unless it takes at least 30 years to manifest itself in an immortal…questions, questions, and more questions, all stemming from answers, answers, and more answers.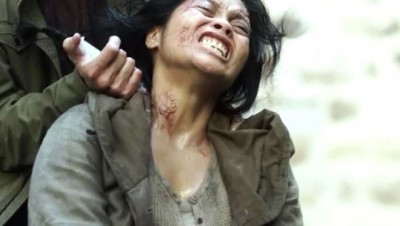 Next we see Kyle is collecting pollen samples from the orchard when screaming breaks out from the abbey. He hastily collects his current sample then rushes back. He tries to help, tries to inject a "mychotic" with what one can deduce to be a sedative, but is fended off by the attacker, being thrown off of her.
Anne and a group of uninfected come running; both she and Kyle are wanton in need to help. He directs her and her group to prepare the biggest room they have (the infirmary is too small) and then collect the infected using restraints. Kyle warns them that they are having a psychotic episode, they need to be forcibly be rounded up.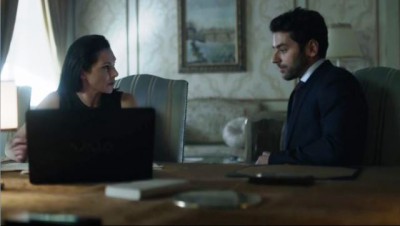 Back to the past for a moment, Sergio enters the room where Julia is sitting at a desk feverishly trying to come up with alternatives and contingency plans for nuclear meltdowns, as "facilities in 17 major cities are operational and shipments are moving". At this point Julia catches Sergio in a long stare.
Now another question arises, is Sergio immortal? He eludes to having seen a lot of death in his lifetime, as well as having caused a fair share. More questions, Julia mentions the time frame for the plan to begin is "7 days, give or take" – which is how many "days" left in season 2…however, if we were living in the past that would make all the sense in the world, but we're not, it's just a red herring – they do offer some of those to those of us who will overthink everything.
Julia makes mention of contacting the CDC, blowing the whistle on Ilaria, as their only option for interference and assistance. Sergio warns Julia that Ilaria does not take kindly to traitors, but no matter, she remains steadfast in her plans. Plans that also include giving Sergio a "souvenir" from Arctic Biosystems, a single dose canister of the cure.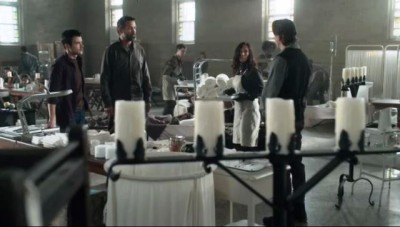 As all hell is breaking loose in the refectory, the dining hall, Kyle and Anne are at odds as to the treatment of the infected. Michael casually strolls up and takes the side of Kyle, however he offers an organic, non-Western approach as well. He makes mention of an homeopathic sedative that Agnes was working on.
The best I could come up with is "Somnus" – with a literal definition of 1) sleep 2) drowsiness, slumber sloth, idleness. I can only surmise that that is a name given to the "product" by the abbey; it is a combination of Valerian Skullcap and Motherwort, the former used for the treatment of anxiety and the later used to promote relaxation.
This is the first meeting between Michael and Alan since Alan's escape from the oubliette, and it does not go without rancor and animosity from Alan toward Michael; a sentiment that Michael puts aside, "let's not let our unfinished business get in the way of caring for the sick". And in the same breath he turns to Anne to say, "and don't let dogma prevent healing".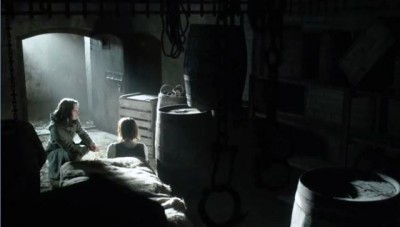 In the bowels of the abbey, it turns out that Peter and Alan were not the only ones imprisoned, Sister Olivia (Sarah Booth) has been locked away in a room in the cellar. Fearing that she had been forgotten about, she is more than happy to see Amy, especially since she brought food with her.
Olivia has been quite soured by the presence of the CDC and the events that have occurred. Proclaiming that "they" had no right to lock her up, the according to Michael a "true path is a righteous path", and that she was glad that she tabbed Sarah – that she'd do it again too!
Continuing her rant, Olivia states that no one was sick before the CDC showed up and that they are responsible for the death of Soren. When Olivia posits "who is going to punish them" a glinted eyed Amy simply says, "I don't know, I just wish someone would make them go away." The two women exchange a meaningful glare and Amy exits…leaving the cellar door ajar…it doesn't take long for Olivia to be on her way as well.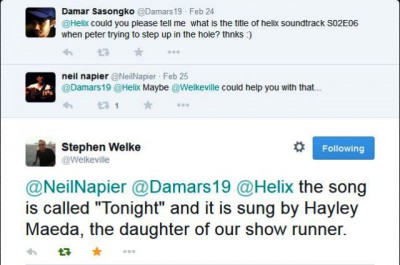 As we stay in the belly of the beast, we see Peter (Neil Napier) scaling the wall of the "hole". Having survived a box of catalysts – rats, that hadn't been fed for a day or so, he makes his way up the wall to cover of bars. In this week's misplaced music selection is a soft and meaningful song called "Tonight"; sung by Hayley Maeda, daughter of showrunner Steven Maeda.
Thank you Stephen Welke for answering fan Damar Sasongko's question on Twitter. As Peter finally gets to the top and to the bars, he is met by a rabid mychotic that dramatically declares "the things they want gone, they go in the hole. Pain stays in the hole." No amount of pleading from Peter can convince her to let him out, convince her to even just open the lock – she picks his fingers of the bars and he falls back down into the hole, back to the company of his rats.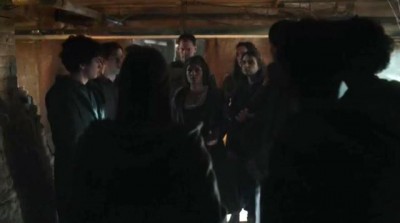 As Olivia is enlisting her "army", Alan, Sarah, and Kyle are working on figuring out the pathogen. As Olivia is handing out weapons, Alan, Sarah, and Kyle arrive at the conclusion that the berries were tainted with infected honey, they found the same pathogen as had affected Soren.

As if the episode was not going fast enough for you, now the meat of this installment starts to roll, like a boulder gathering steam rolling down a hill. Michael and Landry have come to visit Peter. Looking for information from Peter, Michael immediately questions him about Sarah – how did she become immortal?
Now I recall a couple of episodes back Michael had asked Sarah if they had ever met before, she said they had not. I am also wondering if Michael is one of the 500, it was kind of alluded to in "Oubliette" when Agnes and Michael were talking and it had been made mention that "she was not there". Therefore, like the vectors from season 1 that heightened senses, can an original immortal from the 500 sense a "newbie"?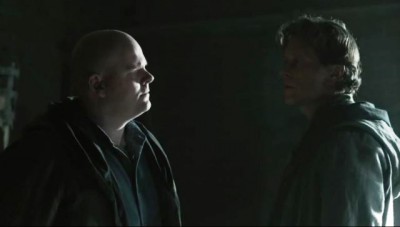 Peter wants out, and Michael is willing to entertain this if he can provide a correct answer. Peter spills the beans about Sarah's baby, that coveted object that Michael has been "naturally" trying to achieve for (apparently) centuries; and here it is now, right in front of him.
Needless to say, Peter is not let out and Michael instructs Landry to invite Dr. Jordan to his office, and, oh, "bring the restraints". Apparently being pregnant is all the rage – EVERYONE wants Sarah.
In the next scene we see Amy asking Landry what it would take for him to bring Sarah to her instead of Michael. After another bipolar-like argument, we are left with Amy forcing Landry to pick sides; after all of the going back and forth, there is either he and Michael, or "us", Amy and Landry.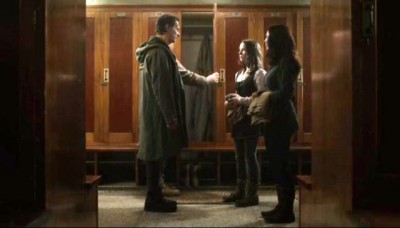 Before heading back to Paris, we see Michael and Landry enter a locker room of sorts, heading straight for Anne and Amy. Michael asks the ladies if they have anything they want to tell him; and with Landry standing behind him, Amy is (for once) truly scared – not knowing which side he has picked. Immediately she starts the guilty back peddling, especially when Michael has Landry search a locker.
Turns out there is a jacket in the locker, a jacket with a half full jar of infected honey in its pocket. The jacket does not belong to Amy, but to Anne! Michael hurtles accusations at Anne and has Landry take her away, to the shock and horror of all in the room.
Well, maybe not all – last season, we had the line "you have your father's eyes" in reference to Julia and Hatake, this season, it can be said that "you have your father's smirk" in reference to Amy and Michael; it is incredible how they can turn the corners of their mouths up in such a small and creepy way! And in that instant, we know that Landry has picked a side, and he has figured out how to have his cake and eat it too.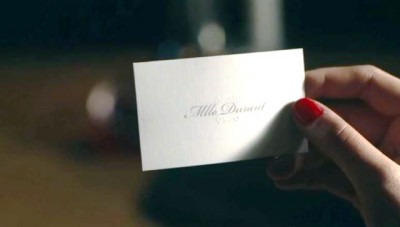 In Paris, Julia returns home after a frustrating day at work, it is dark and her arms are full. So, of course there is someone in her apartment! It is "Mother" (from Being Human, her character went unnamed in this episode), and she has cooked a perfected Coq-au-Vin dinner, asserting that it has taken nearly one hundred years to get it right.
She shares with Julia that the secret is to "skim away all impurities from the source, much like what Ilaria is trying to accomplish." She goes over Julia's plan, stating that it came from deductive reasoning, but it will fail.
There are other ways, and hands Julia a card for Mile Durant (Alexandra Sicard). Ms. Durant is their last chance, "Mother" does not want to spend the next eternity with Dr. Pozniak and the others from the board room. The viewers are left with a sense that "Mother" truly does care and is concerned for the immediate future; however I have taken that concern with a grain of salt.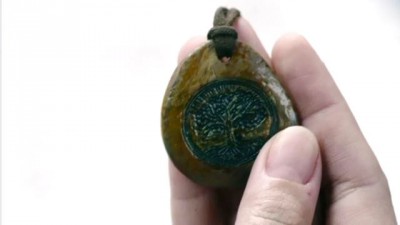 Having tasted the food and survived the night, Julia goes to the park the next morning to meet Mile Durant. After getting it wrong once, assuming that Ms. Durant is an aged woman, a young girl, all of 10 to 12 years old, walking a dog and sporting red rimmed sunglasses approaches Julia.
Once pleasantries have been exchanged, Ms. Durant explains to Julia that "another renegade" immortal has been working on a plan, a different approach. "Something promising, it begins here," Ms. Durant says and pull out and off a pendant that bears the likeness to the tree seen at the abbey…Michael!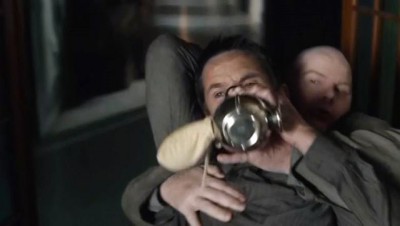 In the final scenes of this episode, Olivia and her posse enter the refectory and demand the release of the infected. Wait, no, they don't demand the release, THEY release the infected – cutting he restraints and helping all of the groggy patients out and back to their rooms for recovery.
After the exodus, we see Alan's silhouette surveying the large and empty room. Suddenly Landry appears behind him, apparently it's time for Alan to play "Time Machine".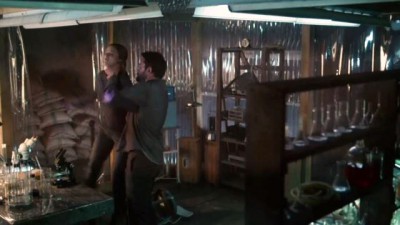 Kyle and Sarah are back at the lab, wondering where Alan is, and Sarah sticks up for him as they make a discovery – the fungus DOES appear in the apple pollen, but not in the apples, only in the honey. It does not compute.
Alan then appears in the doorway asking Kyle to help with a room to room search for awakening mychotics, Kyle reluctantly goes, leaving Sarah by herself.
As she begins poring over the sample under the microscope, Alan is unexpectedly behind her and swiftly closes the ground between he and her as he grabs her by her neck and lifts her almost two feet off the ground! OMG!! Alan, Sarah, Kyle, what is going on? What is going to happen next?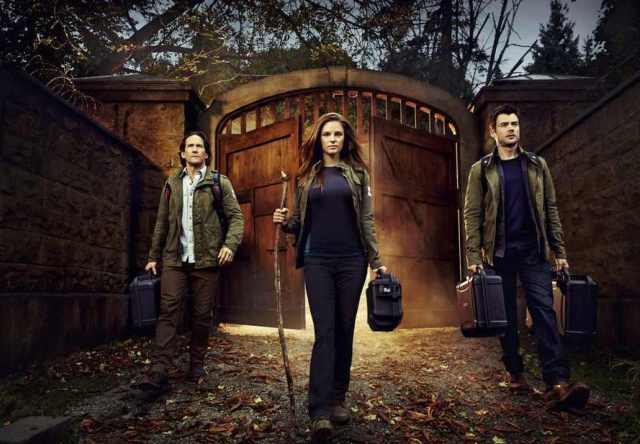 We here at WHR suggest everyone tune in each week on Syfy Fridays and Showcase Canada on Mondays to find the answers we all seek in the Helix!
Thanks to Kenn for final staging of the audio and video embeds for my Helix review, and may thanks to you for stopping by WormholeRiders News Agency! Please share this review with friends and family, and we look forward to seeing more of you here soon at our review and analysis site dedicated to Helix!
 Please feel free to leave a comment, click on an icon below to share this review, and you can visit and follow me on Twitter by clicking on my avatar.
Thank you, and see you next time!
Karina (@FidgetTBC)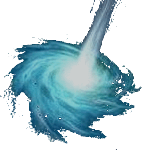 Thanks to Kenn for final audio, video embedding , and additional image staging, and many thanks to you for reading and visiting WormholeRiders News Agency.
Please feel free to leave a comment here, click an icon below to share this news article, or you can chat by visiting and following me on Twitter, just click on my avatar to the right.
Thank you!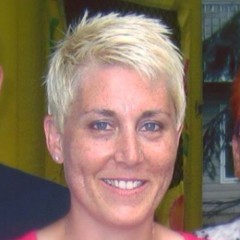 Karina (FidgetTBC)