Welcome back WormholeRiders seeking answers in the Helix!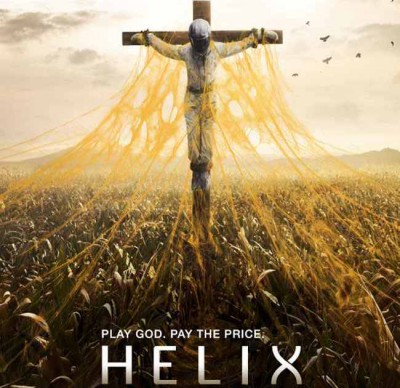 Superbly written by Leigh Dana Jackson, and directed by Grant Harvey, "Oubliette" has the Helix action being smoked out rather nicely. In fact enough to get the killer bees and their deadly honey to cooperate!
The "Oubliette" episode reveals several answers to a multitude of outstanding questions from a well laid foundation by the talented Tiffany Greshler who wrote the previous episode "Densho".
Discussed in some detail during this analysis, we will find out much more about what the heck is really going on with the honey's at The Island, and why one of our heroes may ultimately be the recipient of "A Taste of Honey" from the vexing Helix "honey" herself, none other than gifted Alison Louder who delightfully portrays Sister Amy!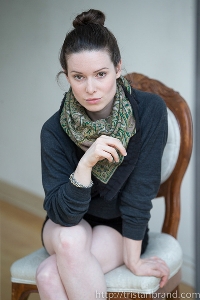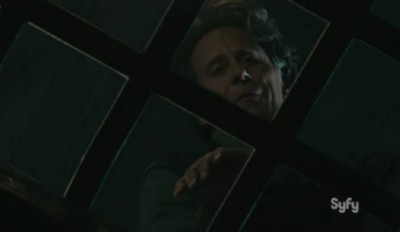 Nothing could be more true as cult leader Brother Michael (Steven Weber) reveals his true colors of evil megalomania and imprisons two of our heroes in an oubliette located in the cellar of the abbey.
Ultimately, at episodes end, one of two individuals will escape while the other is surprisingly stabbed in the back, left trapped in the "Oubliette" by his cellmate relative!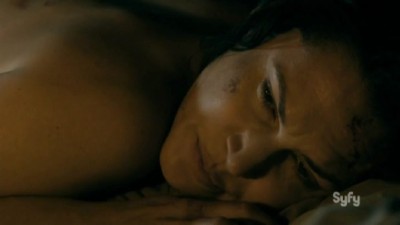 "Oubliette" further fleshes out the dynamic that occurred between Jules (Kyra Zagorsky) and her father Hiroshi Hatake (Hiroyuki Sanada) who perished in the previous episode "Densho" after a near fight to the death for our beloved Doctor Julia Walker.
Wounded severely in the struggle with "Dad", Jules is literally sown up by Caleb (Jim Thorburn) as the two, some thirty years in the future, seek answers to stop the virus from killing much of humankind, including the immortals themselves!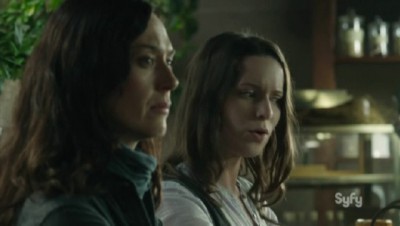 As important are the suspect agenda and machinations of Brother Michael, we learn much more about dubious activities of Sister Amy (Alison Louder), Sister Anne (Severn Thompson) each working their own agenda not known to the elder "Sister", Agnes (Clare Coulter).
Specifically, we learn that Sister Amy and Sister Anne have been tampering with genetics that resulted in a hive of killer bee honey makers. Apparently embedded in the abbey walls, Kyle (Matt Long) investigates, while Brother Michael's minions seek to capture him!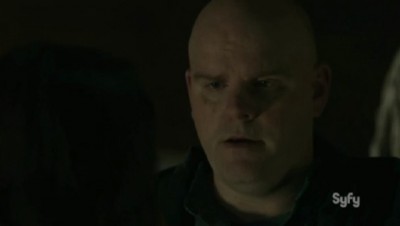 Of great interest is the "pealing of the onion" regarding the special "relationship" between Sister Amy and Brother Landry (Sean Tucker), chief hatchet man for Brother Michael.
As you may recall, Brother Landry caused youngster Soren to be handed over to a grotesquely disfigured humanoid outside the abbey.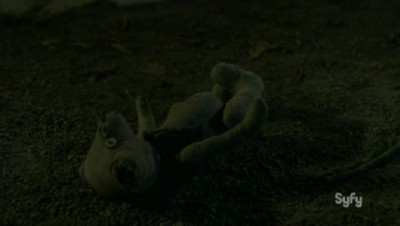 Soren's disappearance in "Scion", the third episode of the second season, leaving behind only his Teddy Bear, is somehow linked to Sister Amy's agenda, a sinister and cunning character portrayed by gorgeous and gifted actor Alison Louder.
Clearly Sister Amy has been motivating Landry to commit these acts and perhaps other acts for as yet, some undisclosed purpose.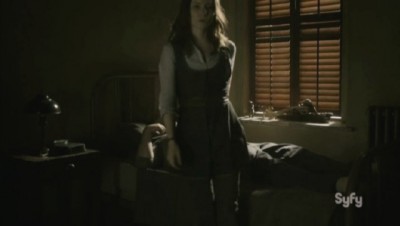 These two "non lovers" have shared a rather physical relationship including Sister Amy satiating Brother Landry's manhood in an attempt to keep him under her control.
This factor appeared to be superfluous when late in the episode, Sister Amy and Sister Anne are confronted by Brother Michael, instead Sister Amy regains control over Brother Landry using her delightful feminine powers of persuasion!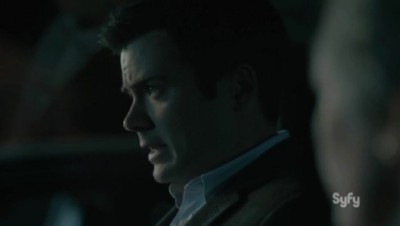 Two other aspects of the episode bear further discussion; Kyle has apparently been working undercover at the CDC. We learn that he is under orders to track down the details about Alan (Billy Campbell), aka Brother Jerome's presence on The Island.
All have wondered what Kyle's agenda really was. In "Oubliette" the onion is pealed to reveal what many suspected!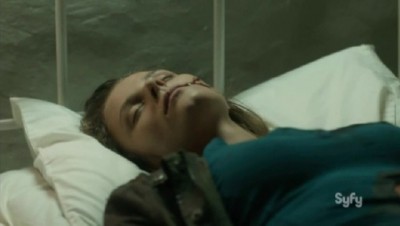 Finally, Sarah (Jordan Hayes) is recovering (quickly) from her wounds suffered by crazed Sister Olivia (Sarah Booth). In the process, Sister Agnes becomes suspicious of her unusual powers of recuperation.
Much like Caleb in the season opener, we learn that Sister Agnes has prior knowledge about the immortals when she knocks out Sarah with chloroform and makes a discovery. Is Sister Agnes another spy? But for whom we are left to wonder!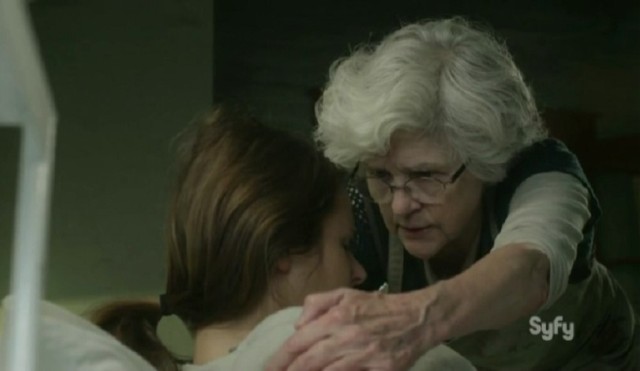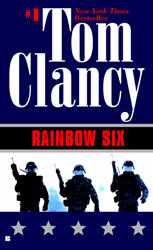 The premise for Helix, that of immortals of the Ilaria Corporation whom are seeking dominion of Earth, of a worldwide pandemic destined to wipe out much of humanity, of heroes that seek to find the truth of why it happened, and stop the evil afoot on Earth, pleasantly reminds this editor of a bit of the Tom Clancy novel, "Rainbow Six" and the nefarious, in fact villainous Horizon Corporation.

In "Rainbow Six", the Horizon Corporation had similar goals to that of the Ilaria Corporation mantra; "We at Ilaria are committed to applying science and our global resources to improving the health and well-being of people around the world."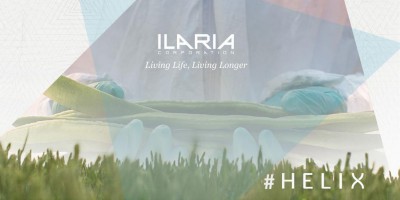 The Horizon Corporation in "Rainbow Six" had similar goals, using a ghastly variant of the Ebola virus to "improve" the Earth for those loyal to the corporation. Interestingly, the definition of "Ilaria" is "happy, joyful" referring to a female name of Italian origin. However, despite their fetching banner poster, little appears to be "happy or joyful" for the victims of the Ilaria Corporation!
For those who many not have read the hit series of "Jack Ryan" character based novels authored by Tom Clancy, this editor will offer no spoilers except to say read them! I will share that I always wanted to see the "Jack Ryan" series continue to be made into a series of movies to include this novel.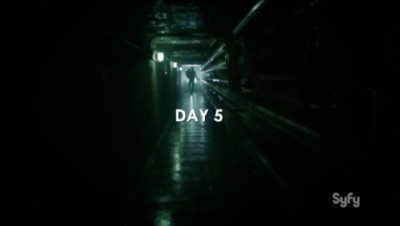 This is when Helix, truly a uniquely wonderful creation, became of great interest to this editor due to a similar story, now manifest as the hit television series, that like "Rainbow Six" delves into the dark side of corporations, governments, and rogue operatives!
Before continuing with my analysis for the fifth day of Helix, for those interested, the word Oubliette itself refers to "A dungeon with a trapdoor in the ceiling as its only means of entrance or exit", and literally means "to be forgotten".
Oubliette: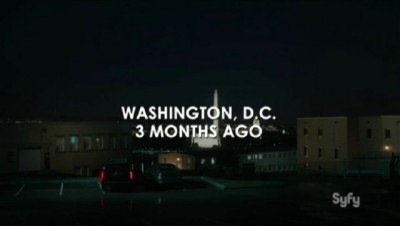 The episode begins in Washington DC, some three months prior to the arrival of the CDC team on The Island.
It is here that we learn that Kyle is being given an undercover mission by a woman who appears to be an official of a United States government, but we are unsure. Could it be that Kyle being briefed by an operative of the Ilaria corporation?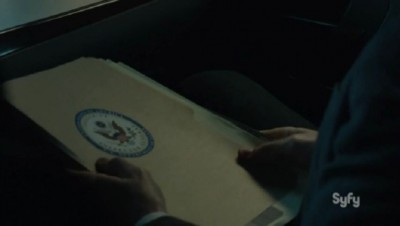 Whichever is the case, the woman, who we have never seen previously, hands Kyle a dossier with what appears to be an official government seal on it about Alan Farragut.
Kyle is in effect ordered as follows; "We need your help to bring him in". Kyle accepts his instructions, filling out the story arc that Kyle is himself an undercover operative.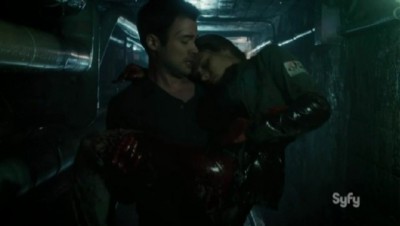 The next segment takes us back to The Island where Sarah is near death from being stabbed by brainwashed Sister Olivia. We see Kyle in a tunnel under the abbey. Sarah is bleeding profusely in his arms. Kyle informs Peter that he found Sarah on the floor below the abbey when he was following up on her whereabouts.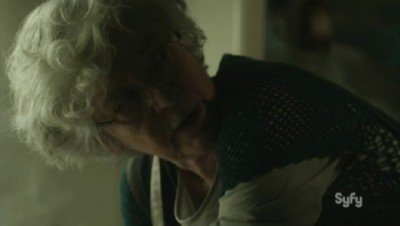 Sister Agnes, the chief "doctor" of the cult, begins to tend to Sarah. Despite misgivings, Peter and Kyle, although well trained are not surgeons, relent. Sister Agnes is blunt; "unless you are thoracic surgeons, you will "just be in my way."
Amazingly, all of this activity has occurred in the opening moments before the series credits!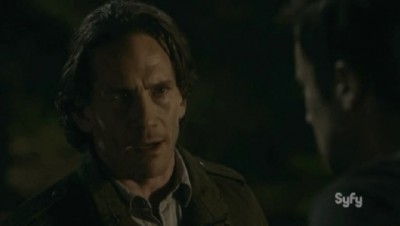 While Sister Agnes works to save Sarah, Peter and Kyle debate the best course of action. Kyle, although on assignment undercover has apparently had enough of The Island! Peter notes that they cannot leave at the present time because of Sarah's condition. Well, of course they can't!

Peter orders Kyle to go seal up the bee hive to avoid further deaths, while he will seek out Brother Michael to obtain his cooperation about the "death by honey". During the episode airing several tweeted that splitting up was not a very good idea, however it makes for more exciting "Oubliette" scenes as we will soon find out!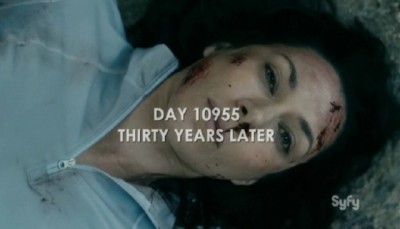 Segue to Jules 30 years in the future waking after being unconscious. Caleb (Jim Thorburn) finds our hero laying in the forest.
As Helix admirers will certainly recall, Jules will definitely be in need of a bit of surgery after her near death sword fight encounter with dear ole' departed Dad (Hiroyuki Sanada) that tore a hole in her back.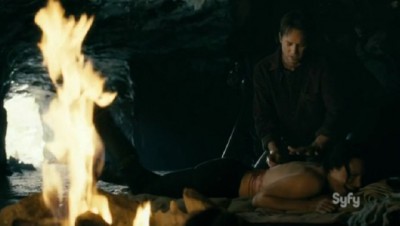 Caleb will perform some much needed stitching on Jules (Kyra Zagorsky) sliced back, sans any anesthesia (ouch!) as they discuss what she encountered during "family time".
Jules informs Caleb she killed Hatake because "we had issues"! Caleb is shocked by Jules confession as he finishes sowing up her considerable wounds.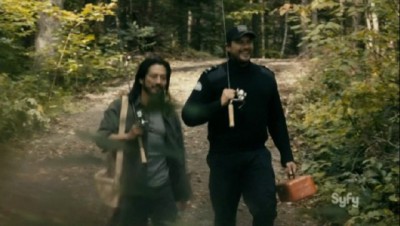 I was a bit sad to see Hatake perish. Hiroshi is one of my favorite Helix characters. However, the fun scenes with imaginary Daniel (Meegwun Fairbrother) and his wife Jaye (Amber Goldfarb) were quite enjoyable.
This editor is very hopeful that we will see Meegwun Fairbrother again in the future as Daniel's brother Tulok accompanied by Anana (Luciana Carro) coming to the rescue of those on The Island with a military strike! In fact this would make a lot of sense in the story arc since the abbey is destroyed thirty years in the future!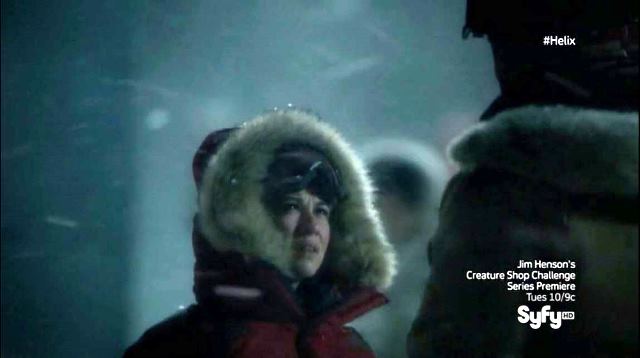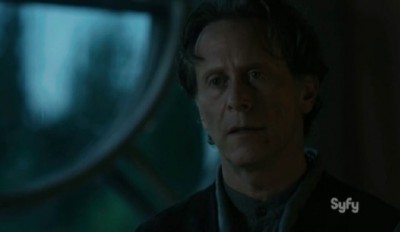 We next see Brother Michael chatting with Peter about the "death by honey" symptom revealed in the previous episode "Densho". Brother Michael is furious that cult members have violated his edicts!
Hoping to curry favor with Brother Michael, Peter goes "open kimono" revealing that Brother Jerome is his brother who is seeking refuge on The Island after committing acts of terrorism resulting in the deaths of many people and that is when the trouble actually started.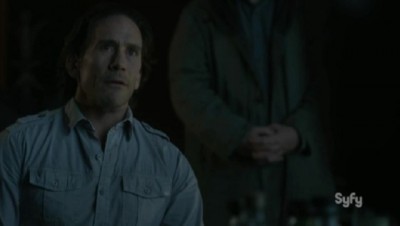 Brother Michael retorts that The Island is a sanctuary for souls seeking repentance, and that all was well until he (Peter) and the CDC Team arrived, but is sympathetic, that he now "owes Peter ".
Payback is often a bitch as Peter will soon find out, literally in "Oubliette" with a very special roommate… his brother Alan!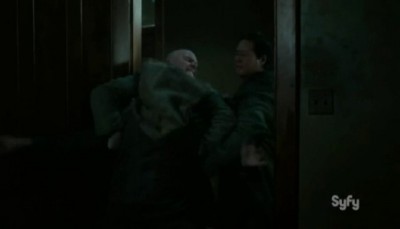 Brother Landry and another cult minion jump Alan outside his room and is escorted to the "Oubliette" where he unceremoniously is thrown in!
Brother Michael is nearby to add insult to injury that Alan must confront his past, including Peter who is found tied up in the "Oubliette" as the two brothers get reacquainted arguing about their jaded past including Peter's affair with Jules! Naturally a fight ensues at this point!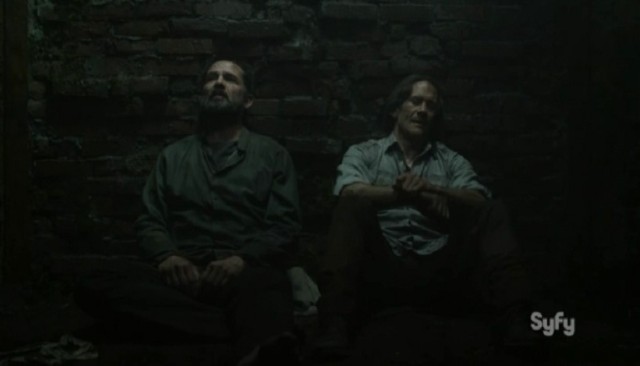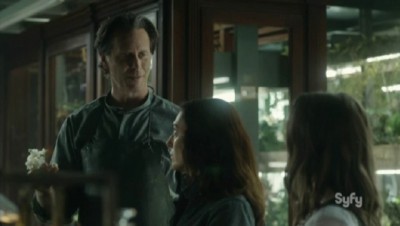 We find ourselves back in Brother Michael's office. He is none too happy with Sister Amy and Sister Anne whom he holds responsible for the mutated killer bee honey.
Sister Anne offers that she is clueless about how the bees became infected, but then makes a slip about the bee hive, almost stuttering that "Nature finds a way".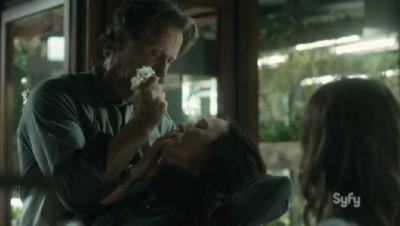 Brother Michael is livid and shares a story about a flower in his botany lab known as "the suicide tree". Dear cult leader Michael grabs a flower and starts pouring the plant's nectar down Anne's throat. Sister Amy is horrified and terrified at what is transpiring.
Brother Michael's explains that in this case he bred out the poison, but his point is internalized by Amy and Anne; Only Brother Michael has the power to control Nature on The Island!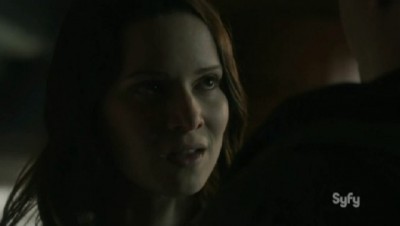 Sister Amy finds Brother Landry. She is REALLY pissed off that he did not inform her about the deadly honey sooner, letting her get blind-sided by Brother Michael.
Sister Amy informs Brother Landry in no uncertain terms that his special relationship with her will be terminated unless he cooperates with her instructions 100%!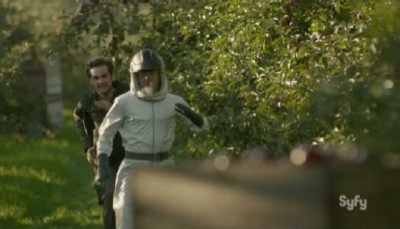 Meanwhile, the pace of the episode picks up to a furious pace; Kyle is in a bio hazmat suit in the orchard near the infected bee hive about to get jumped by a bunch of Brother Michael's minions!
Running for his life about to be captured, Kyle turns a corner near the hive, the bees come to his rescue swarming at the disturbance killing one cult member and sending the others fleeing!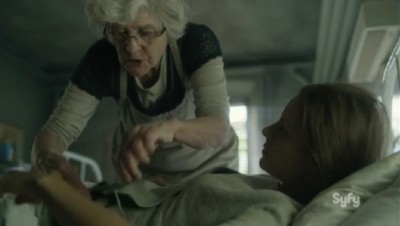 Now recuperating very quickly, Sarah is under Sister Agnes care, begging for her doctor friend Kyle. Sister Agnes says she has taken over in Kyle's absence.

Sister Agnes has become quite suspicious, having found out that Sarah is pregnant, that since Sarah has healed at a fantastic rate, something is up, something impossible for normal people.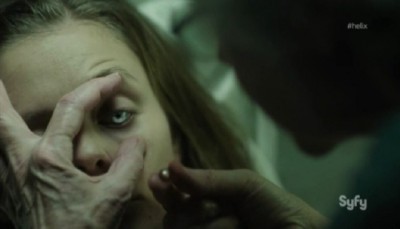 Sister Agnes uses chloroform to knock Sarah out and removes Sarah's contact lens from her eye confirming her suspicion; Sarah has a silver eye and is healing quickly because she is an immortal!
The immediate question comes to mind; How did Sister Agnes know about the immortals, and is she an undercover agent like Kyle? Her comment "it can't be" reveals that Agnes knows a lot more than meets the eye (pun intended)!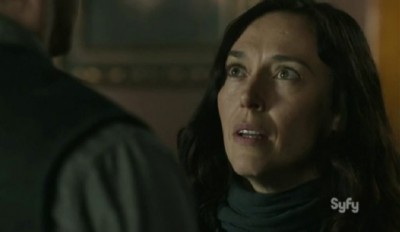 As the exciting episode winds down, Sister Anne has sought out Brother Michael. Clearly cowed back into obedience, Anne apologizes for not being more forthright about the killer honey and bee hive she was obviously involved with.
Brother Michael "forgives" Anne, but continues his purposeful domination of Sister Anne; hurtfully stating "what the years have done to her" (beauty). Anne is devastated, but will she seek retribution against Michael? This editor thinks the ultimate answer is yes!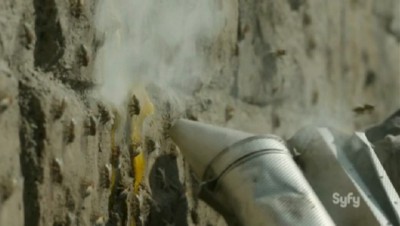 Brother Landry is observed using a smoke device to calm the bees down before removing the hive. Kyle, unhurt is being tended to by Sister Amy who obviously is still hankering for some personal one on one time with the good doctor.
Brother Landry does not appear too pleased by these developments taking out his frustration with a sledge hammer on the bee hive wall under orders to provide samples for Kyle.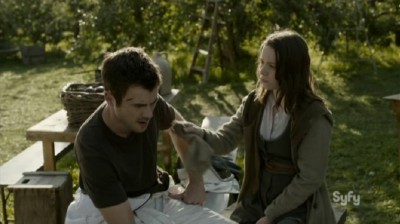 Meanwhile, "randy" Sister Amy paws at Kyle repeating her offer for him to "be her path"! Kyle still holding his own, pushes Amy away. Amy retorts "I can play rough too."
Oh, oh is all this reviewer can say! Clearly the foreplay between these two characters is destined to continue. This editor is more than convinced that Sister Amy is hell bent on offering her own brand of special "honey" to Kyle in the near future!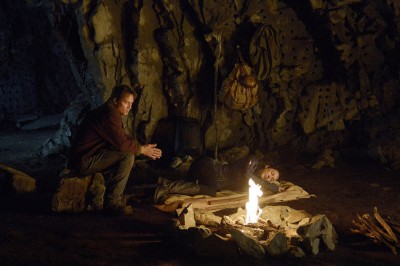 Caleb is preparing to cook some food for the Jules after her painful surgery and quick immortal recovery in the cave.
It seems that our Caleb of the future has taken a sincere, perhaps even a romantic interest in Jules. In any event, we have yet to learn Caleb's agenda in earnest, but he has taken care of our hero.

This was first evidenced when Caleb waited for years for Jules to come to The Island, that is after Caleb whacked wher hen he was in his home made hazmat suit! Since that time has Caleb seemed to be somewhat trustworthy.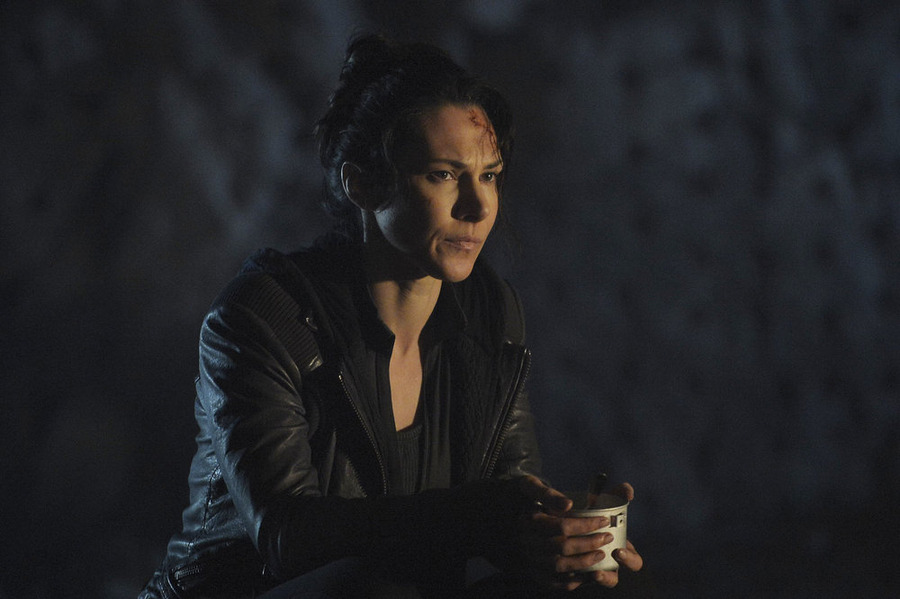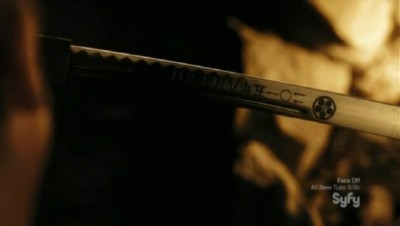 Jules shares that all is not hopeless and that there is a secret concerning her father's sword. Caleb perks up when he looks at the inscriptions. Jules goes on that despite what has happened, she is seeking to save the world from the pandemic, herself, the mortals and the remaining immortals.
We then learn that Caleb has his own agenda and takes off with the sword while Jules has returned to recovery by sleeping!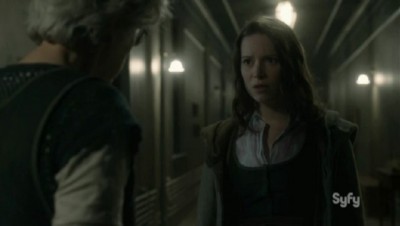 Sister Amy and Sister Agnes have a little heart to heart chat. Agnes reveals that they have bigger problems. "The CDC doctor … is a silver-eye." We learn that Sister Amy also knows about the immortals blurting out "That's impossible".
The viewers now know that many people on The Island know about the Immortals. Could more of the cult know of the immortals themselves? A question about Brother Michael being immortal comes immediately to mind!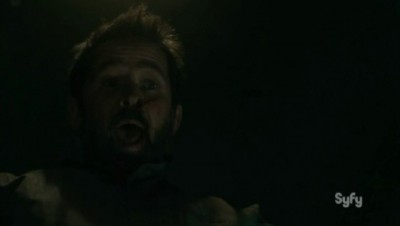 In the "Oubliette" Alan is preparing to escape and get revenge on Peter tricking Peter into letting him get out first. Alan suspects Peter has been working secretly for Ilaria.
Sure enough, once outside, Alan seals Peter back in with a threat; tell the entire truth about the Narvik virus found in Puerto Rico, about Paris, AND about the Scythe (Robert Naylor) [and his mother Constance Sutton (Jeri Ryan)! Peter is trapped!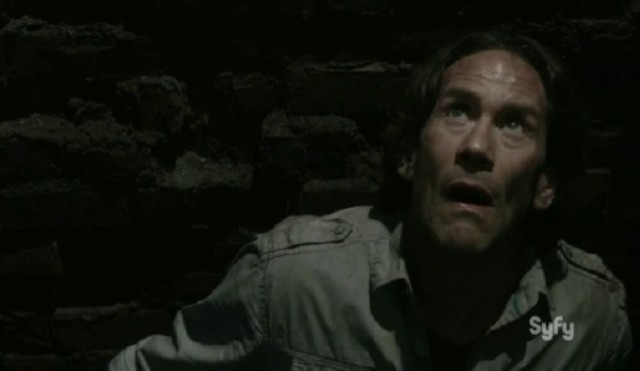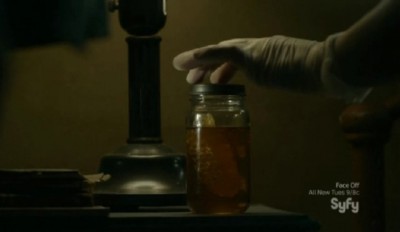 As the episode concludes, Sister Amy has decided to offer Brother Landry something even more intimate that another special hand massage, for, at her bidding, he obtained a jar of the deadly bee honey.
After being confronted by Brother Michael, Sister Amy states to Brother Landry that she is planning to use the bee honey to obtain passage off The Island. What Landry does not know is Amy wants to do so with her new love interest, Kyle. This, of course, after intimately disarming him, and after getting a taste of Brother Landry's honey!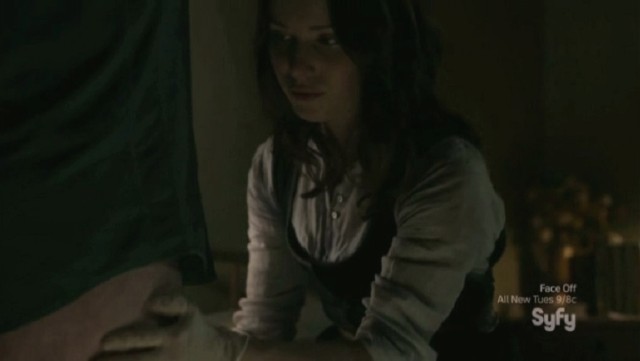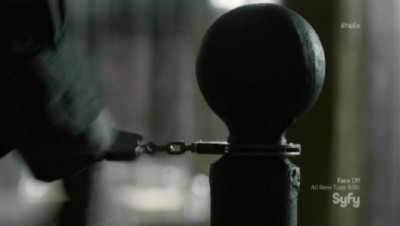 Speaking of Kyle, he and Alan have a confrontation of their own. Kyle cold cocks Alan with questions about the Arctic Biosystems disaster and the Ilaria headquarters bombing in Paris, France.
Alan demands to know who Kyle is working for and starts choking Kyle. In a turnabout, Kyle is sporting a pair of handcuffs and quickly secures Alan to a post! Alan screams "You're making a huge mistake"!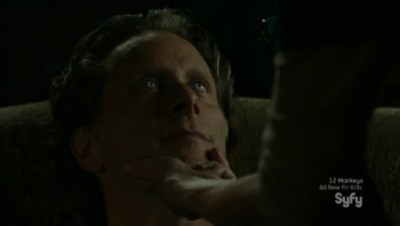 In the final scene, revelations abound! Sister Agnes reveals to Brother Michael that Sarah's recuperative powers are because she is an immortal… like you!
Sister Agnes is angry that Brother Michael lied to all of them saying that he was "the only one" as she injects a solution in Michael's eyes revealing that he is an immortal with silver eyes of his own!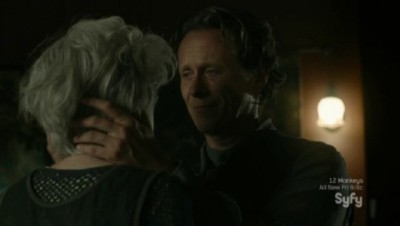 Brother Michael, knowing that his lie has been exposed, distracts Agnes by saying that she has "always been his favorite daughter", (YIKES!) leading Agnes to believe that "Dad" will make her an immortal too!
No dice! Brother Michael, aka "Dad", quickly snaps his "daughters" neck as the screen fades to black! Have I said YIKES yet! OMG, Brother Michael is one ruthless bastard!

New Questions Seeking Answers:
Where is (was) the real bee hive with the deadly honey discovered, or is the wall hive a ploy? Will Sister Amy seduce Kyle with her own "honey"? Will the fatal jar of bee honey be Sister Amy's ticket off The Island as she is planning?
Is immortal Brother Michael a member of Ilaria Corporation, a rogue agent, or working for some other corrupt power?
What does Caleb know, or what will he find out after viewing the inscriptions on Hatake's sword and stealing it? Will Jules track Caleb down and kick his ass?
Just how did the cult's abbey become a ruin only thirty years into the future? Do Tulok and Anana lead an assault team with Serio (Mark Ghanimé) to destroy the abbey when they rescue our heroes from the nefarious Brother Michael?
How will Peter escape from the "Oubliette"? Does Sarah come to his rescue? And will Alan bury the hatchet in the process?
Will we ever see Jules in the present time line to learn what exactly drove her back to The Island thirty years later?
AND has Brother Landry received his last special hand massage from "randy" Sister Amy after she tastes his "honey", or does he have a plan of his own on such matters in the future to obtain future cooperation from Sister Amy's?!
We here at WHR suggest everyone tune in each week on Syfy Friday's and on Showcase Canada to find the answers we all seek in the Helix!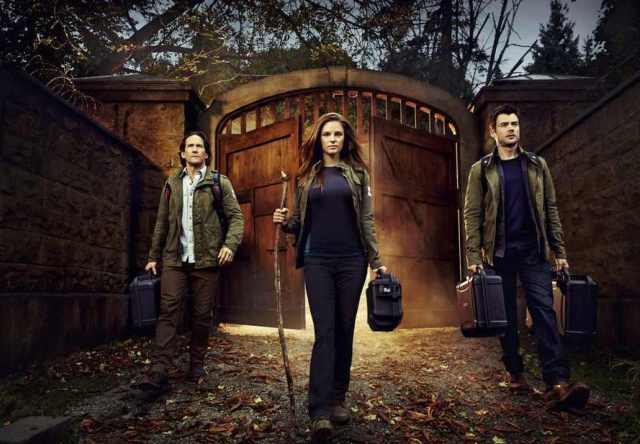 Stay tuned as the WormholeRiders News Agency Team announces more of our new WHR You Decide video interview series during 2015!
In the meantime, please feel free to share this article with your friends, co-workers and or family by clicking one of the icons below. We thank you for visiting and express our sincere gratitude for doing so!

Feel free to visit WHR on Twitter, WHR on Facebook or visit me on Twitter by clicking the text links or images avatars in this news story. I and Team WHR look forward to Seeing You on The Other Side in 2015!

Thank you.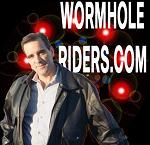 Best Regards,
Kenn