Welcome WormholeRiders who are dedicated to Dracula!
Hello my fellow Dracula fans!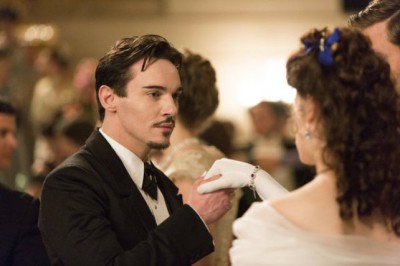 I hope you enjoyed the premiere as much as I did. It was a great start to what will become a great show. I am glad that NBC took a chance on this and kept it in the fashion and tradition that the book by Bram Stoker had intended.
This week's episode gets more juicy (pun intended) as more and more about what Grayson (Jonathan Rhys Meyers) has in store for the people of London. The preview included on the left side bar says it all.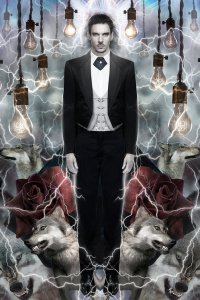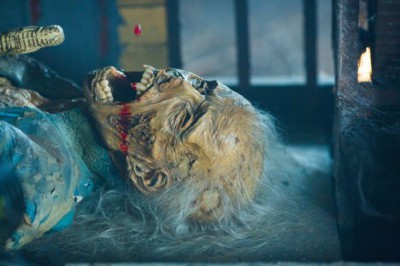 I must warn you right now. I am a bit of an expert when it comes to vampires, especially Dracula. So if I go off on tangents about certain aspects or symbols, you know why.
I have a certain criteria when it comes to the legend and this version has stayed pretty true to the book and the lore.  Granted the writers took a bit of liberty and changed a few things, but changed them for the better and they work beautifully.
I will also not review scene by scene, but the best points/parts of the episode. I will spare you that, because believe me I can go on forever.
The Blood Is the Life:
Now, on with the review…when I watched the premiere I did so in the dark, to give it that Gothic feeling, which the show has running throughout. The opening scene is gruesome, but necessary and what better way to do that then to sacrifice an underling. The transformation of bones to the flesh and blood of Dracula himself was creepy, but done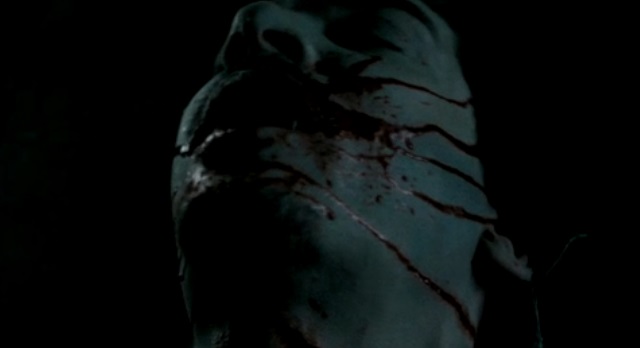 well. The title of this episode is very fitting to not only the reason Dracula comes back to life, but the source of life in general. Blood IS the life, without it we humans and all living creatures wouldn't be alive.
That is why I always had a problem with what True Blood introduced with the whole synthetic blood source, it just never made any sense to me.
Plus the act itself, the sensuality of the biting, where it is located on the neck is one of the reasons Dracula has been somewhat of a romantic figure in mythology.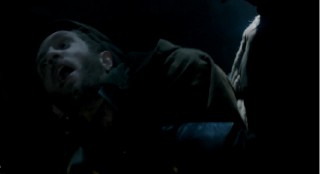 The symbols on his coffin are ones that were depicted when associated with the "real" Dracula, Vlad Tepes. It showed the gruesome way he impaled people on stakes and the pleasure he got out of it.
The Romanian Prince was definitely not one to trifle with, the Order of the Dragon was a fierce group. The Order will come up again later in the episode and the reason for Grayson's disdain for them will become clear.
If memory serves, Dracula himself is part of the Order of The Dragon, but I am not sure if that is mentioned in this episode or not.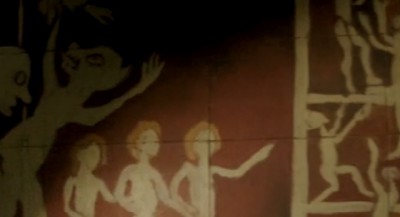 From the awakening in the crypt to the appearance of him in London was a great transition. I like how they showed that he is a daper gentlemen and that his place in society is set. I also like that the producers cast a man of color in the role of Renfield (Nonso Anozie).
It gives the story a bit of a different feel, si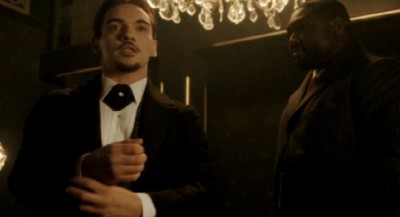 nce all of the actors that have played that role have all been white (one of my favorites being Tom Waits).
Renfield has always been Dracula's right hand and in this series that doesn't seem to change. Although it does seem that he is a bit more of his henchman so to speak than just a familiar.
I like how Renfield corrects Grayson on the pronunciation of schedule from his normal British way to how Americans say it, since Grayson is playing himself off as an American in London.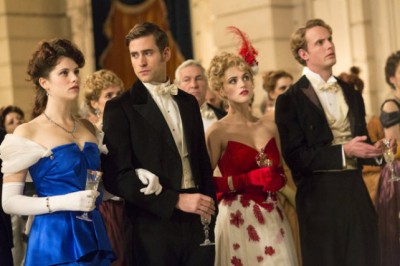 I love the costumes in this series that was one of the first things I noticed. It is also one of my favorite things in period pieces, along with the art direction. I applaud both the costume designer (Annie Symons) and Art Director (Laszlo Demeter) for their incredible eye for detail. It looks like the producers spared no expense for the production.
Seeing Jonathan go from one diabolical, charismatic character (Henry VIII) in The Tudors to another it seems that he was born to play this role. The ironic thing is that I said years ago to someone that he would make a great vampire, and I guess I was right.
He has a certain swagger about him and a sensuality that definitely makes women swoon. Henry VIII was a stud in his time and so is Dracula at least that is what the legend always mentioned. The uncontrollable power that Dracula has over women, the urge that they have to give themselves willing over to him…that's power!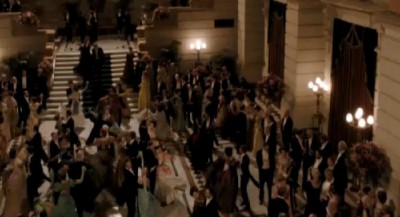 The cinematography (Ousama Rawi) is wonderful, too.
The dancing scene is well shot and of course I love when we see Mina Murray (Jessica De Gouw), Jonathan Harker (Oliver Jackson-Cohen) and Lucy Westenra (Katie McGrath) enter the room and are in awe of the opulence and glamour of the evening that takes place!
The casting for this show was great. I really like all the actors they chose to play the respective roles, especially Lady Jane (Victoria Smurfit) and Lucy.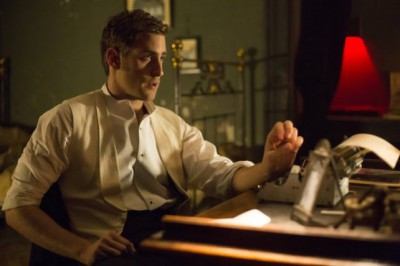 Oliver Jackson-Cohen makes Jonathan Harker much more likable of a character than has been portrayed in the past.
The fact that the writers changed his profession may have something to do with it. 
Cohen does no't make him wimpy or weak, he makes him stronger and I am sure as the series progresses, smarter and a bit more aggressive.
McGrath actually reminds me a little bit of Keira Knightley, maybe because she looks like her. I like that she dove straight into Lucy's cheekiness, her innuendo that has always been a part of her character.
I bet she will be having fun with it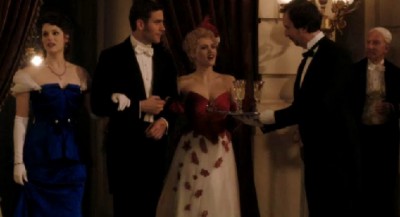 . Lucy is a bit of a free spirit and in that time, it was unheard of for women to have any kind of voice or try their hand at a male dominated profession as we will see later on with Mina.
I like that there is some politics peppered throughout the episode. How the Brits look down upon this "American" with turned up noses not realizing he is one of them. He is giving them a taste of their own medicine as I am sure we will see as the series progresses.
The moment Grayson sees Mina, something changes in him. He sees his dead wife, the one he is avenging, the one that was killed brutally by the Order of the Dragon.
It's funny how the story of Dracula is not considered a love story, since his primary motivation is the love he had for his wife and the revenge against those that killed her. That is the very definition of love story, at least in Dracula's eyes. Rhys Meyers plays it perfectly. His eyes say it all as well as De Gouw, you can tell that something has transpired, but you don't know what.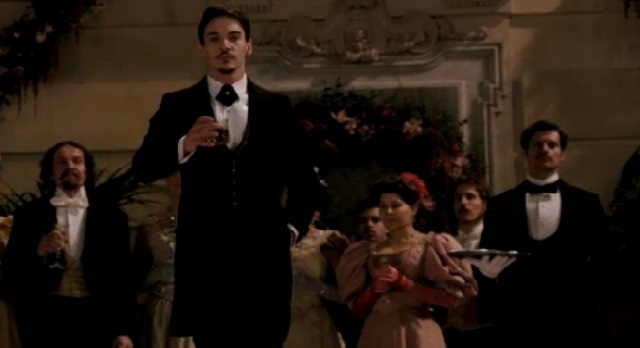 The one quote that is from the book that I love and am glad they kept was "Welcome to my house. Come freely. Go safely. And leave some of the happiness you bring!" is verbatim of the book (which is sitting next to me as I type this). I will be quoting from the book and comparing the book to the episodes.
For those that have read the book, you will recognize the passages. For those that have not read the book, I beg that you do, to get a better understanding of the story, the parallels and differences of the series.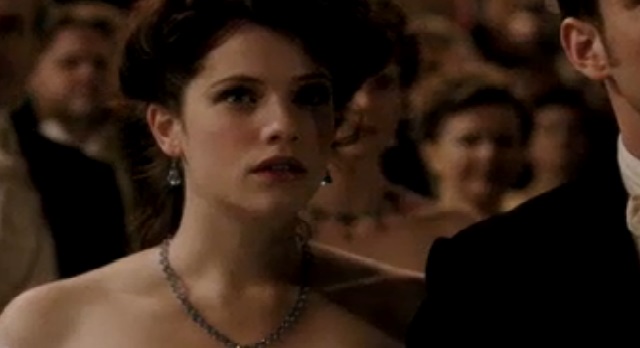 The way the British society treats him is interesting. They think that he is an American and therefore not even worthy of their presence. It is only when he sees Mina again up close and she mentions to him that she has a feeling that they have met before does he feel validated. His problem however is Harker is in the way, which I am sure will be a thorn in his side for the remainder of the season.
One thing that made me giggle was when Lady Jane (Victoria Smurfit) followed Grayson out to the garden and he said "Lady Jane, I didn't hear you approaching". The comment I am sure was meant to be tongue in cheek since vampires are known for their heightened senses.
Her retort is even better…I have a feeling I am going to absolutely love Lady Jane!  I have been a fan of Victoria's for a while. She has done some great work in two of my favorite shows (Ballykissangel and Berkeley Square). I am so very happy to have her back on TV.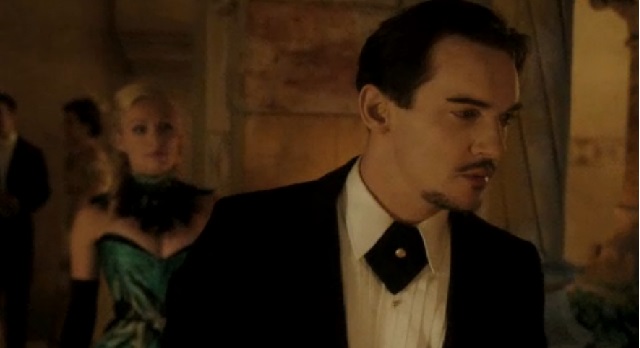 The first victim has been claimed, no doubt just the first of many to cross paths with Grayson. I like that the director (Steve Shill) decided to make the attack happen off camera, with just the sound and visual of the blood but not the actual act being shown. That makes the act itself that much more gruesome, it leaves it up to the viewer's imagination as to what happened.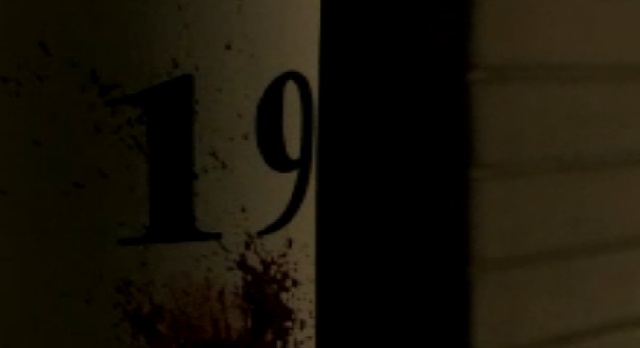 I love that the writer (Cole Haddon) made a bit of historical reference when Browning (Ben Miles) asks Jane (Victoria Smurfit) when the last time a vampire roamed the streets of London and she said 8 years to his reply of "the Whitechapel Killings"…meaning Jack the Ripper. I thought that was awesome! Since those murders still remain unsolved, that notion doesn't seem too far fetched…I would believe it!
It seems that Jane and Browning are the keepers of the secret and know that vampires do exist (as we will see later in the episode). I am glad that there will be at least two characters who have knowledge of the undead and will be able to handle themselves if a war should arise.
The character of Van Helsing is one that I love. I think that my favorite incarnation of him was done by Sir Anthony Hopkins in Coppola's version of Dracula. He was a bit crazy himself and he had a bit of comedy woven in his portrayal. Thomas Kretschmann plays this version with restraint, but in a good way, which we will see why later on.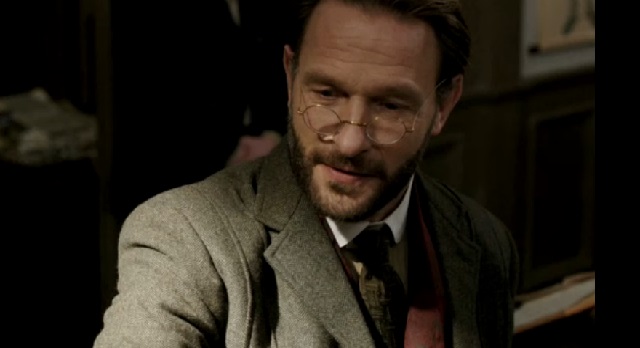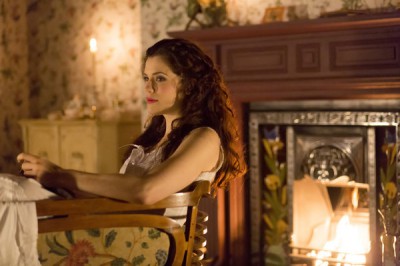 I also find it refreshing that the writer made Mina a medical student when in that era, woman were barely considered citizens let alone educated. As repressed as that society was, the women were skillful but smart. They knew that men would be threatened if woman really asserted themselves and used their brains.
As much as they were considered inferior at that time, they also knew how to watch and learn. It will be interesting to see how the writers portray the women in this series. You already have the smart one (Mina), the mysterious one (Lady Jayne) and the flirtatious one (Lucy). Each woman possess each trait, one more dominant than the others.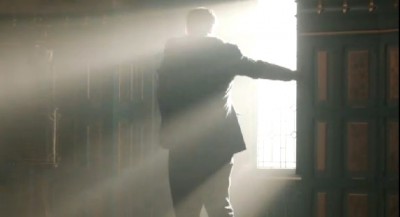 When Harker arrives for his interview with Grayson, his first task is to shed sunlight in the dark room. What happens when Grayson enters is priceless, how quickly Grayson shakes Harker's hand and how cleverly Grayson moves the chair to just the cusp of the sunlight. Brilliantly done by Rhys-Meyers, his finesse noted. The result of course we all know what happens when a vampire is exposed to sunlight, the burnt flesh proves it.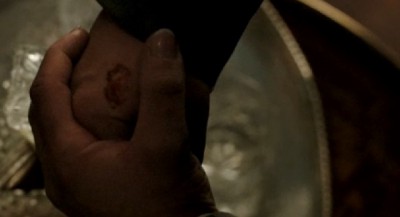 The interview is quite an interesting one, where Grayson quotes Darwin and says that humans need to be redefined. Harker of course thinks that he is a bit of a conundrum writing words like visionary, delusional and egomaniac…isn't that what all geniuses are?
Grayson's obsession with Mina will surely be his salvation and damnation. The way that Grayson stalks her after her class is creepy and Jonathan does it well, not taking his eyes off her. He has mastered being a vampire already, he knows how to seduce and kill with incredible skill. Since he cannot have Mina, he settles for another woman who is passing by, something to quench his thirst and lust…if only temporarily.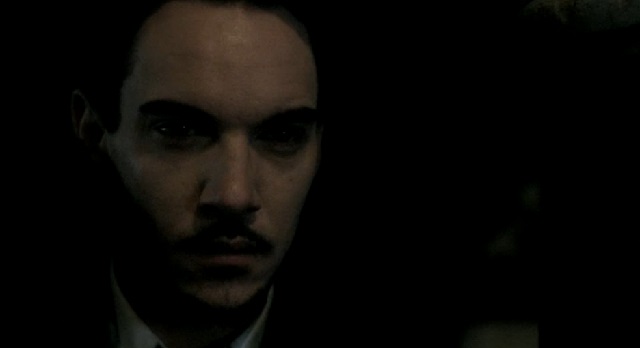 The Opera scene is fantastic, not only is that Opera house gorgeous, but the scene itself drips with sexual tension between Jane and Grayson. The act of drinking blood is almost like having intercourse, the same rush and hunger is there, but sated in a different way.
The seduction is part of the foreplay, the act is the crescendo, so hot to watch! The banter as well, all part of the foreplay, it just oozes sex, and well played by both Victoria and Jonathan.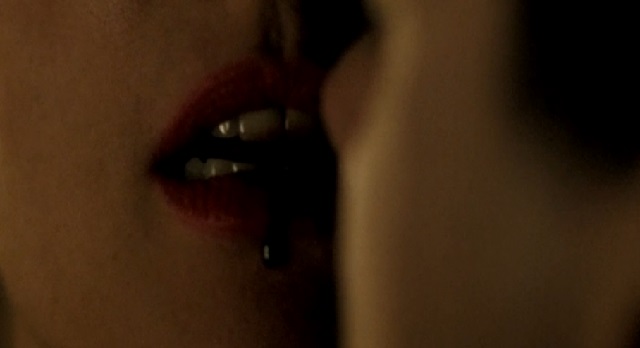 The roof scene was cool. It reminded me of the Matrix in its action sequence. Does Hermann Kruger (Michael Nardone) know better than to face off against the king of the vampires? Has his vampire hunting ways taught him nothing? Apparently not considering his fate.
Grayson's message to a dying Kruger that he will "soon be joined in hell by scores of your brethren" is a warning that I feel will be repeated numerous times in the series until all have met their fate.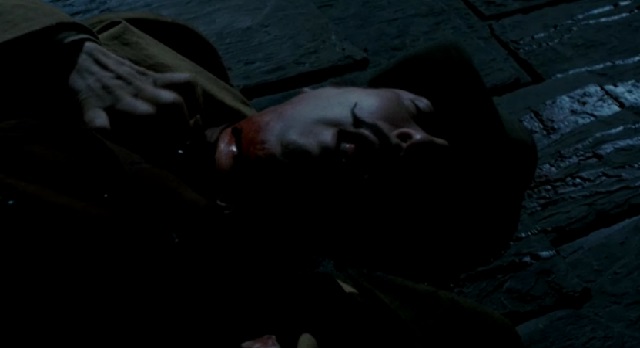 I love love love that Jane is a bad-ass. She not only is smart and beautiful, but a warrior as well. I am glad that she is going to be a significant part of the story and I for one am looking forward to seeing her in action. Her confidence isn't rattled, not even when she confront another vampire that she has caged up. The female vampire (Viera Gaon) warns her of others that will follow if she dies. That's what I am hoping for!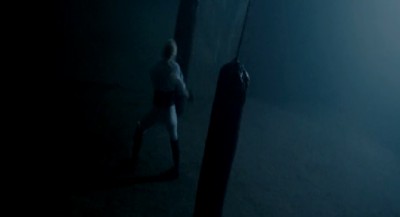 The one twist that I liked, and was not expecting was Van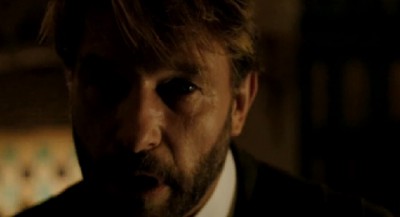 Helsing being an ally of Dracula's instead of his enemy. He seems to have a similar agenda as Grayson, albeit for different reasons. He scolds Grayson about the difference between a vendetta and vengeance.
I have a feeling that Van Helsing will be reining in Grayson more and more over the season. Of course, Grayson doesn't react too well to being scolded, he asserts his power over Van Helsing and makes him deadly aware that Grayson is in control.
The reason for the alignment with Grayson becomes clear when we find out that Van Helsing as well has his own reasons for wanting to kill off the Order of the Dragon. In the end we finally find out the reason behind Grayson's vengeance. They killed his wife, and for that they will all pay. As he tells Van Helsing, they are not bound by what they lost but by who took it.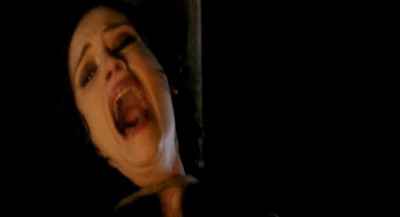 Well, my fellow Dracula fans, I hope you enjoyed this first episode as much as I did. I am extremely excited to see how the rest of the season progresses and what adventures we can sink our teeth into! See you on Friday!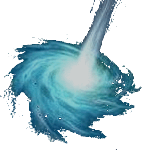 I hope you enjoyed my Dracula analysis?
Thank you for visiting WormholeRiders News Agency. And thanks to Kenn for video embedding and additional images for my review. I will be back over the coming weeks with more on our series review sites for Dracula, Almost Human and next June for Defiance!

Please feel free to leave a comment here or If you prefer, you may also click the social media icons below to share this news article or as many of our readers and visitors often do, visit the WHR on Facebook or me on Twitter by clicking the links or images avatars in this news story. See You on The Other Side"!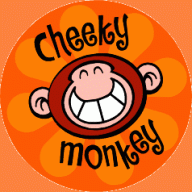 Until next time,
Sincere regards,